Air fryer roast beef is coated in montreal steak spice before being air fried to juicy, tender perfection.
Serve this easy air fryer roast beef recipe next to some asparagus and roasted potatoes for the perfect meal!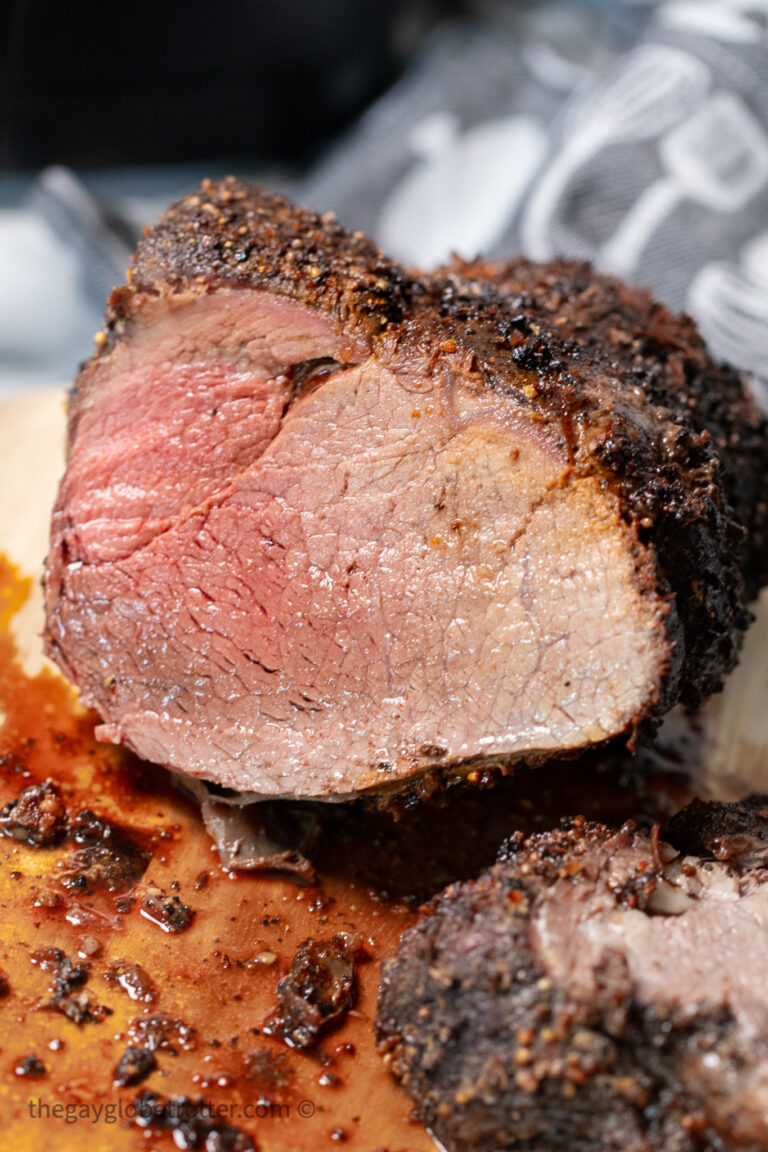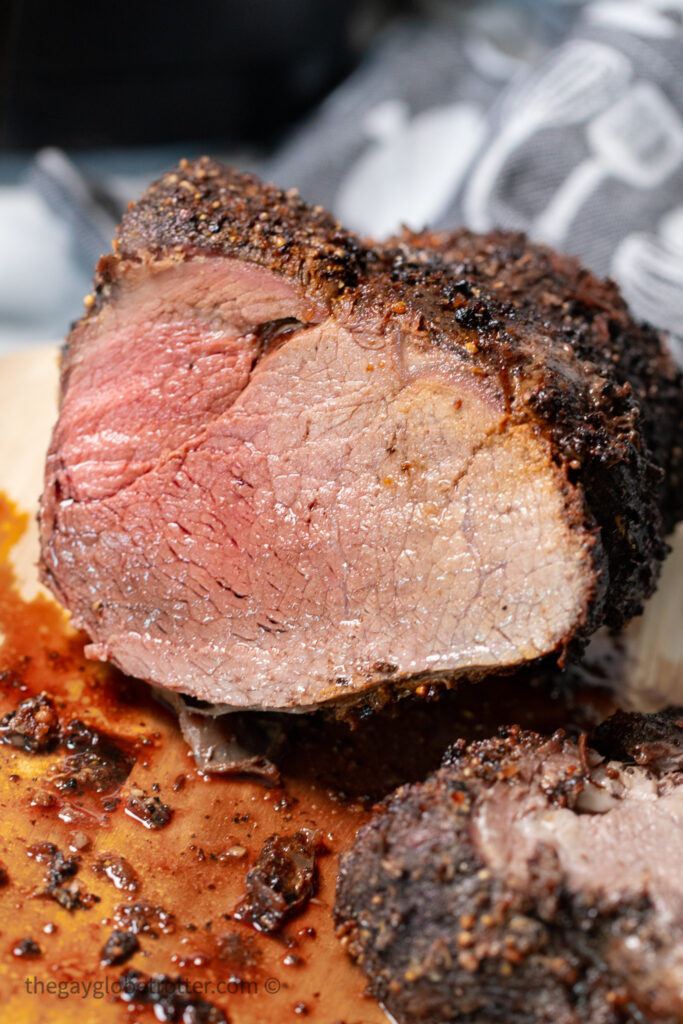 Why We Love It
Gone are the days you need to sear a roast in the pan before finishing it off in the oven.
This recipe just needs 3 ingredients – a roast, olive oil, and Montreal steak spice.
Preheating the air fryer at 390°F does the searing for you, then it cooks at a temperature of 360°F, while you prep the sides.
This roast beef is delicious as is, and we love using the leftovers in roast beef hash or on french dip sandwiches!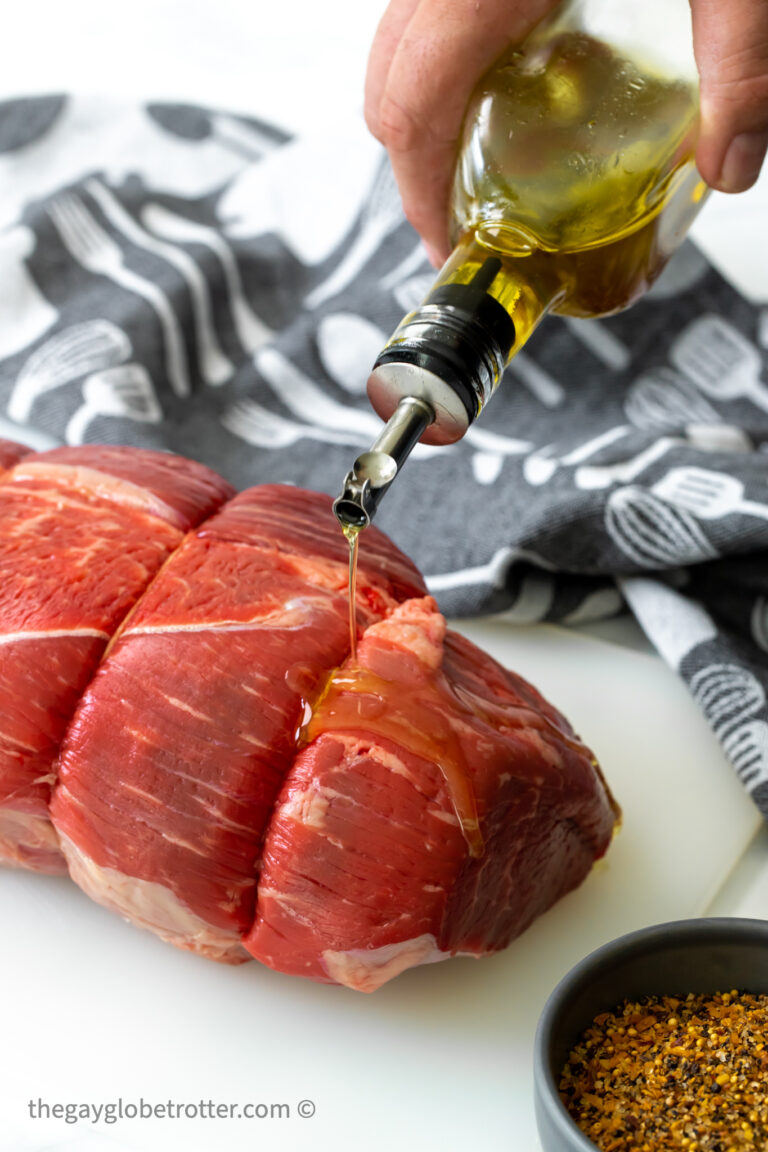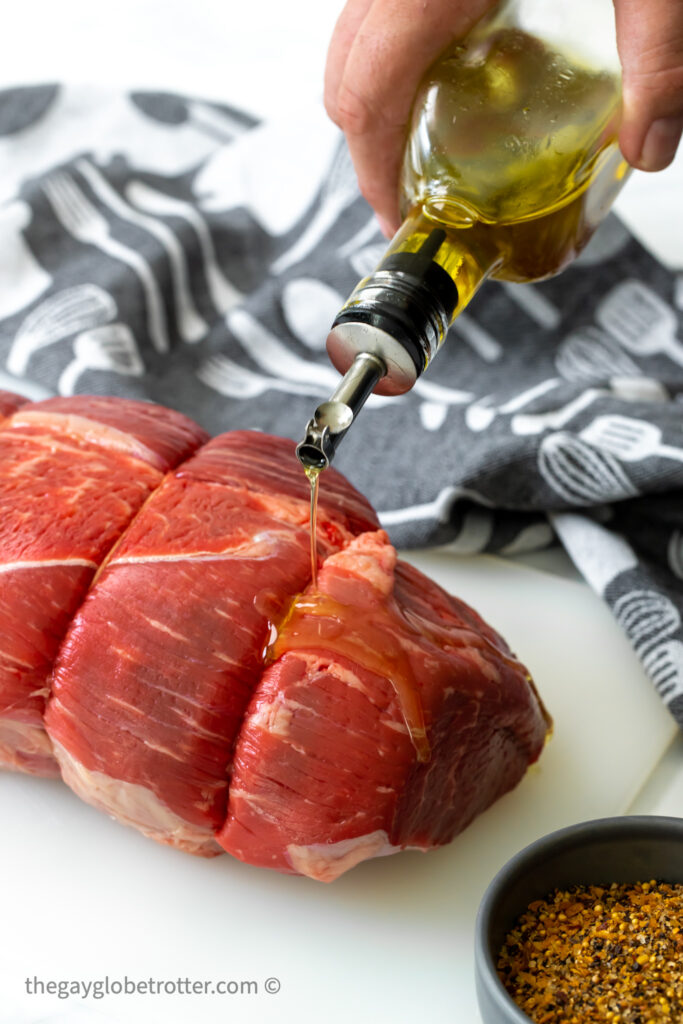 Choosing A Cut Of Beef
Cheaper cuts like stewing beef are better when simmered in soups and stews for a longer period of time. The fat in these cuts has a harder time breaking down.
An air fryer roast is the best time to splurge a little bit on quality – especially because the cooking time is quicker than usual.
These are some go-to's when making this roast beef recipe:
Prime rib roast
Sirloin tip roast
Beef chuck roast
Rump roast
Inside round roast
Look for a roast that is even in size, will fit in your air fryer, and has some marbling.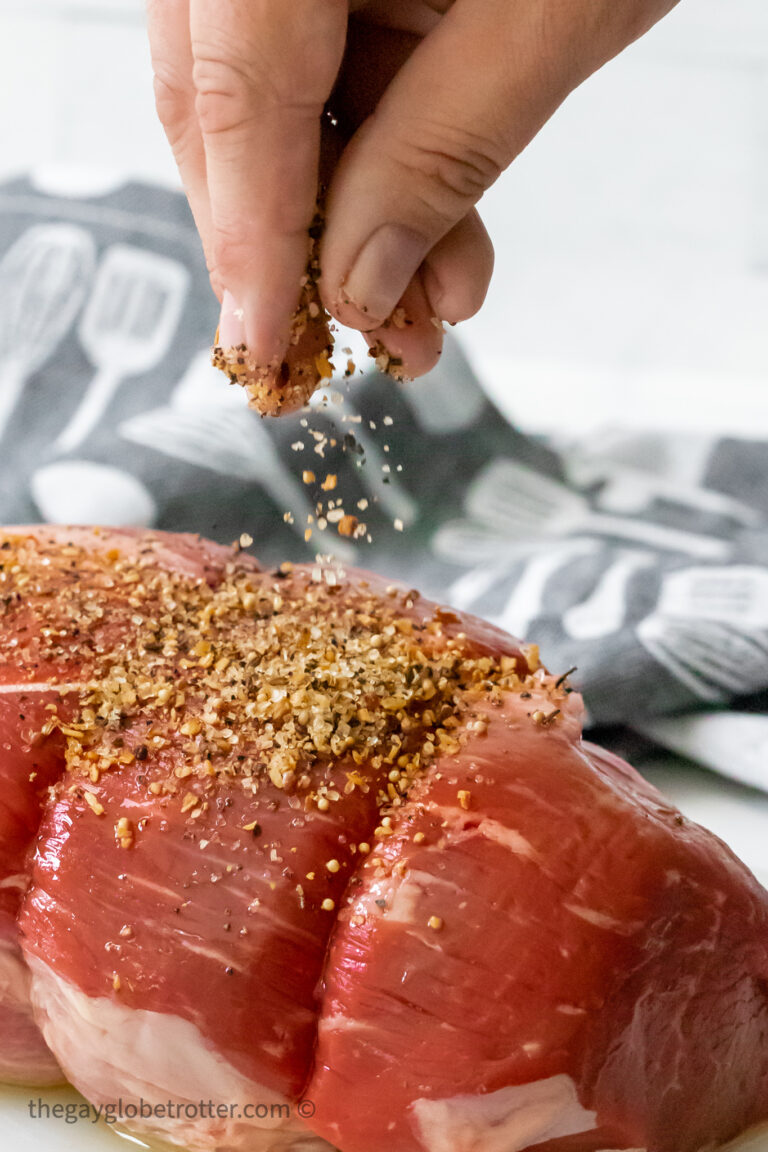 How To Make Air Fryer Roast Beef
Preheat the air fryer to 390°F for 5 minutes.
Brush roast with olive oil, then cover with montreal steak seasoning.
Air fry for 15 minutes (this is the sear).
Reduce heat to 360°F. Cook for 25 minutes per pound or until desired doneness is reached.
Rest for 10 minutes before serving.
Roast Beef Temperatures
The easiest way to know when the roast is ready, is an instant-read meat thermometer. Insert it into the thickest part of the roast.
Here are the roast beef temperatures:
Rare: 125°F (cold, red center)
Medium rare: 135°F (warm, red center)
Medium: 145°F (warm, pink center)
Medium well: 150°F (center only slightly pink)
Well done: 160°F (no pink)
Air fryer roast beef should always be cooked to a minimum internal temperature of 145°F for safety.
The temperature will usually raise another 5-10°F while resting.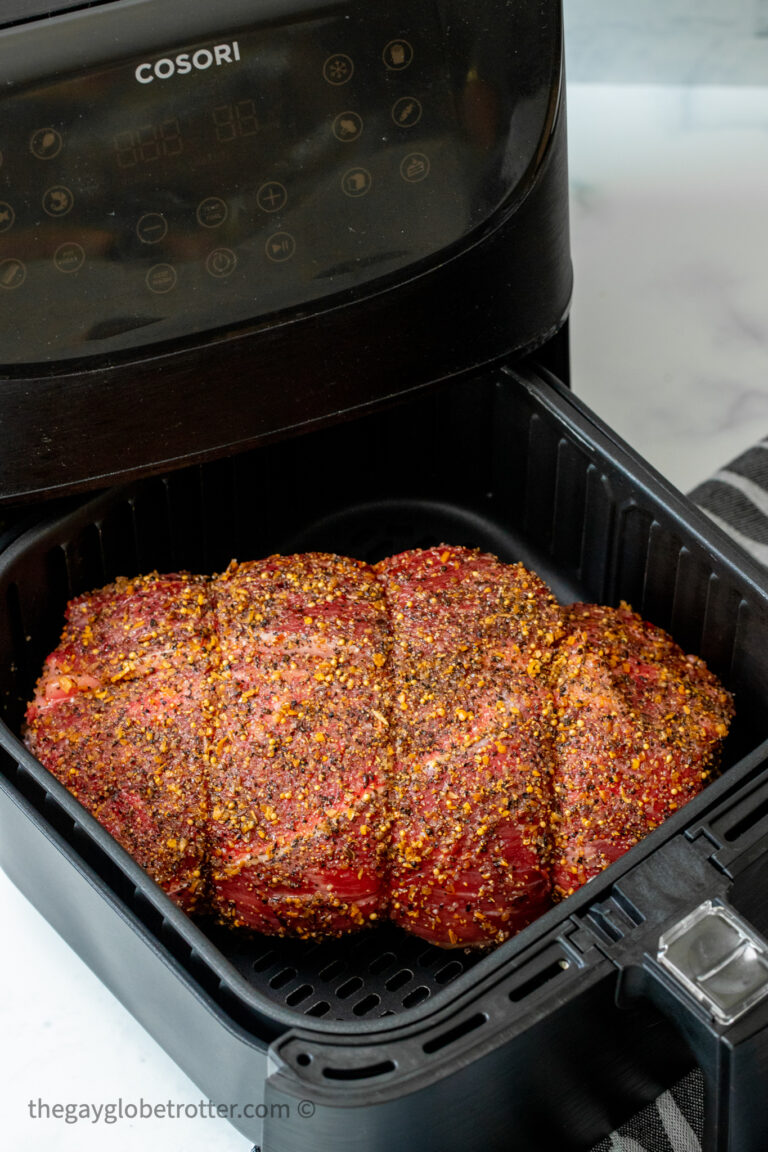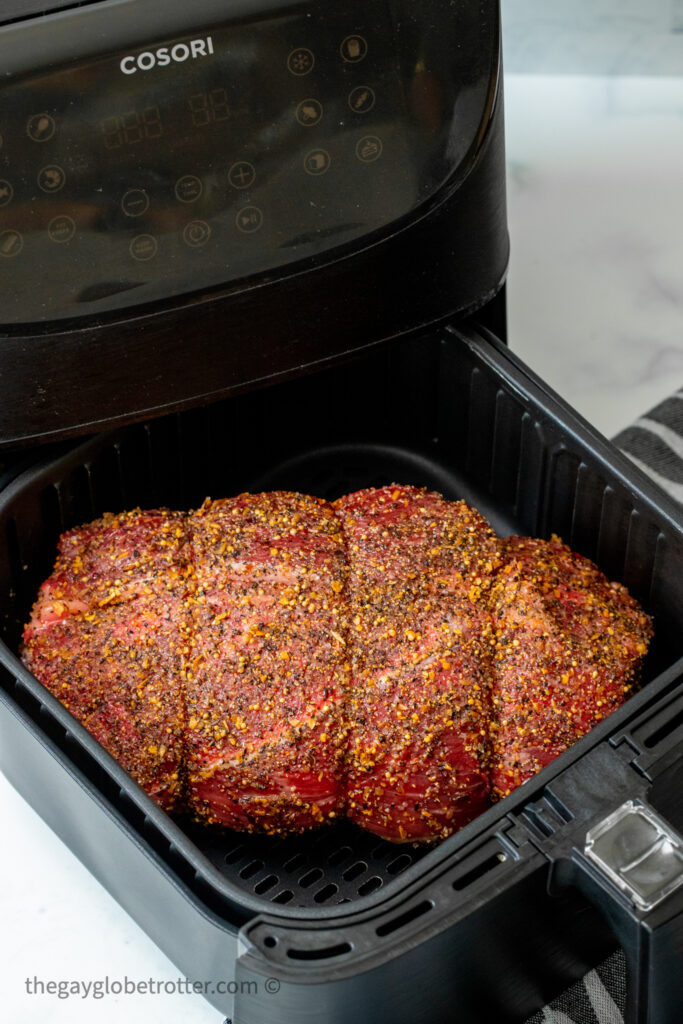 To Make Gravy
Save the drippings! They make for a great gravy that's packed with flavor.
Ingredients:
2 cups beef broth
2 tablespoons cornstarch
Drippings from roast
Instructions:
Bring 2 cups of low sodium beef broth to a boil.
Combine 2 tablespoons of cornstarch with 2 tablespoons of water. Whisk into the beef broth, along with any drippings from the air fryer.
Whisk constantly until thickened.
Don't add salt, the Montreal steak spice will be plenty salty enough in the drippings.
Tips and Substitutions For Air Fryer Roast Beef
Montreal pepper steak spice is our favorite roast beef rub. The coarse salt helps during the searing process and creates a beautiful crust on the roast. If you prefer, you can use your favorite roast rubs or seasonings.
Check the temperature every 10 minutes towards the end of cooking, so you don't go over.
If the roast is wrapped with cooking twine, feel free to leave it on. It doesn't need to be trussed otherwise.
A little chopped parsley, thyme, or rosemary adds a fresh pop of color when serving roast beef.
Don't forget to rest before cutting the roast! The juices need a chance to settle back into the muscle after cooking.
An electric knife makes quick work of slicing the roast beef. Aim for ½" slices.
The roast should cook for about 25 minutes per pound at 360°F. A 4 pound roast took us 1 hour and 40 minutes. This timing may vary depending on the size of the air fryer and size of the roast.
Our favorite side dishes for this roast beef include roasted potatoes and vegetables like green beans or carrots!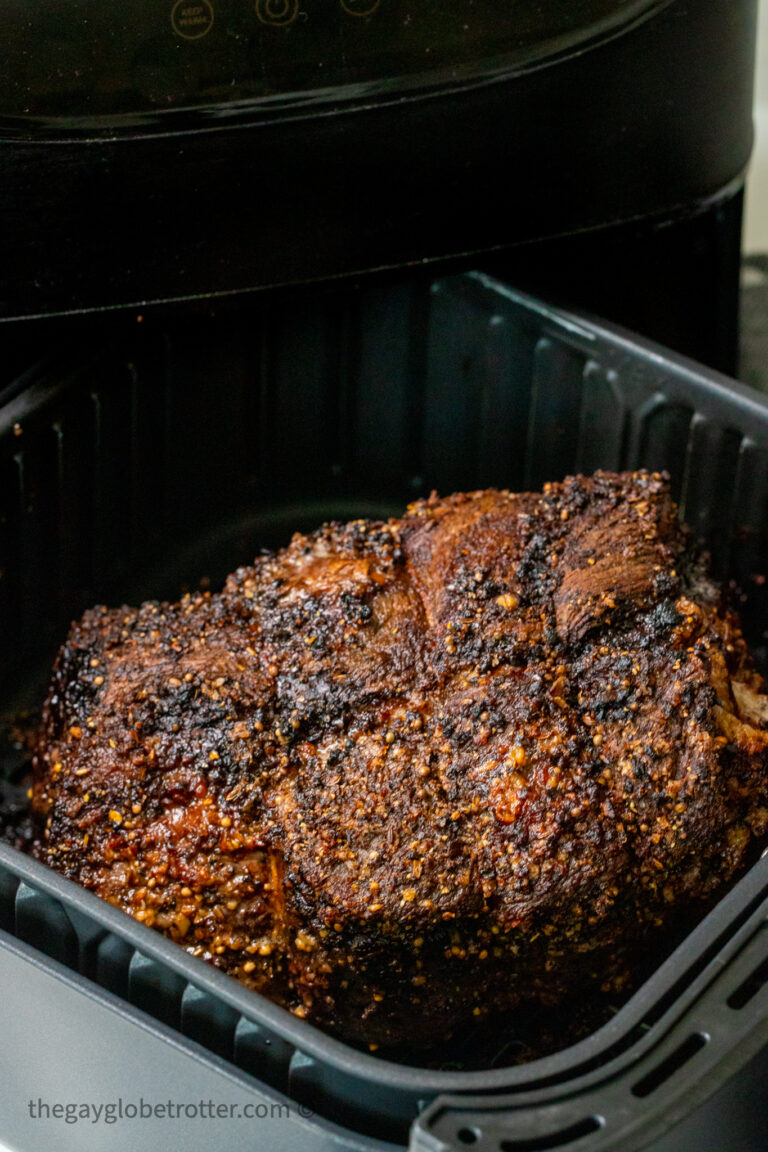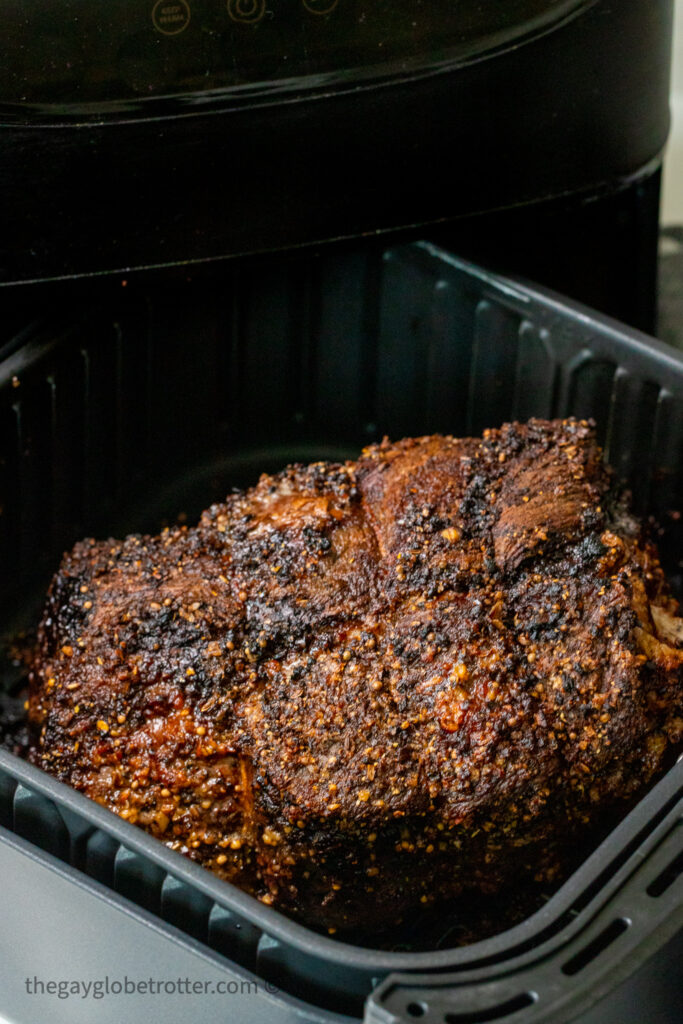 Storing and Reheating Roast Beef
Leftover roast beef can be stored in the fridge for up to 5 days, covered with plastic wrap or placed in an air tight container.
It also freezes well. Freeze the roast once fully cooled for up to 8 months. Defrost it in the fridge before you plan to use it.
When reheating, roasts tend to dry out. A splash of beef broth will help keep it moist and tender.
To reheat air fryer roast beef, place it in the air fryer for 3-5 minutes at 380°F or until heated through.
More Easy Air Fryer Recipes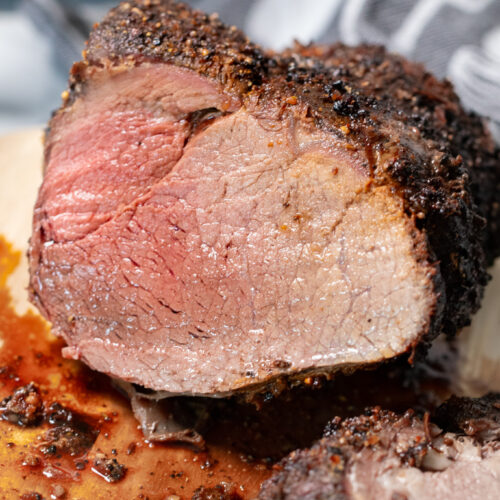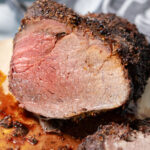 Rate this Recipe
Air Fryer Roast Beef
Air fryer roast beef is coated in montreal steak spice before being seared, and roasted to juicy perfection.
Print Recipe
Pin Recipe
Tried this recipe?
I'd love to hear what you think. Leave a comment and rating below!
Ingredients
4

pound

sirloin tip roast

see note

2

tablespoons

olive oil

6

tablespoons

montreal steak spice
Instructions
Preheat air fryer to 390°F. Trim excess fat off of roast.

Brush roast with olive oil. Sprinkle with montreal steak spice on all sides, and press gently to coat.

Place roast into preheated air fryer basket. Cook for 15 minutes. This is the sear.

Reduce heat to 360°F. Cook for 1 hour 40 minutes, or 25 minutes per pound.

Towards the end of cooking, check temperature with an instant read thermometer (cook to 135°F for medium rare).

Place roast on a serving tray. Tent with foil, and rest for 10 minutes before slicing.
Notes
We like using sirloin tip roast for this recipe, but feel free to use any cut you prefer.
Pin it for later: