Leftover roast beef hash is an easy yet impressive breakfast. Tender roast beef is mixed with crispy hashbrowns, roasted red peppers, and corn for a dish that will impress even the best of brunch connoisseurs.
This breakfast hash is served with herb roasted crostini and poached eggs for the ultimate Sunday brunch!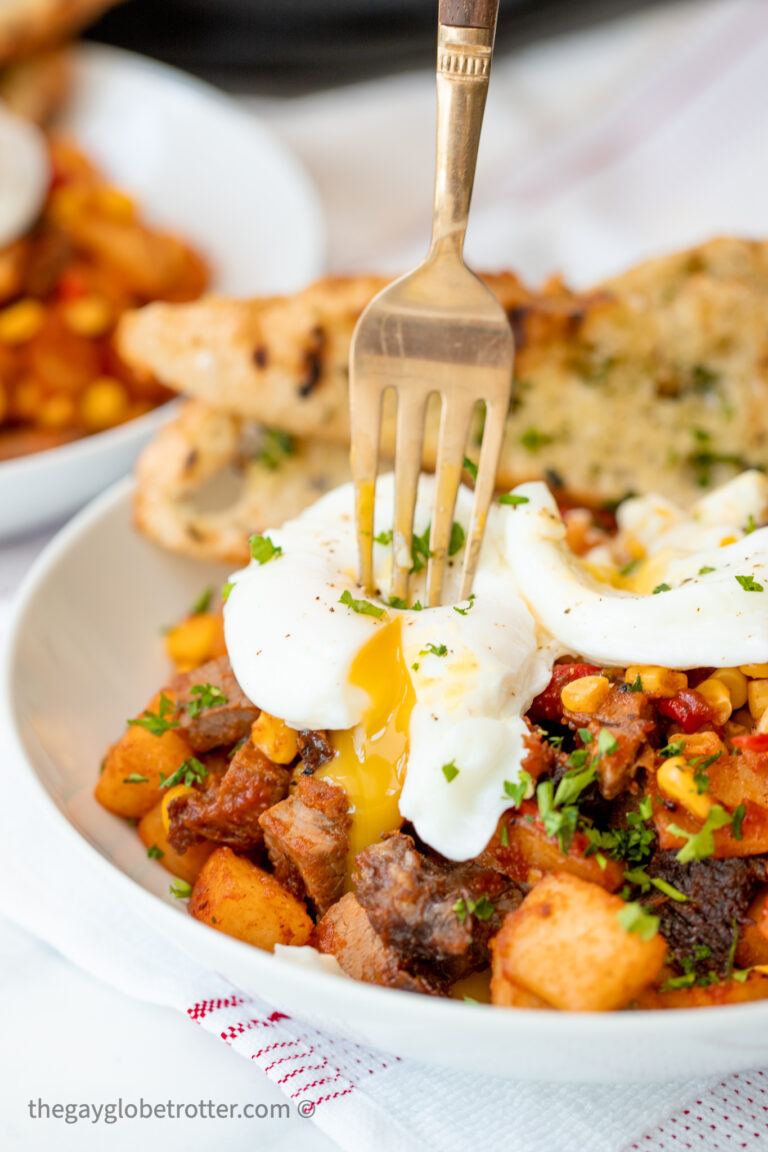 Why We Love It
If you've ever needed breakfast after a night out, this is it. Feeding a crowd? This is also it.
I originally learned this dish when I was working in a kitchen, and I have been making it at home ever since.
The acidity from the barbecue sauce is cut perfectly with the poached egg yolks.
The crispy crostini goes perfectly with anything leftover in the dish, and the red peppers add the perfect sweet and smoky flavor to this breakfast.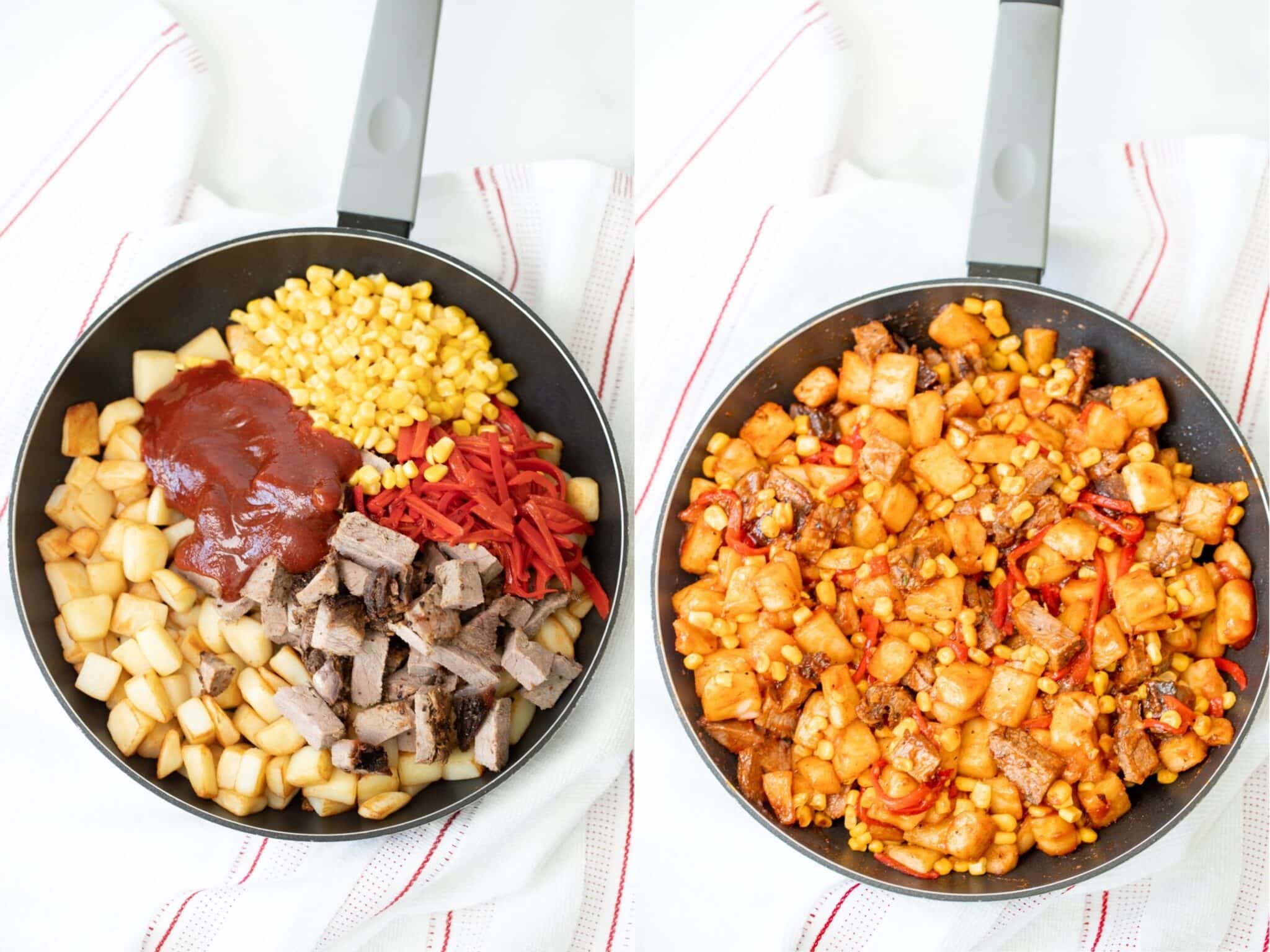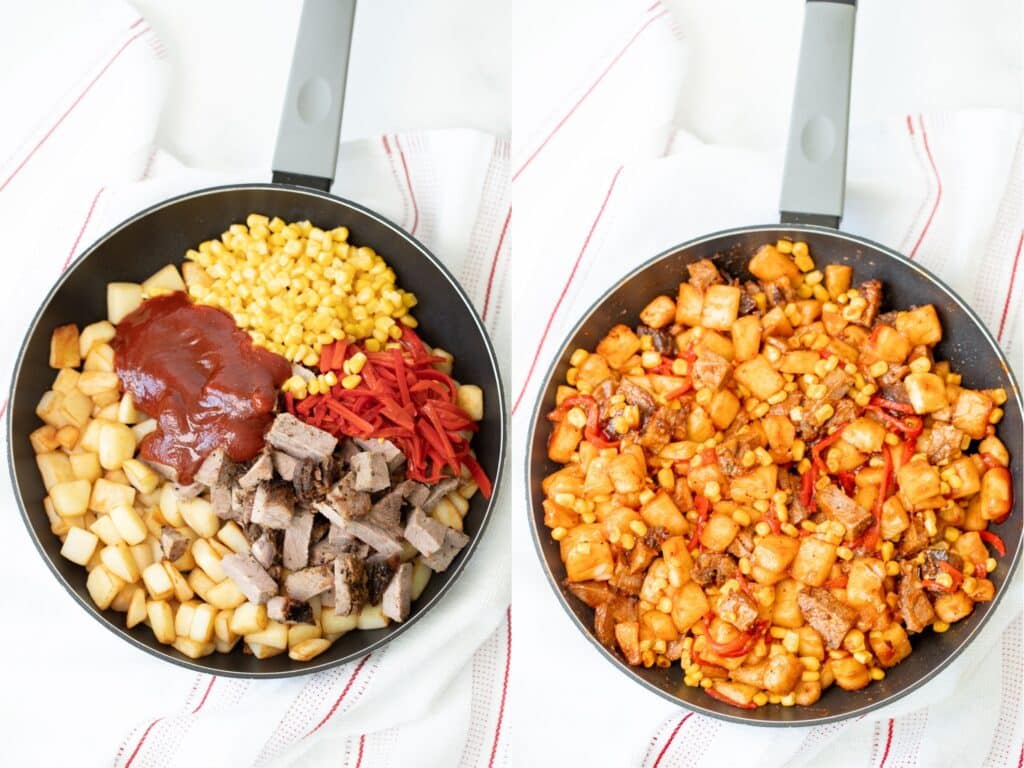 How To Make Roast Beef Hash
Prep: Chop the red peppers, roast beef, and potatoes. Make the herbed olive oil, and slice the crostini.
Broil: While the eggs poach, brush the crostini with herbed olive oil. Broil for 1-2 minutes on each side until toasted.
Saute: Cook the potatoes until crispy. Add barbecue sauce, corn, roasted red peppers, and

roast beef

until hot.
Poach: Meanwhile, bring a pot of water to a simmer with a tablespoon of vinegar. Add eggs, 1 or 2 at a time, and poach to your liking (2-3 minutes for soft, 4 minutes for medium, 5-6 minutes for hard).
Serve: Serve poached eggs over the hash garnished with herbed crostini.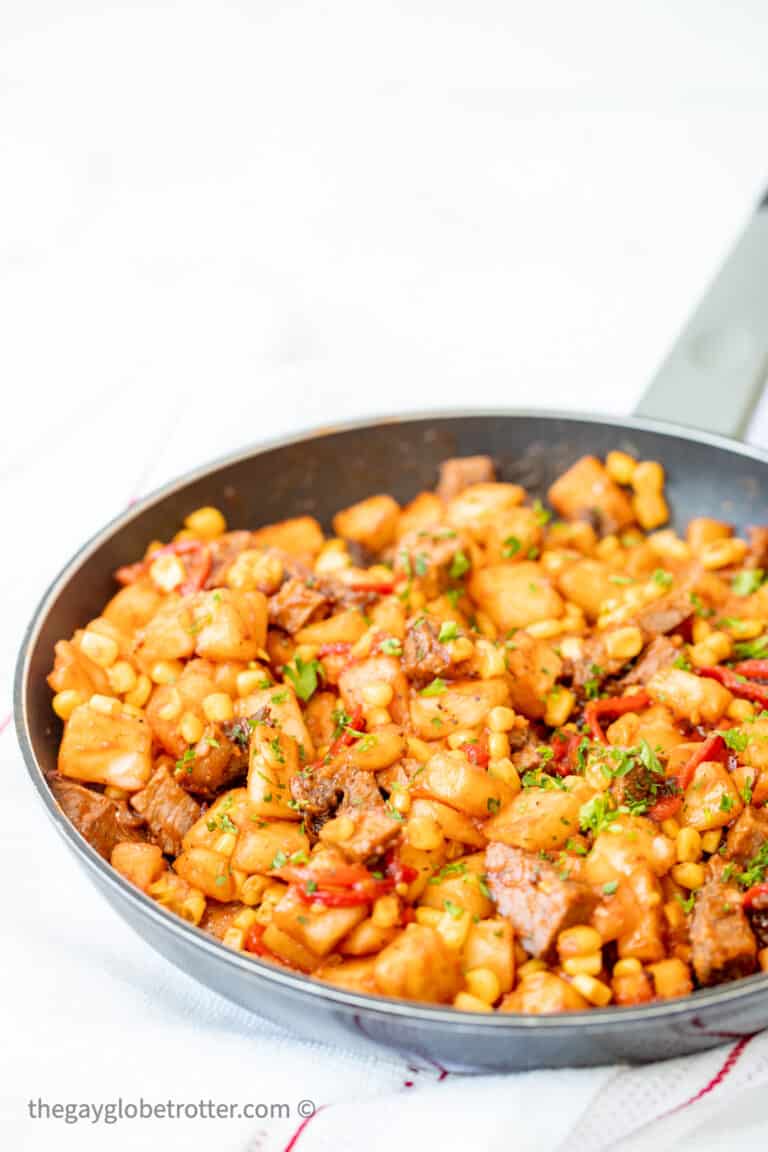 Tips For Making Roast Beef Hash
Cook the potatoes until they're super browned. The crispier, the better! They tend to get soggy if not crispy before the barbecue sauce is added.
Cook the crostini over high heat, and watch them so they don't burn. They should need about a minute on each side.
This dish is designed to whip up quickly, so make sure to have the ingredients prepped before you start cooking.
Once the hash is cooked, you can let it sit warm while you poach the eggs.
Adding a tablespoon of vinegar helps keep the egg white together while poaching eggs.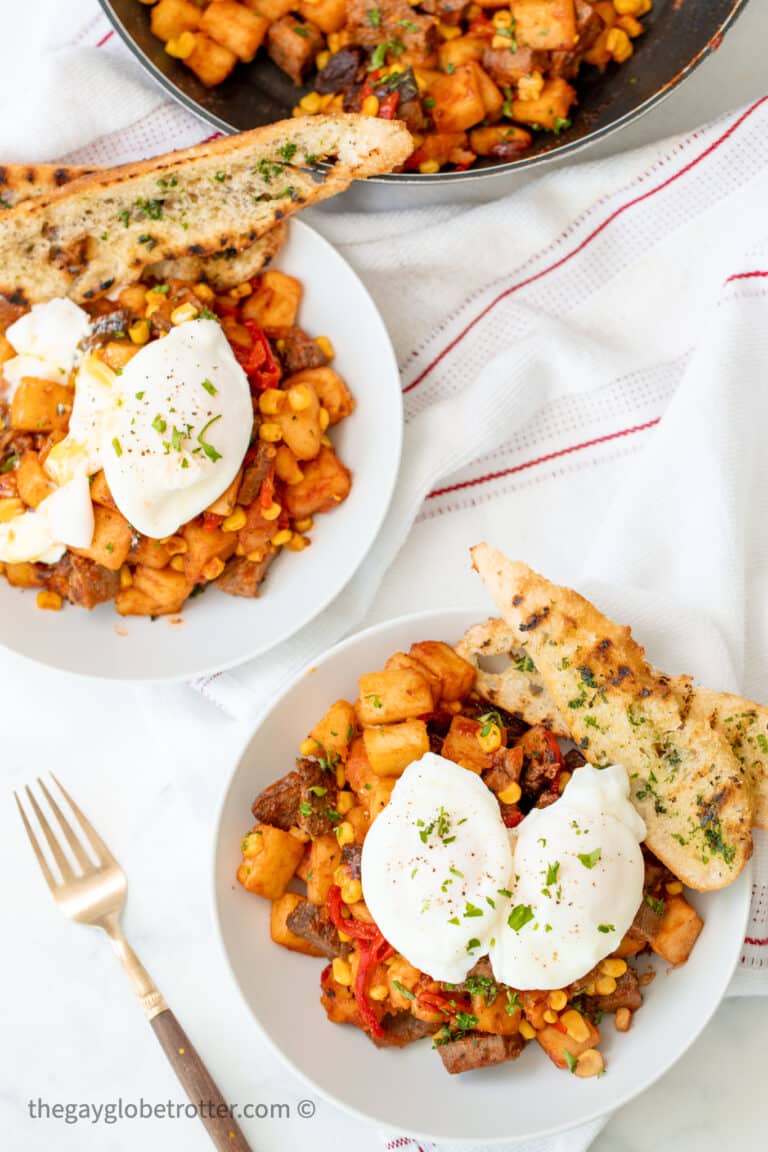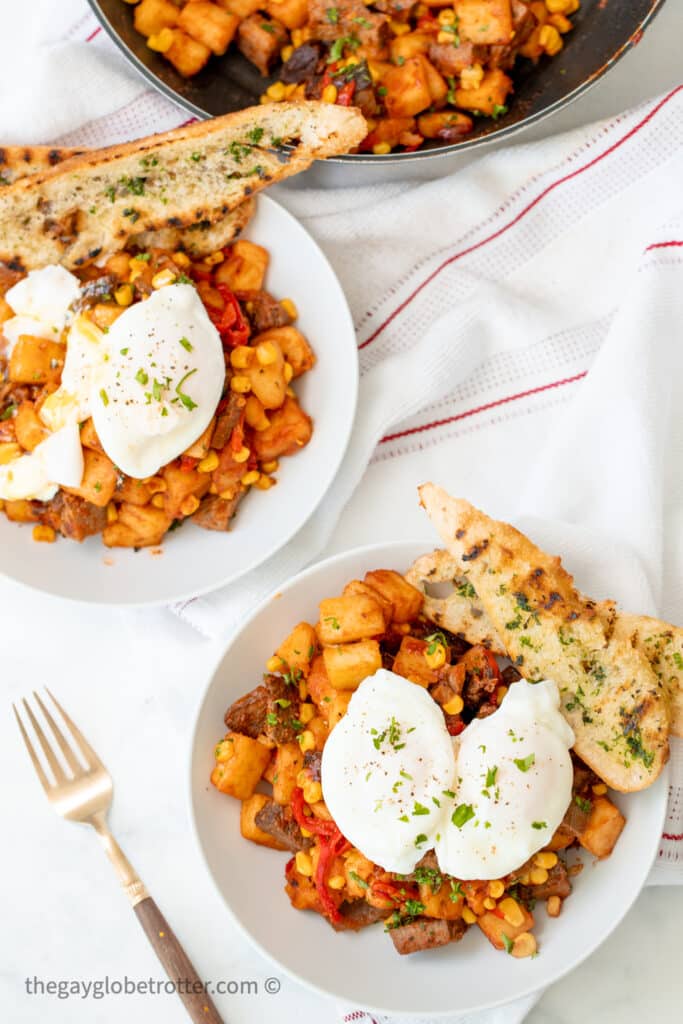 Other Delicious Breakfast Recipes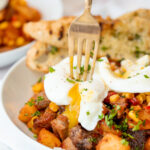 Rate this Recipe
Leftover Roast Beef Hash
Roast beef hash is served with herbed crostini for an easy but impressive brunch!
Print Recipe
Pin Recipe
Tried this recipe?
I'd love to hear what you think. Leave a comment and rating below!
Ingredients
For The Hash:
2

tablespoons

butter

2

cups

hashbrowns

cubed

1 1/2

cups

roast beef

cooked, cubed or finely sliced

2/3

cup

corn niblets

drained

1/3

cup

roasted red peppers

in oil, drained and finely sliced

1/2

cup

barbecue sauce

to taste
For The Herbed Crostini:
1/2

baguette

sliced 1/4" thick, on an angle

4

tablespoons

olive oil

3

tablespoons

fresh herbs

parsley, basil, rosemary, or thyme, finely chopped
Instructions
For The Herbed Crostini:
Slice baguette ¼" thick, on an angle to create pieces as shown. Combine herbs and olive oil.

Set oven to broil. Brush each side of crostini with prepared olive oil. Broil for 1-2 minutes per side, or until toasted and slightly charred (see note). Set aside.
For The Hash:
Heat saucepan over medium heat with butter. Add hashbrowns, cook until crisp, 6-8 minutes. Meanwhile, heat a pot of water over high heat for the eggs.

Add corn, roasted red peppers, roast beef, and barbecue sauce. You may need more or less barbecue sauce. Cook for 5-7 minutes or until heated through. Once hot, keep warm while eggs are preparing.

Add a tablespoon of vinegar if desired to the water. Once the water has reached a rolling boil, reduce heat to medium. Crack eggs one at a time into a small sieve to remove excess white before adding to the water. Cook until desired doneness is reached (see note for poached egg times). I like to work in batches of 2 eggs at a time.

Serve hash over 4 bowls. Top with poached eggs, and serve with crostini.
Notes
I like to broil the crostini as close to the element as possible and directly on the oven rack, to give it a 'grilled' taste without needing to turn the grill on. 
Make sure the potatoes are crispy before adding the rest of the ingredients, or they may become soggy.
A tablespoon of white vinegar helps keep egg whites together while poaching, but you can't taste it! Keep the water at a boil, but not a heavy boil while poaching eggs.
Poached egg times:
2 minutes - soft boiled
3 minutes - medium
4-5 minutes - hard
Calories:
537
kcal
|
Carbohydrates:
55
g
|
Protein:
25
g
|
Fat:
25
g
|
Saturated Fat:
7
g
|
Polyunsaturated Fat:
3
g
|
Monounsaturated Fat:
13
g
|
Trans Fat:
1
g
|
Cholesterol:
66
mg
|
Sodium:
2180
mg
|
Potassium:
738
mg
|
Fiber:
3
g
|
Sugar:
13
g
|
Vitamin A:
581
IU
|
Vitamin C:
59
mg
|
Calcium:
307
mg
|
Iron:
5
mg
Pin It For Later: