Air fryer pickles are breaded with panko and parmesan, then air fried to perfection. They're served with a quick and easy dill dip and make the perfect appetizer or snack!
Fried pickles in the air fryer take a little prep, but it's SO worth it. We love serving them alongside other dippable appetizers like bacon wrapped brussels sprouts, baked zucchini sticks, and crispy parmesan roasted potatoes.
They're also perfect as a snack before air fryer chicken thighs with corn on the cob!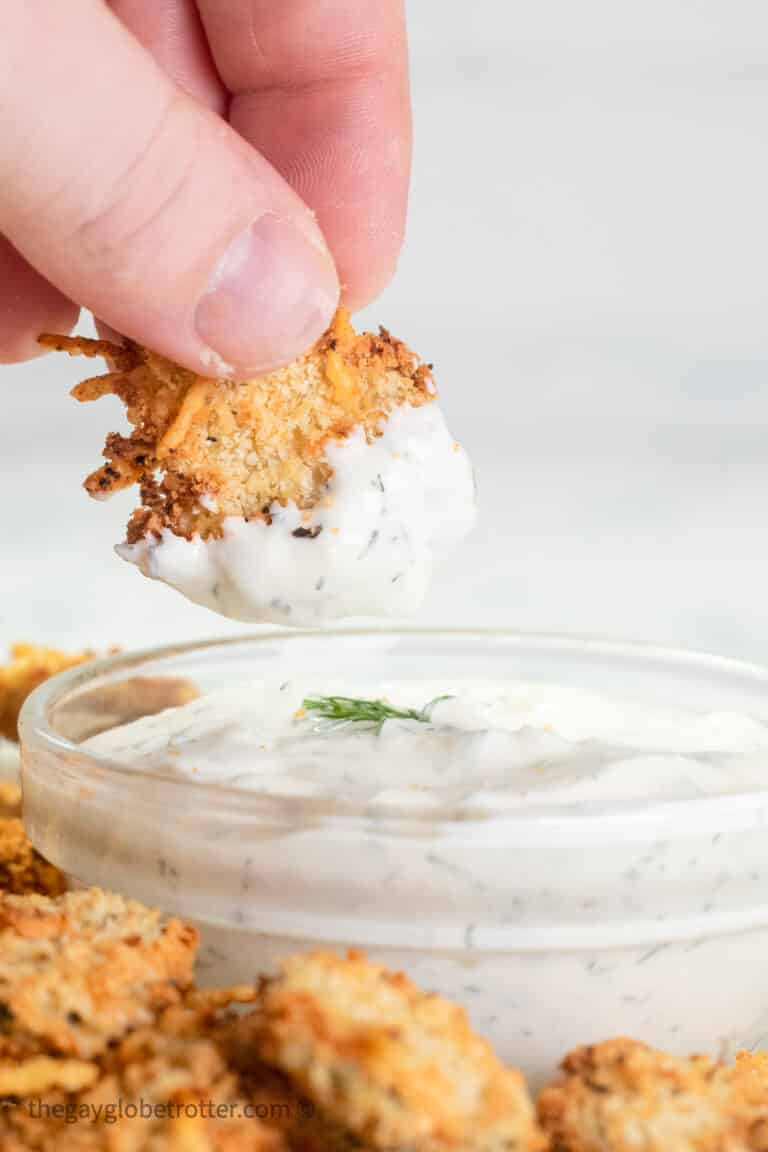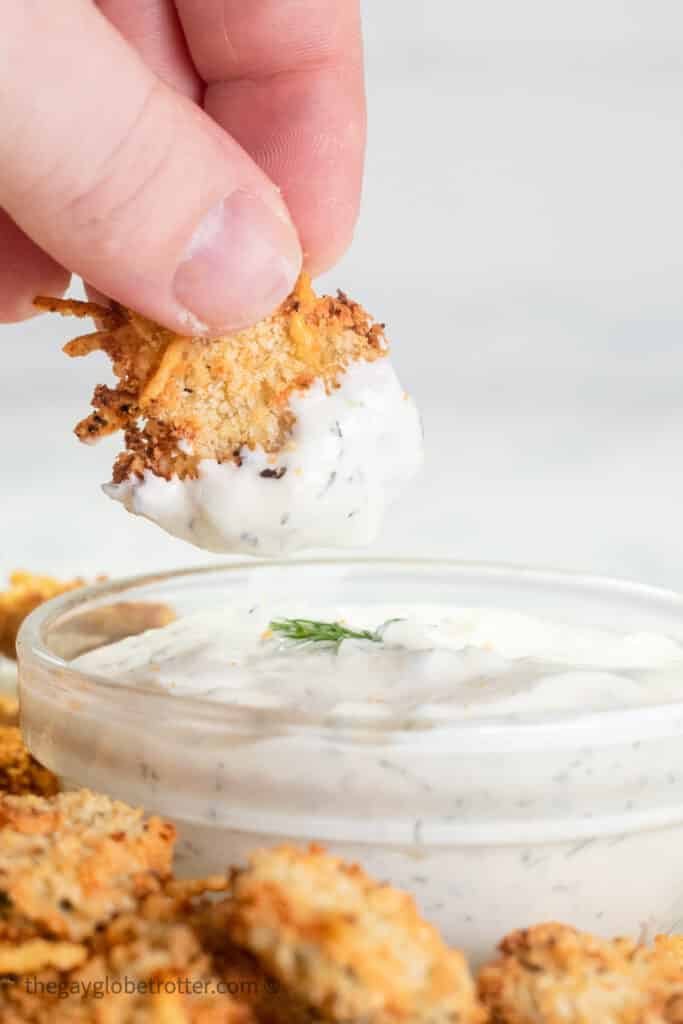 The Secret To Breading Anything
From korean fried chicken to chicken parmesan, we love breading. These air fryer fried pickles have the perfect blend of panko bread crumbs and parmesan.
When breading pickles, like most things you'll bread, arrange 3 bowls:
The flour. This is called dredging. It's always great to add some seasoning to the flour. Dredging is the process of dipping whatever you're breading in flour and shaking off excess (like in chicken piccata). This creates a dry layer for the egg wash to stick to.
The egg wash. Egg wash is simply an egg and a tablespoon of water. This allows the final breading layer to stick to the pickles perfectly.
The breadcrumbs. Nothing crisps up quite like panko, especially in the air fryer. Panko is just simply lighter, slightly larger breadcrumbs. Panko isn't seasoned, so make sure you add the seasonings in. If the shredded parmesan cheese is pretty large, break it up a little bit.
The secret to breading anything, is alternating hands. Breading gets messy quickly. Always use one hand for the dry flour and breadcrumbs, and one for the wet egg wash. This prevents your hands from getting breaded with the pickles!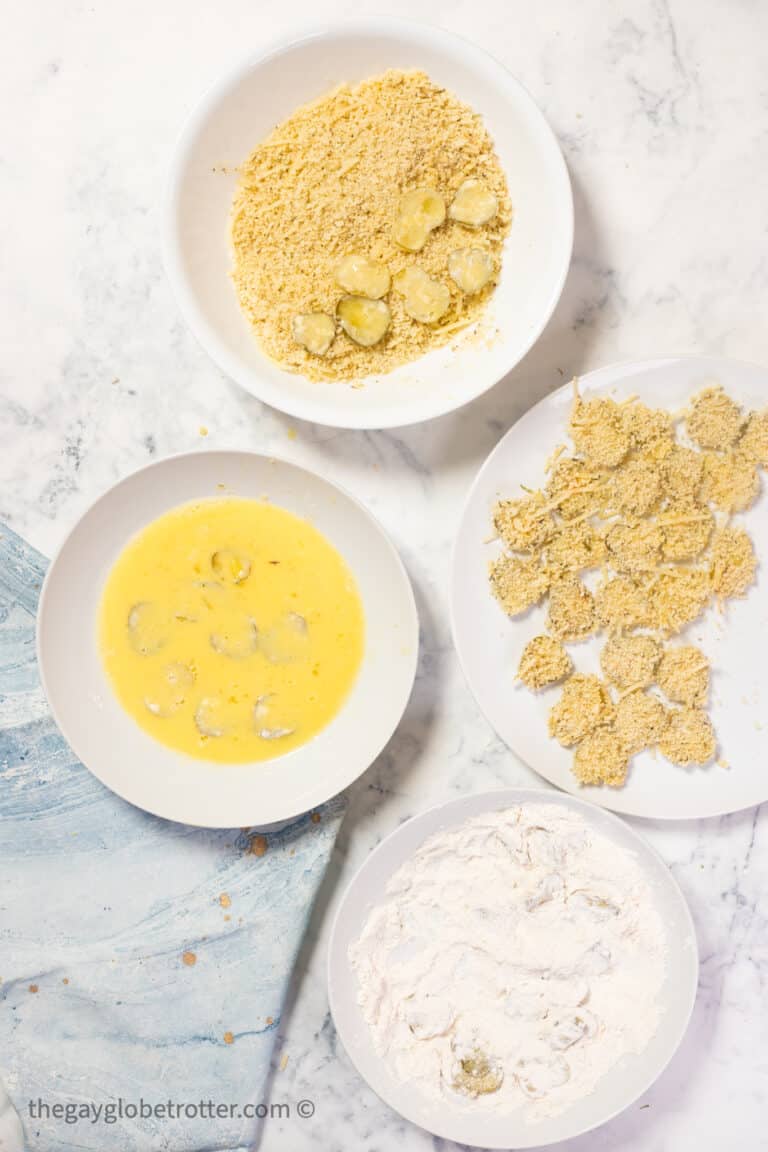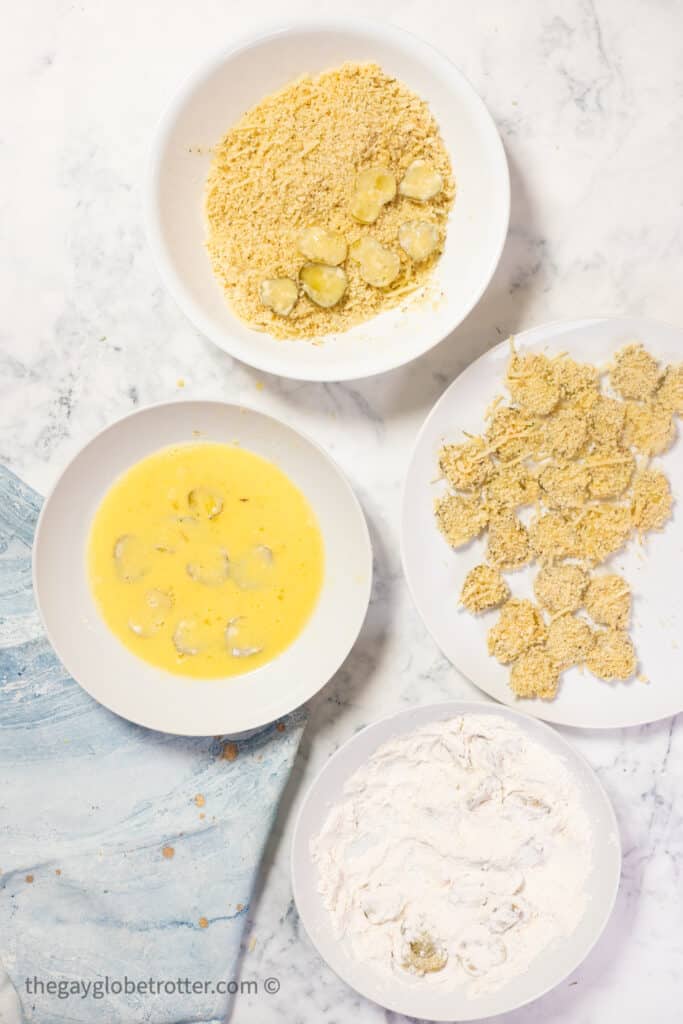 How To Make Air Fryer Pickles
Start by slicing the pickles to ¼" thickness. Arrange them on paper towel and top with additional paper towel. Pat gently to remove any excess moisture. If they are too moist, they won't crisp up.
Arrange the 3 small bowls mentioned above with the flour mixture, egg wash, and the panko bread crumb mixture. Working with about 4 dill pickle slices at a time, dip them in the flour, then the egg wash, then the breadcrumb mixture. Press gently to get a nice layer of breadcrumbs on each pickle.
Place the breaded pickles in a single layer on the rack of the air fryer, and spray with olive oil. Once sprayed, let the pickles sit for a couple minutes to ensure the breadcrumb mixture doesn't dry out in the air fryer.
Air fry them at 400°F for 8 minutes or until crisp. Depending on the size of the air fryer, it may take a couple batches.
Meanwhile, combine the dill dip ingredients. Serve immediately.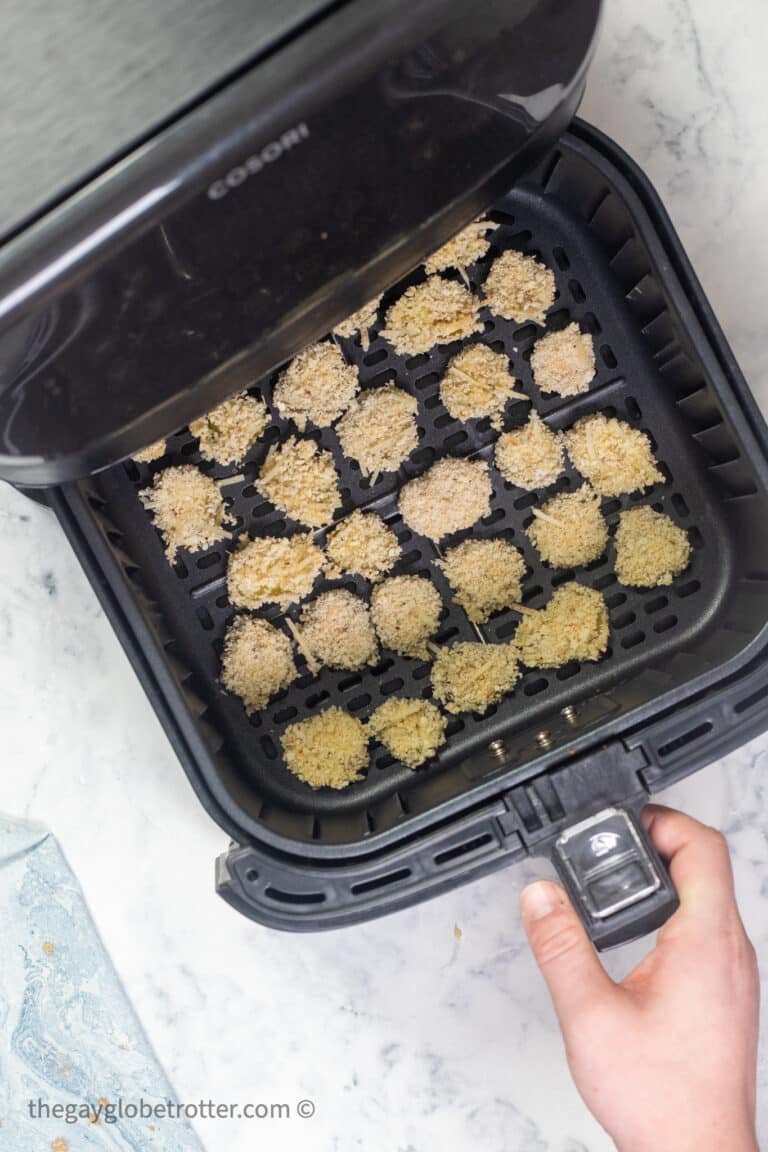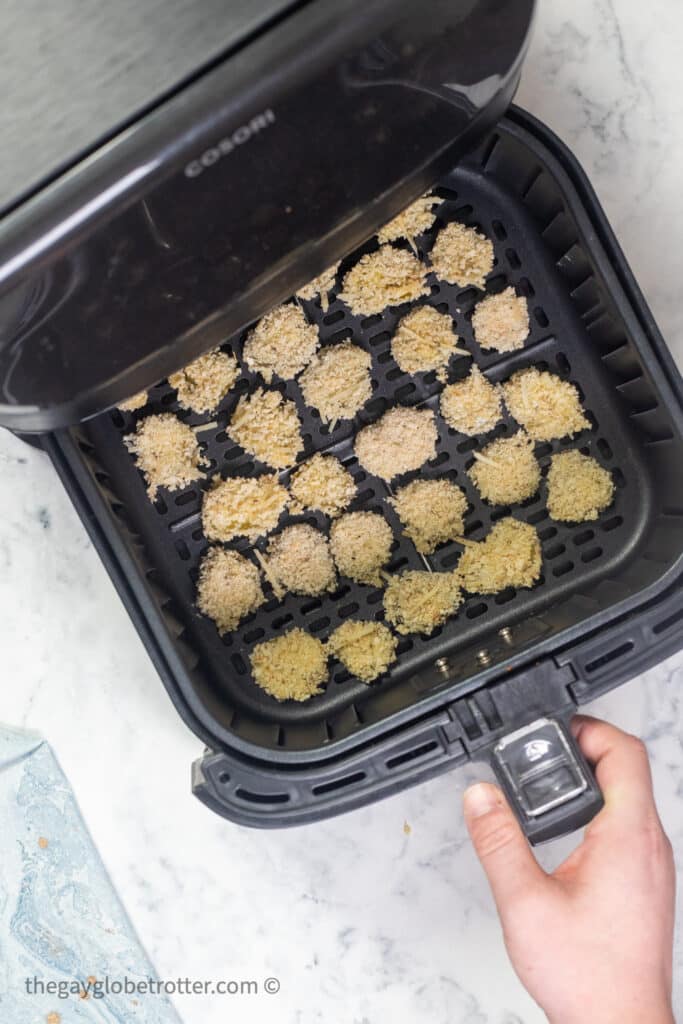 What To Serve With Air Fryer Pickles
The crispy, pickle taste goes perfectly with creamy, fresh dill dip. It's our favorite dipping sauce for these.
Some other great dipping sauces for air fryer pickles we love:
Chipotle mayo
Garlic aioli
Dill aioli
Tzatziki
Ranch dressing
Caesar dressing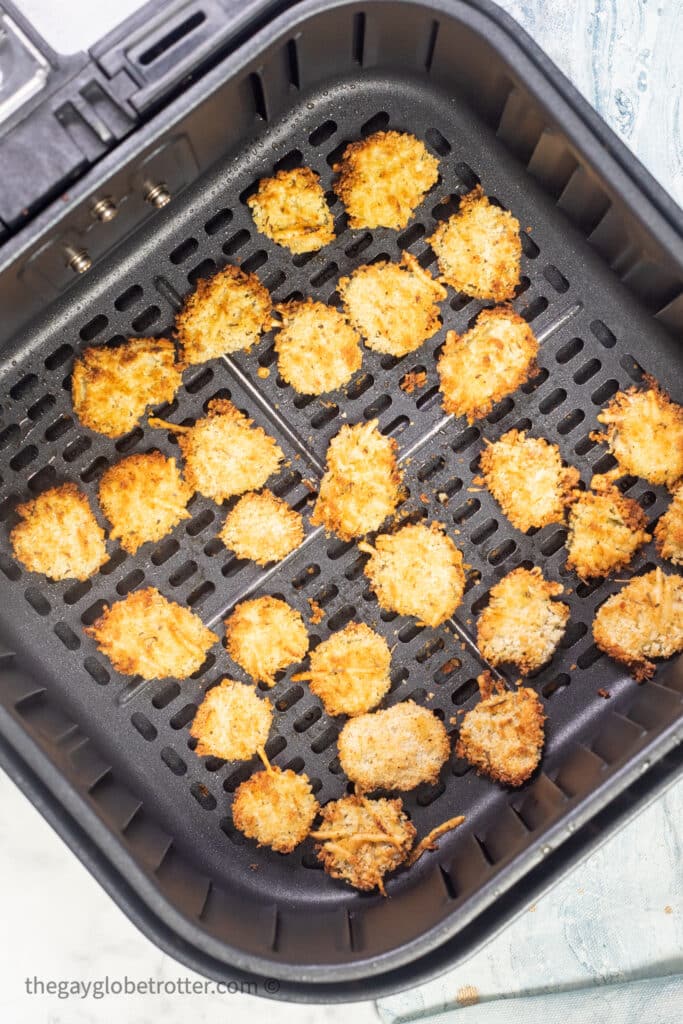 Tips For Making Air Fryer Pickles
For air fryer pickle spears, cut the pickles lengthwise to make spears, and air fry for 10 minutes.
You can either buy pre sliced pickles, or slice dill pickles yourself.
Once the pickles have been sprayed with oil or cooking spray, allow them to sit for a couple minutes. This will ensure the breadcrumbs soak it up and don't dry out.
Cut the pickles at an even thickness so they cook evenly.
Ensure the pickles are dried very well before breading with paper towel.
Air fryer pickles can be breaded in advance and air fried before serving. Same with the dill dip!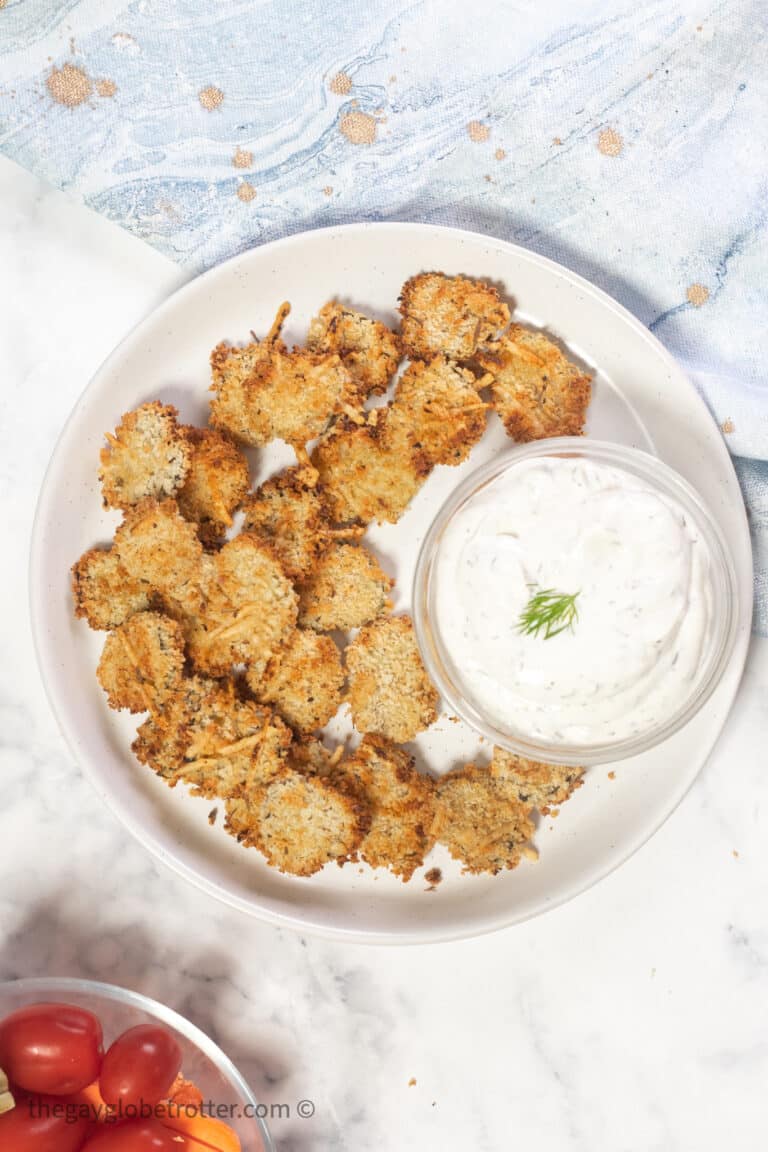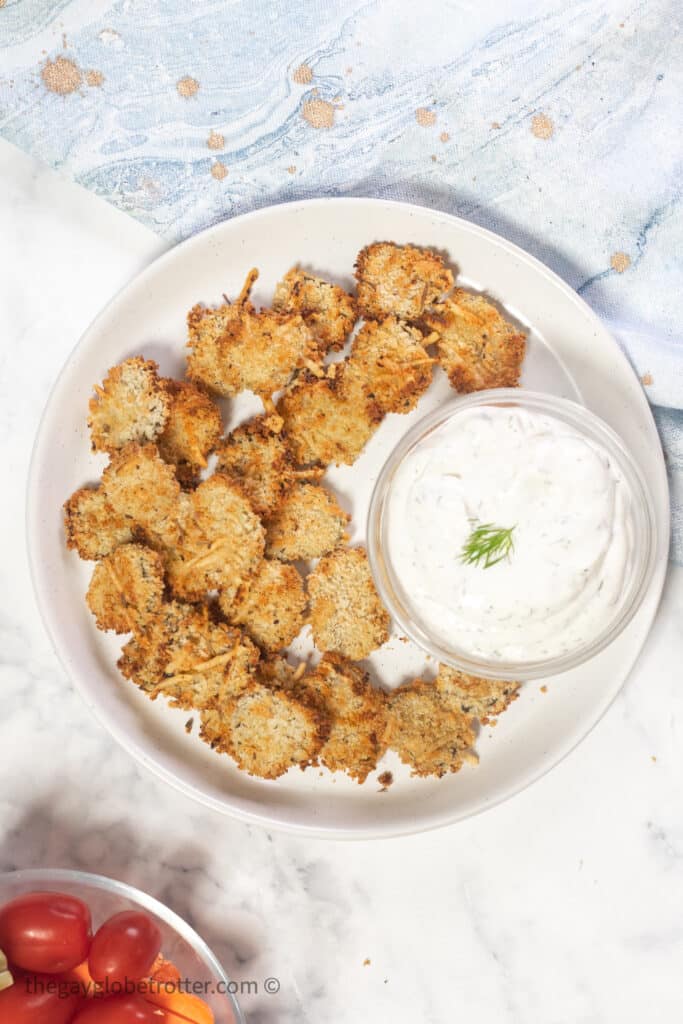 Air Fryer Pickles From Frozen
Air fryer pickles are a great make ahead choice for a last minute snack or appetizer. To freeze them:
Bread the pickles as normal. Arrange on a baking sheet.
Freeze until solid. Once frozen, pour in a freezer bag and freeze for up to 6 months.
To make air fryer pickles from frozen:
Arrange the frozen pickles in a single layer on the air fryer rack.
Spray with oil or cooking spray.
Cook at 400°F for 10-12 minutes or until heated through and crisp.
Storing Instructions
Store air fryer pickles in an airtight container in the fridge for up to 5 days.
To Reheat:
Reheat for 2-3 minutes in the air fryer at 360°F.
More Air Fryer Recipes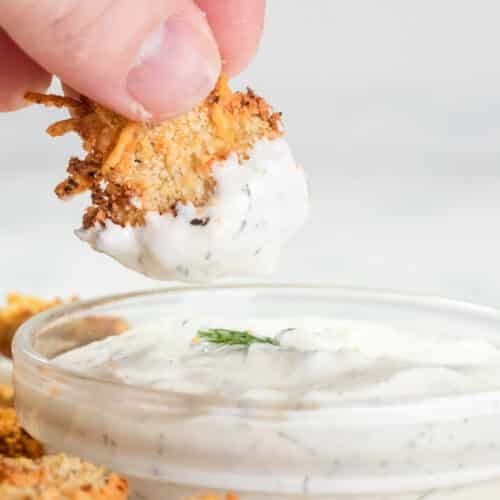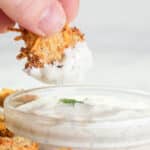 Rate this Recipe
Air Fryer Pickles
These crispy fried pickles are the perfect dippable appetizer.
Print Recipe
Pin Recipe
Tried this recipe?
I'd love to hear what you think. Leave a comment and rating below!
Ingredients
1

pound

pickles

drained

1

cup

all purpose flour

½

teaspoon

cayenne pepper

½

teaspoon

pepper

2

eggs

1

cup

panko breadcrumbs

⅓

cup

parmesan cheese

1

teaspoon

garlic powder

1

teaspoon

Italian seasoning

½

teaspoon

paprika

½

teaspoon

salt

1

tablespoon

olive oil

or cooking spray
Quick Dill Dip
⅓

cup

sour cream

2

tablespoons

mayonnaise

½

teaspoon

dried dill weed

½

teaspoon

garlic powdeer

½

teaspoon

black pepper
Instructions
Cut pickles into ¼" slices, and lay between paper towels to absorb as much moisture as possible.

Meanwhile, arrange 3 bowls. In the first, combine flour, cayenne, and pepper. In the second, beat two eggs with 2 tablespoons of water. In the third, combine breadcrumbs, parmesan cheese, garlic powder, Italian seasoning, paprika, and salt.

Working in batches of about 4, dredge the pickle slices in flour, then dip in egg wash, then coat evenly with breadcrumb mixture, shaking off excess between each bowl.

Once breaded, arrange pickle slices in the air fryer basket in an even layer. You may need to do a few batches. Spray with cooking oil, and allow to sit for 2-3 minutes.

Air fry at 400°F for 8 minutes or until breading is golden.
Quick Dill Dip
Combine all dill dip ingredients in a small mixing bowl.
Calories:
171
kcal
|
Carbohydrates:
8
g
|
Protein:
8
g
|
Fat:
4
g
|
Saturated Fat:
2
g
|
Cholesterol:
58
mg
|
Sodium:
1233
mg
|
Potassium:
138
mg
|
Fiber:
2
g
|
Sugar:
2
g
|
Vitamin A:
412
IU
|
Vitamin C:
1
mg
|
Calcium:
132
mg
|
Iron:
2
mg
Pin it for later: