Bacon wrapped brussel sprouts are the ultimate party appetizer. Colorful brussel sprouts are wrapped in sweet maple brushed bacon, topped with cracked black pepper and roasted until the bacon is crisp and the sprouts are tender. Serve them with a lemon aioli and spicy maple dip for the perfect appetizer!
Whenever I am entertaining friends or family, appetizers are a must. I always put out pita bread and tzatziki, and serve these bacon wrapped brussel sprouts alongside cranberry meatballs and cream cheese stuffed mushrooms once the guests arrive. They are always gone faster than I can bake them.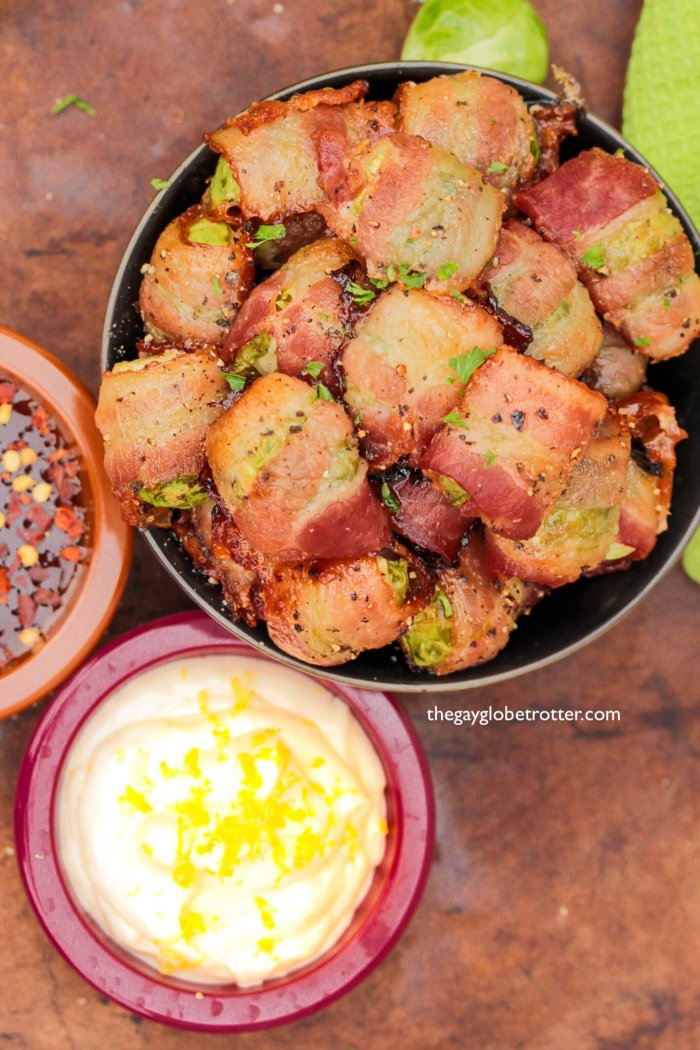 Bacon Wrapped Brussel Sprouts
Maple syrup pairs perfectly with the saltiness from the bacon, and a little bit of cracked black pepper really gives these bad boys the perfect kick (similar to candied bacon).
Serve them alongside a simple lemon aioli and some spicy chili maple syrup for the yummiest appetizer ever!
The best appetizers can be made in advance, and these are no exception!
Prep brussel sprouts with bacon in the morning before anyone even arrives.They only take about 18 minutes in the oven, meaning you can pop them in once the party has started!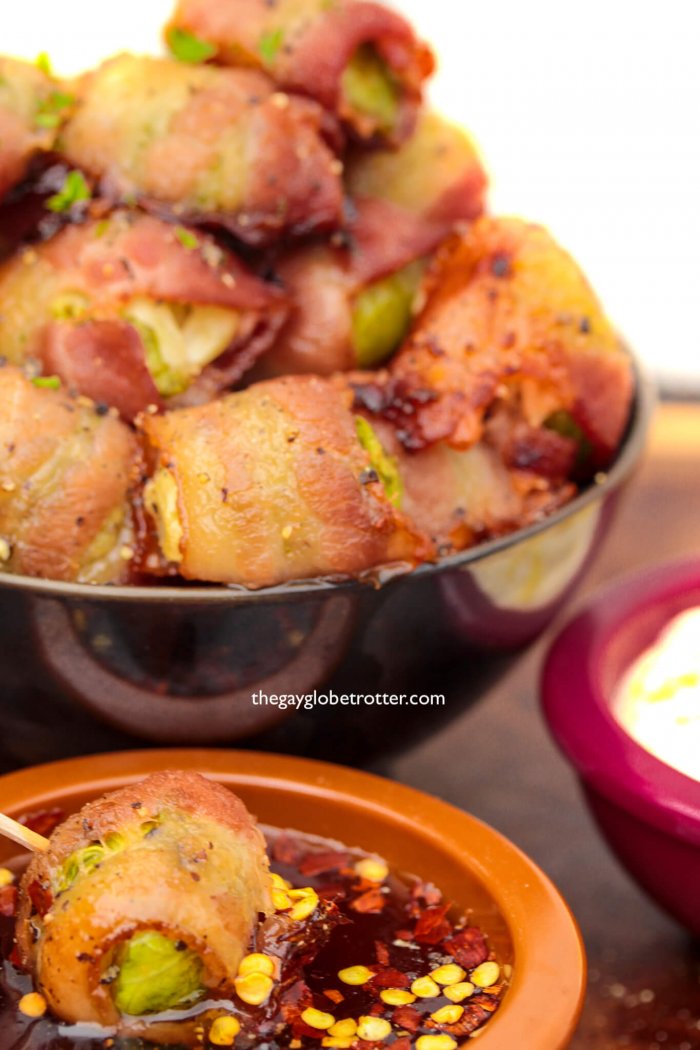 Bacon wrapped brussel sprouts also travel well, making them the perfect potluck option. I am not saying it's a competition (that's totally what I'm saying), but your dish will be the first one gone. Trust me!
A lot of bacon wrapped brussel sprouts recipes use a toothpick to secure them, but this recipe is the perfect way to avoid having to toothpick each bacon wrapped brussel sprout!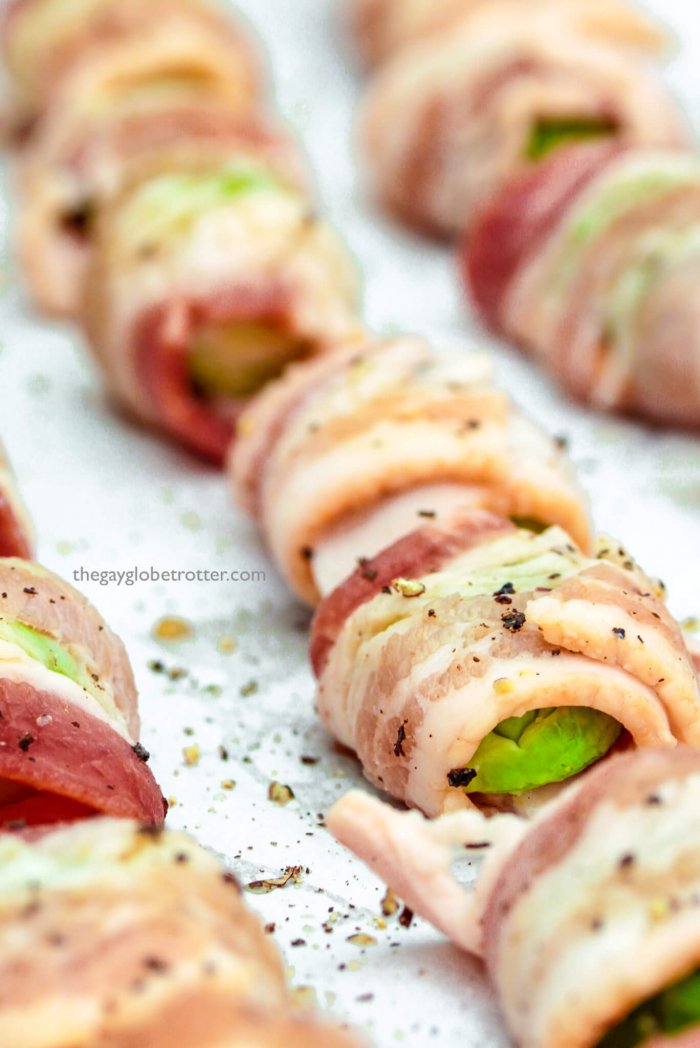 How To Cook Brussel Sprouts With Bacon
To make these bacon wrapped brussel sprouts, wash the brussels sprouts. Remove the stems, then slice them in half. I like to select the largest brussel sprouts possible for this recipe. If you have smaller ones in the mix, leave them whole so the bacon to brussel sprout ratio isn't too off. Toss the brussel sprout halves with garlic powder and salt in a small bowl, then set it aside.
Next is the bacon, I like to arrange the strips of bacon on a large baking sheet or cutting board to keep things easy. Brush the slices with maple syrup (I use a sauce brush for this), and sprinkle them with a little pepper. You don't want the bacon to be soaked in syrup, but it definitely adds a ton of flavor!
Slice the bacon pieces in half. If you want less bacon on each brussel sprout, thirds will work too. Wrapping the brussel sprouts is a little messy, but it goes pretty quickly. With the maple side facing the brussel sprouts, wrap each brussel sprout with one piece of sliced bacon. Each piece should wrap around 1 or 1 ½ times. Place them seam side down. You don't want them to unravel while they bake.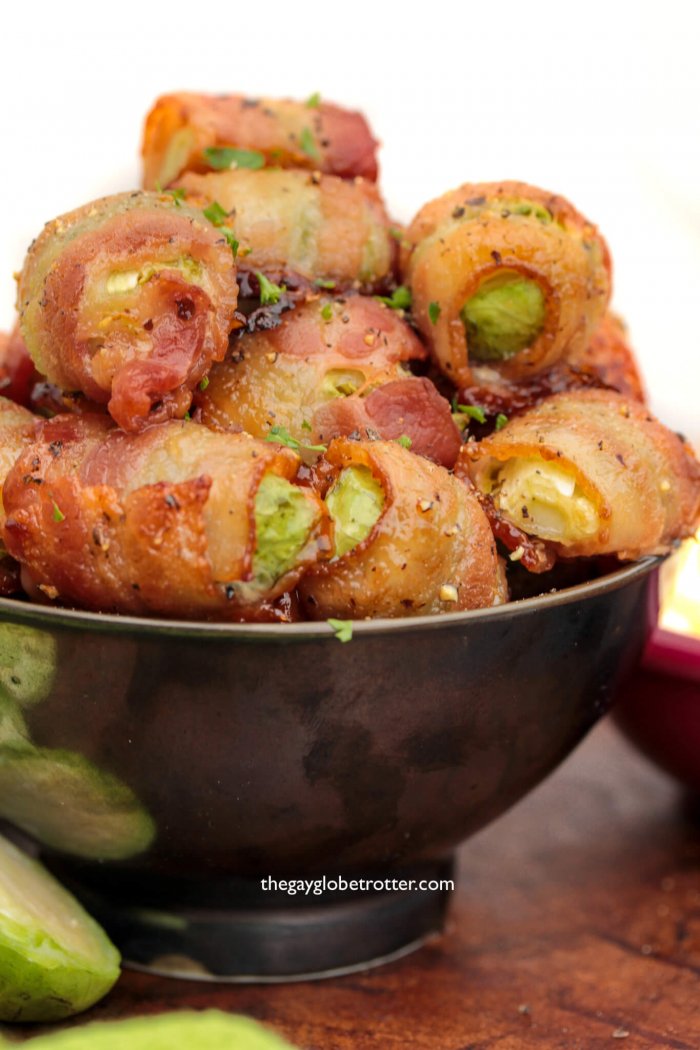 You should be able to wrap each brussel sprout so that the flat side is facing down and the bacon is tucked underneath it. Arrange them 1" apart on a rimmed baking sheet with parchment paper, brush them with maple syrup, top with cracked pepper, and bake until the bacon is crisp and the brussel sprouts are tender.
Sometimes, the maple syrup that drips onto the baking sheet will char and cause the oven to smoke. Don't worry! The bacon wrapped brussel sprouts will still be perfect. My smoke alarm can attest to it!
While they bake, whip up the dipping sauce. Serve these bacon wrapped brussel sprouts on a platter with some toothpicks, watch the crowd devour them, and pat yourself on the back.
Leftovers?
Store bacon wrapped brussels sprouts in an airtight container in the refrigerator for up to 5 days. Heat them in an air fryer, or in the oven for about 5 minutes.
More Recipes You'll Love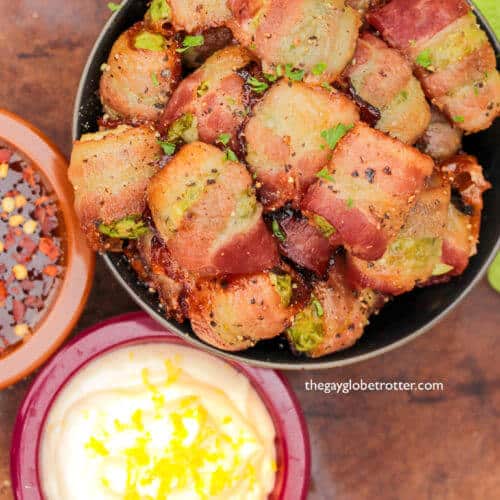 Rate this Recipe
Bacon Wrapped Brussel Sprouts
Servings:
36
brussel sprouts
Bacon Wrapped brussel sprouts are the ultimate party appetizer. Brussel sprouts are wrapped in maple syrup brushed bacon and roasted to tender perfection.
Print Recipe
Pin Recipe
Tried this recipe?
I'd love to hear what you think. Leave a comment and rating below!
Ingredients
1

package

bacon

16-20

brussel sprouts

1

teaspoon

salt

1/2

teaspoon

garlic powder

1/4

cup

maple syrup

black pepper

to taste
Lemon Aioli
1

cup

mayonnaise

1

tablespoon

lemon juice

1

teaspoon

lemon zest

1/2

teaspoon

chili powder

optional
Spicy Maple Syrup
1/2

cup

maple syrup

2

teaspoons

chili flakes

black pepper

to taste
Instructions
Preheat oven to 425°F. Line a baking sheet with parchment paper. Set aside.

Wash and halve brussel sprouts. Toss with garlic powder and salt in a small mixing bowl.

Arrange bacon slices on a work surface. Brush with maple syrup and sprinkle with black pepper.

Slice bacon slices in half with a sharp knife.

Beginning with the flat side of the brussel sprout, wrap bacon around tightly. Each bacon slice should wrap around 1-2 times. Secure end of bacon underneath the brussel sprout.

Arrange bacon wrapped brussel sprouts on prepared baking sheet. Brush with additional maple syrup and top with black pepper.

Bake for 20-25 minutes or until brussel sprouts are tender and bacon is crisp.
For Lemon Aioli:
Mix mayonnaise, lemon juice, lemon zest, and optional chili powder. Garnish with additional lemon zest.
For Spicy Maple Syrup
Mix maple syrup, back pepper, and chili flakes. Add more or less chili flakes to taste. If you'd like it spicer, allow it to sit for 15-20 minutes before serving.
This recipe was adapted from The Food Network
Tried this recipe? Let me know how you liked it below!