Once you try homemade Greek pita bread, you'll never go back to buying the store bought stuff again. Trust me.
This Greek bread is so light and flavorful and it is super fun to make! Kneading is a ton of work, but it is SO worth it for authentic homemade Greek pita bread. Just add tzatziki!
When I visited Greece, I got to watch the street food vendors make this pita bread first hand during my Greece street food tour. It was so cool to see how decades of experience showed the love and care that went into making authentic Greek cuisine.
It was both humbling and inspiring – I wanted to recreate that perfect pita that I had the privilege of trying for you guys to enjoy at home. You will never go back!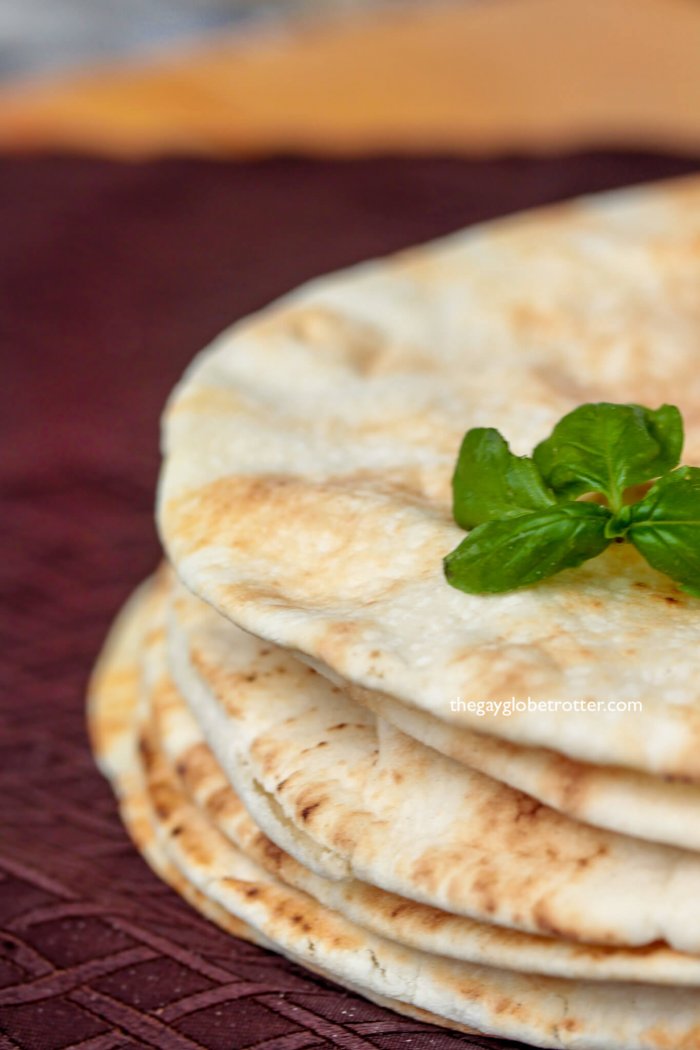 What Is Pita Bread
Pita bread is a type of flatbread that is found throughout Mediterranean, Greek, Indian, and Middle Eastern cuisines. It is often made using wheat flour, and is soft and slightly chewy.
When pita bread is baked, it will often have a pocket inside which is used to make donairs. Greek pita bread is fried rather than baked, as Greek pita bread is cut into triangles to be served with tzatziki, or wrapped in half to create my favorite Greek street food – gyros.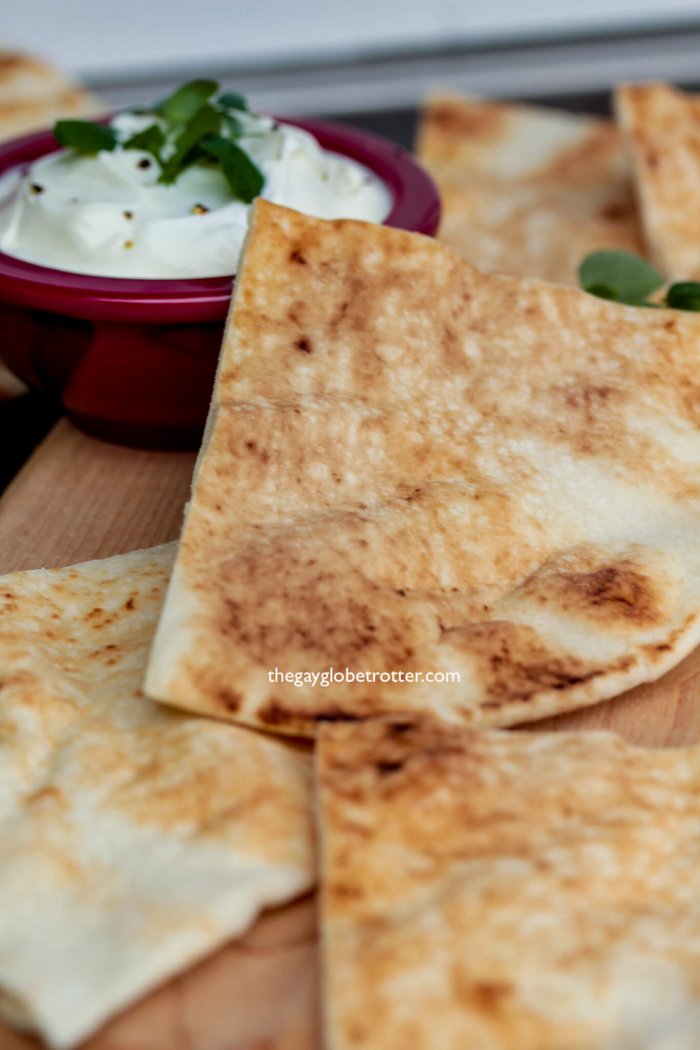 How To Make Pita Bread
Pita bread isn't difficult to make, it just takes a little time and a little love. Start with a small bowl, activate your yeast by placing it in a bowl of warm water with sugar, and salt for 10 minutes. This will help the dough rise!
Pour the flour into a large mixing bowl and create a hole in the center of it – called a well. Once the yeast has activated, pour the yeast mixture into the well. Use your hands to combine the flour and the yeast mixture. If you notice the dough sticking to your hands, just dust them with a little more flour!
Knead the Greek pita dough for about 10-15 minutes or until it is completely combined. Add a tablespoon of olive oil, and continue kneading until it is mixed in well. Cover the dough with a towel and let it sit for about an hour to finish rising – your dough will roughly double in size!
Punch the dough (bam bam), then knead it for a few more minutes. Cut it into 6-8 equal pieces and roll them out to ¼ inch thickness.
Heat a tablespoon of olive oil in a skillet on medium high. Once it is hot, fry the Greek pita bread for a minute or two on each side, or until it is soft but cooked through!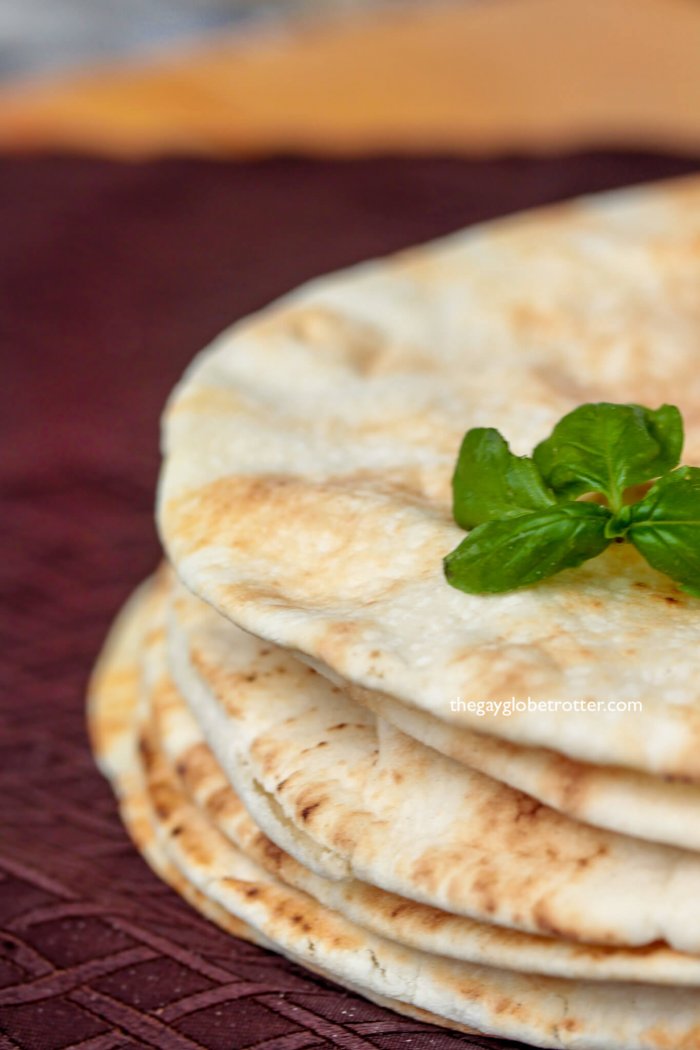 What To Eat With Pita Bread
Pita bread is tzatziki's best friend. Everyday in Greece, I had Greek pita bread and tzatziki! Pita bread also goes perfect with hummus, or even just a little drizzle of olive oil.
Greek pita bread made softer than other pita breads, making it perfect to wrap up gyros – the literal best food ever. Serve the gyros with a side of Greek salad for an authentic Greek meal that will make everyone come back for seconds!
If you're making appetizers, serve this pita bread with some tzatziki and serve them next to some bacon wrapped brussel sprouts and meatballs for the ultimate appetizer spread. You'll love it!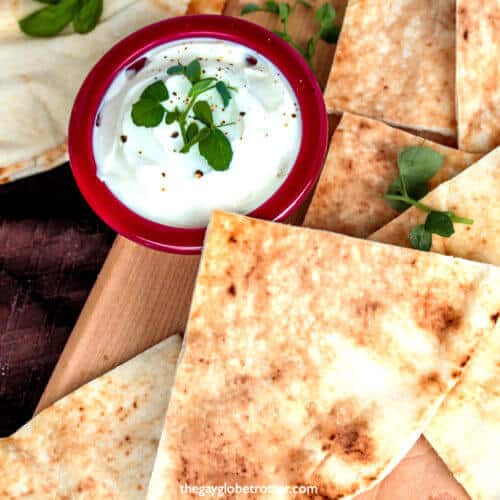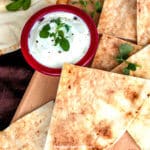 Rate this Recipe
Greek Pita Bread
This homemade Greek pita bread is so much better than store bought! An easy pita dough is fried in olive oil until golden. They're perfect for wraps or with tzatziki!
Print Recipe
Pin Recipe
Tried this recipe?
I'd love to hear what you think. Leave a comment and rating below!
Ingredients
2 1/4

teaspoons

instant dry yeast

1

tablespoon

sugar

1

teaspoon

salt

1

cup

warm water

2 1/2

cups

all purpose flour

2

tablespoons

extra virgin olive oil
Instructions
In a small bowl, combine yeast, sugar, salt, and warm water. Stand for 10 minutes.

Place flour in a large mixing bowl, making a well in the centre. Pour the yeast mixture into the well.

Knead the mixture into a dough. If the mixture is sticking to your hands, use additional flour. Knead the dough for 10 additional minutes.

Add 1 tablespoon of olive oil to the dough, and continue kneading until combined.

Cover the dough with a tea towel and allow to rise for 1 hour. Punch the dough and knead for an additional 5 minutes.

Separate the dough into 6-8 equal pieces and roll them out to 1/4 inch thickness.

Add a tablespoon of olive oil to a skillet on medium high heat. Once oil is hot, fry each pita for 1-2 minutes on each side or until pockets have formed and pita is cooked through but soft and white.
Notes
Store extra pita bread in a plastic bag in a cool dry place.
Pin This For Later!