Greece food is some of the best tasting, and freshest food ever. They have been known by the many since the beginning of time to have one of the most distinct and delicious food cultures in the world!
The ability to travel to Greece got me so excited to try some traditional Greece food recipes, such as Flaounes. I have eaten Greek food at home, but nothing compares to the real thing!

During my trip, I started off dining at some amazing restaurants in London before hopping on a flight over to Athens. I had the ability to try some of the world's best cuisine. I definitely had to unbutton my pants after a few meals! It helped to wash the amazing food down with ouzo – a Greek liqueur that tastes sort of like black liquorice.
In Greece, they pride themselves on using less ingredients and cooking healthier, fresher food. A lot of the food we ate was actually cultivated and caught in the area! If you're planning on doing a Greece food tour, be sure to check out this perfect guide to foodie Island hopping!
I have created this Greece food guide to tell you a little bit about what my dining experiences were like while in Greece, and to share some traditional greek food recipes with you
What Food Do They Have in Greece?
When I was in Greece, I was seriously in heaven. Before heading to my favorite Mykonos beaches each morning, I started my days with a fresh Greek yogurt and honey, as well as a cup of Greek coffee!

Lunch time would hit, and street gyros were probably the only thing I ate. Gyros cost you about €1 and are available everywhere! Grabbing gyros was probably one of my favorite things to do in Mykonos.
They are basically delicious spit roasted lamb or beef. The meat is slow roasted vertically, then sliced and added to a fresh bun or pita bread. The gyros meat is topped with tomatoes, onions, tzatziki, and topped with french fry goodness.
Whether you are in Greece for the sunshine or for a Greece food tour, gyros are a staple! They will definitely be cheapest thing you will find!

We decided to step it up a notch during our Greece food tour and eat out a couple nights, and weren't disappointed. Everything from the fresh oysters, to pasta, to pizza, and to salads were so delicious paired with some beautifully crafted and perfectly paired red and white wines.
While in Mykonos, we went to a fine dining place and enjoyed some ouzo and hand made pasta while watching the sunset across the Greek oceans. That right there was probably the highlight of my trip… Or life haha! It sure beat the following night when I almost died in Greece.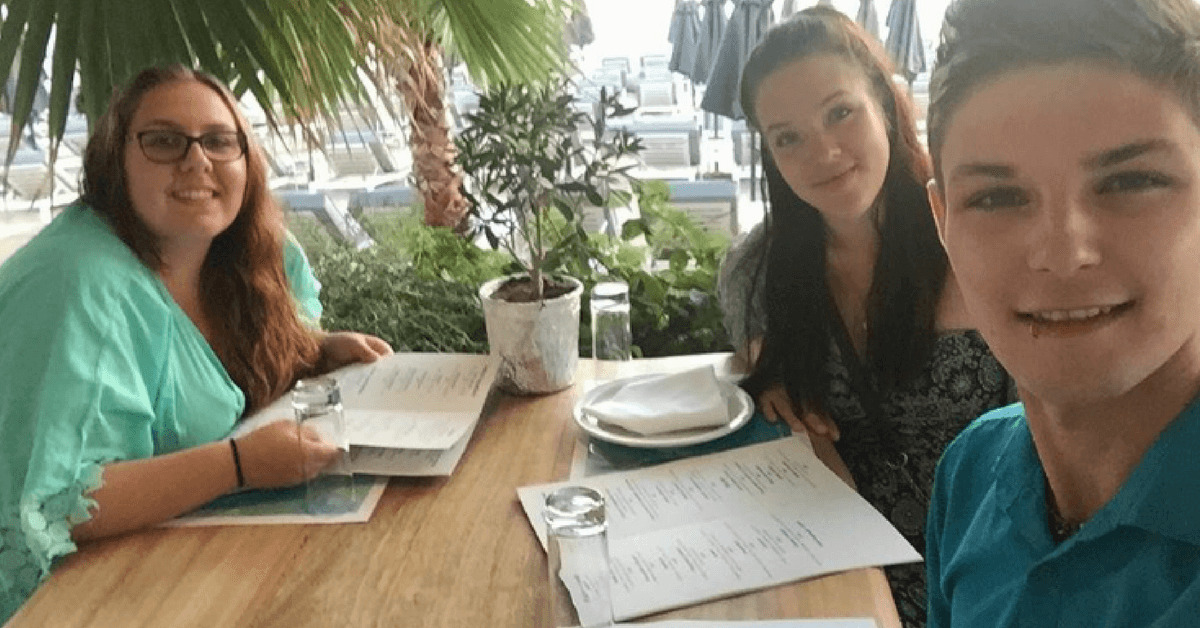 I found the tzatziki (yogurt, cucumber, and garlic) to be absolutely delicious, too. Eating fresh pita bread and tzatziki on my beach chair was amazing! Greece food recipes use a lot of lighter foods, so you won't end up feeling overfull or stuffed after enjoying them.
And don't even get me started on the Greek salad. They actually serve it with a huge brick of feta cheese on top that you break off as you eat the salad. Here in Canada, they serve it in small bite-sized cubes. I thought that was super cool! Some of the best greek recipes are the ones that have simple ingredients, and simple steps. The quality of food there is what makes it so memorable!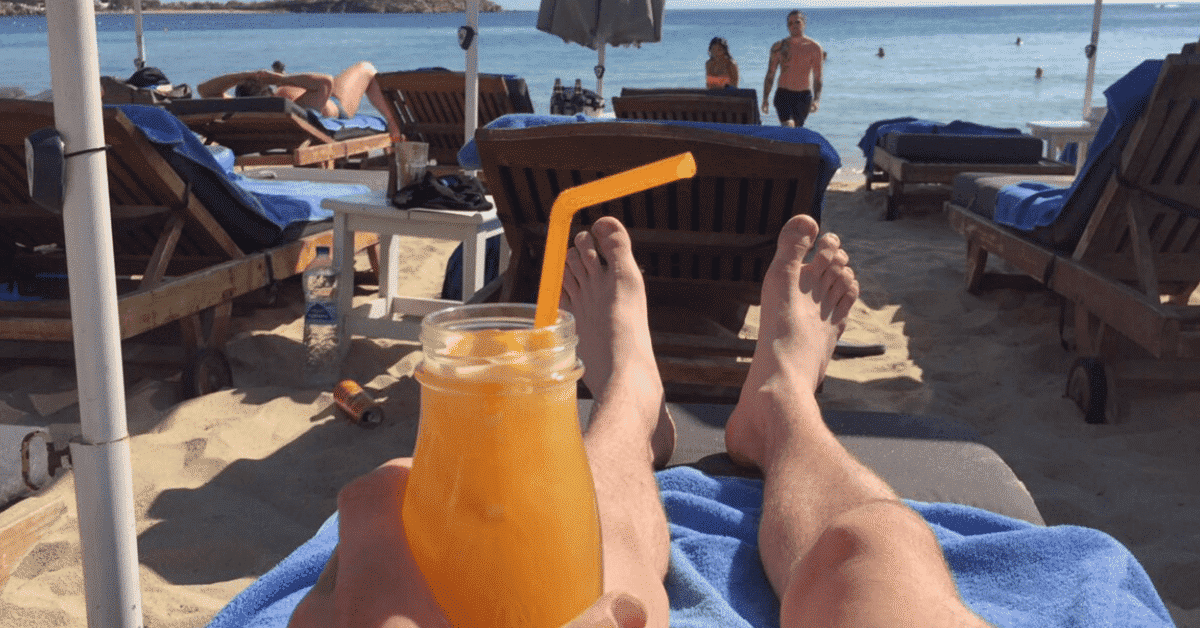 What is the most popular food in Greece?
The Greeks sure know how to eat! They have a ton of immensely popular foods that are enjoyed around the world.
Below, I have listed some of the most popular Greece food recipes, incase you want to try your hand at whipping up some delicious Greek food!

The Greeks sure know how to make a delicious grilled meat. They always come out perfectly charred and oh-so-flavorful. Enjoy them with some minced olives, tzatziki, or on top of rice and potatoes.

The fish in Greece is always fresh. They have a great supply of fish right off of the many beautiful coastlines. Ancient Greece food definitely used the same flavors! Most restaurants will catch their fish fresh each morning, and it definitely makes a difference in the quality of their food!

This amazing greek dessert is known globally for its sweet crunch. Layers of filo pastry and walnuts are topped with honey and baked to an indulgent perfection!

Dolmadakia is a dish that consists of grape leaves stuffed with ground lamb or beef and rice. I love ordering these as an appetizer!

If you're not health conscious, then this dish is for you. Feta Me Meli is basically a block of feta cheese that is wrapped in filo pastry, fried, and drizzled in honey. YUM.

Basically the only salad you need in Greece. Fresh peppers, red onions, tomatoes, and olives are topped with a block of feta cheese, and served tossed in a balsamic herb vinaigrette. A definite Greek staple!
This one I actually still make at home… But it doesn't compare to the saganaki in Greece. Surprisingly I don't have a photo of this one, it was gone so fast!
It consists of a piece of graviera cheese that is dredged in flour, then fried in a pan and served with a side of pita bread. It is melty-cheesy-goodness in a pan, and only takes about 10 minutes to prepare!
While not traditional by any means, I have kicked it up a notch while entertaining friends! I did so by flambéing my saganaki in a shot of tequila and putting it out with a lime. It's so delicious, and will definitely impress your friends!
The food in Greece will show you how delicious, fresh and healthy eating can be. If I didn't go back for the culture, beaches, vibrant nightlife, or shopping… the food alone would sell this amazing country to me.
I definitely made sure to pick up a few oils and herbs for my family and friends while I was in Greece, it sure beats bringing people back keychains or magnets! 😉
If you are heading to Greece soon, check out my Greece Travel Guide to help you plan out your itinerary! I also have my printable Greece itinerary ready for you. Just enter your email below and I can email it over to you!
What are your favorite Greek foods? Let me know in the comments below!
Don't forget to pin this to your travel and food boards!