Mykonos beaches are known worldwide as some of the most beautiful and vibrant beaches around. Located about a 6 hour ferry ride away from Athens, it is no surprise that the island of Mykonos has become a party hot spot for both gay and straight travellers over the last 20 or so years.
In the summer, Mykonos turns into a party destination boasting some of the best world-class DJs, and parties that don't end until well into the next day. People flood into the Mykonos beach hotels from all over Europe and the rest of the world, looking to have a good time and meet other people.
This article will show you some of the most popular Mykonos beaches, and hopefully convince you to stop by Mykonos while you travel Greece!
Don't forget to check out these 20 awesome things to do in Mykonos too!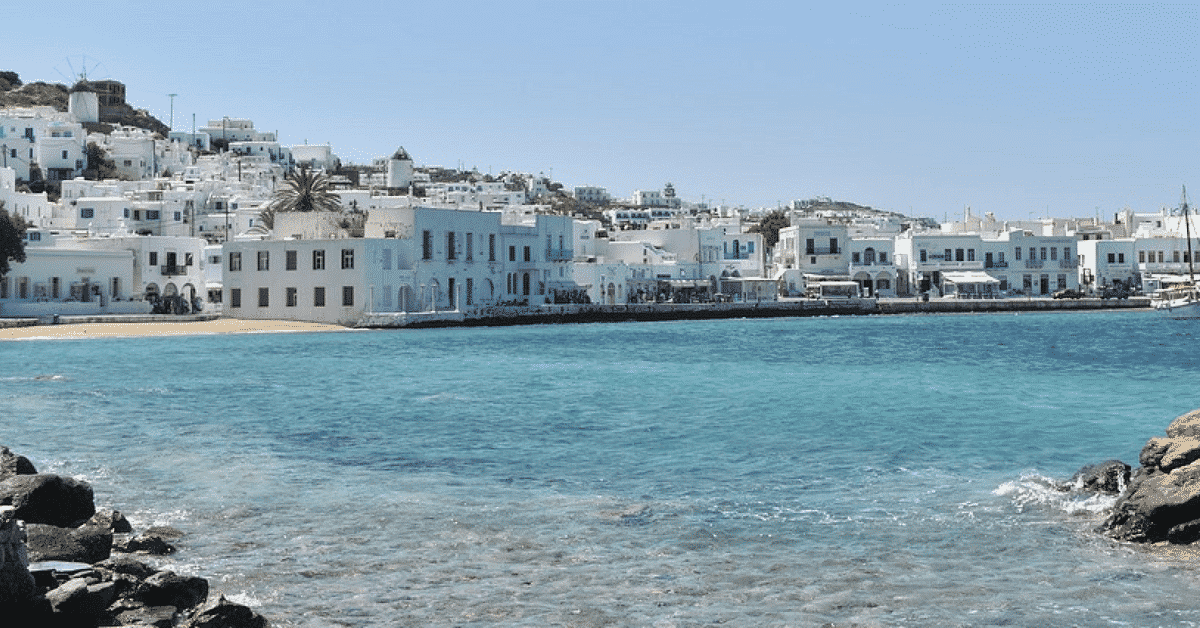 Mykonos and Ibiza are known as two of the top party destinations in Europe, and they sort of have a rivalry going on. In a lot of the beach shops throughout the town of Mykonos, you will find brightly colored shirts that have slogans on them like "Mykonos trumps Ibiza" and a few with words I won't repeat here.
But aside from the parties, Mykonos beaches can also be tranquil and generally accepting places to enjoy your beach vacation. Below, I have listed some of my favorite Mykonos beaches, to help you decide which beaches to visit on your Mykonos vacation!
The Best Mykonos Beaches
1. Platis Gialos
Platis Gialos is the beach I stayed at most recently, which I absolutely loved. This Mykonos beach is located about 6 km south of the town of Mykonos. It is a lot quieter than the other Mykonos beaches, making it the perfect place to deal with my jet lag. There are a ton of restaurants lining the beach, and beach chairs for just about every hotel here!
We stayed at Acrogiali Hotel on Platis Gilaos (remember the time I almost died in Greece?…) This gave us free access to the beach chairs while we were there; I spent a lot of time lounging in the sun, sipping cocktails, and just taking in the beautiful blue ocean while I stayed at Platis Gilaos! This is one of my favorite Mykonos beaches for escaping the crazy parties but still being able to experience them.
There is a port on the beach that runs taxi boats to many of the other beaches that are less accessible by the roads, such as Super Paradise Beach Mykonos.
2. Elia Beach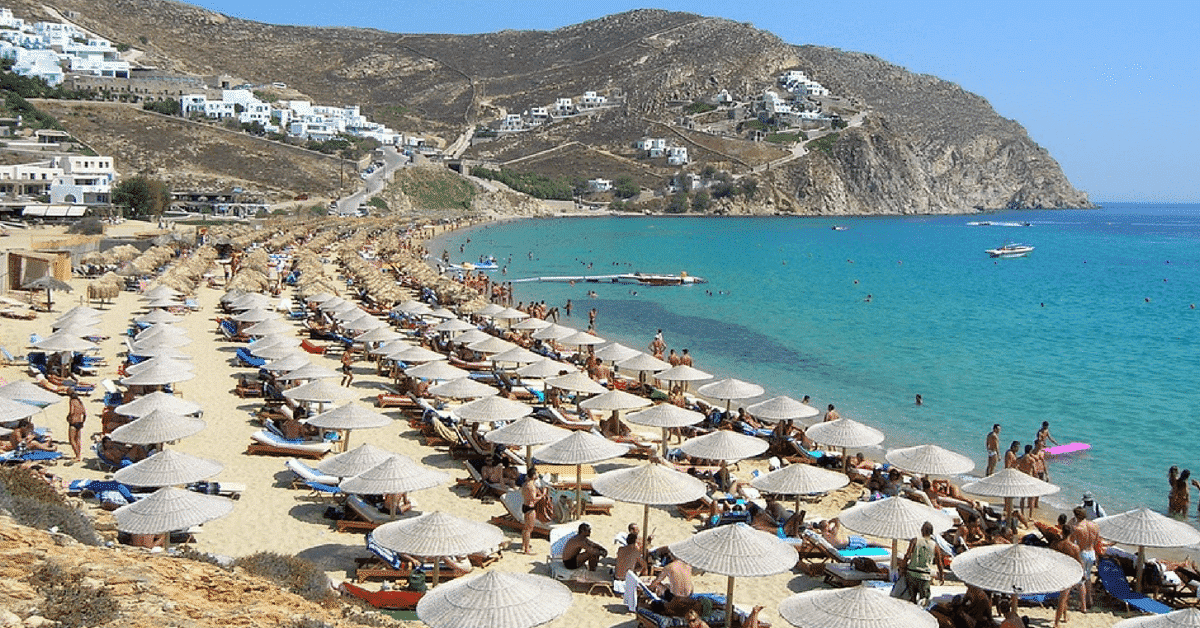 If Super Paradise is the gay party beach, then Elia is the Mykonos gay beach for relaxation. Although it is considered the gay beach, Elia Beach is the longest beach on the island of Mykonos. This means that all sorts of people end up coming to enjoy Elia's beauty. If you are looking for the gay area, keep walking and you will find it.
Oh, did I mention the beach is clothing optional? Elia is the best Mykonos nude beach around. Despite this, you will still find an abundance of children and families attending Elia beach for its beautiful white powder sand and crystal blue waters.
Elia beach is the farthest beach from the town of Mykonos that you will probably be checking out, about 10 km from the town. I found that taking a taxi boat was the easiest way to get there! Elia Beach is a very organized beach, packed full of sunbeds, beach chairs, and umbrellas. Make sure you bring some Euros in order to rent a bed at the beach!
There are a ton of bars and restaurants across Elia Beach too, so keep walking until you find something you like! I definitely had to add Elia Beach to my Greek food tour!
3. Paradise Beach
Paradise beach is nestled in between Super Paradise Beach and Paranga Beach. Known as one of the top party beaches in Mykonos, Paradise Beach attracts a younger, party-centric crowd. Alcohol flows freely at the Mykonos beach club on Paradise Beach, with many world-famous DJ's known to come and play at the Paradise Beach Resort Mykonos.
If you are looking for a quieter and more relaxing beach to visit during your trip to Mykonos, I suggest checking out Ornos or Platis Gialos. If you are looking for a party scene, Paradise Beach has you covered. The parties go until around 10 am each morning on the beach, and there are plenty of accommodation options. You can stay at the main resort, or choose one of the other hotels or hostels located on and around the beach to escape the party atmosphere.
4. Super Paradise Beach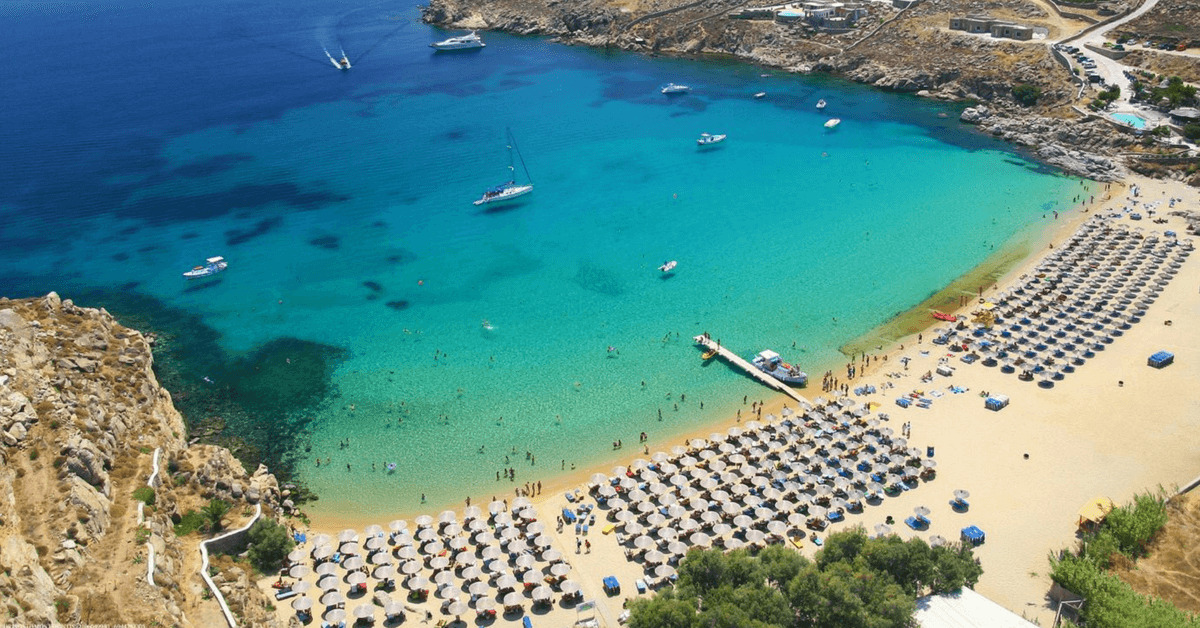 Photo via superparadise.com.gr
So the first thing I thought when I heard about Super Paradise beach was that it was like Paradise Beach… but even crazier. I guess I wasn't wrong! Super Paradise Beach is another crazy party beach, but it definitely has a few differences. Super Paradise Beach is a gay mecca, offering gay events and parties throughout the Mykonos party season. The drinks are often 2-for-1, and they throw some amazing beach parties, both regular and themed!
If you are looking to do some gay Mykonos parties, I suggest checking out XLSIOR running from August 22nd – 29th. It is definitely the largest gay party in Greece! People travel from all around the world to attend it each year, on Super Paradise Beach.
How To Get To Super Paradise Beach Mykonos
Super Paradise is definitely not a difficult beach to get to, as so many people flock to this beach for its insane parties each season. To get here, I found my favorite way was to take the shuttle boat from the beach I stayed at – Platis Gialos.
There are also shuttle busses that offer trips to Super Paradise Beach. These are located at the entrance of the town of Mykonos.
If you happen to be staying at Paradise beach or even Paranga, the walk is beautiful and not too bad and very beautiful. Bring your camera!
5. Ornos Beach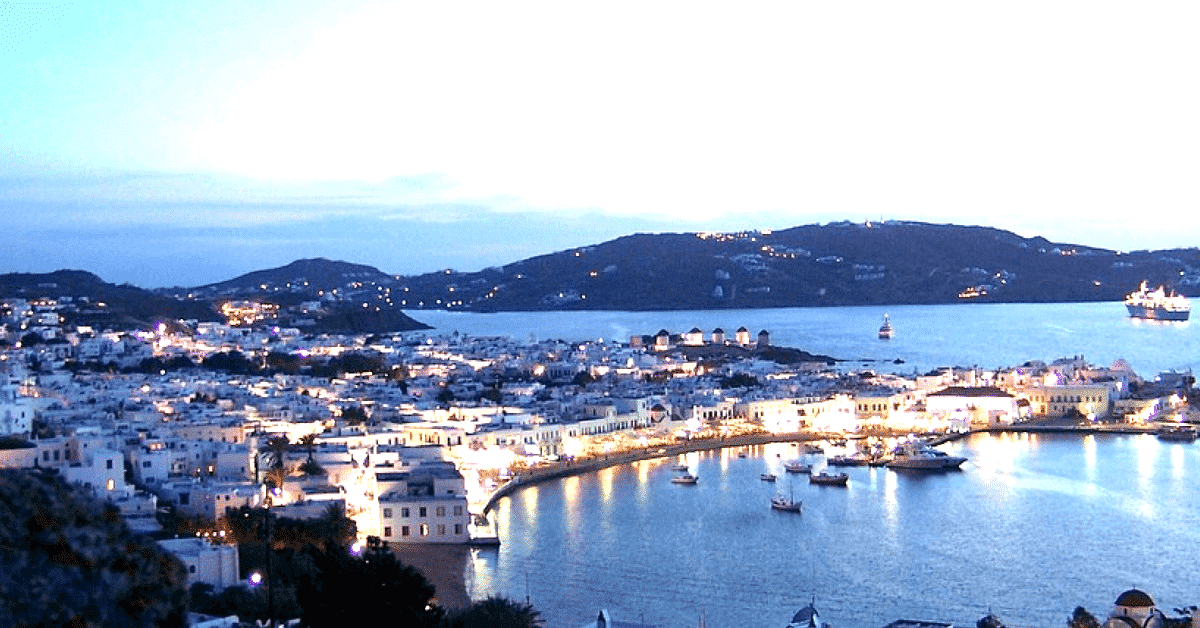 Ornos is probably the most family-friendly beach on the island of Mykonos. The sand is fine, and the water is beautiful and warm. Because of its close proximity to the town of Mykonos and its family friendly atmosphere, Ornos will often be extremely crowded. Be prepared for that if you make the trek out here. Still worth it in my books!
You will find a ton of hotels, restaurants, and sun beds located on and around the beach, which makes it a great spot if you are wondering which beach to stay in Mykonos!
What is your favorite Mykonos Beach? Let me know in the comments below!