Though Europe is a small continent, the sheer amount of countries, cities, and cultures to experience make it one of the most travel-friendly destinations for adventurers young and old.
Europe trips are excellent for those who want to jump from destination to destination, taking in as much as they can within a short amount of time.
For those who want to plan a budget-friendly Europe vacation, this gay travel guide aims to discuss accommodations, budgeting, safety, and things to do in Europe for anyone looking for a magical adventure.
If you're backpacking Europe, don't forget to pick up the perfect Europe travel backpack!

So, Where Should I visit in Europe?
The biggest question anyone considering visiting Europe has is: where exactly do you go? Some countries might be of bigger interest to you, depending on your budget, hobbies, and so on.
Foodies, for example, are obviously going to spend more time around the Mediterranean, while the outdoorsy types will be heading towards Norway, Sweden, and Finland for the hiking.
However, when considering the overall price of travel, food, comforts, and safety, these are the following countries you should have on your bucket list.
Though not a single country in Europe is without a fascinating attraction or historical site, some are more awesome than others. The best cities in Europe to visit and have an unforgettable time, consider some of the following:
Barcelona, Spain
Paris, France
Dublin, Ireland
Amsterdam, Denmark
Prague, Czech Republic
Each of these locations are generally safe and open to travelers, having a broad history, numerous attractions, budget-friendly accommodations, affordable transportation, and ease of access via international airports and other hubs.
When Should I Visit Europe?
Whatever you do, try to avoid going to Europe during the summer months. The season is said to be the worst for travel, since prices throughout the country are peaking, everything is booked, and the cities are beyond crowded.
Traveling off-season is much more affordable and allows for more in-depth cultural experiences. Also, in the winter, hotels, hostels, and such lodgings are often discounted by up to 40%, so you know you're getting an excellent deal.

Accommodation
Hostels, hotels, and Airbnb—oh my!
Europe has no surfeit of lodgings for any type of budget. You can find excellent luxury hostels with swimming pools and cinemas that charge as little as US$10 a night in some places. Generally, hostel dormitory rooms will cost you anywhere between US$10-50 a night, depending on the amenities provided, the room's size, and the overall popularity. Location also makes a difference. You will be spending a bit more for a place close to major attractions, which also saves on transportation. However, if you want to get away from the hustle and bustle for a quiet night's rest, someplace farther off the main roads might be a better option.
Another great experience I have had throughout Europe is staying at Bed and Breakfasts. These give you the chance to hang out with the locals, rather than with other travellers.
Destination will also change the cost of a hostel room. For example, lodgings are cheaper in Berlin than they are in Paris. Typically, the farther east you go, the less money you spend. Rooms in Ukraine, for example, might cost around $15 a night and include linens, towels, WiFi, breakfast, and more while something for the same price in Barcelona only gets you a bed and nothing more.
Airbnb in Europe can also be very affordable, especially if you opt for shared rooms. The price range can be anywhere from US$20 to $100 per night. Obviously, whole apartments or houses also come in a broad range of shapes, sizes, and pricing, all depending on where you are booking and how popular that region is.
For example, you can find a private room in Iceland for $60 a night or pay the same for a shared room in the UK.
Transportation
Planes, trains, buses, taxis, bicycles, and walking are all options for getting around Europe. In order to decide the best method of transportation for a certain spot, go by the mantra, do as the locals do. Make your mantra. Headed to Denmark? Rent a bike. Going from point-to-point in London? Take the subway or bus. Want to see canals in Venice? Hop on that gondola.
Always stop by the tourism bureau at a new destination for discount vouchers on transportation or attractions, free maps, and more. Some places even offer welcome cards (such as the Oslo Welcome Card or Berlin Welcome Card), which can be bought at tourist information centers or online. Welcome cards are excellent ways to get free public transportation to popular museums, tours, attractions, and more.
Europe has a great train system that connects many of its countries. Consider taking a trip though Europe using a Eurail pass while you are visiting!
Other options to take into consideration when crossing country borders:
Eurolines buses – you can go from London to Paris for as little as US$20 (£15 ).
Eurostar SNAP fares – if you book 7 days in advance, you get discounted one-way tickets.
Flixbus Interflix Euro bus pass – the pass allows you to pick 5 direct routes on over 20,000 connections to over 1,200 destinations throughout 24 European countries. Also, the buses have free WiFi.
Deutsche Bahn or Rail Europe – two railways that give discounts if you book your tickets in advance. Traveling by night train is also a wonderful option if you want to make the most of your daylight hours.
Cruises can be a great way to get around Europe, thanks to the Danube river. Viking cruises offer a ton of options to get through many countries along Europe.
These cruises can get pretty pricey, so a great alternative is finding some local ferry options that travel through a few European countries. Rick Steves tells us here about some amazing ferry options to plan the perfect Europe ferry tour.
Internet and wifi
One of the big mistakes is thinking you have to rent a new SIM card or data card every single time you switch a country.
This isn't really the truth, especially if you have an unlocked phone.
You can easily obtain a mobile WiFi (mifi) such as GlocalMe U2 or Novatel Liberate and use it wherever there is free WiFi.
Then, you can use free phone call/video call applications like FaceTime, Skype, Viber, or WhatsApp to keep in touch with friends and family!
Food and drink
All throughout Europe, you will find independently owned grocery stores, convenience stores, farmer's markets, restaurants, and more.
You can often get sandwiches or pizza for around US$5. Restaurant meals often cost around US$15-30 for a full course (main dish and beverage). Food is going to be cheaper in the eastern countries, where you can eat out for every single meal and get by on US$10 per day.
The best way to save money, though, would be to do as the locals do and buy fresh from supermarkets.
There are excellent budget chains like Profi, Aldi, Lidl, and Penny Market all throughout Europe.
Safety In Europe
With rising violence around the world, you want to stay as far away from danger as possible. Some countries in Europe are obviously safer than others. Here are some of the top-ranked countries according to International SOS
Switzerland
Ireland
Iceland
Hungary
Malta
Other safe countries with little to no threat of terrorism attacks or public acts of aggression against foreigners would be some of the happiest countries in the world, such as Norway, Denmark, Finland, Spain, and Portugal.
Travel Insurance
As always, it is a very good idea to have travel insurance whenever you plan to leave your county, just incase anything happens to you, your belongings, or your flights. I could not recommend World Nomads for their outstanding insurance plans enough. Click here or check out the link below to get a quote!
Are European Hostels Safe?
If you are staying with a credible location with high ratings on Hostelworld.com and other booking sites, then yes, hostels in Europe can be extremely safe and even feel like a second home.
Be sure to do your research to ensure you aren't going to wind up in a seedy location without a properly working toilet (been there, do not recommend it). Something as simple as reading reviews from other visitors will help you make the best choice!
LGBT Safety In Europe

According to a recent survey done by Rainbow Europe, the following countries are the top 15 safest for LGBT travelers to visit:
Malta
Belgium
Finland
Netherlands
Germany
Norway
France
Denmark
Croatia
Austria
Portugal
Spain
Sweden
Ireland
Other popular destinations, such as Italy, ranked 32 on the list. Poland ranked 37, Monaco ranked 45, and Russia ranked 48, which is second to last.
These rankings are based on how LGBT citizens are allowed to live their lives, including equality and general rights. Therefore, if you are looking for freedom to express yourself, the top 15 countries are going to have gay districts and be generally more open about homosexuality.
How much should my daily Europe Budget be?
The answer to this question depends greatly on where you are going. The suggested daily budget for someone who is traveling alone, staying in a low-budget hostel, making their own meals most of the time, and using local transportation would be around $45-80.
However, if you want a little more flexibility and don't want to rough it so much, a more adequate daily budget would be $80-120 daily.
You must also factor location into the equation. Your daily budget will be considerably higher if you are staying in Paris or Edinburgh when compared to staying in Budapest or Kiev.
Click here to learn more about the cheapest countries in Europe to visit!
Places to go and things to do in Europe
This is the list you have been waiting for! If you want a truly memorable experience during your travels, be sure to add each of the following things to do in Europe to the bucket list. You won't regret it.
Dance the Night Away in Barcelona, Spain

Similar to New York City in terms of never truly sleeping, Barcelona is one of the few cities where you can enjoy late-night meals and parties that rage from dusk to dawn.
Join in on a flamenco class then strut your stuff on the dance floor at night. There is always great food, dazzling nightlife, and wonderful beaches to kick up the sand.
Do a wine tour in Austria

Buschenschank Worse,
Weingut Buschenschank Gerngro,
Weingut Nikolaihof Wachau,
Weingut F. X. Pichler,
Schloss Gobelsburg…
Each region has its own unique flair—similar to the various wine types produced—giving you a new experience every single time.
Whether you make your own wine tasting tour or book with a well-known tour provider, there is no way you're leaving Austria thirsty.
Go Hiking in Iceland

Though Iceland is often depicted as a frost covered no man's land, it is a magical place.
Waterfalls, flowering valleys, gushing geysers, hot springs, volcanoes, ice floes, and mountain ranges make Iceland one of the Earth's most stunning places for a long hike.
After walking to the ends of the island, enjoy the dance of the aurora borealis overhead!

Welcome to Soho, the capital of LGBTQ nightlife in London. Centered around Old Compton Street, Soho is the main port of call for all newcomers to London, because you can spend hours moving from bar to pub, mingling, meeting drag queens, or dancing until dawn. Some of the best bars are G-A-Y Bar, Friendly Society, Ku Bar & Club, Halfway to Heaven, and Circa.
Take A Cooking Class in Italy

Whether you use the experiences section on Airbnb or sign up for an actual school like Casa Ombuto or Torre del Tartufo, there is no shortage of cooking classes in Italy. After all, who doesn't love good Italian food? You can use websites like Tuscookany, for "cooking vacations" to find Italian cooking school for decent prices.
Wander the Streets of Libson, Portugal

After grabbing the Lisbon Card, you can basically make your own itinerary while walking the historic streets of Lisbon, Portugal.
Wander around the Torre de Belem, the Alfama District (where houses give way to an endless beach), and seek out all the hidden common squares, green space, fountains, and eateries along the alleyways.
Be sure to people watch on the Rossio, at the heart of the city!
Explore the Rich history Of Ireland

The history of Ireland is treasured. You can find historically significant ruins and buildings throughout the island.
The most popular historical sites can even be seen in a complete circuit. Don't miss sights like Dublin, Newgrange, Bru na Boinne, Clonmacnoise, Blarney Castle, Jerpoint Abbey, and Kilkenny Castle.
Don't forget to kiss the Blarney Stone!

One of the many islands of Greece, Mykonos is a destination that is a little more lax than Santorini and Patmos but still incredibly fresh and fun. The sandy beaches, ongoing party-like atmosphere, and high-end shopping make Mykonos the perfect place for people who like soaking up the sun on a daily basis.
Visit The Stockholm Archipelago of Sweden
There are nearly 30,000 islands both large and small that make up the Stockholm Archipelago. Woods, steep cliffs, idyllic beaches, and pristine nature mesh perfectly with thriving villages, both young and old.
Traveling the archipelago is just half of the adventure. Fish, bike, kayak, hike, swim, golf or do whatever your heart desires here.
Attend Oktoberfest

If you are going to be in Germany around September and October, then Oktoberfest is an absolute MUST!
People come from all over the world to gather in Munich for beer, German food, live entertainment, and all sorts of fun.
When thousands of people start singing and dance together or begin randomly toasting, nothing compares. Besides, there's beer 😉
Experience the Nightlife in Berlin, Germany

Bet you didn't know Berlin has one of the most fluid nightlife scenes in all of Europe, did you?
Berlin's nightlife is where politics go by the wayside. Gender means nothing here, making many bars very LGBT friendly. There are scenes for every taste, whether you like industrial settings and trance music or warm ambiance and chill tunes. Summer through winter, the venues never sleep.
Hike the Cinque Terre in Italy

Outdoor lovers will adore these beautiful cliff-side towns and breathtaking scenery.
Each one of these five villages will lead you through lakes, rivers, olive groves, and grape orchards.
And don't worry, if you get tired during the long hike, there is a train that can link you between each town. Take a break and grab some gelato between villages!
Some of the hikes are strenuous, others are calm and relaxed. Whether you want mountain climbing or beach combing, Cinque Terre is where you go.
European Conclusion:
Europe is a continent created by a tapestry of rich history, ethnicities, and cultures living and meshing together for hundreds of years.
The cities are vast and exciting, while the nature is serene and Elysian. You can hike mountains or bike highways all in one day.
Be sure to use this guide when planning your trip to Europe so you can have the best experience ever.
Happy travels!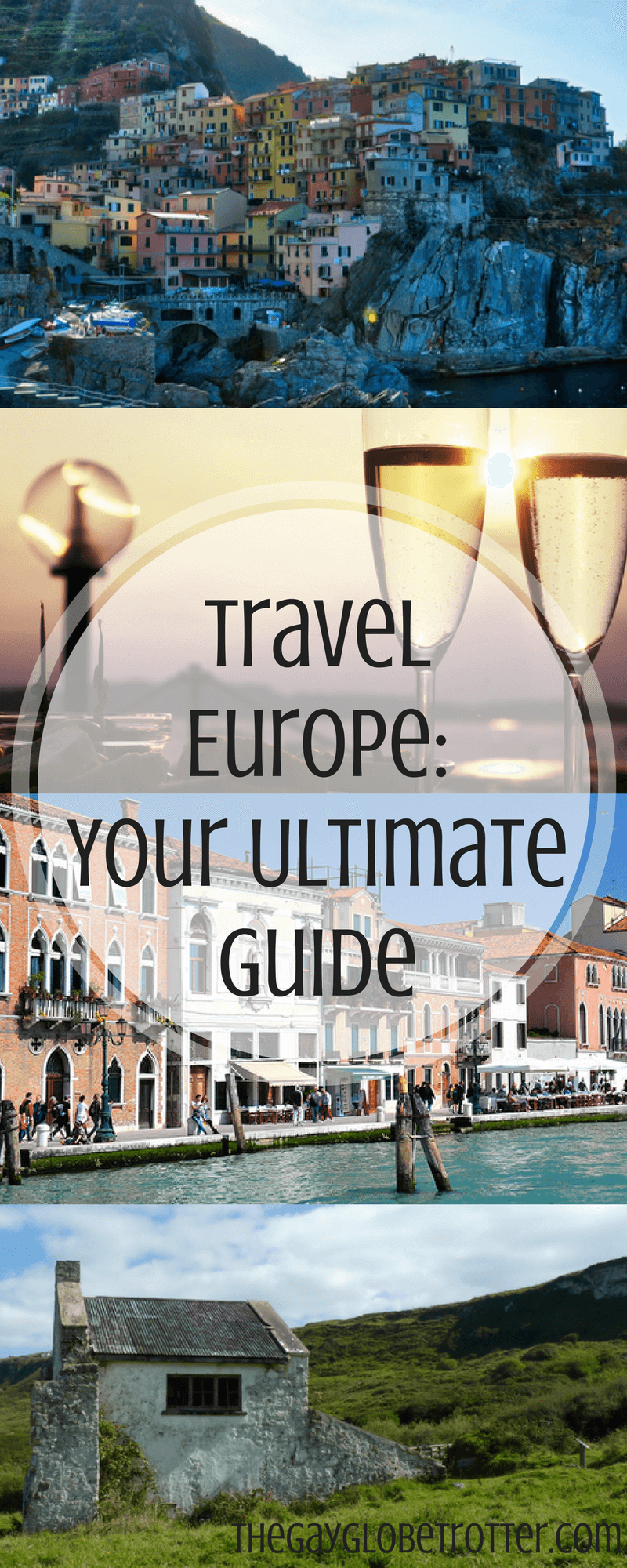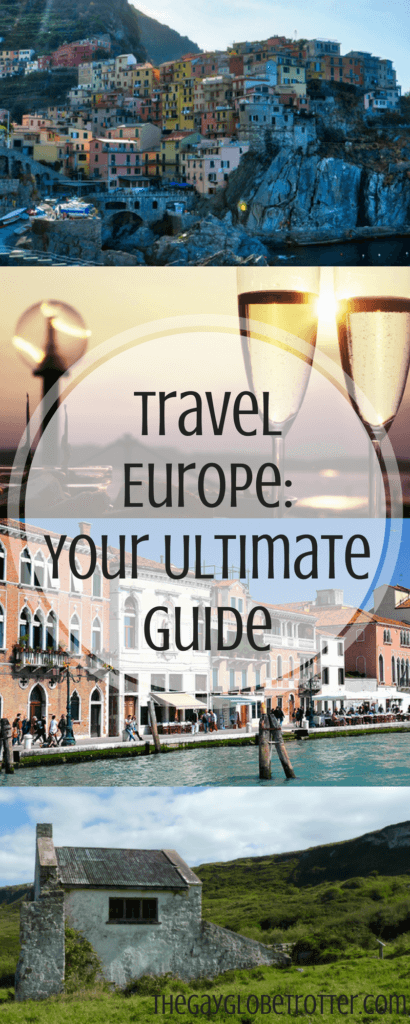 Related Posts

Facebook


Twitter


Google-plus


Instagram


Pinterest

Get your copy of my secret travel budget tips…