I have gotten together with some of my favorite London locals and fellow travel bloggers to share some of the best restaurants in London!
Being the capital and most heavily populated city in England, London is full of rich history, beautiful architecture, and a mesh of cultures from around the world. Having so many cultures living together in a single city makes a huge impact on the diversity of the food scene in London.
Travelling to London from Vancouver, Canada is a long flight. Of course I was jet lagged, but the first thing I wanted to do was EAT! It didn't take long to realize that Europe has some of the most amazing food in the world!
Whether you are looking for romantic restaurants in London or trendy gastropubs, this list of the best restaurants in London will have something for you.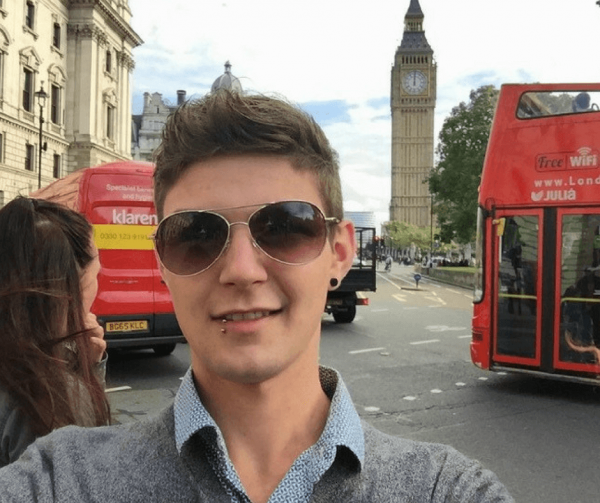 Look how touristy I am!
The Best Restaurants in Soho London
Soho is London's gay district, located next to the Oxford Circus station on London's underground system. It is home to a plethora of popular bars, clubs, and restaurants. The restaurants in Soho London range from trendy fine dining, to fast diner eating!
The last time I was in London, I headed straight for Soho to check out their restaurant scene. I learned quickly that they are home to some really good restaurants in London!
Aquavit London
I went to Aquavit London, one of my favorite Michelin star restaurants in London. It is located a couple blocks south of Piccadilly Circus Station on the underground system.
Aquavit has a location in New York City with 2 Michelin stars, so I knew I was in for a treat when I went to check out the London location for the first time!
While I was there, I had the Venison tartare with wild blueberries, lingonberries,9 and juniper. I practically licked my plate!
For my main, I decided to go with one of their signatures: duck breast served with liquorice, carrots, and hazelnuts to give the dish a nice crunch.
Aquavit serves breakfast, brunch, lunch, and dinner. They also have set menus, which I find are a lot of fun if you are interested in tasting what the chef is capable of!
Aquavit is definitely a great place to stop if you are looking to spend a little more and truly inndulge at one of the best restaurants in London!
Bob Bob Ricard
Julianna over at The Discoveries Of has recommended her favorite restaurant in Soho London below: Bob Bob Ricard.

Bob Bob Ricard is one of the best restaurants in London. It's my go-to place for a celebration, a treat or when I just want some delicious meal and a couple of cocktails in my life (which just so happens to be quite often).
So what's so special about Bob Bob Ricard? It's one of London's coolest dining spots, thanks to its fin-de-siecle glamour paired with excellent food and expertly-made cocktails. I first visited a decade ago, just after it opened and was totally blown away as dish after dish appeared at the table in our private booth.
It's impossible not to feel just the tiniest bit decadent when you're indulging in caviar, followed by my go-to mains of steak tartare or lobster macaroni and cheese – both are divine. The much talked about "Press for Champagne" button in each booth helps ease the meal along wonderfully too. If you are looking for romantic restaurants in London, Bob Bob Ricard is the place to go!
If I had to choose a favourite dish though, it would be the strawberries and cream souffle – an airy delight of delicate flavours and a testament to the restaurant's skilled chefs. It is one of the best restaurants in London, don't miss it on your trip!
Heading out of Soho, there are still a ton of amazing restaurants to check out while you are in London. Below are some other great restaurants in London, all located in easily acessable areas!
Native
Kacie Morgan at The Rare Welsh Bit recommends that you check out Native, located just a 10 minute bus ride from Big Ben. If you are looking for restaurants in Central London, you should head here!
Native in Neal's Yard, Covent Garden offers an unforgettable dining experience and has been rated one of the top 100 restaurants in London by Time Out magazine.
With a focus on wild, foraged foods and minimal waste, the gourmet menu features beautifully presented dishes made using fresh, seasonal and locally sourced ingredients. The dining atmosphere is casual and relaxed, and if you can manage to get onto the Chef's Table, I highly recommend it. There is no extra cost and you get to see everything that goes on in the kitchen, and the chefs are more than happy to chat to you as they cook.
The menu is constantly updated, but when I went to Native I was particularly impressed by the Dorset hake with seashore vegetables, celeriac, lovage and naked barley (pictured). The skin was golden and crispy, while the flesh was soft and succulent!
Dishoom
Michael Rozenblit at The World Was Here First recommends checking out Dishoom, one of the best restaurants in London located in Shoreditch!

Shoreditch is one of the best places to stay for first-time visitors in London, especially because there are a plethora of restaurants and bars in the trendy neighbourhood. One of my favourite restaurants in the area is Dishoom – a Bombay style restaurant inspired by the many Irani cafes that used to exist in the Indian city.
Dishoom in Shoreditch is located only a few minutes walk from Shoreditch High Street Station, however, Dishoom also has several other locations in London.
The experience of eating at Dishoom begins as soon as you arrive, where you will inevitably need to wait in line if arriving for dinner due the popularity of the restaurant and because they only take reservations for large groups. Waiters serve authentic chai and sherry while you are outside and time passes quickly which means before you know it you'll be able to order a drink and some snacks at the bar.
Once seated, the difficult decision on what to order will need to be made! I highly recommend the bhel, their signature house black daal, matter paneer and the gunpowder potatoes. Don't forget to order some naan or roti as well!
Trader Vic's
Eileen Wright from Pure Wander recommends checking out Trader Vic's, a fun Tiki Bar located a 12 minute walk from The Buckingham Palace!


It rains often in London. When we want to eat somewhere cozy to escape the dreary weather, we like to go down below an escape the dreary weather. Tucked on the side of an unassuming Hilton is Trader Vic's – a tiki bar institution since the 1950s. They claim to be the creators of the famous Mai Tai cocktail. On slow nights, you can get behind the bar and take a class to learn how to make your own! Otherwise, indulge their delicious Polynesian classics, from chicken roasted on their wood fire oven to spicy prawns on a stick. It is no surprise they are making this list of the best restaurants in London! There's a massive menu of fun finger foods and generous mains to satisfy all appetites. Don't forget to leave room for their signature coconut snowball dessert. Bring your friends on the neat rainy night, have some happy hour cocktails with those kitschy umbrellas an tuck into a fun meal at Trader Vic's.

Dinner By Heston
Fiona Maclean at London Unattached recommends checking out Dinner by Heston, located next to the Knightsbridge Station on the underground. As far as the best restaurants in London go, this definitely tops the list!

Where should you take someone who likes the idea of British cuisine to a fairy tale? Dinner by Heston at the Mandarin Oriental of course.
Carefully researched historic recipes for delicacies which sound as if they've come from the Jabberwocky – Salamagundy, Frumenty and eggs in Verjuice, together with instagrammable favourites like Meat Fruit might sound an unlikely fine dining experience but in the magic kitchen of Ashley Palmer-Watts and Heston Blumenthal every dish becomes a voyage of discovery.
Stacked pineapples turn slowly on a spit behind glass while ice-cream desserts are created to order using liquid nitrogen in a Heath Robinson contraption that is wheeled to your table. This is dining as entertainment, in the most tasteful and refined setting, with immaculate service and with a perfect selection of wines to pair with your food.
A stone's throw from Harrods and Harvey Nichols in well heeled Knightsbridge, Dinner by Heston on the ground floor of the Mandarin Oriental hotel is elegant, contemporary and timeless in design. It's a treat, but an affordable one if you opt for the set lunch menu. Roll the boat out and indulge at least once in dinner at Dinner.
Read more about Dinner by Heston on London Unattached
High Tea at The Ritz
Sherrie Allbritten at Travel By A Sherrie Affair recommends stopping by The Ritz for a classic High Tea! The Ritz, located right next to Green Park Station on the underground, is known globally to host world-class citizens and cultures, and their dining and tea services definitely reflect that.

It has become a huge bucket list item for many travelers coming to London: experience a high tea service. The best restaurant in London for high tea is the Palm Court located in the Ritz London. You will find The Ritz London conveniently located down the street from Piccadilly Station and next door to Green Park.
As you enter, you immediately feel like you are back in the 1800's. The piano is played by a gentleman in a fine black tux, setting the mood of pure elegance. The Palm Court is dripping in gold from its chandeliers to its detailed design. The tables are gracefully decorated with white tablecloths, intricate silverware and delicate little blue flowers with green stems on white china.
As you begin this tradition, you will be asked by your tux dressed waiter for your tea selection. You will be served a silver tea pot with your tea selection, along with some sugar cubes on their own unique silver tray. Soon your three-tiered silver tray is brought with the selection of finger sandwiches to choose from on the bottom tier: cucumber, cheese, and meat. The middle tier has the famous scones accompanying some jams and preserves. The top tier is filled with delicious artistic desserts. There is plenty of food for the guests attending, and trust me, you will be full. Make sure you save some room for the cake cart that comes around afterwards!
What is your favorite restaurant in London? Let me know in the comments below!