Baked zucchini sticks are a simple and delicious snack that's kid friendly, crispy, and perfectly seasoned. Zucchini is breaded with a panko and parmesan breading before being baked until perfectly crisp and golden.
Like air fryer pickles, air fryer zucchini fries, and crispy parmesan roasted potatoes, these baked zucchini sticks are perfectly dippable and great as an appetizer!
Serve baked zucchini fries with marinara sauce, creamy dill dip, or ranch for zucchini fries that taste deep fried, but without all the oil!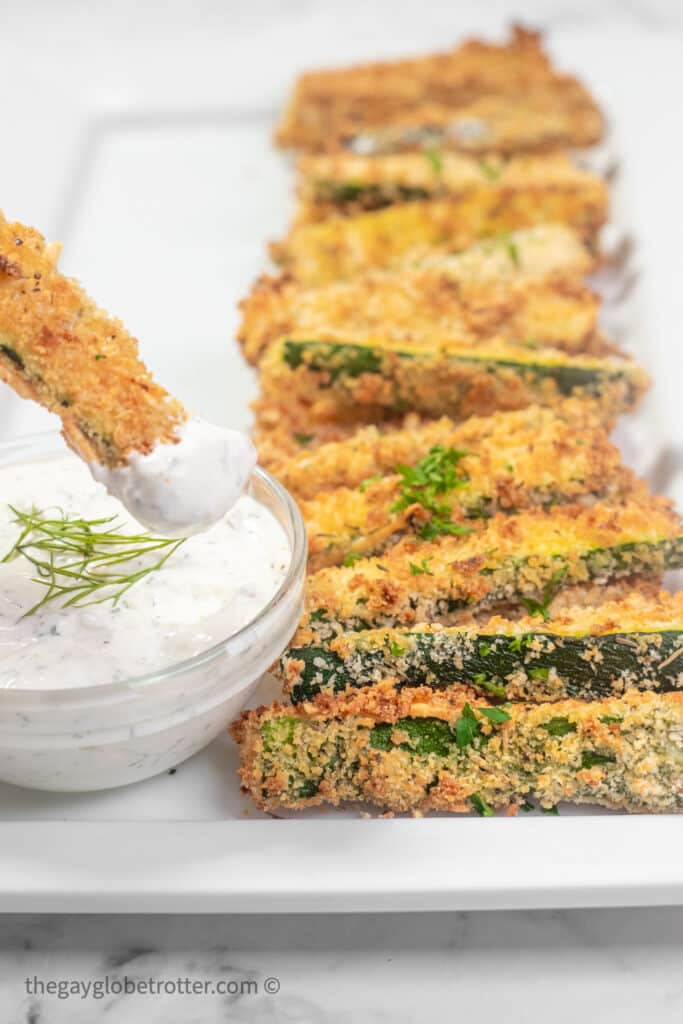 How To Cut Zucchini Fries
Cutting zucchini into zucchini sticks or zucchini fries isn't too difficult. All you need is a sharp knife and a cutting board. Zucchini is made of 97% water, so it's light, and very easy to work with.
To cut zucchini fries:
Wash and dry the zucchini.
Start by cutting in half lengthwise, then each of those halves into quarters.
Cut the zucchini into sticks by slicing them widthwise next. You can make them as long or short as you'd like without affecting the cooking time. Just make sure they are pretty even.
Once the zucchini fries are cut, it's time to bread them!
How To Bread Zucchini
The holy trio of breading anything: flour, egg, and breadcrumbs.
These 3 will allow you to bread just about anything (your hands included, if you're not careful). To make breaded zucchini sticks:
The first should have flour, and cayenne pepper. The flour mixture helps dry any moisture on the food being breaded, which allows the egg mixture to adhere to the zucchini. We add the cayenne pepper to the flour rather than breadcrumbs, because it mixes more evenly and becomes less intense in the baked zucchini sticks.
The second bowl will be egg wash. This helps the breadcrumbs stick to the zucchini sticks. Egg wash is simply 1 egg, plus a tablespoon of water. For baked zucchini sticks, you'll need 2 eggs and 2 tablespoons of water. You can always add things like worcestershire or hot sauce to egg wash, but baked zucchini sticks don't need too much added flavor.
The third bowl is the breadcrumb mixture. This is the fun one to add flavor to, so the parmesan cheese, italian seasoning, salt and pepper work best in this mixture. Panko is lighter and more airy than breadcrumbs so it works best for baking, especially with how much water zucchini contains.

How To Make Zucchini Sticks
To make zucchini sticks:
Once the zucchini sticks have been cut and breading bowls are prepared, work with about 4 zucchini sticks at time. Dredge them in flour, then egg, then breadcrumb mixture, remembering to shake off excess between dips. To avoid breading sticking to hands, use left hand for dry ingredients and right for wet.
Arrange breaded zucchini sticks on prepared baking sheet, then bake for 20-24 minutes or until zucchini is soft and bright, while breading is golden and crisp.
How To Serve Zucchini Sticks
Zucchini sticks are best served hot, and right away. Some of our favorite dips for oven baked zucchini sticks include:
Marinara sauce
Ranch dressing
Blue cheese dressing
Buffalo sauce and sour cream
Dill dip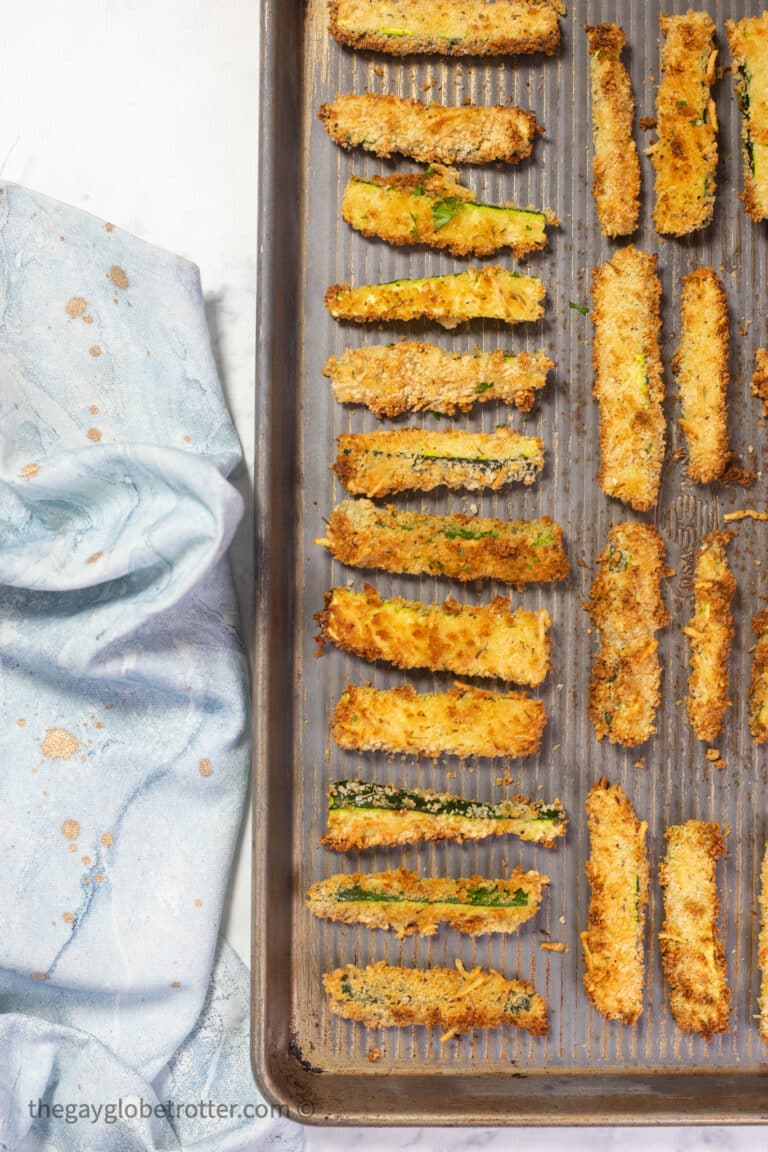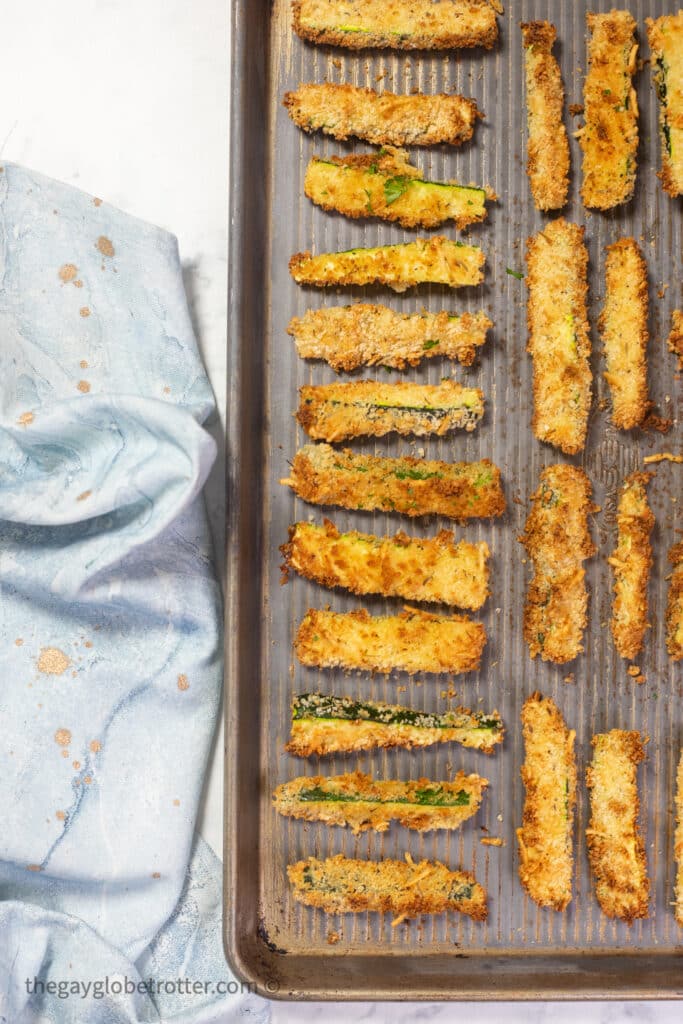 How To Reheat Zucchini Sticks
Zucchini sticks are best served hot, but if you have leftovers they will reheat pretty well in the oven.
To reheat zucchini sticks, place on a baking sheet and bake at 425°F for 5-10 minutes or until reheated. Watch when reheating that the breading doesn't cook more and begin to burn.
Like fried pickles, our favorite way to reheat leftover zucchini sticks is the air fryer. It helps restore the crispness without drying them out. To reheat in the air fryer, preheat to 380°F. Place zucchini sticks in the air fryer basket, and air fry for 3-4 minutes.
How To Freeze Zucchini Sticks
Zucchini sticks can be cooked from frozen, once breaded. They make a great aftershool snack that you can prep in advance!
To freeze them, bread as usual and place on a baking sheet in the freezer. Once frozen, transfer to a freezer bag for up to 8 months.
To bake zucchini sticks from frozen, add 5-7 minutes to the cooking time.
Baked Zucchini Sticks Tips and Suggestions
Use separate hands for wet and dry ingredients to avoid mess.
Cut zucchini sticks evenly to ensure they cook evenly.
If preparing for kids, removing the cayenne pepper will remove any kick from the zucchini stikcs.
Spray the baking sheet with cooking spray or brush with olive oil to prevent zucchini sticks from sticking.
Marinara sauce is a classic zucchini fries dip, but you can change it up depending on preference. We love serving them with creamy dips.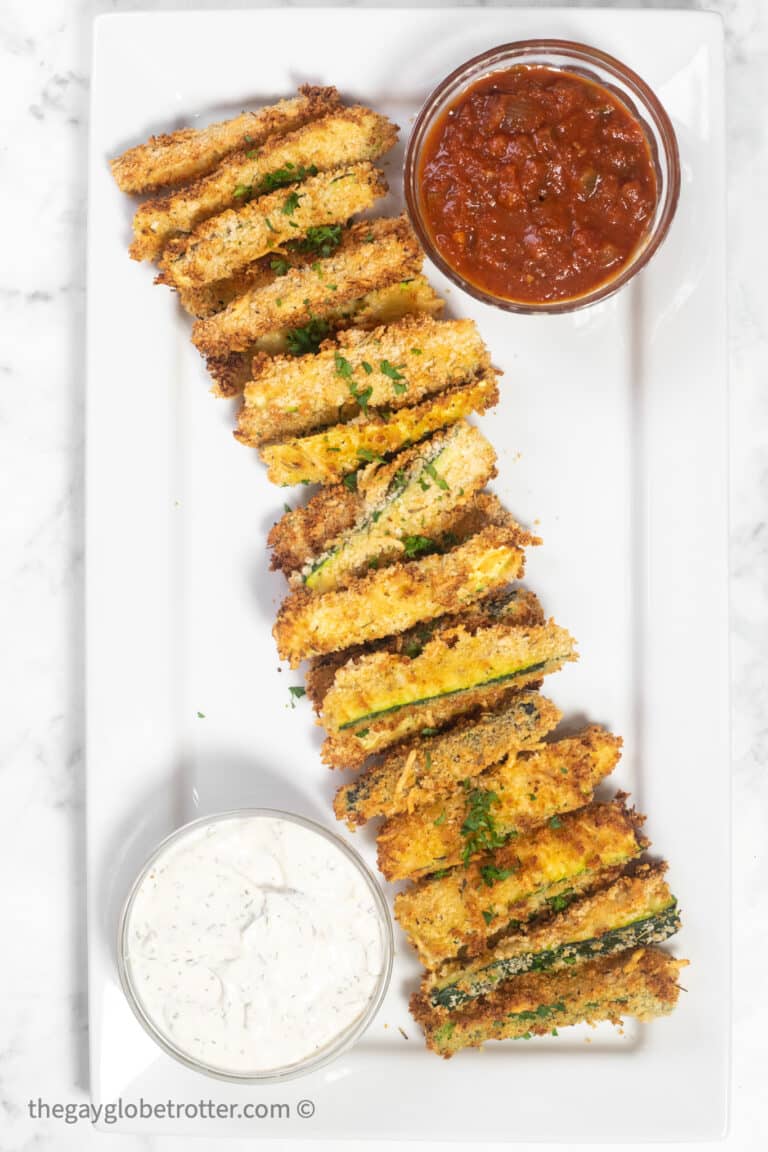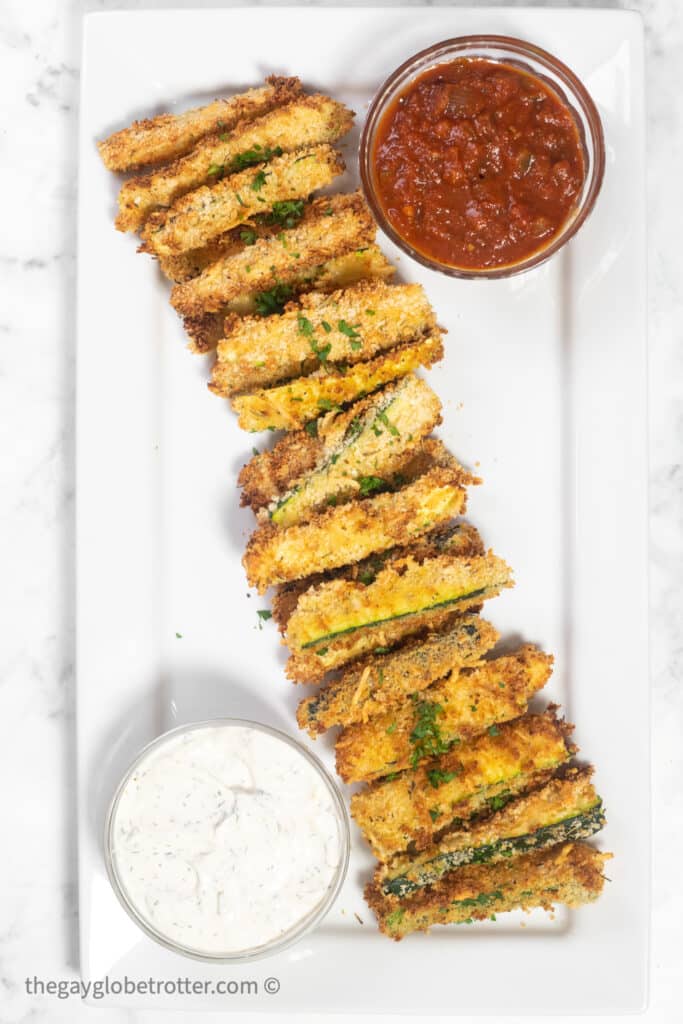 More Simple Snacks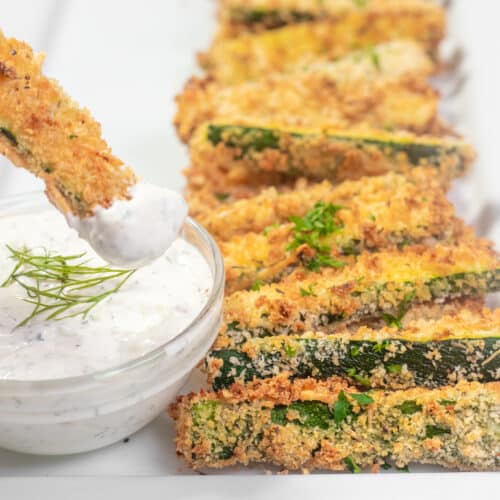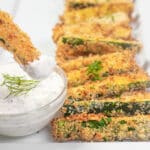 Rate this Recipe
Baked Zucchini Sticks
Zucchini is breaded with a panko and parmesan breading before being baked until perfectly crisp and golden.
Print Recipe
Pin Recipe
Tried this recipe?
I'd love to hear what you think. Leave a comment and rating below!
Ingredients
3

zucchini

medium

1

cup

panko breadcrumbs

⅓

cup

parmesan cheese

grated

1

teaspoon

Italian seasoning

½

teaspoon

salt and pepper

each

2

eggs

beaten

1

cup

all purpose flour

½

teaspoon

cayenne pepper

marinara sauce, dill dip, or ranch dressing

for serving
Instructions
Preheat oven to 425°F. Line a baking sheet with foil and spray with cooking spray. Set aside.

Cut zucchini into quarters lengthwise, then cut into thirds or quarters widthwise to create thick matchsticks

Prepare 3 bowls: in the first, combine panko, parmesan, Italian seasoning, salt and pepper. In the second, whisk two eggs with 2 tablespoons water. In the third, combine cayenne pepper and flour.

Working in batches of 4 at a time, coat zucchini sticks in flour, then egg mixture, then panko mixture, shaking off excess between dips. Arrange in a single layer on prepared baking sheet.

Bake zucchini sticks for 20-24 minutes or until breading is golden and zucchini is soft, flipping halfway through cooking.

Serve immediately with dipping sauce.
Notes
Use different hands while working with wet and dry ingredients to avoid breading hands.
Calories:
150
kcal
|
Carbohydrates:
16
g
|
Protein:
10
g
|
Fat:
6
g
|
Saturated Fat:
2
g
|
Cholesterol:
88
mg
|
Sodium:
577
mg
|
Potassium:
443
mg
|
Fiber:
2
g
|
Sugar:
5
g
|
Vitamin A:
582
IU
|
Vitamin C:
26
mg
|
Calcium:
170
mg
|
Iron:
2
mg
Pin It For Later: