Vegetable lo mein is the perfect meal to clean out the fridge, and a quick last minute dinner everyone will love.
Vegetables are stir fried with a rich and easy sauce (that we use on most stir fries), then tossed with noodles to create a one pan dinner that the entire family will love.
To pack in some extra protein, we love adding some chicken breast, shrimp, or tofu!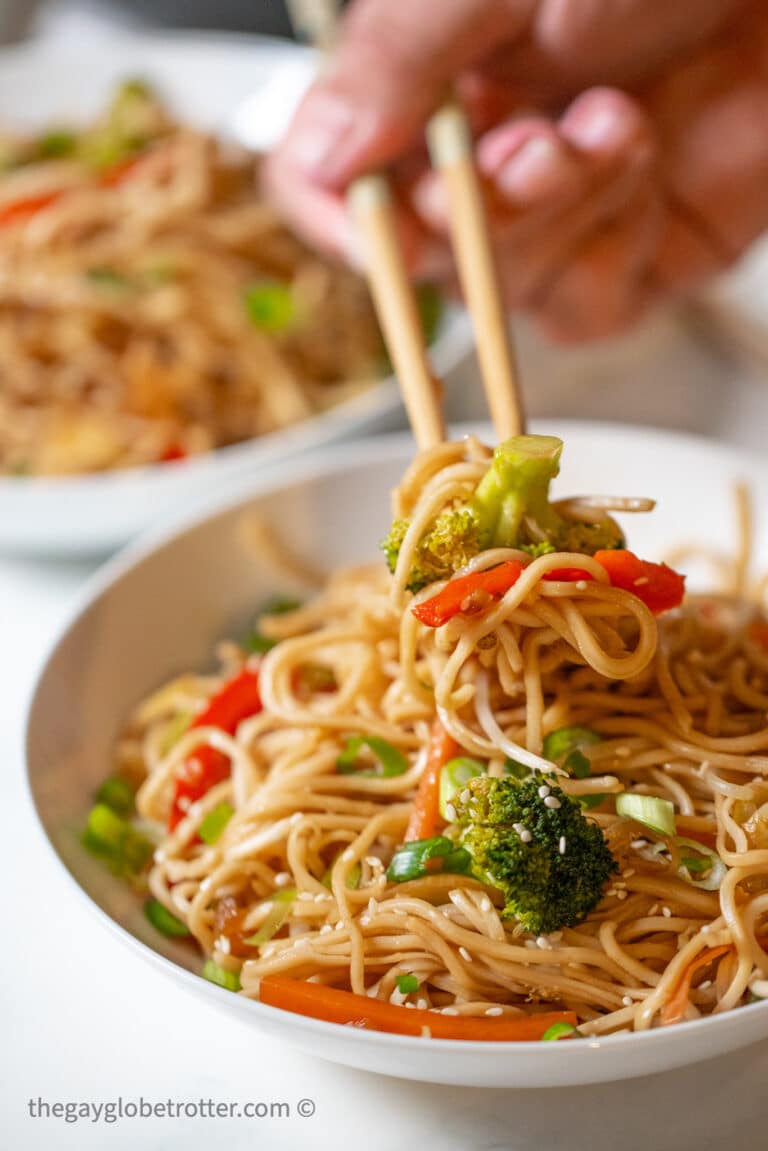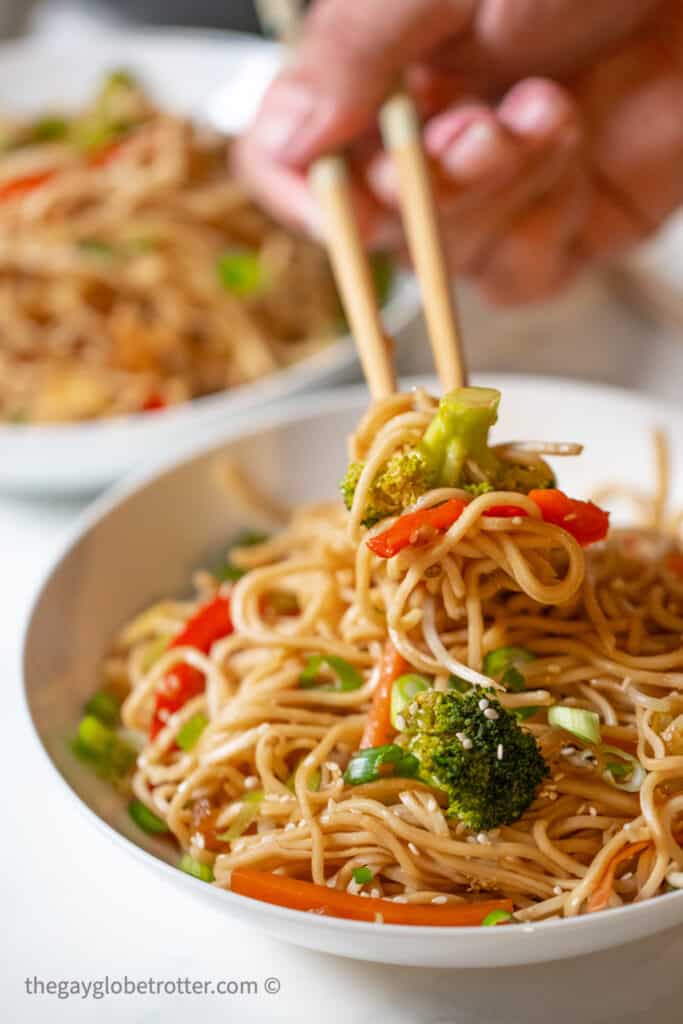 Why We Love It
We call this the clean out the fridge lo mein, because it is fool proof, fast, and almost any vegetable combination works perfectly.
When you don't want to pay for take out but would love an easy noodle dish, this is your answer!
A perfect last minute dinner for the kids on a weeknight, something to throw together when friends show up unannounced, this lo mein recipe takes nothing more than a quick vegetable prep.
How To Make Vegetable Lo Mein
Here's how to make a vegetable lo mein:
PREP: For lo mein, like most quick fried dishes, it's important to have everything prepared before you begin cooking. We like to put out bowls of all of the prepared ingredients so we can grab them as needed.
HEAT: Heat your wok or saucepan, cook the vegetables, add the sauce. Once thickened, toss in the prepared noodles. Dinner is served!
SERVE: We love garnishing lo mein with sesame seeds, as well as cilantro or green onions.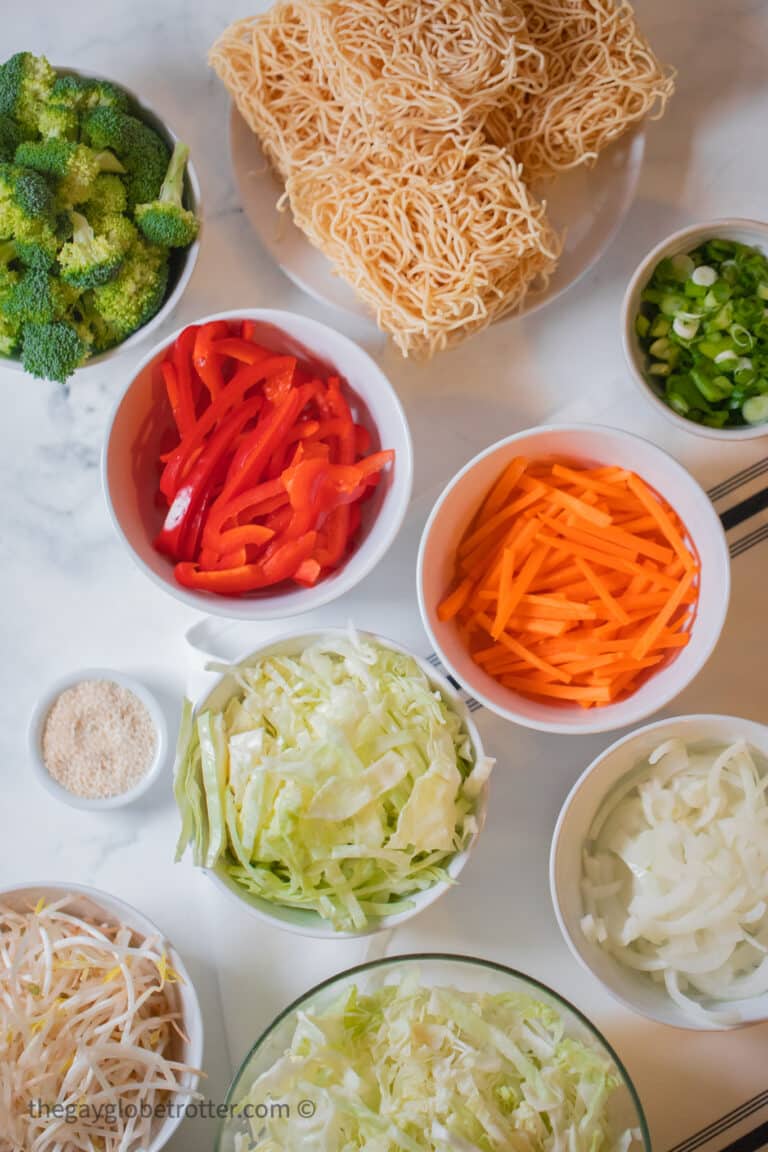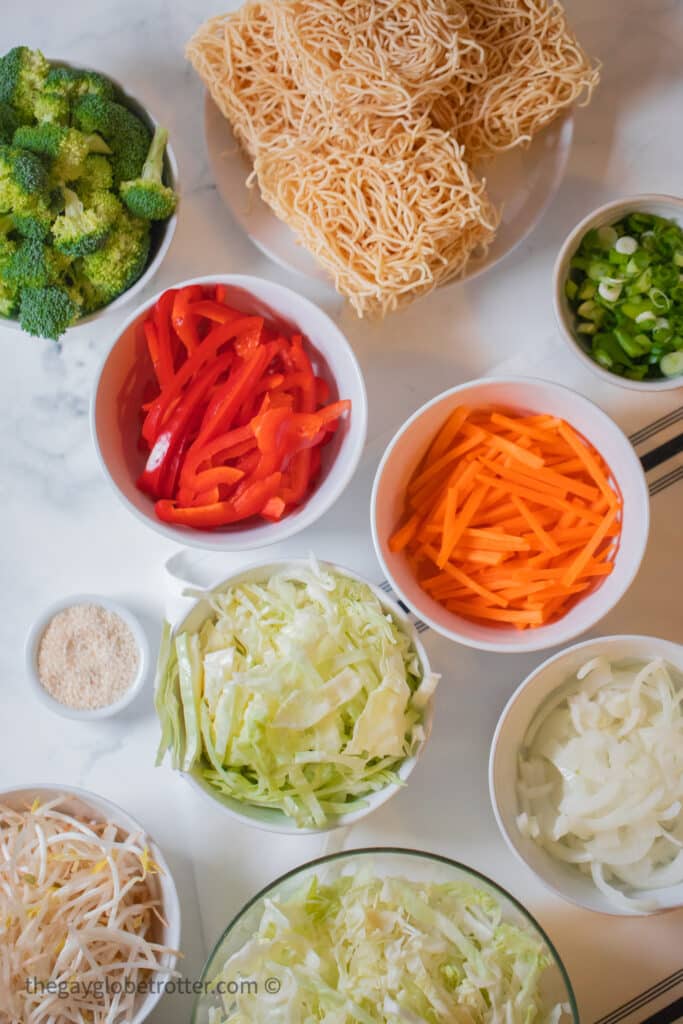 Our Favorite Additions
These vegetable ingredients are our favorites, but vegetable lo mein is such a fun dish to get creative with. Below, I have added our most common additions and general cook times.
Any additions you add may need to be adjusted based on the size of your dish and heat.
Protein:
Prepared tofu – saute 3-4 minutes over medium high then add vegetables
Sliced chicken – add fully cooked, heat 1-2 minutes
Shrimp – saute 2-3 minutes over medium high before adding vegetables
Diced pork chops (fully cooked) – add while adding vegetables to pan
Vegetables:
Carrots – Julienned carrots will cook with similar timing to cabbage, so add them during the cabbage step
Bok choy – blanched, steamed, or boiled bok choy is a favorite in this recipe. Ensure it is precooked so the cooking times work out
Zucchini – as a quick fry favorite, sliced zucchini works well in lo mein. Add it towards the end to avoid losing too much moisture, and losing the consistency of the sauce
Others:
Mushrooms – white chestnut mushrooms are delicious, add them once the rest of the vegetables are tender, for about a minute before adding the sauce in
Black sesame seeds – These are mainly for presentation, they look amazing and offer a stronger sesame flavor than white seeds. Fun fact: black sesame seeds have their hull intact which doesn't affect texture, but affects flavor!
Chili oil – If you happen to have this on hand, it adds a delicious kick. If not, mix 1/8 teaspoon of chili flakes with 1 tablespoon of olive oil together during prep. While it doesn't have time to infuse, it's definitely delicious
Green onion (scallions) – we add these for garnish, but adding 1 sliced green onion into chow mein tastes amazing if you're a fan
Tips For A Perfect Lo Mein
For cookware, a wok is ideal. We often use a cast iron pan as well, We love how even the heat is while making vegetable lo mein. Anything non stick works just as well!
If using a cast iron dish as above, add the stir fry to a serving dish once ready. Cast iron retains heat, and will continue to cook the vegetable lo mein when removed from heat.
Toss constantly. This dish cooks quickly, and keeping the ingredients moving while they cook will ensure the garlic, sauce, or other ingredients have a chance to cook properly without burning.
PREP, PREP, PREP. Stir fries, chow meins, and lo mein cook in about 5-6 minutes from the first ingredient. It is very important to ensure you have everything ready to go, so you don't take an eye off of the dish. It's cooked on a high heat.
If omitting oyster sauce, we opt to use dark soy sauce rather than regular. The deeper flavor can help offset the missing umami flavor of oyster sauce. Dark soy sauce can be higher in sodium, so adjust the salt and pepper accordingly.
We like to buy lo mein noodles that are already cooked. These are usually found in the fresh pasta section of the grocery store. Dried can usually be found in the asian section, ensure they are cooked according to package directions for beginning.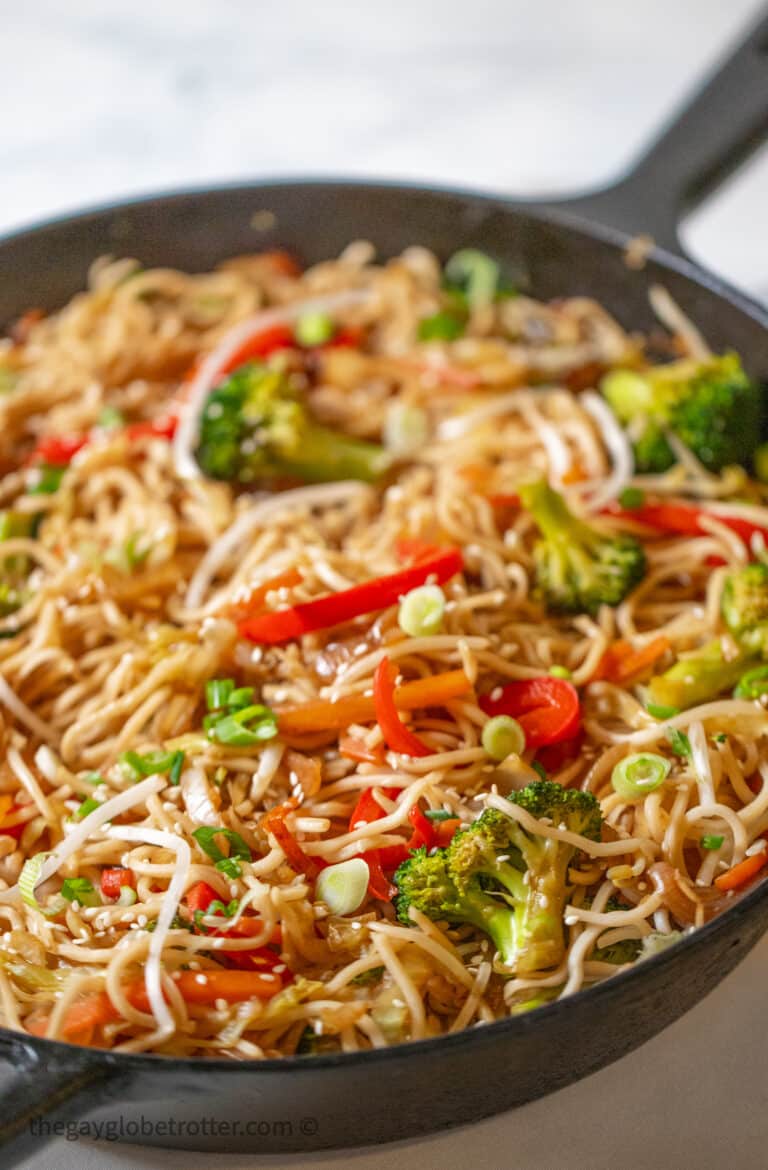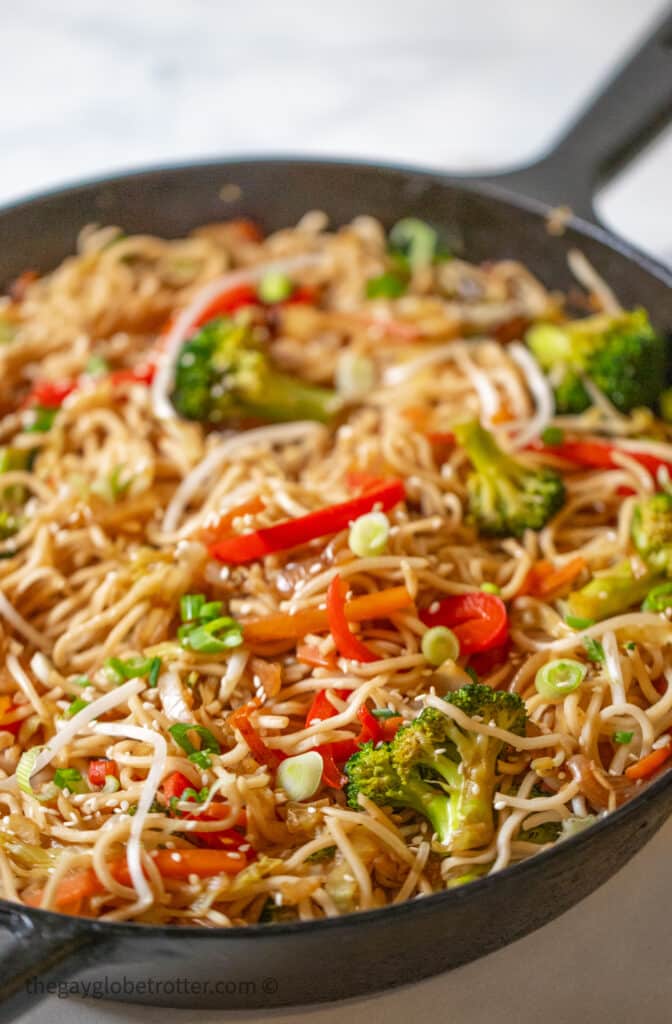 How To Store Vegetable Lo Mein
Vegetable lo mein will last stored in the fridge for up to 1 week, in an air tight container.
If protein was added, it will last up to 3 days in the fridge.
If you plan to use this recipe for meal prep:
Prep the proteins separately, and cook and store the proteins separately.
Add your
While you can freeze lo mein noodles, we have found with this recipe that they clump, and the vegetables change in texture. We suggest planning to enjoy this vegetable lo mein for the 5 days!
More Easy One Pan Dinners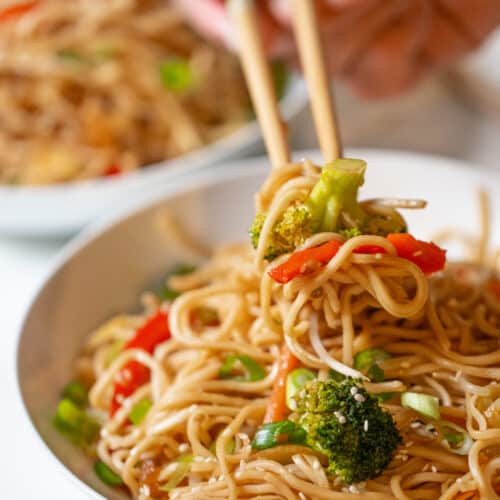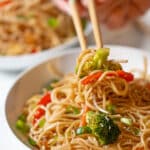 Rate this Recipe
Vegetable Low Mein
Veggie low mein is an easy way to use all the veggies in your kitchen a few ingredients and a few minutes give you a dinner that is better than takeout
Print Recipe
Pin Recipe
Tried this recipe?
I'd love to hear what you think. Leave a comment and rating below!
Ingredients
For the Sauce:
2

cloves

garlic

minced

1

teaspoon

sesame oil

¼

cup

soy sauce

low sodium

1

Tablespoon

oyster sauce

see note

1 ½

teaspoons

ginger

freshly grated

1

Tablespoon

honey

1

teaspoon

cornstarch
For the Stir Fry:
1

Tablespoon

olive oil

1

pacakgage

lo mein noodles

8 ounces

1 ½

cups

cabbage

finely shredded

1

yellow onion

sliced

1

medium

carrot

julienned, 1 cup

1 ½

cups

broccoli florets

chopped

1

cup

bean sprouts
For Garnish (optional):
1

Tablespoon

sesame seeds

1

green onion

sliced

1

Tablespoon

cilantro

chopped
Instructions
Preheat a wok or large pan over medium high heat with olive oil. If dry, cook lo mein noodles accoring to package directions. Drain, set aside.

In a small mixing bowl, whisk togehter all ingredients for sauce. Set aside.

When the wok is hot, add cabbage, onion, carrots. broccoli. Cook for 2-3 minutes, turning constantly until vegetables become tender and vibrant.

Add prepared chow mein sauce, simmer for 1-2 minutes until thickened, whisking constantly.

Add the lo mein noodles. Toss to combine. Cook for 2-3 minutes or until hot.

Garnish with green onions, sesame seeds, or cilantro.
Notes
To make vegan vegetable lo mein, omit oyster sauce.
Before adding the sauce, whisk quickly to prevent the cornstarch from settling.
While thickening any sauce with cornstarch, reduce the heat when you see the bubbles begin to boil. It helps to reduce the starch taste in the sauce, as well as prevent burning. 
To make stir frying easy, I love using a pair of kitchen tongs. It's super quick and hassle free. 
This recipe is great to adapt to any veggies you may have in the fridge, adjust the cooking times accordingly. We love adding snap peas. water chestnuts, and white mushrooms!
To add protein, some of our favorites include:
Diced tofu
Shrimp
Diced pork
Calories:
332
kcal
|
Carbohydrates:
57
g
|
Protein:
14
g
|
Fat:
7
g
|
Saturated Fat:
1
g
|
Polyunsaturated Fat:
1
g
|
Monounsaturated Fat:
3
g
|
Sodium:
1677
mg
|
Potassium:
343
mg
|
Fiber:
7
g
|
Sugar:
14
g
|
Vitamin A:
2829
IU
|
Vitamin C:
48
mg
|
Calcium:
71
mg
|
Iron:
1
mg
Pin It For Later: