Italian chicken cacciatore is comfort food heaven. Browned chicken pieces are simmered in a tomato and wine sauce with onions, garlic, peppers, mushrooms, and capers.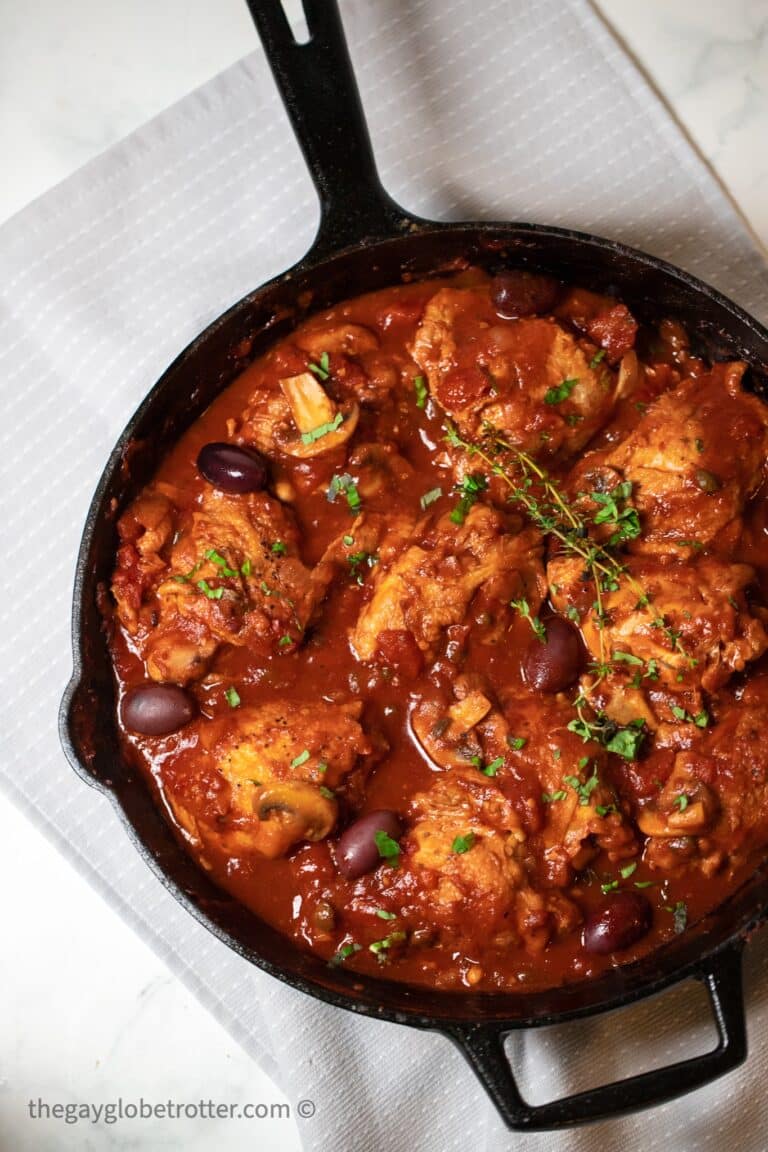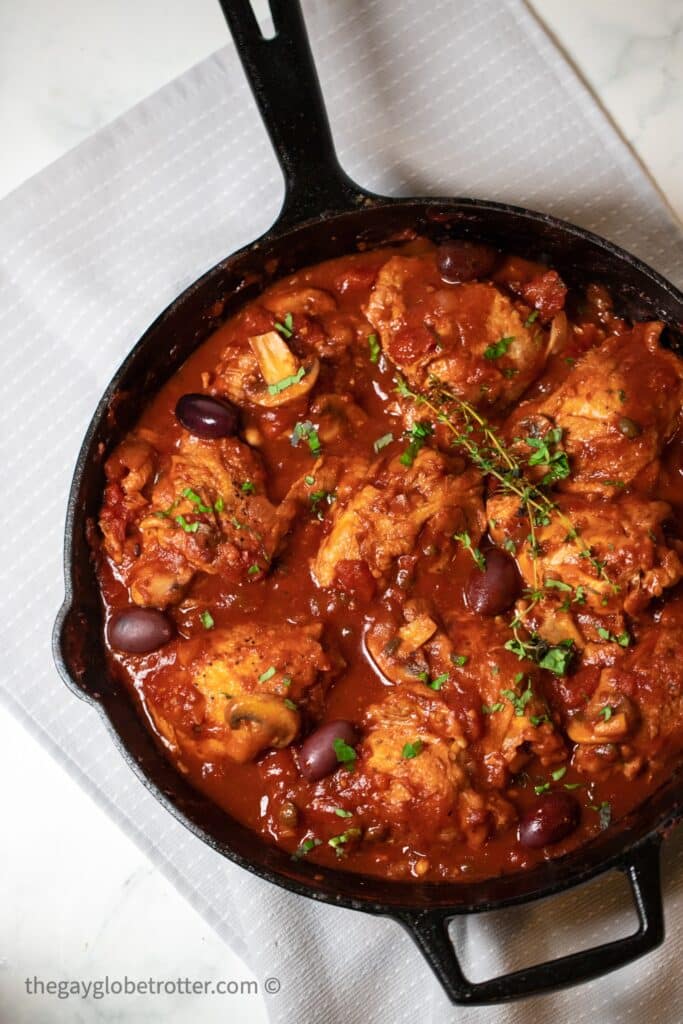 Why We Love It
Simmering Italian chicken cacciatore for a long period of time allows the flavors to seep into the meat, creating tender, fall off the bone chicken with a hearty tomato sauce.
You can use any part of the chicken you'd like for this Italian chicken cacciatore recipe, bone in or boneless. I find that dark meat such as drumsticks, chicken wings, and chicken thighs have the most flavor. Alternatively, chicken breasts also work great for chicken cacciatore!
Whenever chicken goes on sale, I buy it in bulk and freeze it to save money. Always having chicken on hand makes this the perfect last minute recipe!
The best chicken cacciatore recipe uses the freshest ingredients you can find.
What Is Chicken Cacciatore
Cacciatore is translated to 'hunter' in English, meaning that the dish is made hunter style. This usually involves braising a protein in a tomato based sauce full of veggies like peppers, onions, carrots, and other easy add ins.
The classic chicken, rabbit, and veal cacciatore are all popular meat add ins for this recipe. In Italy, wine is always added to cacciatore, but this differs from region to region. You will find most cacciatore recipes in southern Italy contain red wine, while in northern Italy most chefs use white.
This everyday chicken cacciatore is perfect for home cooks who need an easy dinner recipe without the hassle!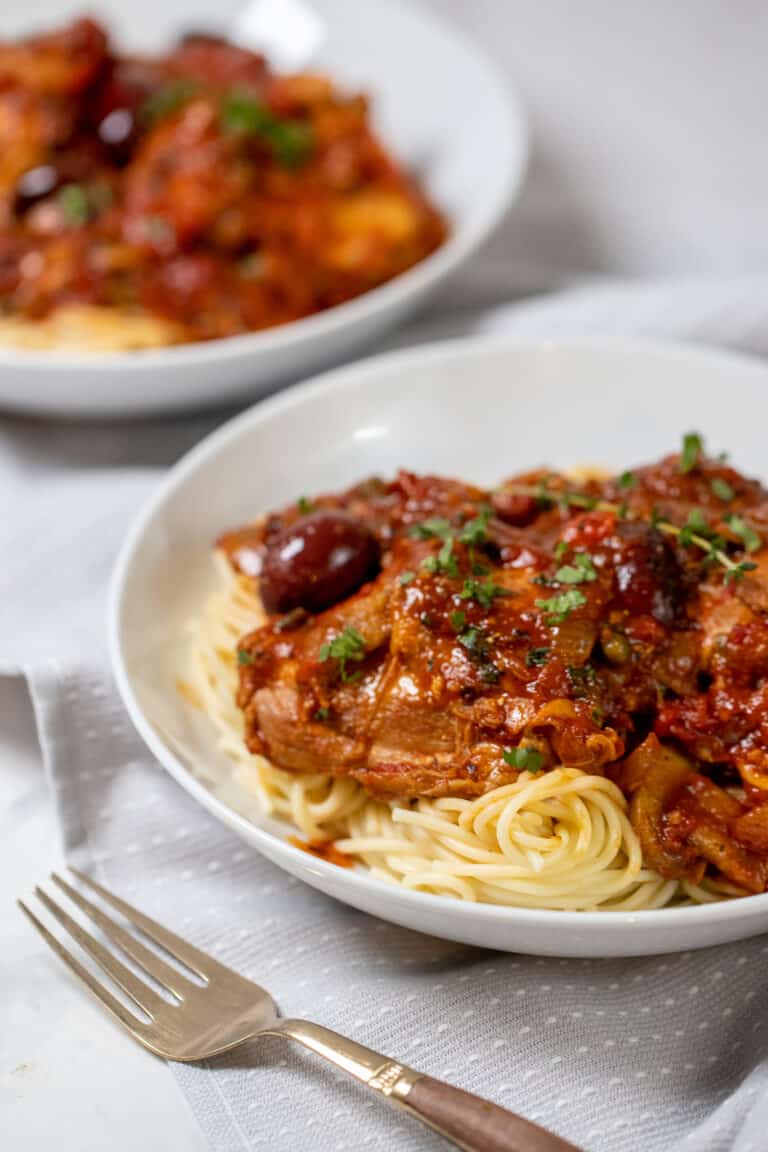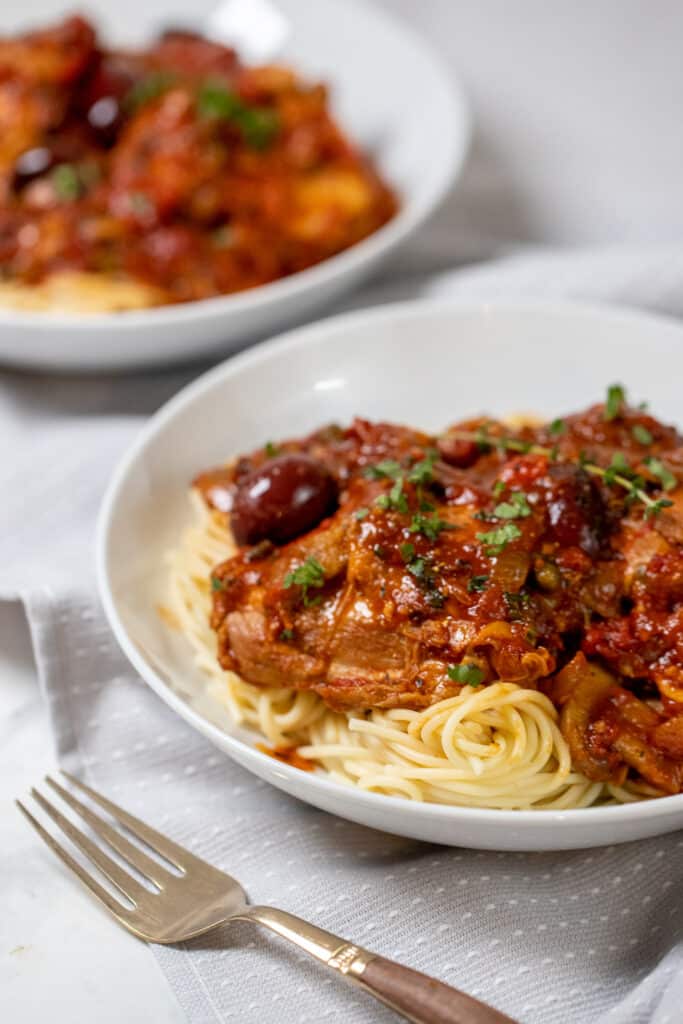 How To Make Chicken Cacciatore
Chicken cacciatore is a one pot dish, meaning less mess and less fuss. Don't worry, your house will smell mouth watering from the moment you begin cooking.
Almost all chicken cacciatore recipes begin with browning the chicken pieces. Dredging them in flour first will both help thicken the sauce and create a beautiful coating on the skin.
Once the chicken pieces have been browned (they don't need to be cooked through yet), add your veggies to the pan to saute. I like to add mushrooms, peppers, onions, and garlic of course!
Add in your liquids and return the chicken to the pot to simmer. I simmer this uncovered, but cover it if you find that the liquid is reducing too quickly. Simmer the Italian chicken cacciatore for at least 30 minutes, the longer the better.
If you're going for the quick route, make sure you use a meat thermometer inserted into a few of the larger chicken pieces to ensure they have an internal temperature of at least 165°F. Make sure you don't hit the bone!
How To Thicken Chicken Cacciatore
Chicken cacciatore isn't generally thickened, but some people prefer a thicker sauce.
If you want a thicker sauce for Italian chicken cacciatore, a quick slurry will do the trick. Mix a tablespoon of flour or cornstarch with a tablespoon of water until dissolved. Add it to the pot while mixing consistently
What To Serve With Chicken Cacciatore
Italian chicken cacciatore is best served over a carb such as pasta. I love serving it with egg noodles, spaghetti, or even over mashed potatoes.
A crusty garlic bread is also a great addition to any chicken cacciatore recipe, to help sop up any of the sauce you might have missed. It is definitely delicious!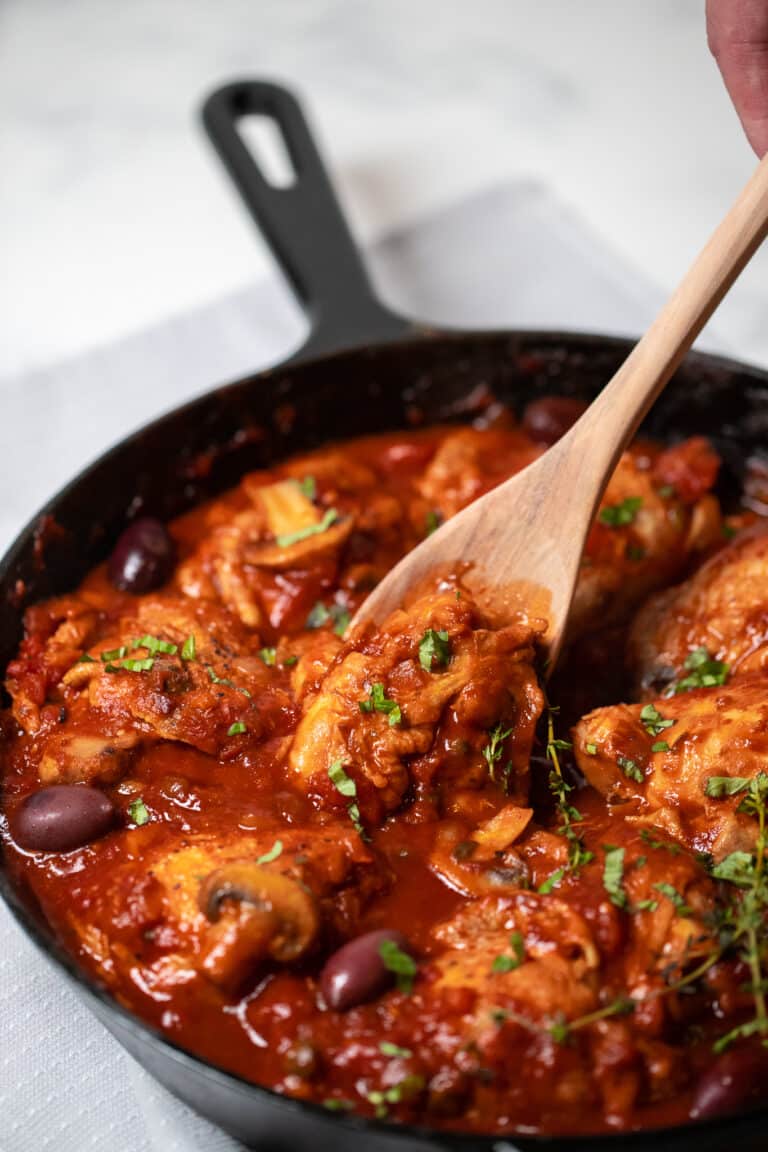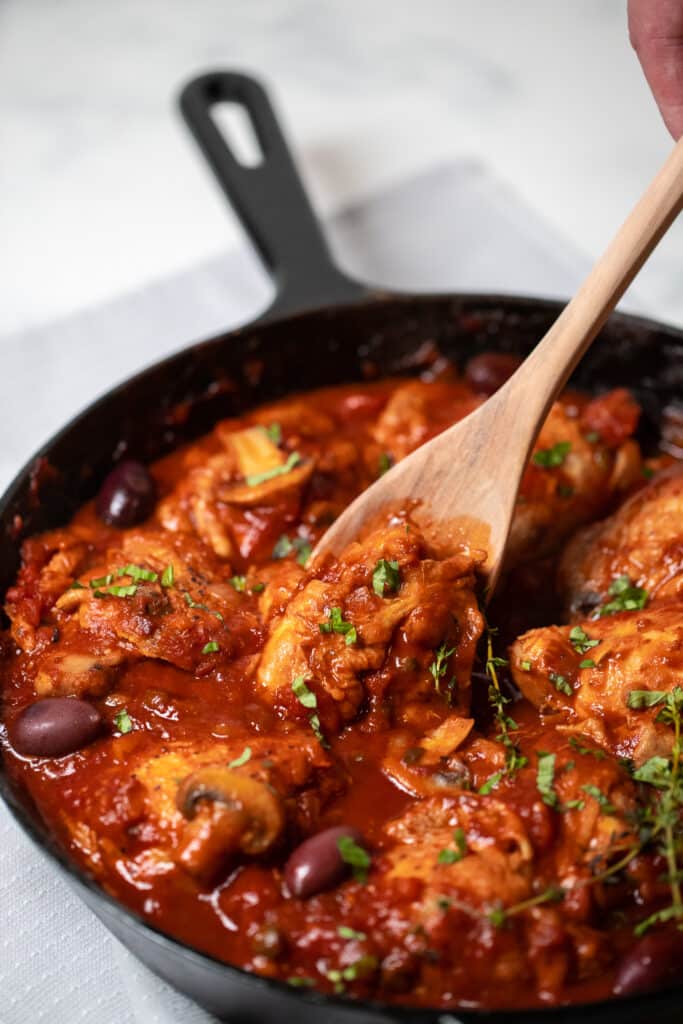 What To Wine To Serve With Chicken Cacciatore
Italian chicken cacciatore is tomato based, so it pairs best with red wine. Moving past my title as the malbec queen, I suggest pairing homemade cacciatore with a merlot or cabernet sauvignon.
Merlot is a simple and versatile red wine with fruity notes that pair perfectly with the tomatoes in this dish. Cabernet sauvignon is a bit heavier with stronger tannins, which I generally prefer over a Merlot. Look for a cab sauv that has fruity notes if you're going to go that route!
More Hearty Chicken Dinners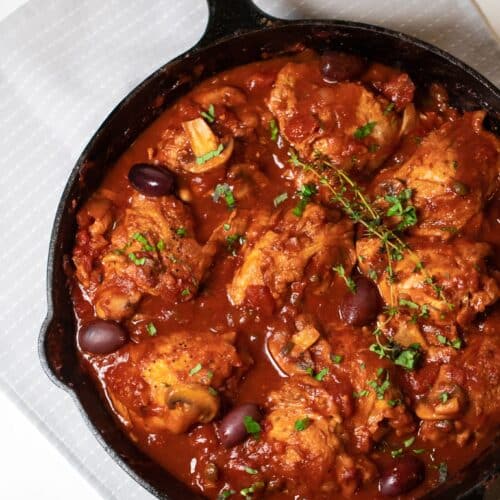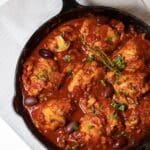 Easy Italian Chicken Cacciatore
This easy Italian chicken cacciatore is a classic Italian dish. Chicken thighs are simmered in a white wine tomato sauce with onions, peppers, and mushrooms. Serve it over paste for the perfect weeknight dinner!
Print Recipe
Pin Recipe
I'd love to hear what you think. Leave a comment and rating below!
Mix salt, pepper, and flour in a shallow dish.

Pat chicken dry with a paper towel. Dredge chicken in flour to coat, shaking off excess.

Over medium high heat, brown chicken pieces on all sides, about 3 minutes each side. Transfer chicken to a dish for later.

Add onions, bell peppers, mushrooms, and garlic to the pan. Saute until translucent, about 5 minutes.

Add white wine, chicken broth, diced tomatoes (with juice), capers, tomato paste, oregano, and chili flakes.

Return chicken to the pan and bring to a simmer. Simmer the cacciatore for at least 30 minutes or until chicken is cooked and tender.

Stir in basil and serve over egg noodles, mashed potatoes, or rice.
Calories:
544
kcal
|
Carbohydrates:
22
g
|
Protein:
28
g
|
Fat:
35
g
|
Saturated Fat:
8
g
|
Cholesterol:
148
mg
|
Sodium:
394
mg
|
Potassium:
758
mg
|
Fiber:
3
g
|
Sugar:
6
g
|
Vitamin A:
1687
IU
|
Vitamin C:
64
mg
|
Calcium:
68
mg
|
Iron:
4
mg
Pin It For Later: