Irish soda bread is a simple quick bread recipe that takes just 25 minutes and 4 ingredients. It's crusty, doesn't require any rising time, and great with butter!
Irish soda bread goes perfectly with everything from Irish stew to fried cabbage and sausage. It's a St Patrick's Day Classic, just add Guiness brownies and shamrock shakes!
We love serving breads like Irish soda bread, garlic bread and cheddar bay biscuits next to warm soups like roasted root vegetable soup, Irish Guinness stew, and creamy carrot soup.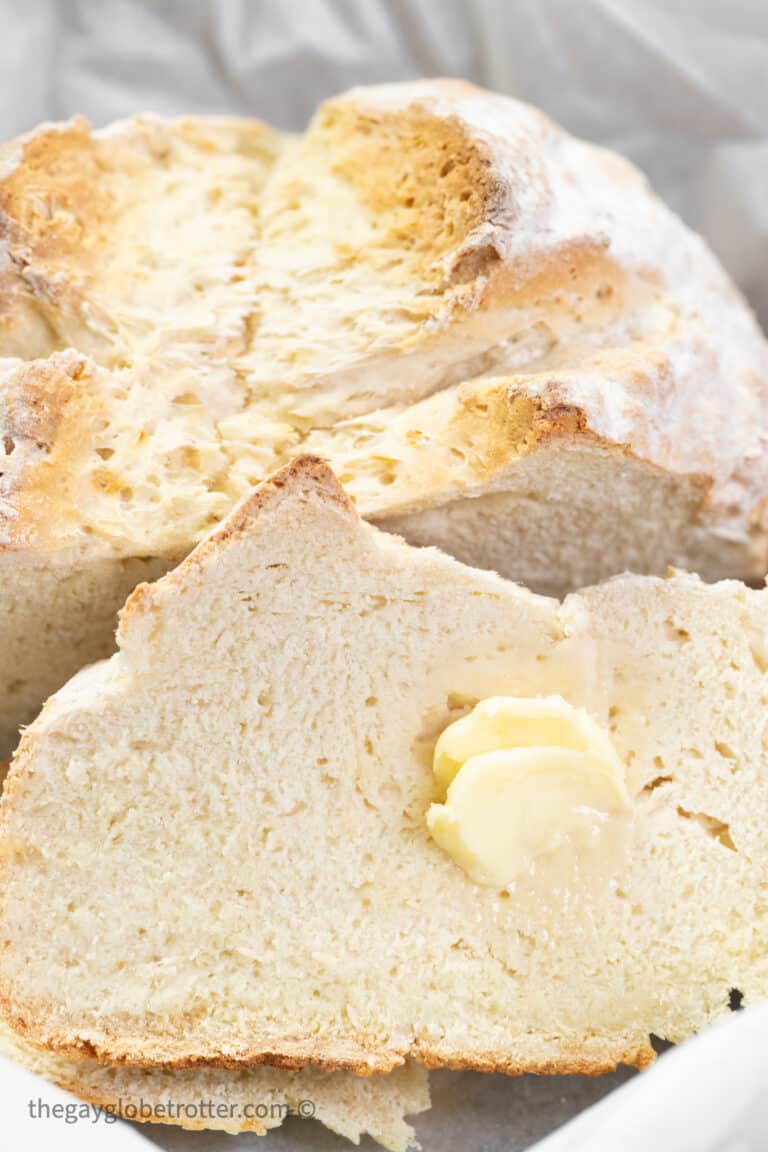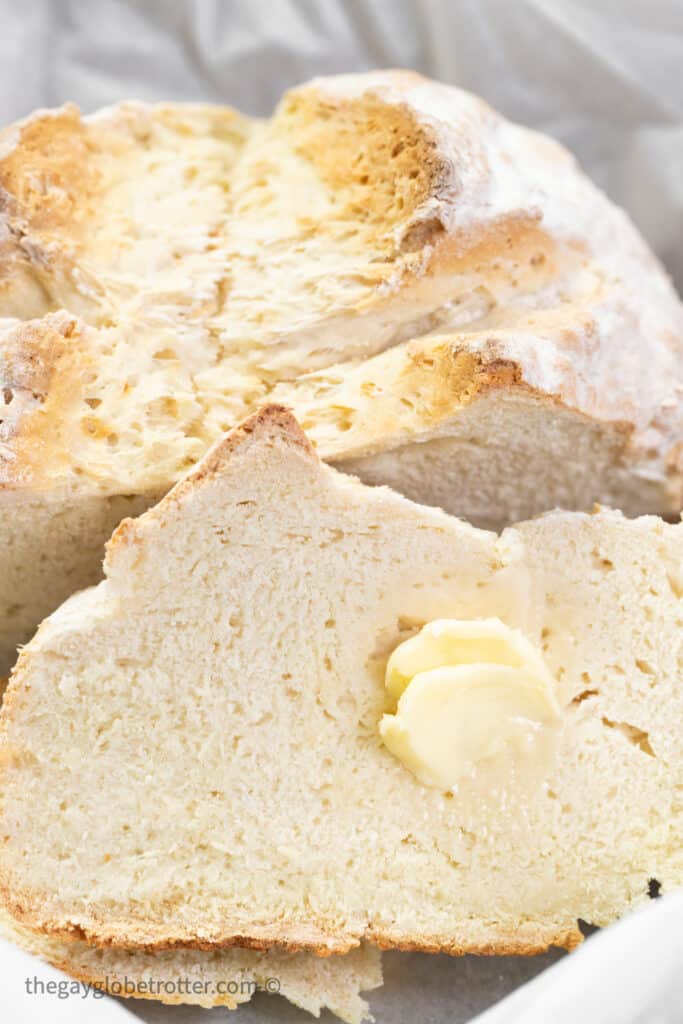 What Is Irish Soda Bread
Irish soda bread is a quick and easy bread recipe that doesn't use yeast, or other leavening agents. All of the leavening action in Irish soda bread happens with baking soda and buttermilk.
Irish soda bread traditionally has 4 ingredients:
Flour
Baking Soda
Salt
Buttermilk
You can find recipes that add everything from raisins to eggs, but a traditional Irish soda bread recipe starts with these 4 components.
Irish soda bread becomes crusty and dense when baked, so it's great to serve next to stew to help sop up all the leftovers in the bowl!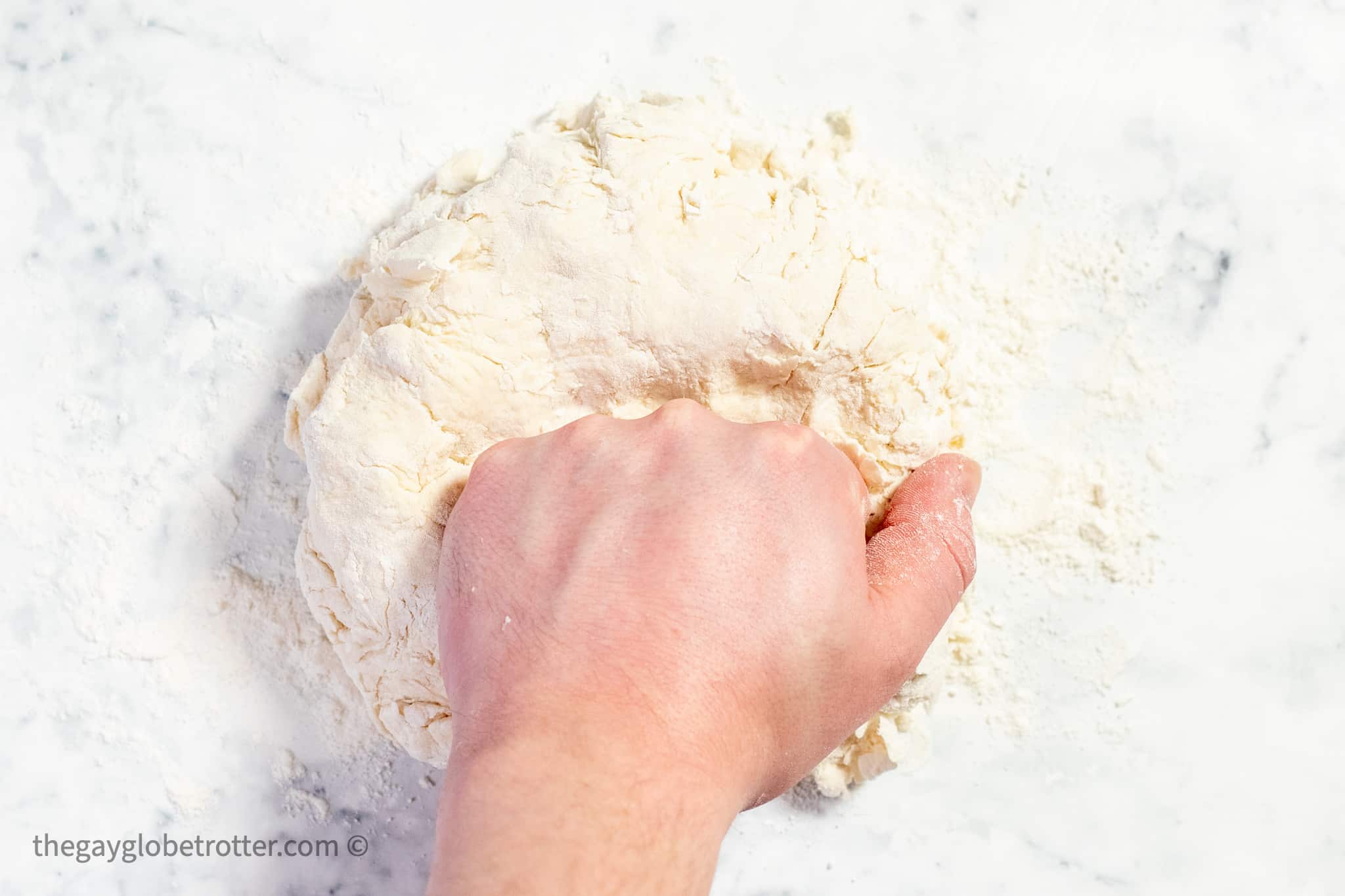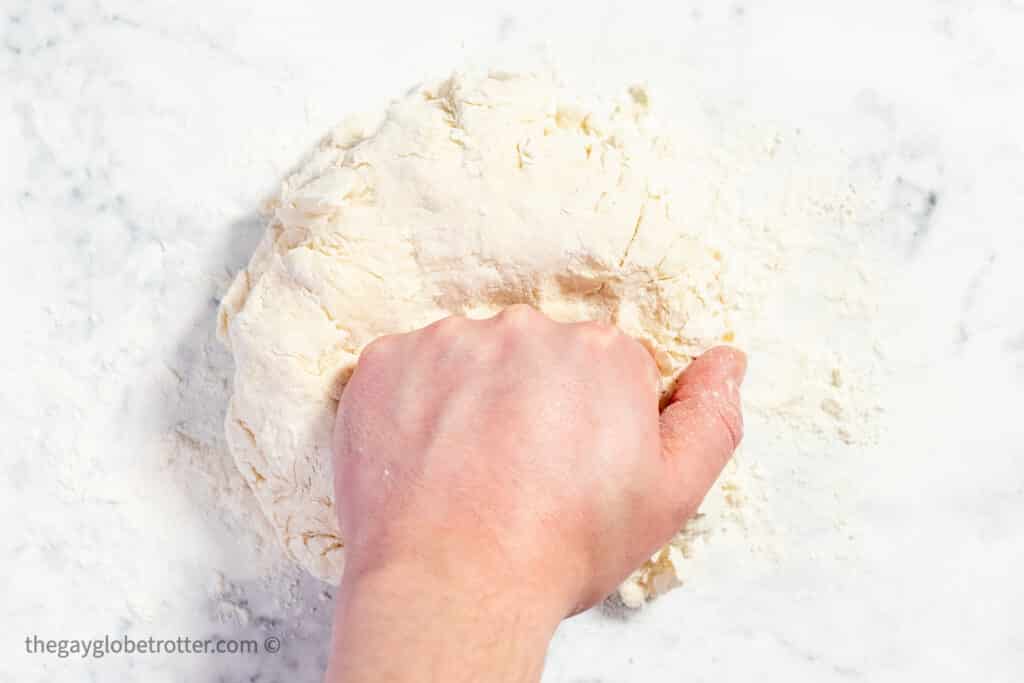 How To Make Irish Soda Bread
To make Irish soda bread:
Preheat the oven to 425°F.
Combine flour, baking soda, and salt in a medium mixing bowl. Pour in the buttermilk, and mix until a sticky dough forms.
Flour a working surface. Turn the dough onto surface. With floured hands, begin kneading the dough until a smooth elastic ball forms, about 5 minutes.
Place dough in a skillet, or on a baking sheet. You don't need to worry about greasing it. Rub the outside of the dough with flour, then score an X shape into the top of it with a sharp knife, about ½" thick.
Bake for 35 minutes. Remove from oven, and rest for at least 15 minutes before slicing.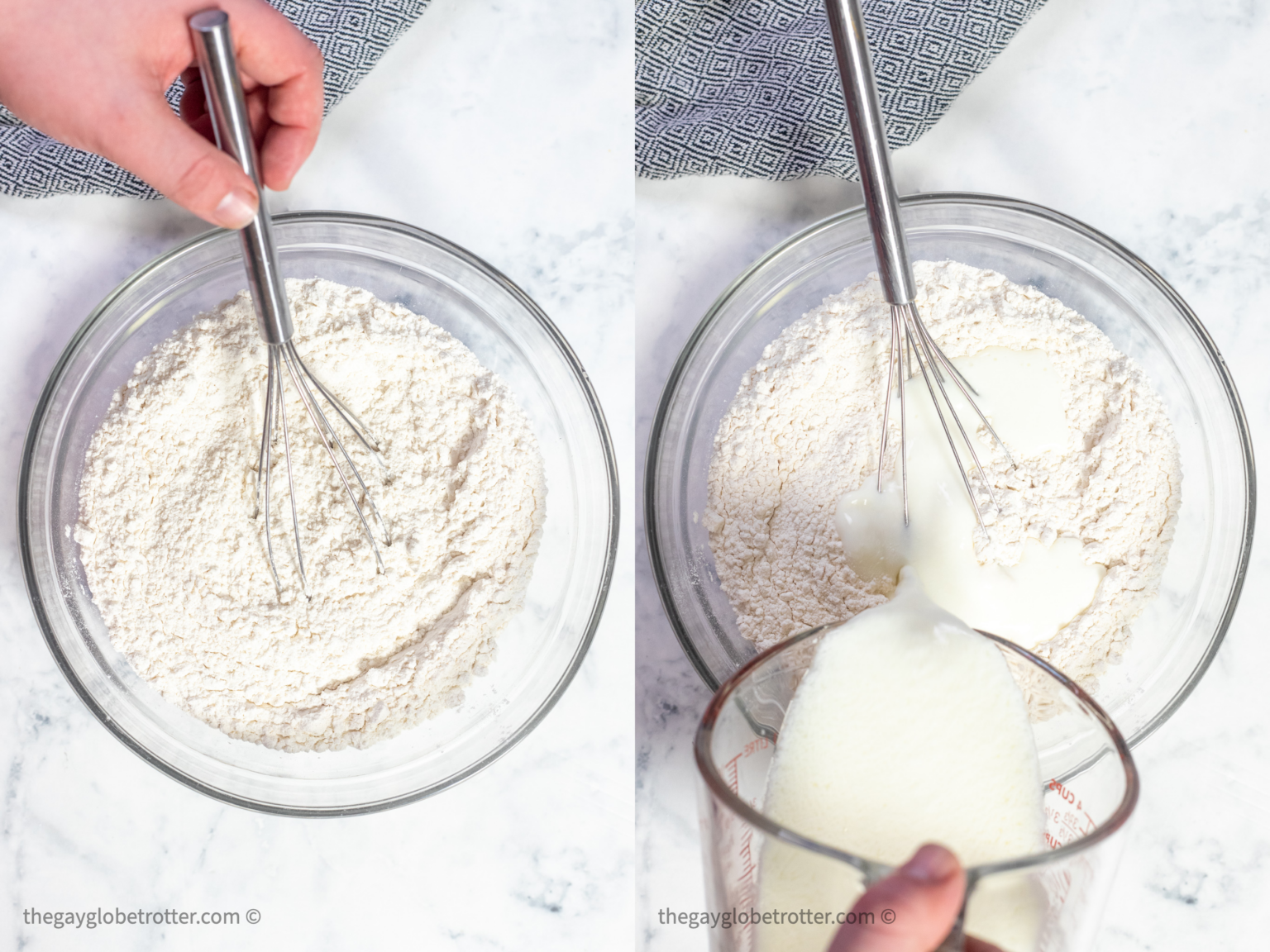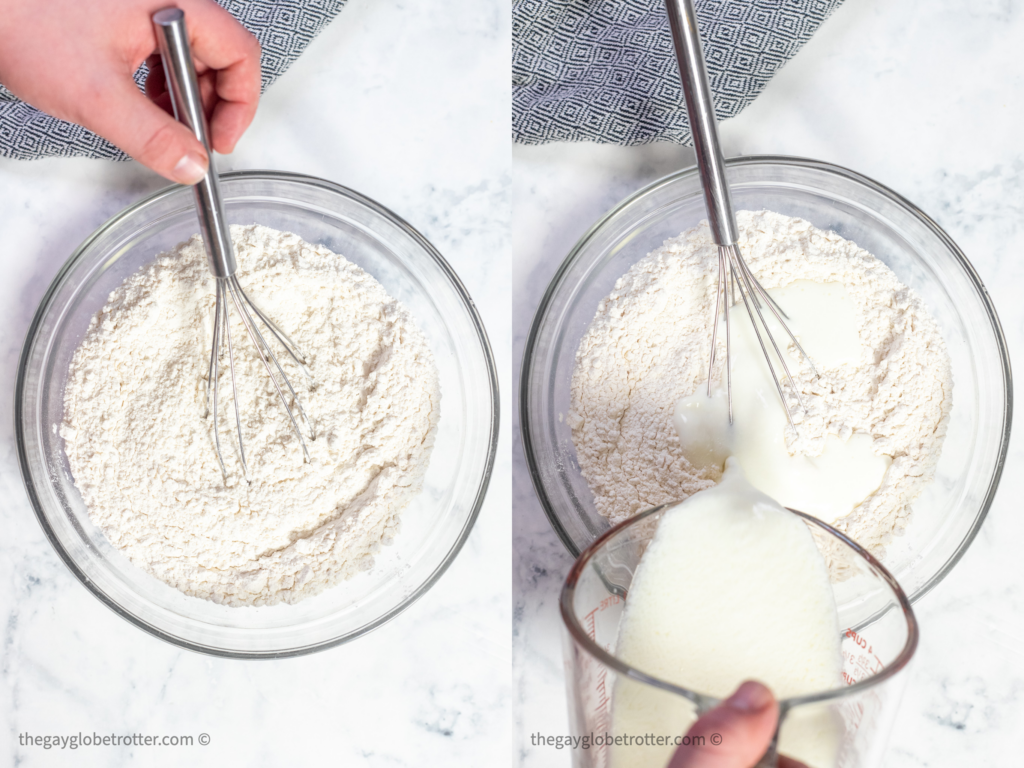 How To Store Irish Soda Bread
Like most fresh baked breads, Irish soda bread is best enjoyed the day it's made. It will last on the counter for up 5 days. Once the bread has come to room temperature, wrap it tightly with plastic wrap to prevent it from drying out.
If the bread goes stale, it makes a delicious stuffing! We like to break the bread into pieces and store it in the freezer until turkey dinner.
Irish soda bread can be frozen for up to 4 months. Just remember to wrap it tightly! Defrost it on the counter for a day before enjoying.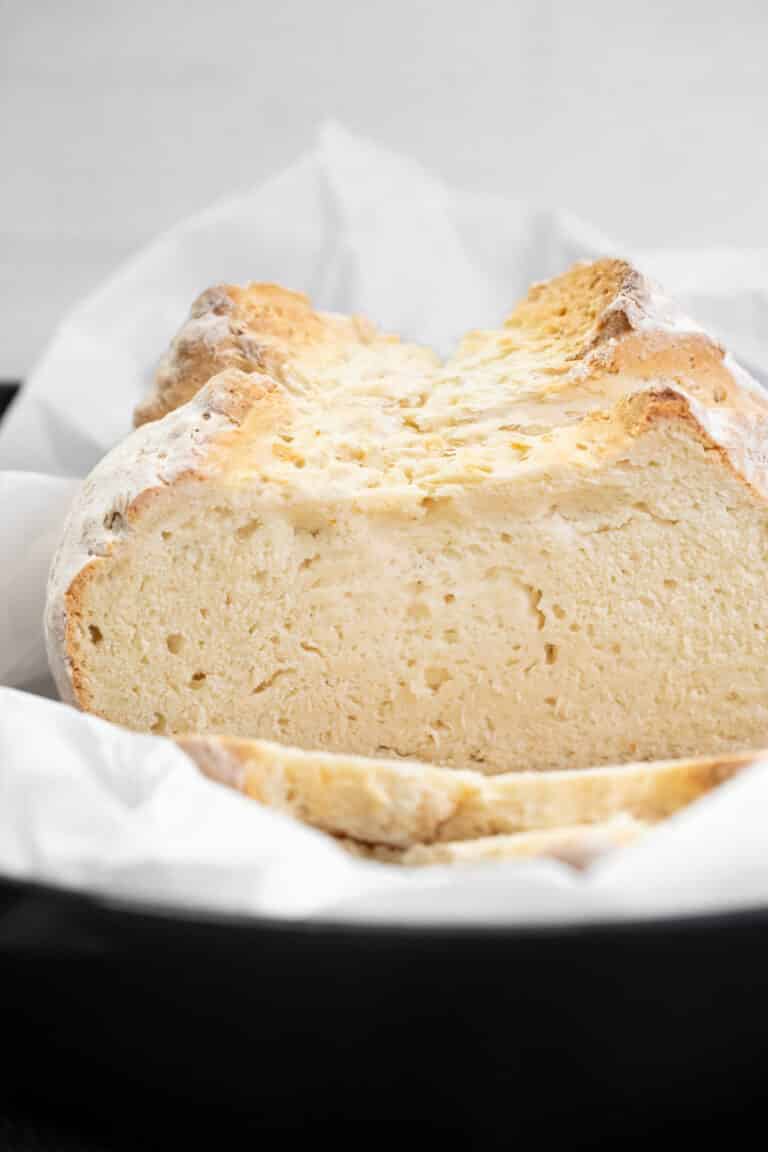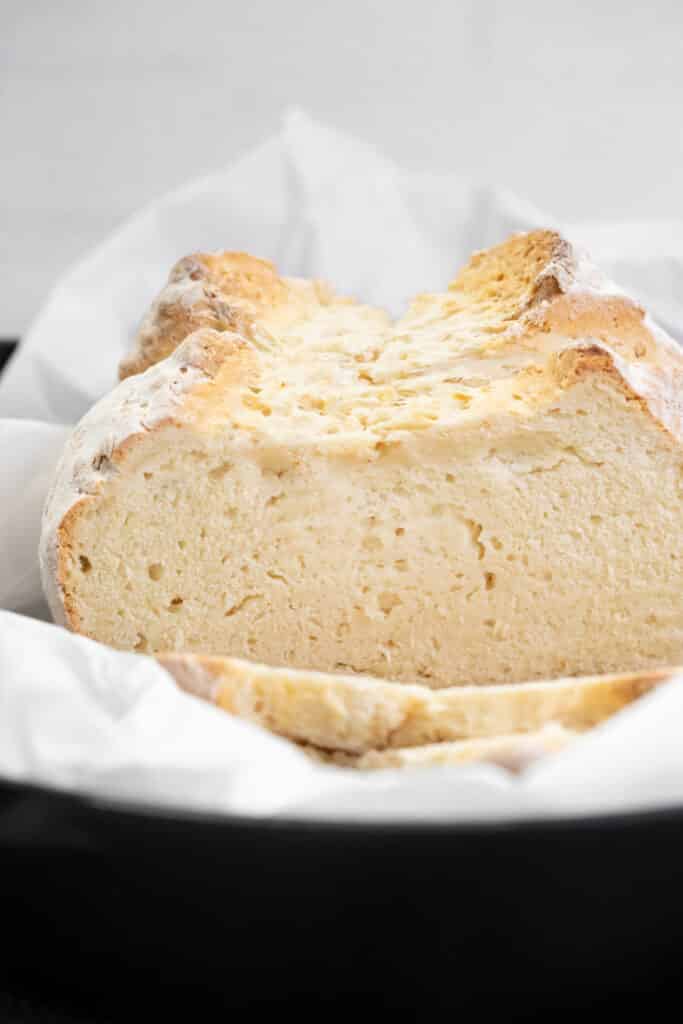 Irish Soda Bread Tips and Substitutions
Be careful not to over knead the dough. Irish soda bread dough doesn't contain yeast that continues to rise, so kneading it too much will result in dense, chewy bread.
Add ⅔ cup of raisins for Irish soda bread with raisins. Toss the raisins in the flour, baking soda, and salt mixture before buttermilk is added so they don't sink to the bottom of the bread.
To tell if bread is done, flip it upside down. Tap a thumb on the bottom of the loaf. Like a watermelon, you're looking to hear a hollow sound. This will tell you that it's fully cooked.
Scoring bread isn't just for presentation. When you score bread before baking, it will control where the bread expands while it bakes, helping keep the bread shape uniform. This helps it cook evenly, and not expand randomly in various spots.
If you don't have buttermilk handy, place 1 ½ tablespoons of white vinegar or lemon juice in a liquid measuring cup. Add whole milk to the cup until it reaches 1 ½ cups, and allow it to sit for about 5 minutes. The vinegar will curdle the milk slightly, and help it act like buttermilk while baking.
More Easy Side Dishes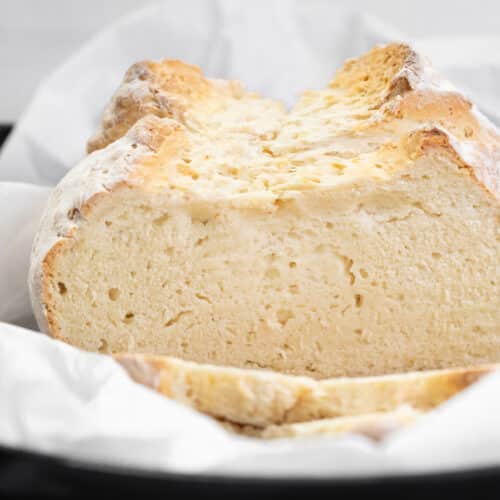 Rate this Recipe
Irish Soda Bread
Irish soda bread is a traditional easy bread recipe that requires no yeast or kneading.
Print Recipe
Pin Recipe
Tried this recipe?
I'd love to hear what you think. Leave a comment and rating below!
Ingredients
3 ½

cups

all purpose flour

1

teaspoon

salt

1

teaspoon

baking soda

1 ½

cups

buttermilk
Instructions
In a medium mixing bowl, combine flour, salt, and baking soda. Add buttermilk, and combine until it forms a loose ball.

Turn dough out onto floured work surface. Knead until a smooth ball forms, about 5 minutes. Don't over knead, or bread will become dense and tough.

Place dough onto baking sheet or into oven safe skillet. Coat with additional flour, and score an "X" shape in the top of bread. Bake for 35 minutes or until golden and crisp.

Cool for 15 minutes before slicing.
Calories:
227
kcal
|
Carbohydrates:
44
g
|
Protein:
7
g
|
Fat:
2
g
|
Saturated Fat:
1
g
|
Cholesterol:
5
mg
|
Sodium:
1057
mg
|
Potassium:
119
mg
|
Fiber:
1
g
|
Sugar:
2
g
|
Vitamin A:
74
IU
|
Calcium:
60
mg
|
Iron:
3
mg
Pin it for later: