Coconut rice – or coconut milk rice – is a simple way to spruce up regular rice and make it a delicious creamy addition to just about any main!
We love serving coconut jasmine rice next to dishes like slow cooker thai peanut chicken!
Coconut rice takes as much extra work as opening a can of coconut milk, which we always keep stocked in the pantry. It makes such a difference in the flavor of the dish!
Coconut milk is not to be mistaken with coconut water. Coconut milk is slightly sweet and very thick, which is why you also use water or chicken broth to ensure the rice stays nice and fluffy while it cooks.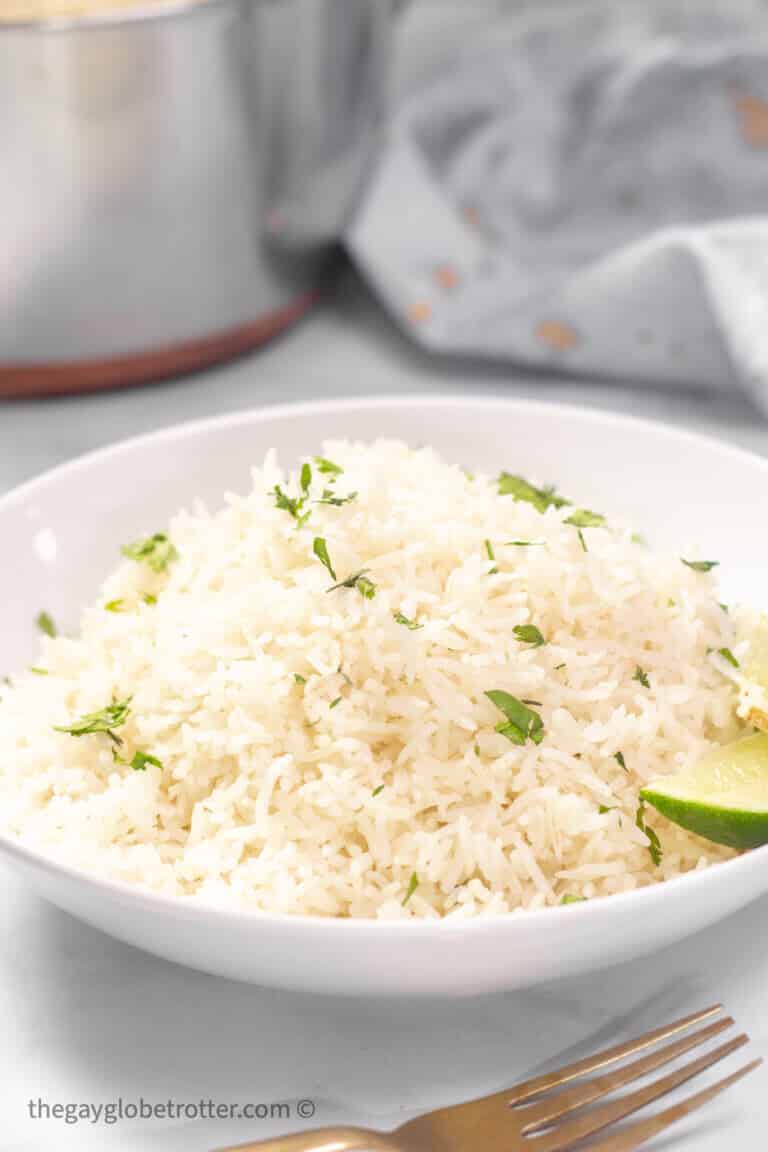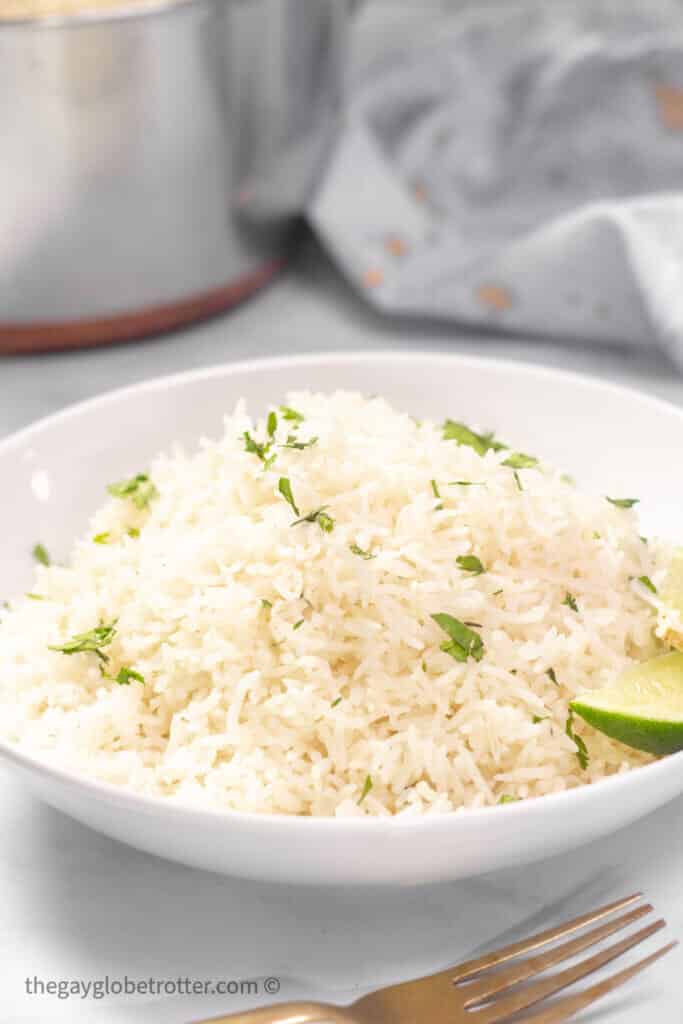 The Best Rice To Use
Jasmine rice is the winner here. It's the perfect light rice to pair with the creaminess of coconut milk without being overpowered and holding up its shape.
We have had success making coconut brown rice and coconut basmati rice as well, the cooking times may need to be adjusted if you prefer to use whole grain rice.
To Rinse Or Not To Rinse
This is the age old question when it comes to preparing rice, and it mostly comes down to personal preference.
The purpose of rinsing rice before cooking is to remove excess starch from it, which will provide you with more defined grains and less starch in the final dish.
Rinsed rice works best on long grain rice, such as almond rice, whole grain, or basmati. When it comes to rice used for risotto like arborio, or sushi rice which works better sticky, rinsing it first will remove the starch it needs.
With this coconut rice, I opt to not rinse it, as the coconut milk and starch work together to hold the rice together well. If you prefer rinsed rice, it will work just as well!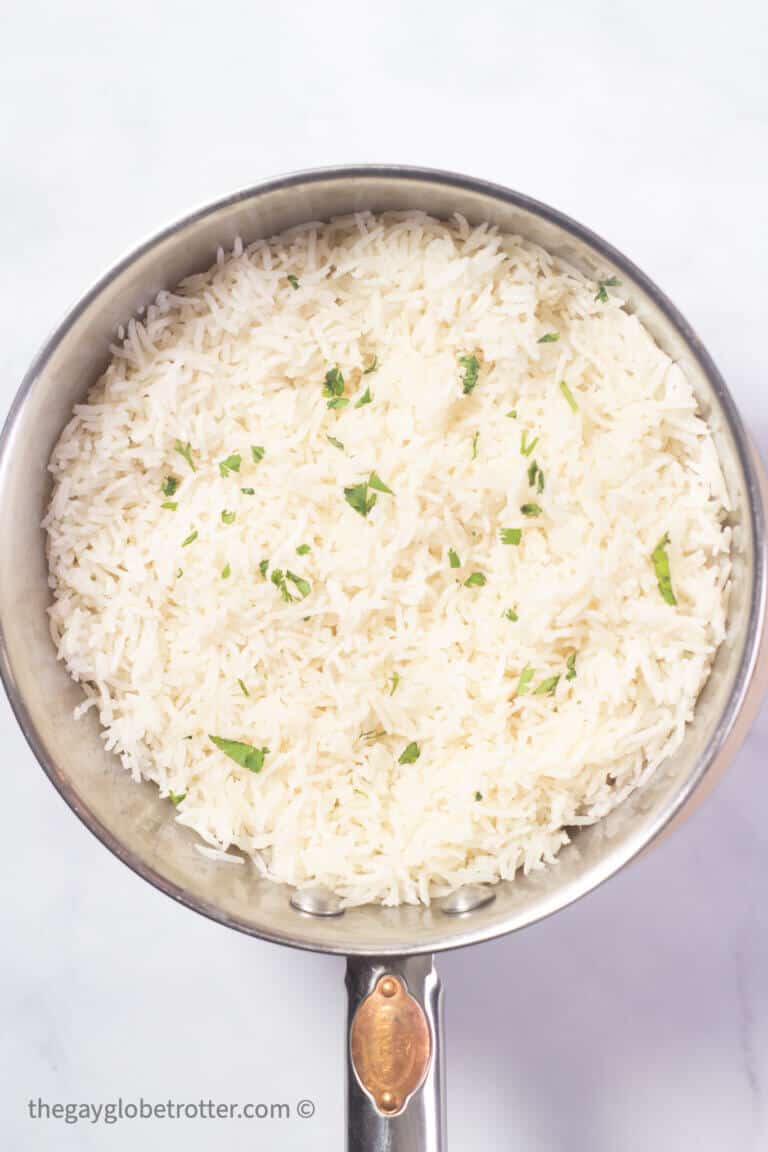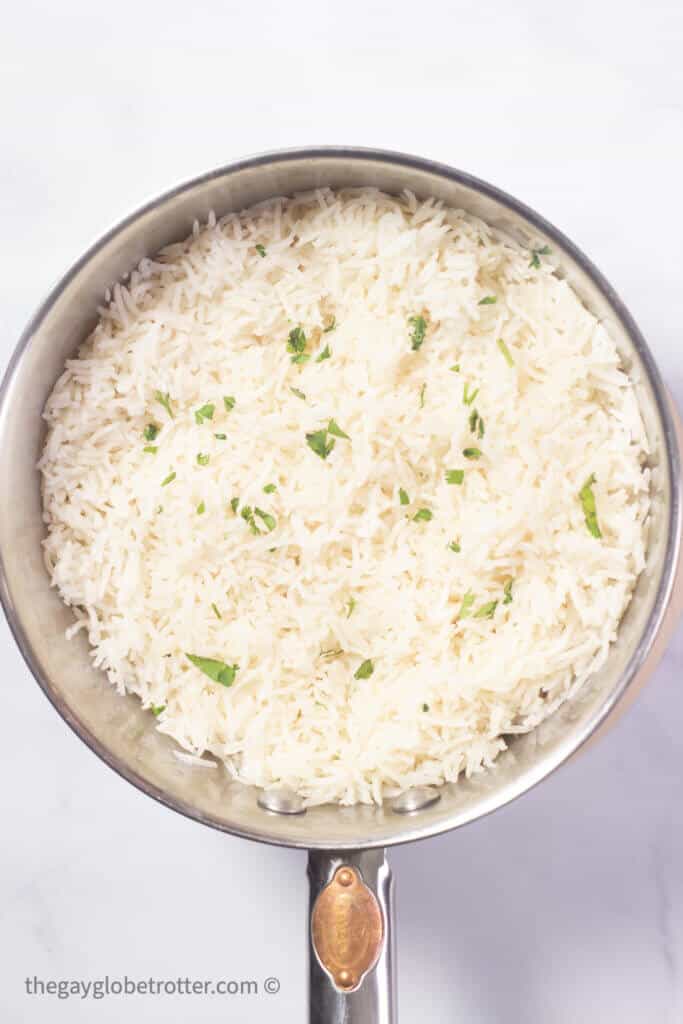 How To Make Coconut Rice:
To make this coconut rice recipe:
Add coconut milk, rice, and chicken broth to a medium pot
Bring to a boil, then reduce heat and cover.
Cook for 20 minutes, uncover, and fluff
Cook for an additional 5 minutes, or until all the liquid is absorbed.
How To Serve Coconut Rice
While it's great on it's own, coconut rice is such a great addition to curries and other dishes usually served on rice.
Our favorite way to serve it is by pressing it into a small bowl and turning it upside down onto a plate to create a beautiful little rice dome to pour the main over.
Adding any fresh greens like cilantro or parsley will help add color as well.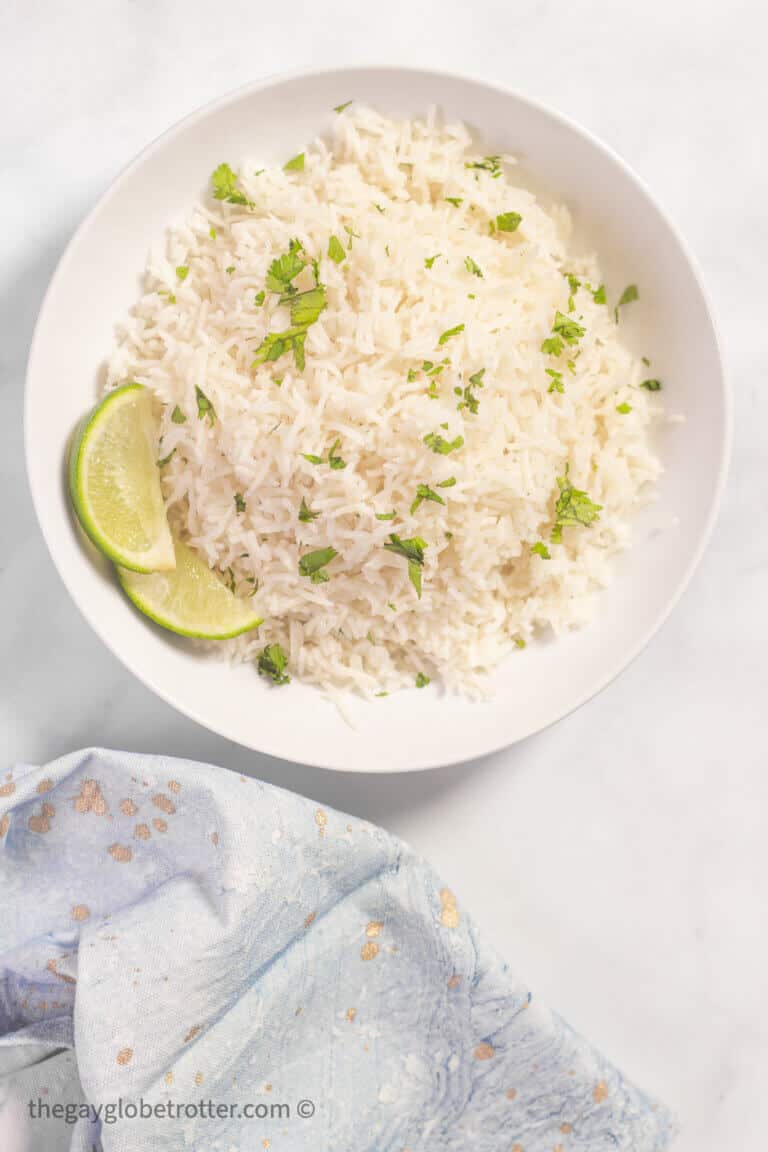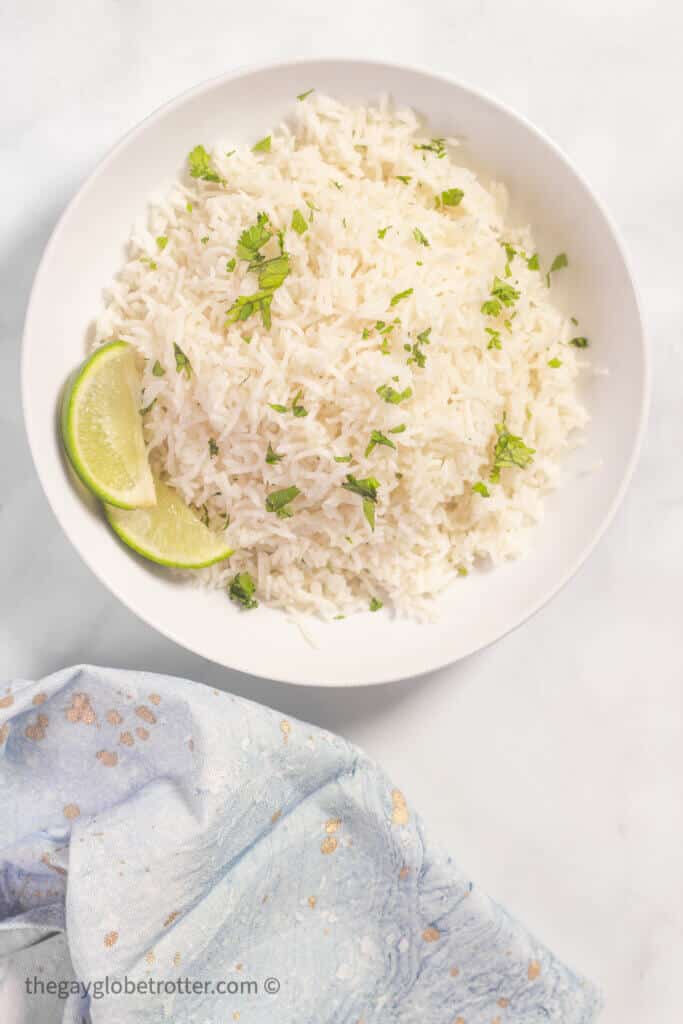 How To Store The Leftovers
Leftover coconut rice can be stored for about 4 days in the fridge before it starts to lose it's texture while reheated. To store it, just cover it tightly and keep it in the fridge once cooled.
To reheat leftover coconut rice, add a couple drops of milk or water, and heat it over low heat while fluffing with a fork.
In the microwave oven, heat it for about 2 minutes and fluff it half way through heating to ensure it reheats evenly.
More Delicious Side Dishes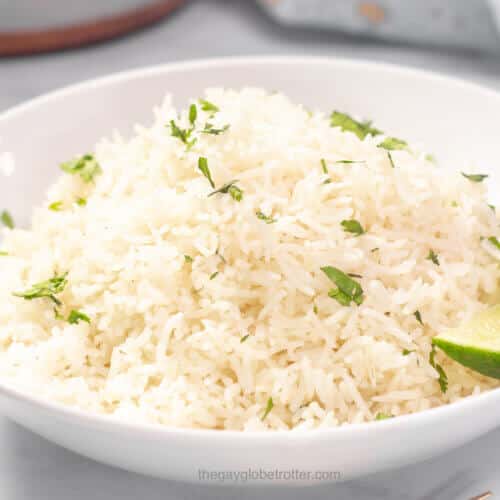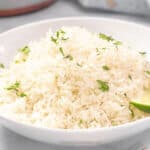 Rate this Recipe
Coconut Rice
This easy coconut rice is made with jasmine rice simmered chicken broth and coconut milk. It's great as a side dish, or quick and easy lunch!
Print Recipe
Pin Recipe
Tried this recipe?
I'd love to hear what you think. Leave a comment and rating below!
Ingredients
1 ½

cups

jasmine rice

1

can

coconut milk

1

cup

chicken broth

low sodium

1

teaspoon

lime juice

fresh, to taste

1

tablespoon

cilantro

garnish, optional
Instructions
In a medium pot, add jasmine rice, coconut milk, chicken broth, and lime juice.

Bring pot to a boil over high heat. Once it reaches a boil, reduce heat to low, cover with a lid, and cook for 20 minutes.

Remove lid, fluff with a fork, and continue to cook until the rice is cooked to desired doneness. Garnish with cilantro.
Calories:
294
kcal
|
Carbohydrates:
39
g
|
Protein:
5
g
|
Fat:
14
g
|
Saturated Fat:
12
g
|
Sodium:
398
mg
|
Potassium:
193
mg
|
Fiber:
1
g
|
Sugar:
1
g
|
Vitamin C:
1
mg
|
Calcium:
24
mg
|
Iron:
2
mg
Pin it for later: