Here are some of my favorite leftover chicken recipes. Rotisserie chicken is such an easy, flavorful, and convenient dinner option, but figuring out what to do with the leftovers can be a hassle.
From tuscan chicken pasta to buffalo chicken dip, these easy rotisserie chicken recipe ideas have you covered!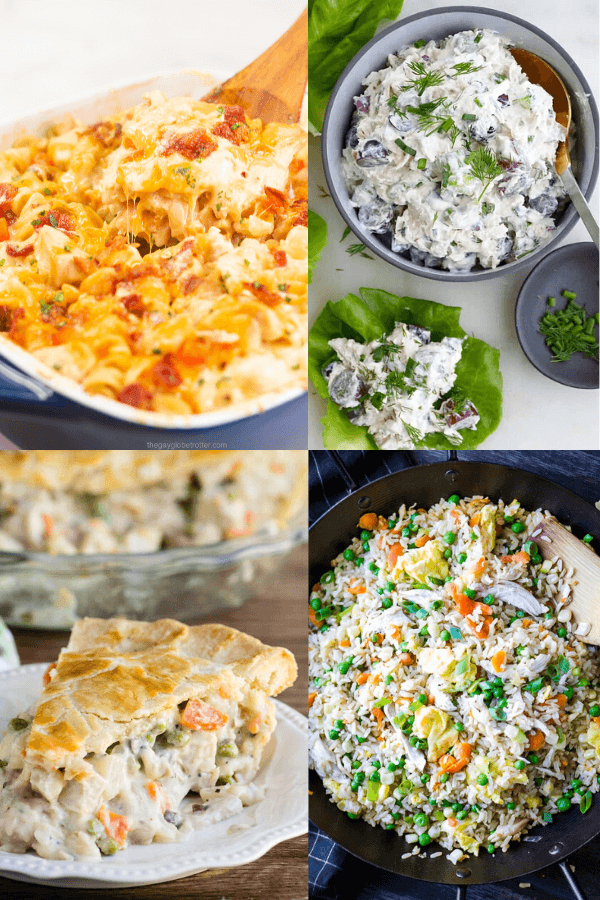 How Long Is Rotisserie Chicken Good For?
Store bought rotisserie chicken lasts 3-4 days in the fridge. You can store it in the container it came in, or put the chicken into containers.
Make sure you save the bones – they make an amazing chicken stock or broth for things like chicken noodle soup!
To freeze rotisserie chicken, place it in a freezer bag once cooled and put it in the freezer for up to 4 months.
How To Reheat Rotisserie Chicken
To reheat rotisserie chicken:
Preheat oven to 350°F.
Place rotisserie chicken in a glass baking dish.
Heat for 15-20 minutes or until hot. If skin begins to brown, cover the chicken with aluminum foil.
How To Cut A Rotisserie Chicken
An electric knife will make cutting easy, but a sharp chef's knife will do the trick too.
Remove the string from the chicken.
Place the chicken horizontally. Pull the leg and thigh away from the breast, and slice through the connecting tissue and joint. Repeat on the other leg.
Begin slicing the breasts into thin slices on each side, starting by the wing.
Remove the wings by pulling them away from the breast and slicing through the connecting tissue and joints.
[mv_create title="30+ Leftover Rotisserie Chicken Recipes" key="2″ type="list" layout="numbered"]