Riding a tuk tuk is basically a right of passage when you visit Southeast Asia. This guide aims to show you how to ride a tuk tuk, how to negotiate the price, and how to make sure you have a safe ride.
Tuk tuks are most commonly found in Thailand, Vietnam, Cambodia, and the Philippines. There's nothing quite like feeling the wind through your hair while you zip through the city to your destination.

If you're taking a tuk tuk in Bangkok or in another busy city, you can expect the prices to increase significantly for your trip. If you need to go far or take any highways, an Uber or Lyft is your best bet.
What Is A Tuk Tuk
A tuk tuk vehicle is basically a motorbike with additional seating encased in the back of it for passengers. Tuk tuks come in many sizes, and are usually painted bright colors to attract tourist attention.
Tuk tuks don't often have sides to them, so remember to keep your arms inside at all times while on the road and keep any belongings secured to your body.

How To Find A Tuk Tuk
Because tuk tuks are such a popular tourist option, you will find them in many popular areas. For example in Bangkok, Khao San Road has a large lineup of tuk tuks ready to take you to various night markets and other popular areas in the city.
In rural areas (and on many of the islands in Thailand), it can be a bit more difficult to find tuk tuks. Motor bikes are usually the more popular way to get around in these areas!

How To Negotiate A Rate
Because you're a tourist, be prepared to barter. Tuk tuks have heavily inflated pricing because of their appeal to tourists, and you won't generally see locals taking them. Tuk tuks are often privately owned, so each driver will be willing to take you where you're going for a certain price.
Tuk tuks will often line up next to each other in popular areas. I usually start at the first one and move my way down the line figuring out who can take me somewhere for the least amount of money.
Tell the driver where you're hoping to go, and make sure you have some cash ready. They will give you a starting price which will generally not be what you'll end up paying.
I find the next steps to work the best for me: lowball the driver, then counter his counter once. I find that tuk tuk drivers have become used to tourists negotiating and will not push much further than a few back and fourths. I find I can usually get 100 to 200 Baht off of my initial fare depending on the distance.
Keep in mind, if you aren't solo, sometimes the driver will try and charge extra to drive 2 people. I usually move onto the next driver if they try to pull this one on me.

Tuk Tuk Safety
Tuk tuks don't have side doors like cars (some do have fencing though), so there are some precautions you should take while riding in them.
Helmets aren't really needed when you're in a tuk tuk, but make sure you have everything on you secured down incase the driver makes any sudden turns or movements – Southeast Asia traffic is fast and unpredictable.
If you're in a big city like Bangkok, keep a close eye on your bags and cell phone. Tuk tuks are known to be targeted by drive by pickpocketing more than other vehicles.
If you're female or riding solo, keep your wits about you as you would in any large city. Getting a tuk tuk that is parked in a group rather than one you've found solo is always a safe idea.
If you're worried about your safety while alone, taxis are a pricey but safe option to get around just about any city.
Wherever you're visiting, don't forget to take a tuk tuk at least once on your trip. It can be one of the best times of your life!
Have you ridden in a tuk tuk before? How was your experience? Let me know in the comments below!
I would love it if you pinned this to your travel board!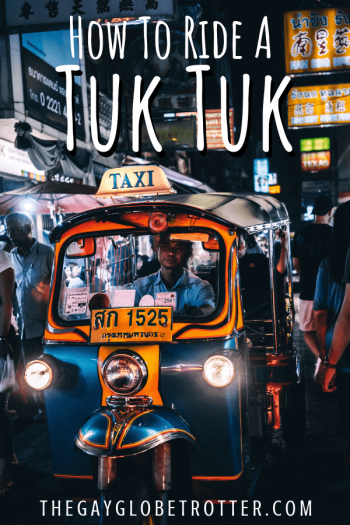 Related Posts

Facebook


Twitter


Google-plus


Instagram


Pinterest

Get your copy of my secret travel budget tips…