If Thailand is known as the land of smiles, then Bangkok is known as the city of delicious food. Out of everywhere I have travelled, The Thailand food scene is probably the best one I have experienced. Every street corner you pass has a vendor cart overflowing with everything you could think of!
The Thai way of eating is so different from here in Canada, here we mainly eat standard breakfast lunch and dinner. You're walking home from a beach bar? Grab some Thailand food. Why not stop for a kebab? Spent the day at the markets? Garlic bread on a stick might just hit the spot! You snack throughout the entire day, which is healthier for you, but also allows you to eat often, and eat delicious Thailand food everywhere.

The Thailand food is SO varied and SO delicious. I tried things I promised myself I wouldn't while I was there, and I am honestly so happy I did! I ate a BUG. If you know me, you'll know that bugs are my worst nightmare. I am definitely not a 'put the spider outside' kind of person, let me be absolutely clear about that.
ANYWAYS, if food is a big part of planning your trip to Thailand, Bangkok is the place to be. Make sure you add some Wet Wipes to your Thailand packing list! They recently tried to ban street food in Thailand, which obviously didn't pan out. Whether you're a traveller or a local, you'll end up eating street food more anything else. They serve everything under the sun! If you can think of it, you can find it. I even saw scorpions and tarantulas on a stick there. That one, I skipped.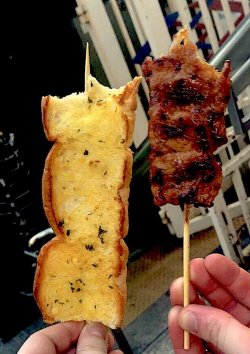 There are tons of amazing Thailand food markets around Bangkok and in almost every other city in the country (just grab a tuk tuk so you can visit several in the same day). Local food is generally way cheaper than western food there, so it is definitely worthwhile to try some of the local grub. You won't be disappointed!
I have listed my favorite Bangkok, Thailand Food Markets below!
Asiatique
One of the most interesting Thailand food markets I went to would definitely have to be Asiatique. While it isn't a traditional Thailand street food market, we ended up staying all night! The food was fantastic, I could hardly walk after we made it out of the food vendors area! They have a really cool Ferris Wheel with an amazing view of the Bangkok cityscape, live performances, and a beautiful indoor market full of vendors. This location tends to be a lot more touristy, so if you're looking to ease yourself into the food market scene, start here! To get there, just hop on a taxi boat down the river from any stop and there will be a stop called Asiatique. We took a normal taxi home, but had some difficulty finding one. They also tried to sell us on some ping pong shows! No thank you.
Me being photobombed by some tourists
While I was at Asiatique, I decided to do the one thing that scared me more than anything.. A fish spa. For those of you who don't know what that is, you basically sit there with your feet in a tank full of cannibalistic fish that eat the dead skin cells off of your feet. I hate being tickled. It tickled. Those fish LOVED my feet, I guess the flip flops caused my feet to dry out. Anyways, I lasted 7 of the 15 minutes, and at one point the spa technician had to literally hold my legs into the water. All in all, my feet felt like a babies' butt.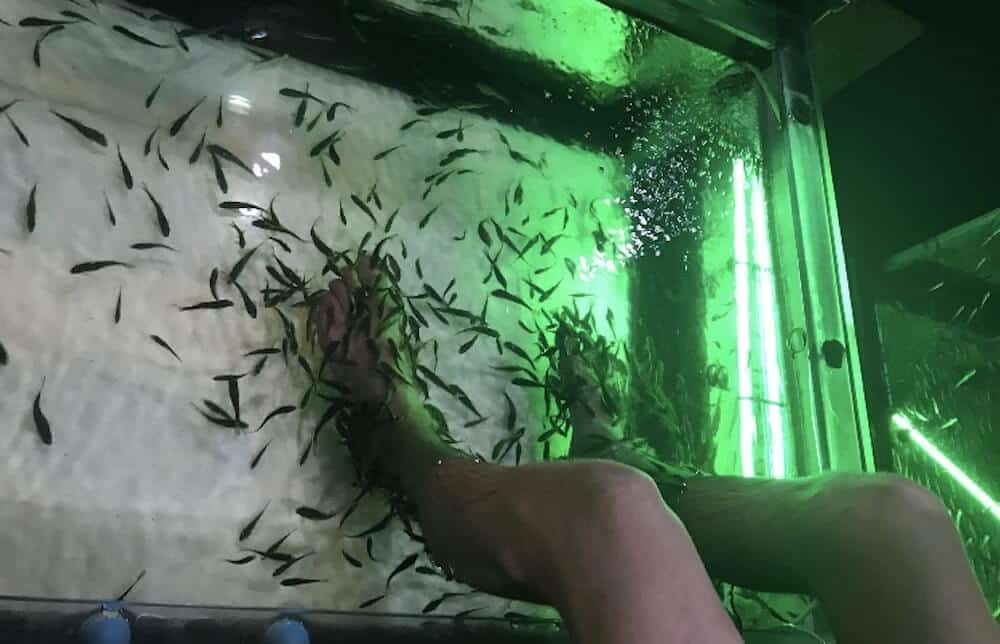 Me toughing out the fish spa like a trooper
Ratchawat Market
Ratchawat Market (located in the district of Dusit) is one of the oldest and most traditional food markets. This market is a little more out of the way than others, but the food is amazing! I definitely needed to taxi home after eating as much as I did. The easiest way to get there would be a taxi or a tuk-tuk.
Sukhumvit 38
Another food favorite of mine was Sukhumvit 38, full of affordable food amidst Bangkok's luxury district in Thong Lo. My favorite from here was this one dish I tried: pork with rice and basil + fried egg dish (pad ga pao moo kai dao). This food market is super easy to get to on the BTS too! Just get off at the Thong Lo Station and you're there! It is open from 5pm to 2am daily, so don't plan your day around it. I went to see the Wat Phra Kaew temple before I came, and just took the train over afterwards!
Wang Lang
Head over to Wang Lang market if you're looking to eat until you need to take a taxi home. This place is loaded with street vendors and overflowing carts of delicious smelling food. Pork, prawns, scallops, crabs, rice, every dessert you can think of, bubble tea, fish, chicken, beef, grilled bananas ( a personal favorite). This place is a bustling mecca of people and food all day and night. The easiest way to get here is to take a public boat down the river to Wang Lang Pier.
Silom Soi 20
On my way out of Thailand (a very sad day for me), after visiting the beautiful Thailand islands, I figured I had one more day to eat my face off. I found this cute little market next to our hostel in Bangkok, so we ventured over and I was so impressed! It's called Silom Soi 20, and offers everything from durian, thai curries, rice dishes, and little desserts. This food market is busiest in the morning, so go early! To get there, just take the BTS to Chong Nonsi station, it's right in the heart of the Bangkok Business district.

Don't forget to pin this to your food and travel boards on Pinterest!