Grilling season will never end with these grilled pork shoulder steaks. They're marinated in a mouth watering soy garlic sauce before being grilled to tender perfection.
Serve these easy grilled pork shoulder blade steaks next to some mashed potatoes, green beans, and cheddar biscuits for the perfect summer meal!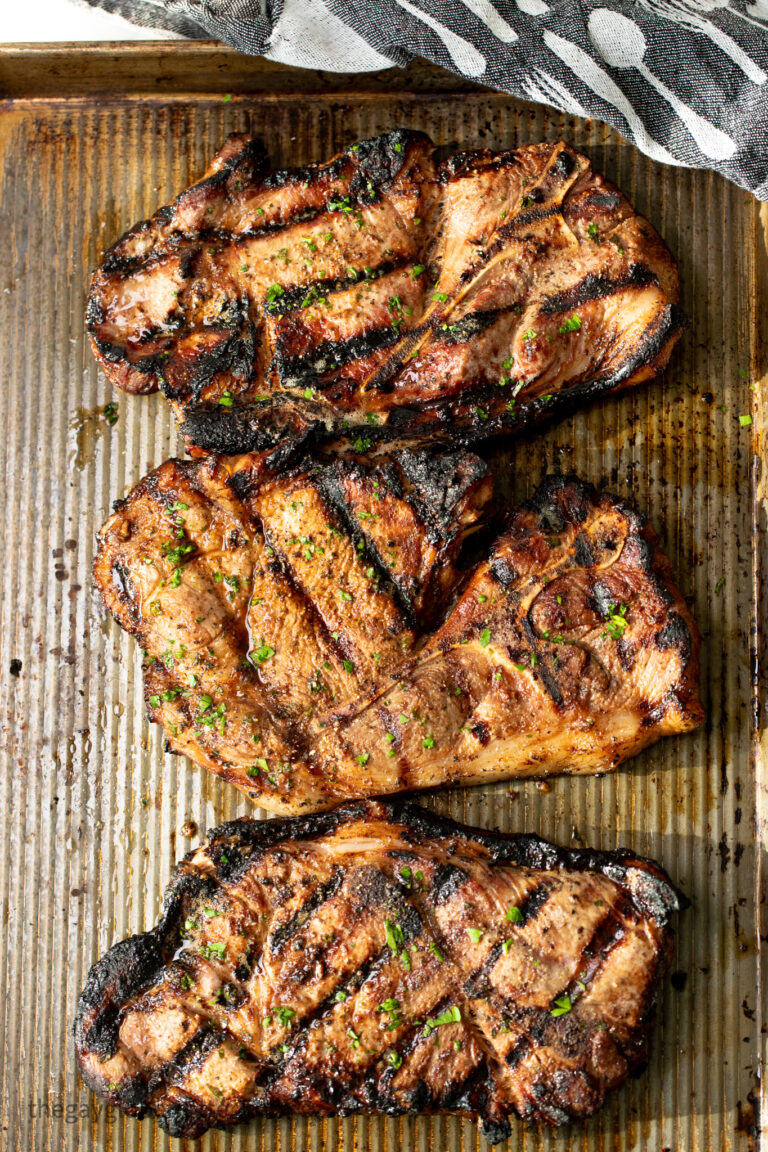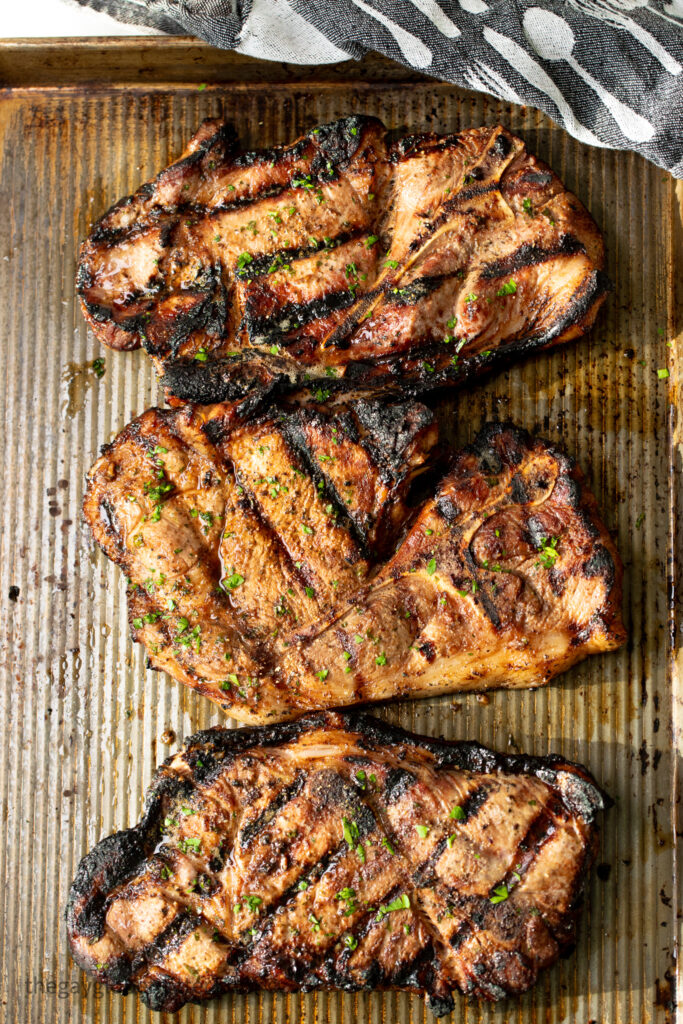 Why We Love Them
Pork shoulder steaks are inexpensive. When prepared right, they rival regular steak.
But they still have the same juicy, classic taste a steak has.
The soy garlic marinade adds an umami, savory flavor, while helping to tenderize the steaks perfectly.
How To Grill Pork Shoulder Steak
To make this grilled pork shoulder steak recipe:
Marinate: combine the marinade ingredients in a medium mixing bowl or freezer bag. Add the pork shoulder steaks, and chill for 30 minutes to overnight (the longer, the better.).
Grill: preheat the grill to medium-high. Grill the steaks on each side for 5-6 minutes. Once they reach an internal temperature of 145 (for medium), remove from the heat.
Rest: cover the pork steaks with foil, and allow them to rest for 5-7 minutes before serving.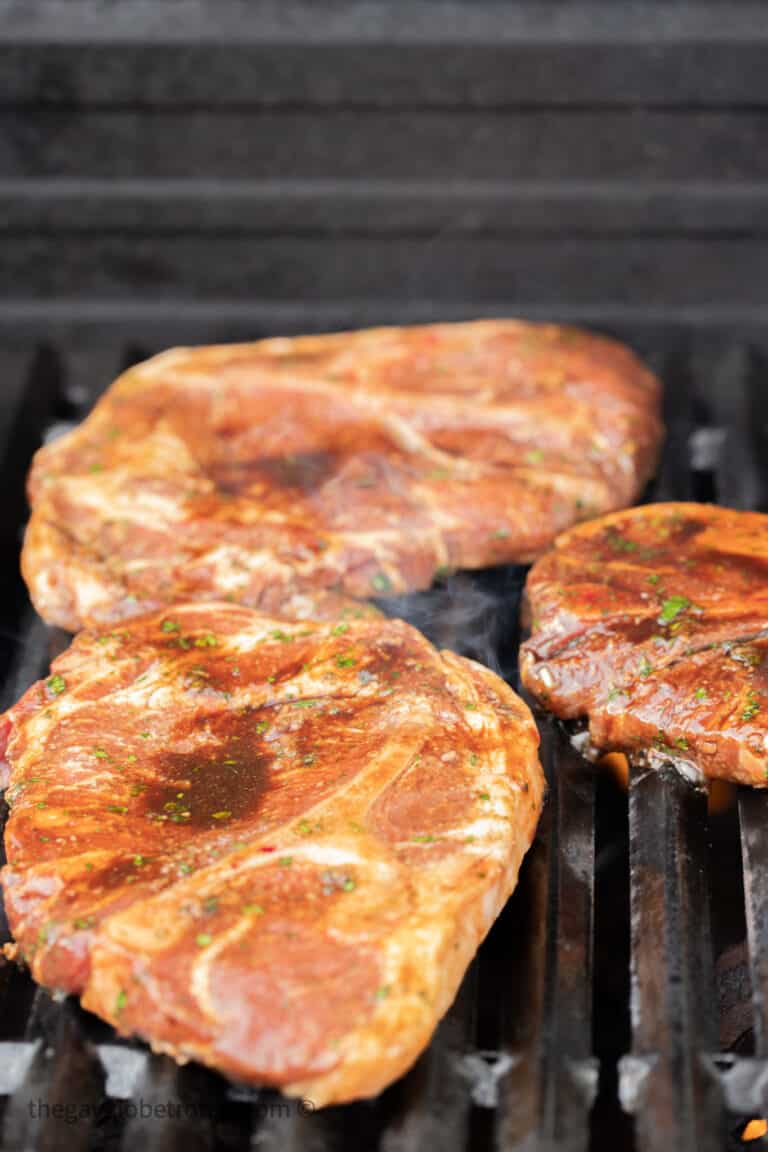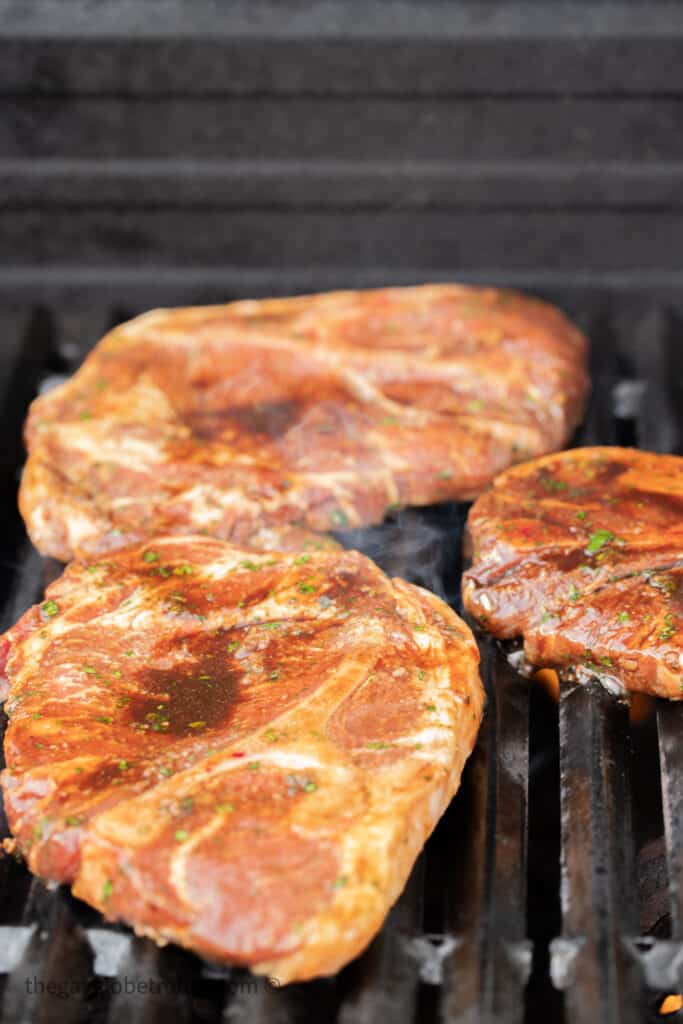 Pork Shoulder Steak Temperatures
According to the FDA, pork must always be cooked to an internal temperature of 145°F. This means you can still enjoy deliciously juicy pork without needing to cook it well done.
Here are the cooking temperatures for pork shoulder steak:
145°F – medium rare
150°F – medium
155°F – medium well
160°F – well done
Remember, when you remove the pork from the heat, the temperature should rise about 5 degrees while resting.
Tips For Grilling Pork Shoulder Steak
Bring them to room temp – pull the marinating pork out of the fridge when you start heating the grill. Room temperature meat cooks more evenly.
Trim the fat off of the pork before grilling. Pork fat doesn't break down well, and becomes rubbery quickly. Removing the fat before cooking will ensure every bite is perfect.
Uneven pork shoulder steaks? Pound em. Use a meat mallet to make sure the pork shoulder is even in thickness. They are cooked at a high heat for a small amount of time, so even cooking is important!
Rest, rest, rest! Resting is the most important thing to do when working with any protein, but extra important with pork. Plus, it gives you time to get your sides served!
Use a meat thermometer. These pork shoulder steaks aren't cooked well done, so a meat thermometer will ensure they have been cooked properly.
If the pork shoulder steaks are under temperature but burning on the grill, don't worry! Pull them off, and put them on a baking sheet. Place them in the oven at 375°F to finish cooking.
If you have pork shoulder steaks but no access to a grill, this recipe can be done in a hot cast iron pan too!
Use a meat thermometer when checking if the pork shoulder steaks are ready. Beef steak can be tested using many methods, but pork has to be at a temperature of 145°F before it is safe.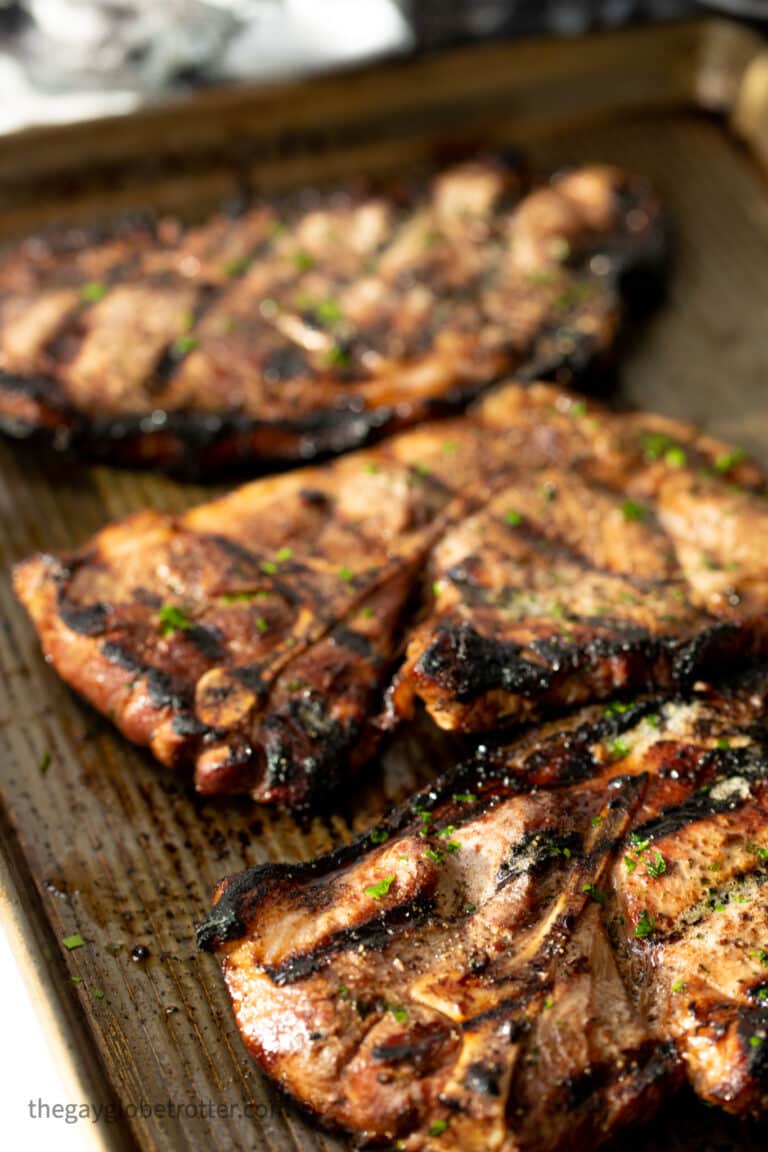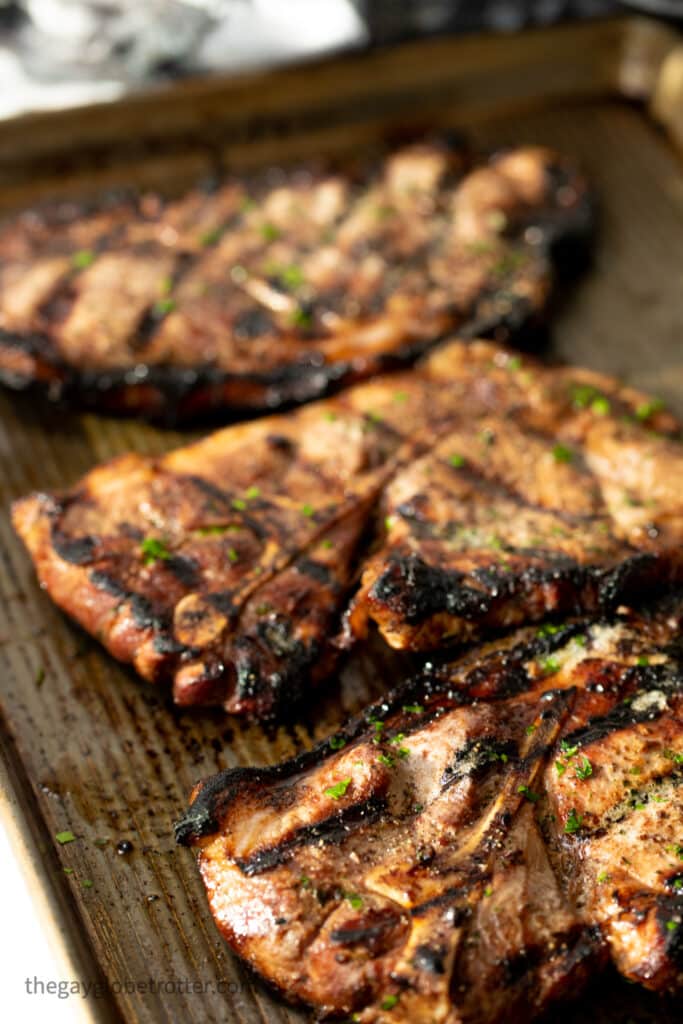 Our Favorite Pork Recipes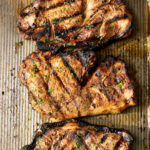 Rate this Recipe
Grilled Pork Shoulder Steaks
Grilled pork shoulder steaks are marinated, then grilled. They're the perfect summer dinner!
Print Recipe
Pin Recipe
Tried this recipe?
I'd love to hear what you think. Leave a comment and rating below!
Ingredients
Marinade
1/4

cup

soy sauce

2

tablespoons

worchestershirte sauce

2

cloves

garlic

minced

1

teaspoon

black pepper

2

tablespoons

fresh parsley

chopped
Instructions
Trim excess fat off of pork shoulder steaks. If uneven, pound to even thickness without thinning.

Combine all ingredients for marinade in a medium mixing bowl or freezer bag. Add pork shoulder steaks. Coat evenly. Refrigerate for 4 hours to overnight.

Preheat grill over medium high heat. Oil grates using a dish cloth or paper towel.

Once hot, add pork shoulder steaks to grill. Cook for 5-7 minutes. Flip, and cook an aditional 5-7 minutes or until internal temperature reaches 145°F (for medium).

Remove from heat. Rest the pork steaks for 7 minutes, covered loosely with aluminum foil to retain heat.
Notes
Don't move the pork shoulder steaks while grilling, to ensure the grill marks are consistent.
Cook to 145°F for medium rare, 150°F for medium, and 155°F for medium well.
Always use a meat thermometer when cooking pork shoulder steaks. 
Calories:
218
kcal
|
Carbohydrates:
2
g
|
Protein:
29
g
|
Fat:
10
g
|
Saturated Fat:
3
g
|
Polyunsaturated Fat:
1
g
|
Monounsaturated Fat:
4
g
|
Cholesterol:
93
mg
|
Sodium:
917
mg
|
Potassium:
526
mg
|
Fiber:
1
g
|
Sugar:
1
g
|
Vitamin A:
180
IU
|
Vitamin C:
4
mg
|
Calcium:
30
mg
|
Iron:
2
mg
Pin it for later: