This guide to the famous Montreal Gay Village will show you why Montreal has become a top LGBT tourist destination for travelers around the world. Montreal is known for its welcoming and diverse people, vibrant gay nightlife, and beautiful architecture. Also, poutine.
The Montreal Gay Village is easy to spot and even easier to differentiate from the rest of the city. Named unsurprisingly exactly what it is, Gay Village Montreal is full of restaurants, shops, bars, nightclubs, hotels, street performers, beautiful art, and surprises around every corner.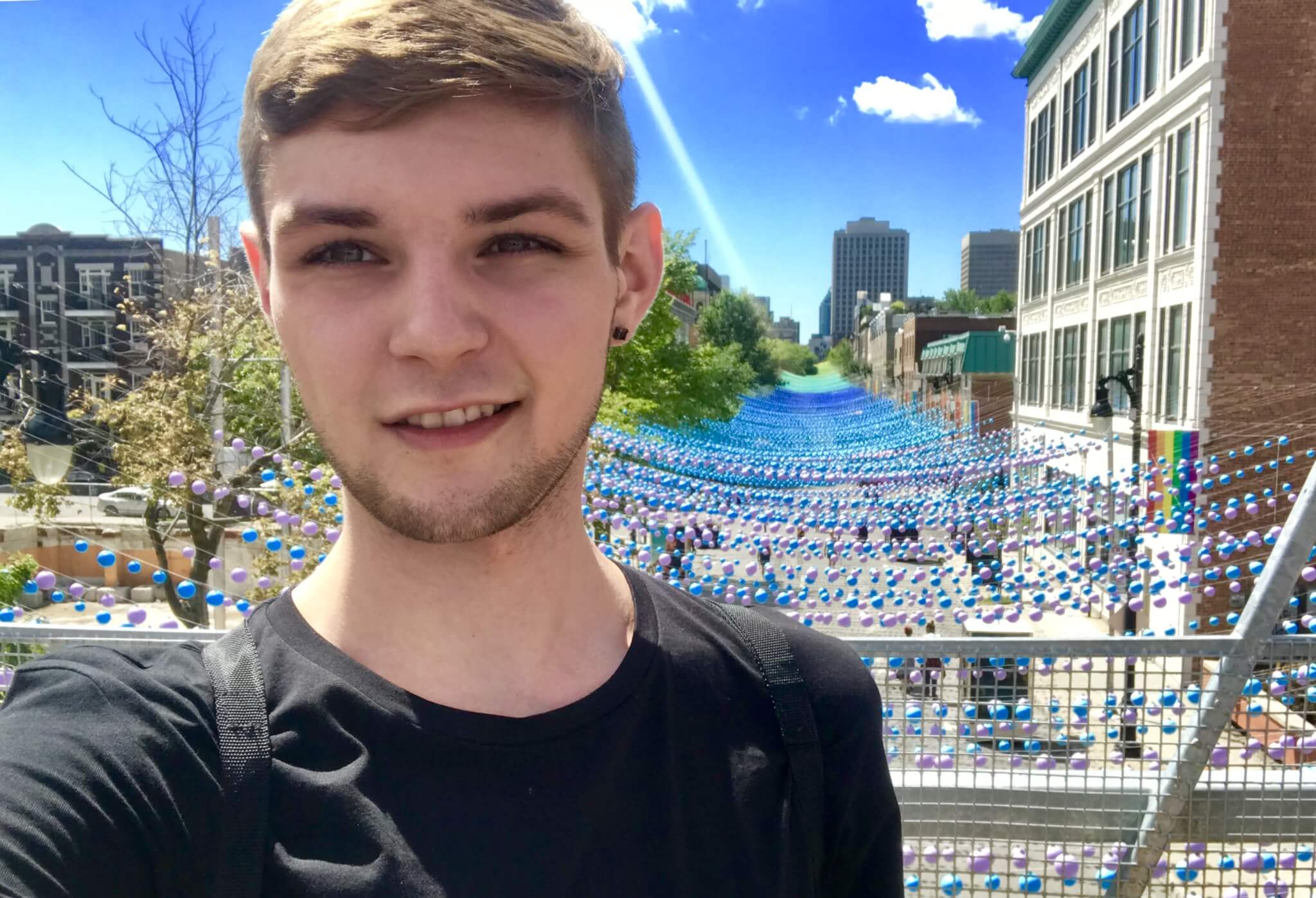 [quads id=2]
The Gay Village Montreal runs along Sainte-Catherine Street from Berri to Papineau Street. Stepping onto Sainte-Catherine Street is like leaving the regular world and entering gay world (yes, that was a Mean Girls reference). Upon stepping onto the street, you will see over 180,000 rainbow balls strung above your head, spanning the 1km stretch that makes up the Montreal Gay Village. It is seriously perfect for the 'gram.
From April until September, this colorful stretch of Ste-Catherine street is closed down to vehicle traffic, meaning the street fills with vibrant people, patios, and street performers.
The daytime scene will take you from half naked models in storefront windows to rich daytime patio scenes, full of French and English speaking patrons. You can even purchase and bring your own wine to some of the patios to be served to you! Rose, all day.
Once the evening hits, bar and club goers will fill the Montreal Gay Village, bringing the vibrant gay nightlife scene alive. The gay strippers come out to play, the DJs arrive, and the club dwellers come to party until the early hours of the morning.
How To Get To The Gay Village Montreal
The Gay Village is super easy to get to. Montreal is one of the great Canadian cities that has Uber, so you don't need to worry about walking too far. Traffic in the summer can be a nightmare thanks to the amount of construction happening throughout the city, so I found the metro to be the easiest way to get there.
A single ride on the metro will cost you about $3.25 CAD each way. A 10 trip package is $2.80 CAD per trip, and a one week pass is $26.25 CAD plus a $6 deposit. If you're in Montreal for longer than a couple days, the one week pass is definitely worth it. You can take it to see almost anything in the city, thanks to Montreal's great metro system.
To get to the Montreal Gay Village, hop on the metro and get off at Beaudry or Papideanu on the Honore-Beaugrand line (green on the metro map). If your hotel happens to be on another line, take the metro to Berri-Uqam where you can transfer lines!
The last metro on weekdays runs at 1:00AM and on weekends. On Saturdays the last train runs 30 minutes later. Check for the complete metro schedule here, and be prepared to find an alternate way back if you stay at the bars or clubs later than this.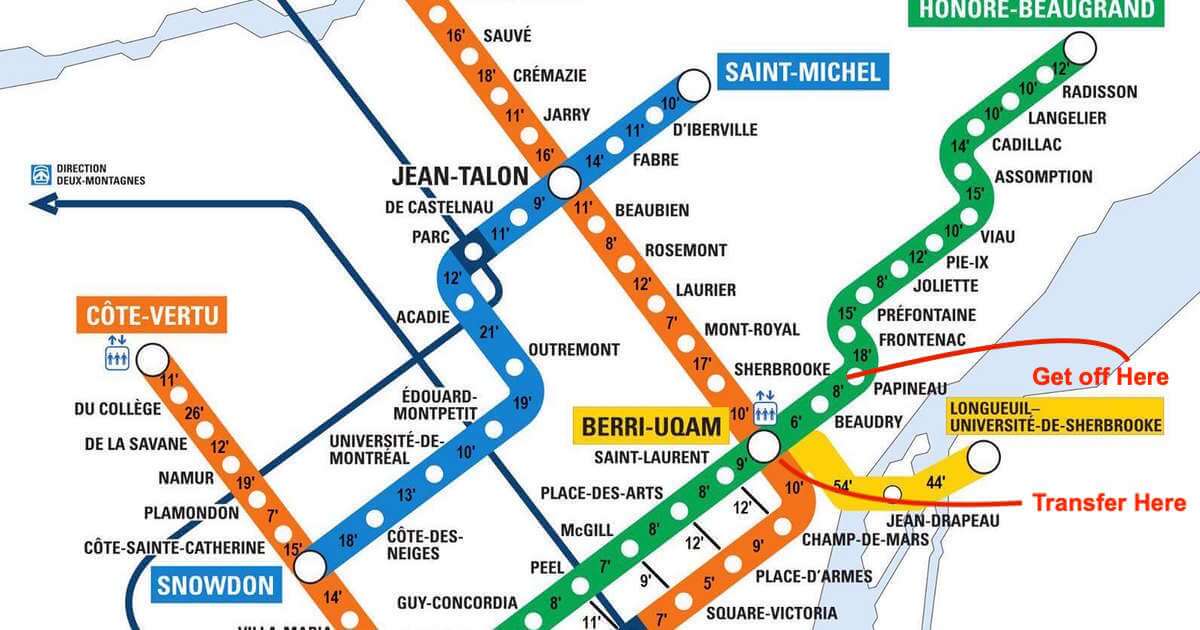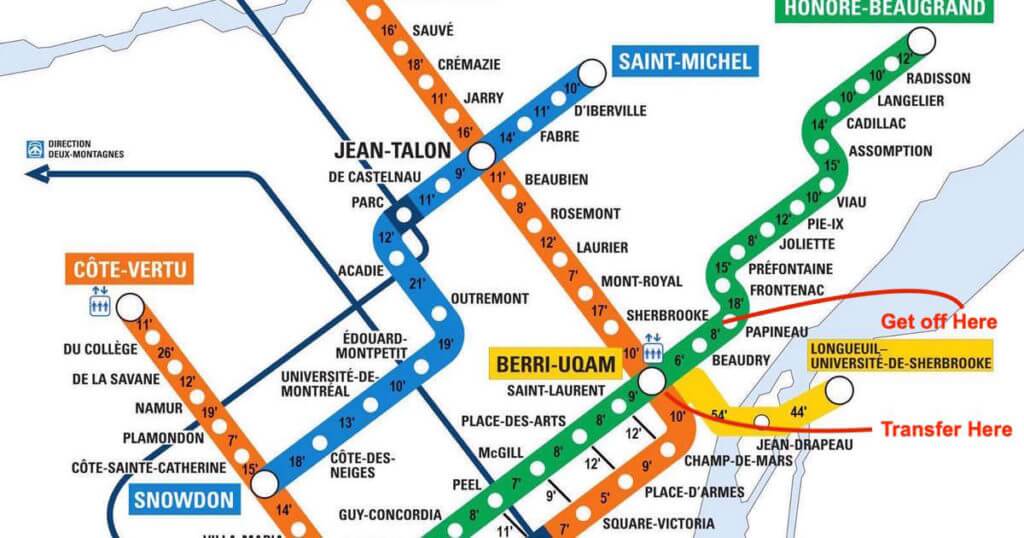 Speaking English in Montreal
I was nervous about coming to Montreal without knowing a lot of French, but I was pleasantly surprised to find out that almost all of Montreal's locals are bilingual. 95% of the signage throughout the city is written both in English and French, and you won't really need to speak French in the city if you don't feel like it. Pro Tip: if you hear Francophones, it refers to someone who is French speaking. Anglophones refers to someone who is English speaking.
I did find, however, that knowing some basic French and attempting to speak with the French speaking locals showed my efforts and resulted in an even more welcoming crowd. I suggest learning the following basics to be able to traverse Montreal without any issues!
Disclaimer: none of these words will really help you on Grindr. I will leave you to Google translate those words…
Hello – Bonjour (formal) or Salut (informal)
Do you speak English? – Parlez-vous anglais?
I do not speak French. – Je ne parles pas français.
I am good – ça va bien
Thank you – Merci
De rien – You are welcome
How are you? – Comment ça va?

Gay Village Montreal Hotels
Staying in the Montreal Gay Village can be pricey, especially during peak season or pride. However, it is nice to not have to worry about getting back to your hotel from the Gay Village after a night out.
Most hotels are about a block away from the main stretch of The Gay Village. Make sure you book your stay in advance to avoid paying more than you need to be.
My favorite gay hotels in Montreal:
Sir Montcalm Gate B&B – This bed and breakfast is located right next to Beaudry Station on the metro, and walking distance to the Montreal Gay Village. All rooms include a flat screen TV, free toiletries, a seating area, and free WiFi. They are rated 9.7/10 on booking.com, so you know you're getting a good hotel.
Le Cartier Bed and Breakfast – This quaint bed and breakfast is located a block away from Papineau Station on the metro. It is just one block to the beach, and about 5-10 minutes to the Montreal Gay Village. They are sold out often because of their popularity, so make sure you keep an eye on their rooms and book as soon as one becomes available!
BBV Bed and Breakfast du Village – An unassuming and cozy bed and breakfast located just a couple minute from Beaudry Station on the metro. Prices include free WiFi, free toiletries, and a complimentary breakfast each morning.
Hotel Ste-Catherine – Slightly on the cheaper side, this charming hotel offers bright and spacious rooms just minutes from The Gay Village in Montreal. You won't have to go very far!
Turquoise B&B – If it is not turquoise, it is another bright and happy color. This colorful and charming bed and breakfast has beautiful views, a nice garden, and a terrace. They offer free WiFi as well. Again, this hotel books up pretty often so make sure you book as soon as you see a room available, especially during peak season!
Gay Village Montreal Nightlife
The legal age is 18+ in the provinces of Quebec, Alberta, and Manitoba. The rest of Canada's legal drinking age is 19+. If you're coming from out of Canada, bring a passport with you as your main form of identification.
Most Montreal clubs and bars are cash only, so stop by the bank to avoid some stiff ATM fees while you're out. This also keeps you from overspending! Remember, tips aren't included when you buy drinks. Read my guide to tipping in Canada to make sure you're tipping correctly while you're in the Montreal Gay Village.

Gay Bars Montreal
The gay bars found in the Montreal Gay Village are plentiful, and all have a different vibe and scene to them. Montreal Gay Bars are usually open 7 days a week until 3AM. Because of Montreal's low taxes, drink prices tend to be lower than other parts of Canada such as the Vancouver nightlife scene or Toronto's.
Here are my favorite Montreal gay bars. Make sure you check them out!
Le Date Karaoke – Great drinks and a fun place if you're interested in doing some Karaoke while in the Montreal Gay Village.
Bar Aigle Noir – A fun place to chill out on the patio and enjoy some cocktails while you people watch.
District Video Bar – A lively video bar showing an array of cool videos. They have a great selection of cheap drinks!
Cabaret Mado – A true Gay Village staple here in Montreal. Make sure you go and see a drag performance at Mado while you are visiting Montreal. They also offer great drinks, and a fun patio atmosphere during the daytime.
Gay Clubs Montreal
Montreal is probably the best place in Canada to experience gay nightlife. On the weekends starting at 10PM, the clubs become filled with fun patrons, varying DJs spinning dance music, and go go dancers to keep the intensity up.
The clubs are usually only open on weekends, so make sure the places you are hoping to visit are open before you go.
Alcohol flows freely during club nights and the clubs are very close to one and other, so make sure you pace yourself and stay hydrated while you are exploring nightlife in the Montreal Gay Village.
There are two main nightclubs people attend in Montreal:
Club Unity – Unity is a three level dance club that is busiest on Fridays and Saturdays. On the first two levels, you will find various music styles and world famous DJs spinning. They also have a rooftop terrace area which is a great place to meet other club goers!
Complexe Sky – Sky for short, this club is a bar by day and a nightclub by night. Like Unity, they offer multiple spaces and dance floors, a rooftop terrace, and also have drag performances. They even offer a pool and spa!
Gay Strip Clubs Montreal

Montreal is known for its gay strip clubs, and they are definitely worth checking out while you are exploring the Gay Village. If you aren't from Canada, you will be pleasantly surprised to find out that full frontal is legal here.
Dancers are the various bars earn their tips from attendees like you, so make sure you tip! Private dances tend to vary in price per club, but you can expect the starting cost to be around $15 CAD.
Here are some of my favorite gay strip clubs in Montreal:
Taboo – Located just outside of the Gay Village and next to Papineau Station, Taboo is a small and enjoyable strip club that is definitely worth stopping by.
Stock Bar – Stock Bar is located next to Campus between Rue Amherst and Rue Wolfe. It is a well laid out strip club, and has some great dancers. They even live stream their dancers each night for people who can't make it out!
Campus – Campus is a fun strip club with beefier straight dancers. It is located on Ste-Catherine Street between Rue Amherst and Rue Wolfe.
Bar L'Adonis – This strip bar has cute dances and cheap drinks. It was formerly known as Lux. You can find Bar L'Adonis on Saint-Catherine Street between Rue de Champlain and Avenue Papineau.
Montreal Gay Pride
Gay Pride Montreal 2018 runs from August 9th to 19th, a full 11 days of pride festivities. People travel from all over the world to experience Montreal pride! The first bit of the Montreal pride events are mainly done for the French speaking pride goers, with the second week being done for the English speaking ones.

During pride week, the already colorful Montreal Gay Village is decorated with even more rainbows, glitter, and artwork. Big names in the gay world headline Montreal pride, and the weekend turns into a blur of fun, acceptance, and bewilderment. Here are some of my favorite Montreal pride tips, so you enjoy your pride celebration safely and properly.
Montreal Pride Tips
What to wear – Wear whatever you're comfortable in! Montreal is big and diverse, so no two people will be dressed the same (unless it's on purpose). From jockstraps to dresses, everyone will dress both comfortably and to impress. Remember, Montreal is very warm in the summertime. Dress down, rather than up so you can enjoy yourself properly!
How to act – Remember that pride is about acceptance and diversity, so no matter what happens treat everyone equally. Don't be rude, don't stare, and enjoy yourself. Meet people, and have fun. It's pride, so go crazy!
What to do – Whatever you do, don't miss the parade! Throughout the festival, pride events and parties will be happening throughout the city. Try to make a plan for your week in advance, and remember to grab your tickets before you get here. It is a lot pricier when you pay for everything at the door.
Where to go – The Gay Village Montreal, of course! You will find pride parties happening throughout Montreal, but most of the events will be happening on Ste-Catherine Street. Head there, and enjoy yourself. Remember, it will be busy on both the metro and the streets, so make sure you stay safe:
How to stay safe during pride – In 2016, Montreal pride had 2,201,169 participants. This is the number of participants in the festivities, not even including the spectators. Crowds like this are a pickpockets paradise. Keep your valuables in a money belt, and always stay with a friend. If you are at a bar or club, do not take your eyes off of your drink. If you end up meeting someone to spend the night with, make sure you're prepared for it. Pick up an Amity Jack bedside kit to keep with you. They come in handy, especially at pride events!