These red wine braised short ribs are melt-in-your-mouth tender. Beef short ribs are braised in the oven in a red wine and beef stock sauce filled with shallots, garlic, and rosemary.
Serve them on a bed of mashed potatoes topped with fried pancetta and chestnut mushrooms for the most impressive dish you'll make all year.
Braised beef short ribs are something you'd expect to only enjoy on an expensive night dining out. Once you get a taste of this dish at home, you'll never want to spend more than $15 on it again!
Red Wine Braised Short Ribs
Did I mention how easy braised short ribs are? Sure they take some time, but they're a labor of love. The process is actually very simple! Beef short ribs take awhile in the oven, which frees up all of your time to get your sides together right before dinner is served.
I love making this braised beef rib recipe for date night! I start with bacon wrapped brussels sprouts as an appetizer, then pull these out of the oven. They always manage to impress, even if you don't. Add a little wine, and you're set for a romantic evening!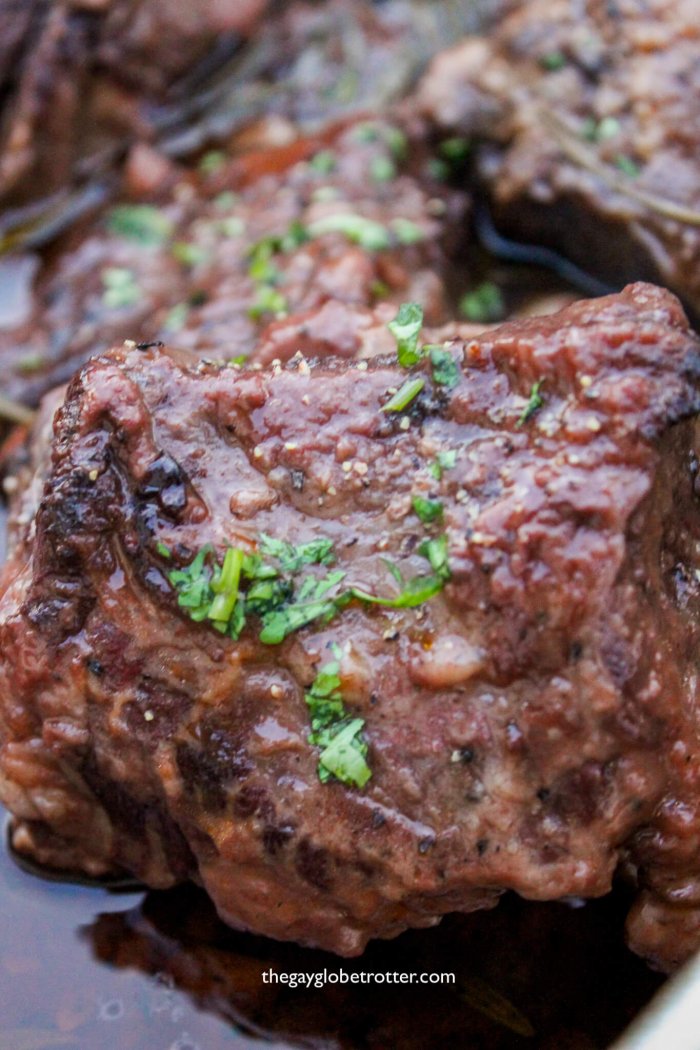 What Is Braising?
Braising is a method of cooking usually used for meat (braised vegetables are becoming more and more common though). The food is quickly seared at a high heat on the stovetop, then transferred to liquid to finish cooking slowly.
Braising short ribs at a low temperature allows the fat to break down well, resulting in a rich sauce and melt in your mouth short ribs. Braising is a great method of cooking tougher cuts of meat as well!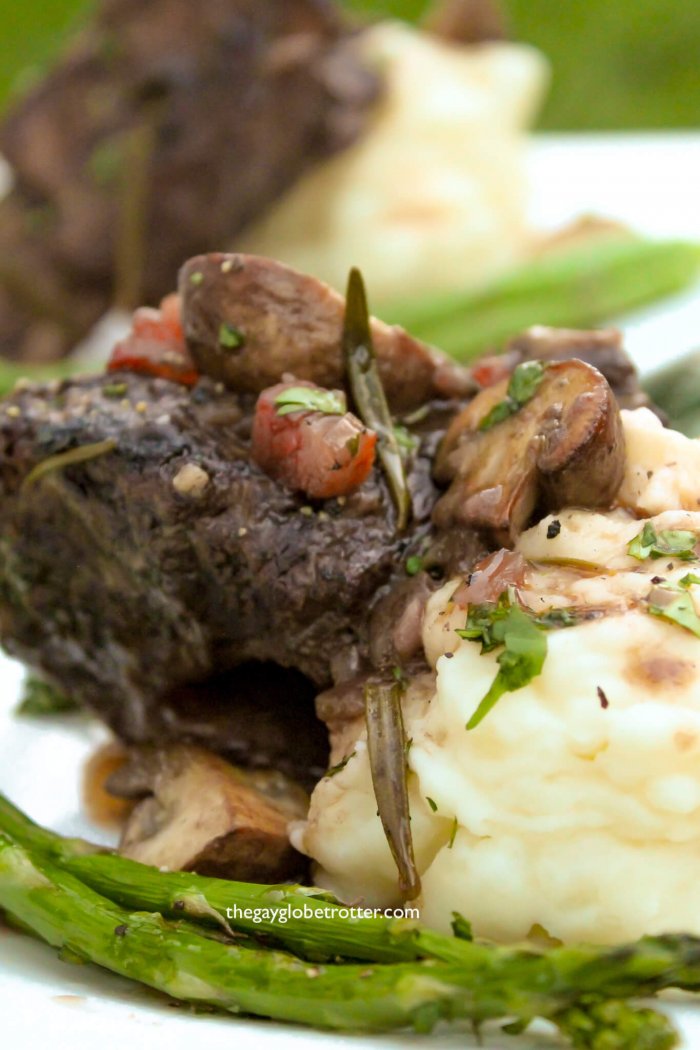 How To Braise Short Ribs
Once they're in the oven, the work is done! Start with dredging the meat in flour. This adds a ton of flavor as it browns, seals in the juices, and helps to thicken the sauce.
Sear the short ribs on all sides until they are nicely browned. Your kitchen will smoke during this, don't worry. Transfer the short ribs to a dish, and saute the tomato paste and shallots until they're fragrant. Press each half of the garlic head into the bottom of the pan to sear it as well!
Add in the red wine, and cook it down. I like to cook it until about a cup remains, I find it flavors the sauce way better.
Add the short ribs back to the dutch oven, and fill it with beef broth until the short ribs are just under half way full. I like substituting half of the beef broth for mushroom. It adds the richest flavor ever! Make sure you use low sodium broth, I find the dish can become very salty otherwise.
Bring it to a boil, cover, and braise! Remember to basting the short ribs about once an hour to make them taste perfect.
The 2-3 hour cook time is a general timeframe. The longer you cook them, the more tender the braised short ribs will be. I have cooked them for 2 hours, and for 6 hours before. Guess which one tasted the best?
How To Braise Short Ribs Slow Cooker
If you don't want to have your oven running for a long time, this recipe can be adapted for the slow cooker. Follow the instructions for searing on the stovetop, including the garlic, shallots, and wine. Add everything to a slow cooker, and top with broth.
Cook on low for 6-8 hours or high for 4-5. Don't baste the short ribs in the slow cooker!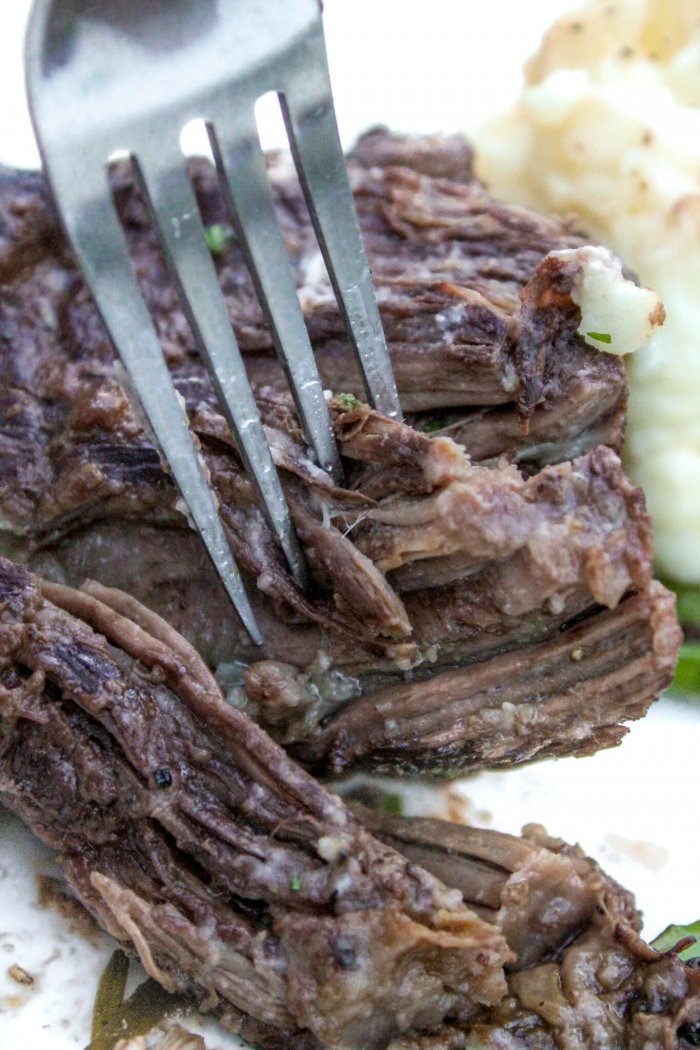 What Wine Goes With Braised Short Ribs
When selecting wine for braised short ribs, you want to select something on the dry side. I like to use a bottle pinot noir or merlot for this recipe.
As a general rule, don't cook with anything you wouldn't drink. Aim to purchase a bottle in the $10-$15 range! Your liquor store clerk will be able to help you select a bottle if you are having trouble.
What Temp To Braise Short Ribs
Most braising recipes use a temperature between 275°F and 375°F.
Braising is done at a low temperature for a long period of time to allow the fat to break down. These red wine braised short ribs are done at 325°F for at least 3 hours, but the longer you do them the better!
How To Reheat Braised Short Ribs
Short ribs are easy to reheat, making delicious leftovers. I like to reheat them in the oven. Just splash some broth or leftover sauce over them to keep the meat juicy and tender.
The microwave and stove top also work amazing at reheating these red wine braised short ribs.
If you're looking for more delicious beef recipes, check out this mouth watering beef stifado. YUM!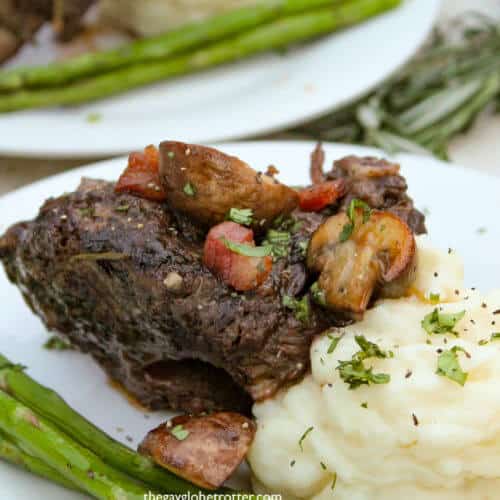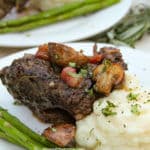 Rate this Recipe
Red Wine Braised Short Ribs with Pancetta and Mushrooms
Red wine braised short ribs, a delicious dish that's bound to impress. Beef short ribs braised in a red wine sauce and topped with mushrooms and pancetta.
Print Recipe
Pin Recipe
Tried this recipe?
I'd love to hear what you think. Leave a comment and rating below!
Ingredients
6-8

short ribs,

bone in

2

tablespoons

olive oil

salt and pepper,

to taste

1

cup

flour

1 1/2

tablespoons

tomato paste

1/3

cup

shallots,

minced

1

head

garlic,

halved lengthwise

1

bottle

red wine,

dry

2

cups

beef broth,

low sodium

2

cups

mushroom broth

3

sprigs

fresh rosemary

2

cups

chestnut mushrooms,

halved

3/4

cup

pancetta,

sliced

fresh parsley,

for garnish
Instructions
Preheat oven to 325°F. Season each side of the short ribs generously with salt and pepper.

Dredge each short rib in flour on all sides, shaking off any excess flour as you go.

Heat olive oil in a dutch oven over high heat. Once the pan is hot, add the short ribs and sear on all sides to brown them, about 10 minutes.

Remove the short ribs from the dutch oven. Add shallots, tomato paste, and garlic halves facing down into the pan. Cook until fragrant, about 1 minute.

Deglaze the dutch oven with red wine, scraping up the bits on the bottom of a pan with a spatula. Return the short ribs to the pan, and reduce the red wine until only about a cup remains.

Pour beef broth and mushroom broth in until the short ribs are about half covered. Add rosemary to the sauce and bring to a boil.

Place the lid or tin foil over the dutch oven. Place it in the oven for 2 1/2 hours or until meat is tender, basting the short ribs several times during cooking.

Meanwhile, add pancetta to a saucepan. Cook over medium heat for 5 minutes or until slightly crisp. Add the mushrooms and continue to cook for 5-10 minutes or until pancetta is crisp and mushrooms are tender.

When the short ribs are ready, remove from pan and cover them with foil. Run the sauce through a sieve and press the garlic into the sauce.

Serve the red wine braised short ribs over mashed potatoes. Top with mushrooms and sauce. Garnish with parsley.
This recipe was adapted from Gordon Ramsay.