These pan seared lamb loin chops are perfectly tender, wonderfully seared, and have a delicious fresh kick. A mint jalapeno marinade brings all the flavor out of the lamb loin chops, while helping tenderize them for the perfect bite!
We love serving lamb loin chops next to honey glazed carrots, roasted potatoes, and a fresh spinach salad for an impressive and surprisingly easy meal!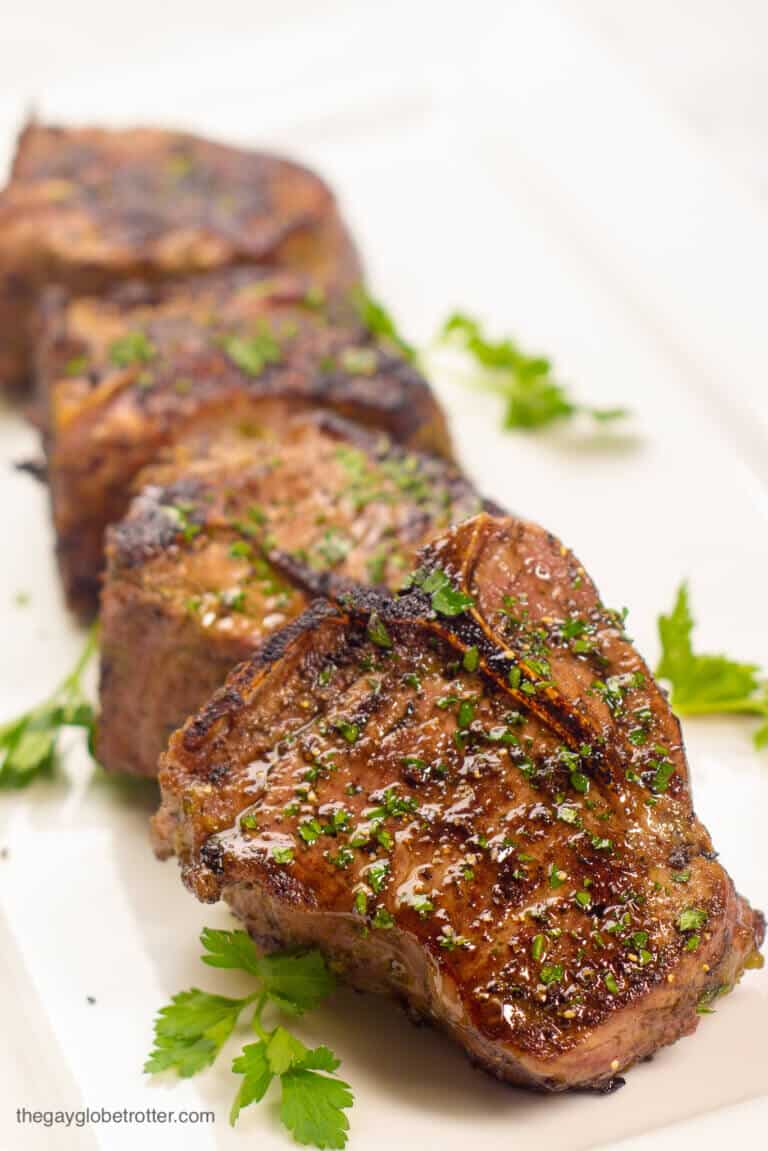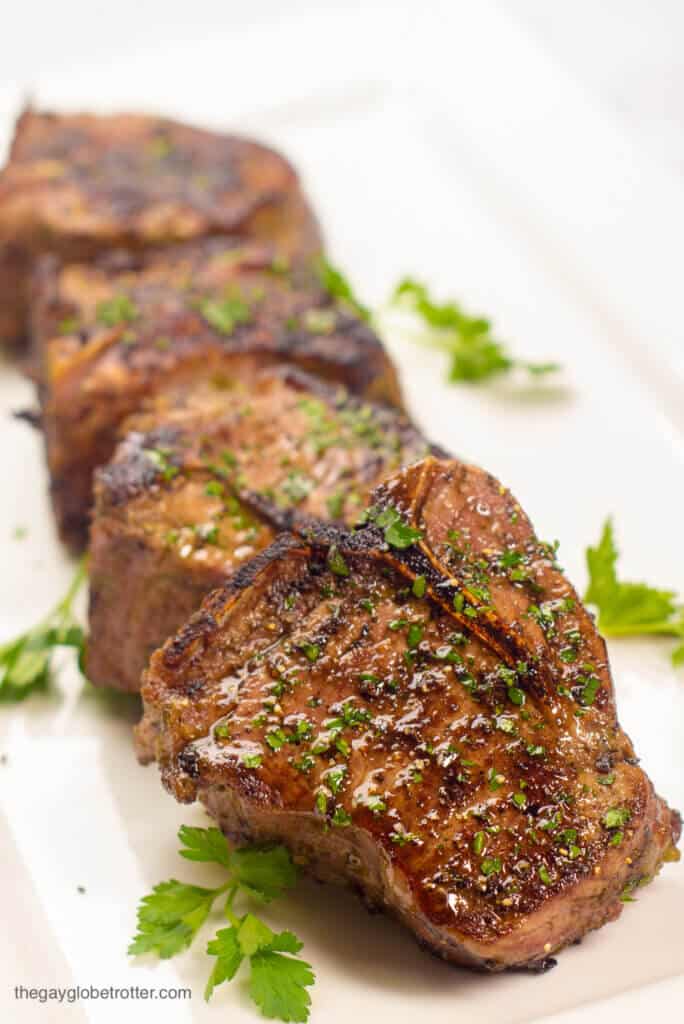 How To Make The Lamb Marinade
This lamb loin chop marinade seriously brings these to the next level, I actually whipped up a second batch to use as a dipping sauce for bacon wrapped brussels sprouts! To make it, just combine all ingredients in a food processor.
While deseeding the jalapeno, remember to wear gloves and avoid rubbing your eyes or nose. I speak from experience on this one!
How To Cook Lamb Loin Chops
Pan fried lamb loin chops are seriously great, and I highly suggest using a cast iron when you make the recipe. It heats evenly and stays hot, so you can achieve a great sear on the chops without overcooking them.
To cook lamb loin chops:
Once the lamb has marinated at room temperature for an hour, wipe off excess marinade (it will prevent them from charring beautifully if there is too much).
Heat oil in a cast iron skillet over high heat.
Sear lamb loin chops for 4-5 minutes on each side. Don't try to move or flip the chops while they sear, they will release from the pan naturally once they are seared properly.
Check the temperature of your lamb loin chops, and when cooked to your liking, remove from heat.
Rest the chops for 5 minutes before serving, to allow the juices to settle back into the meat.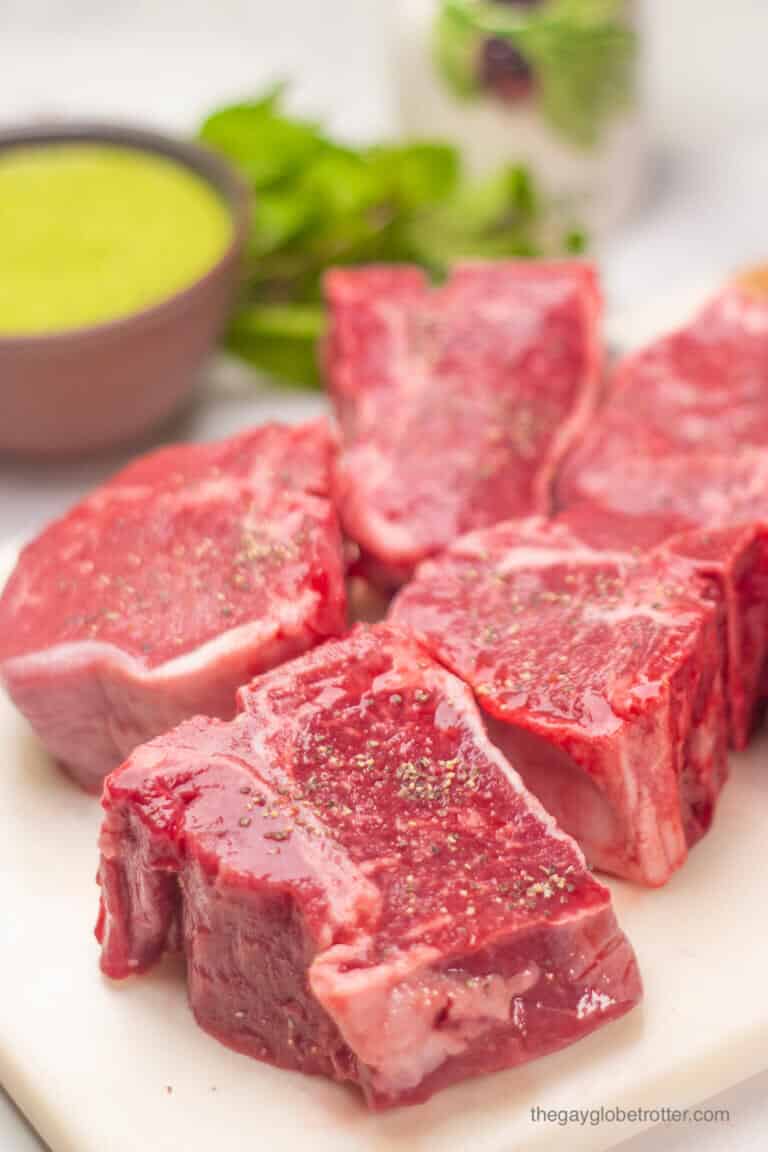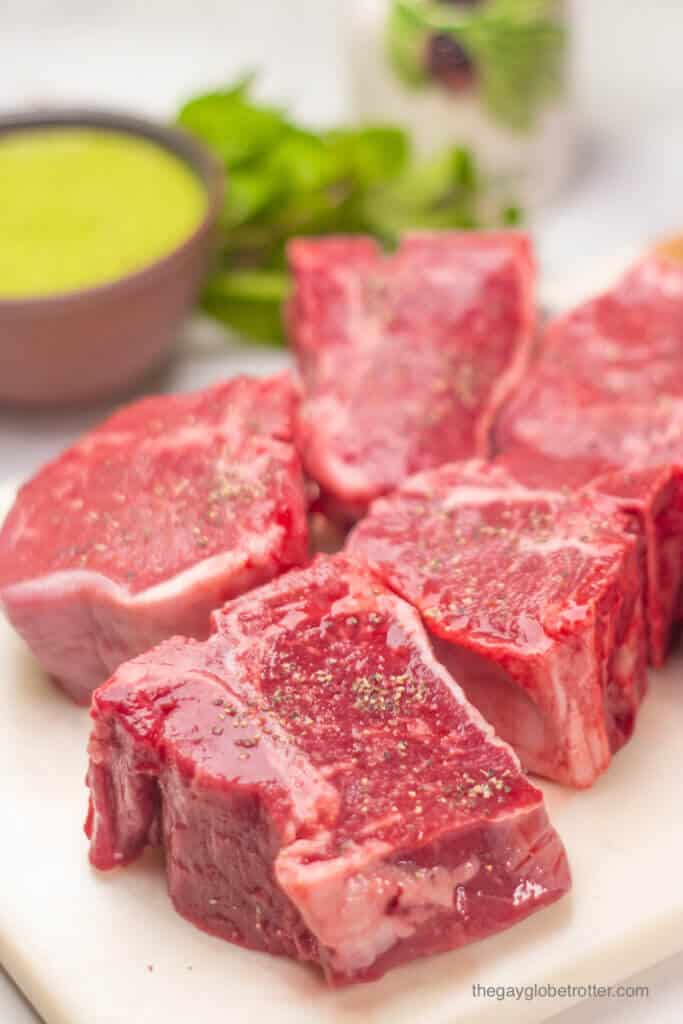 How To Grill Lamb Loin Chops
Grilled lamb loin chops are also a delicious cooking method, and work easily with this recipe. To make grilled lamb loin chops, marinate them as normal, then follow these steps:
Heat grill over medium high heat. Brush grates with olive oil.
When hot, add lamb loin chops, cooking for 4 minutes on each side. If you prefer more charred, add the chops directly over the flames.
Allow meat to rest, then serve.
Tips For Cooking Lamb Loin Chops
Here are some tips for making the perfect lamb loin chops:
Make sure the pan is fully heated. If it hasn't heated enough, the outside won't sear before the inside cooks, and the meat will overcook.
Wipe the excess marinade off of the meat before searing to ensure it has a chance to caramelize.
If there are thick sides, press them into the pan for about 30 seconds to help render some of the fat on them.
Always rest the lamb loin chops before serving.
Depending on the thickness of the chops, the cooking time may vary.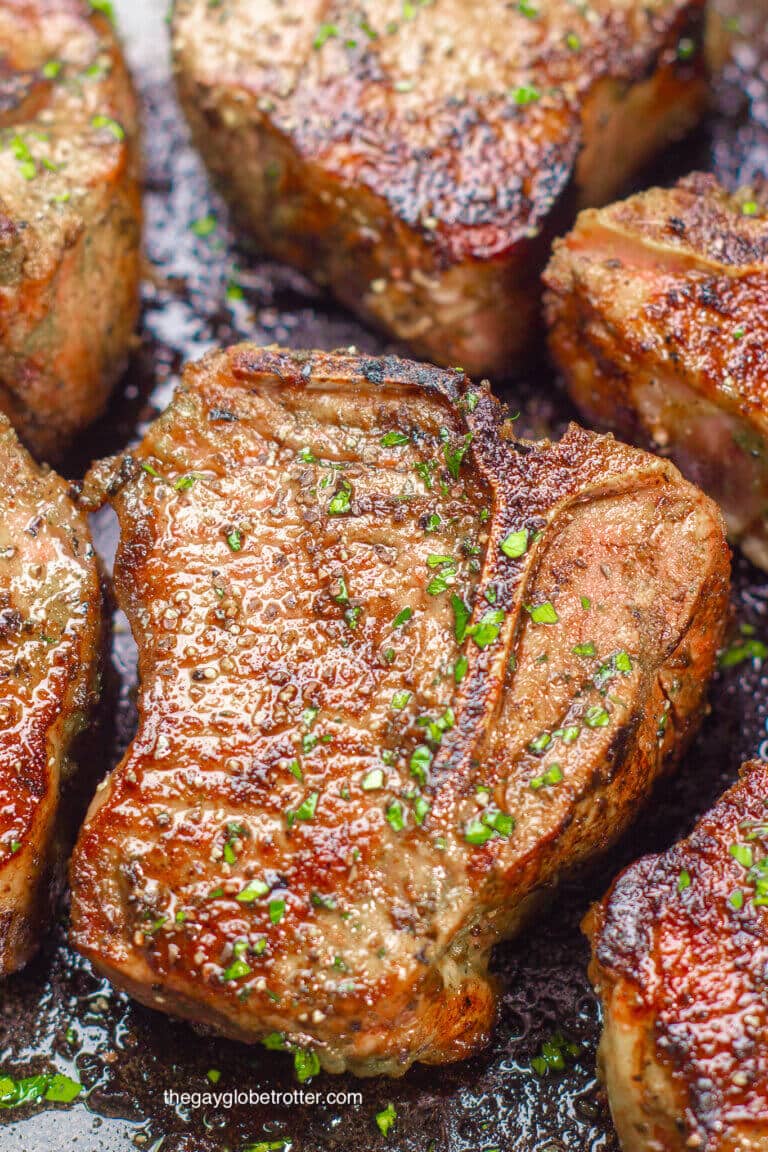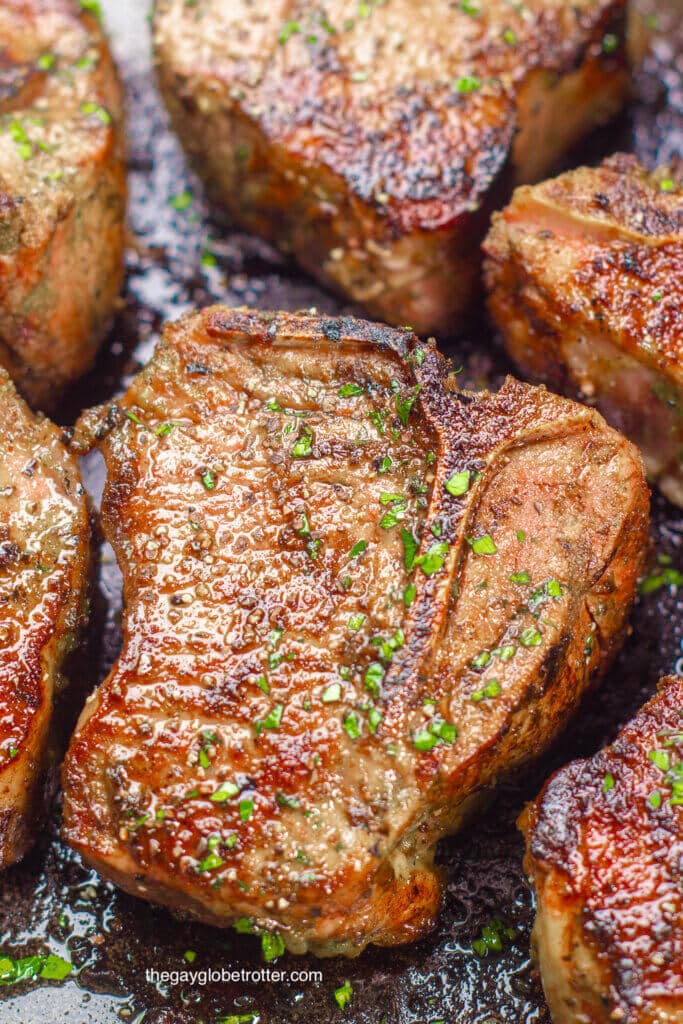 Lamb Loin Chops Temperatures
Lamb should always be cooked to an internal temperature of 125°F at a minimum. When checking the temperature with a meat thermometer, always make sure you don't hit a bone. The bone heats at a higher temperature, and will cause you to get a different temperature reading.
Rare: 125°F
Medium rare: 135°F
Medium: 145°F
Medium well: 155°F
Well done: 165°F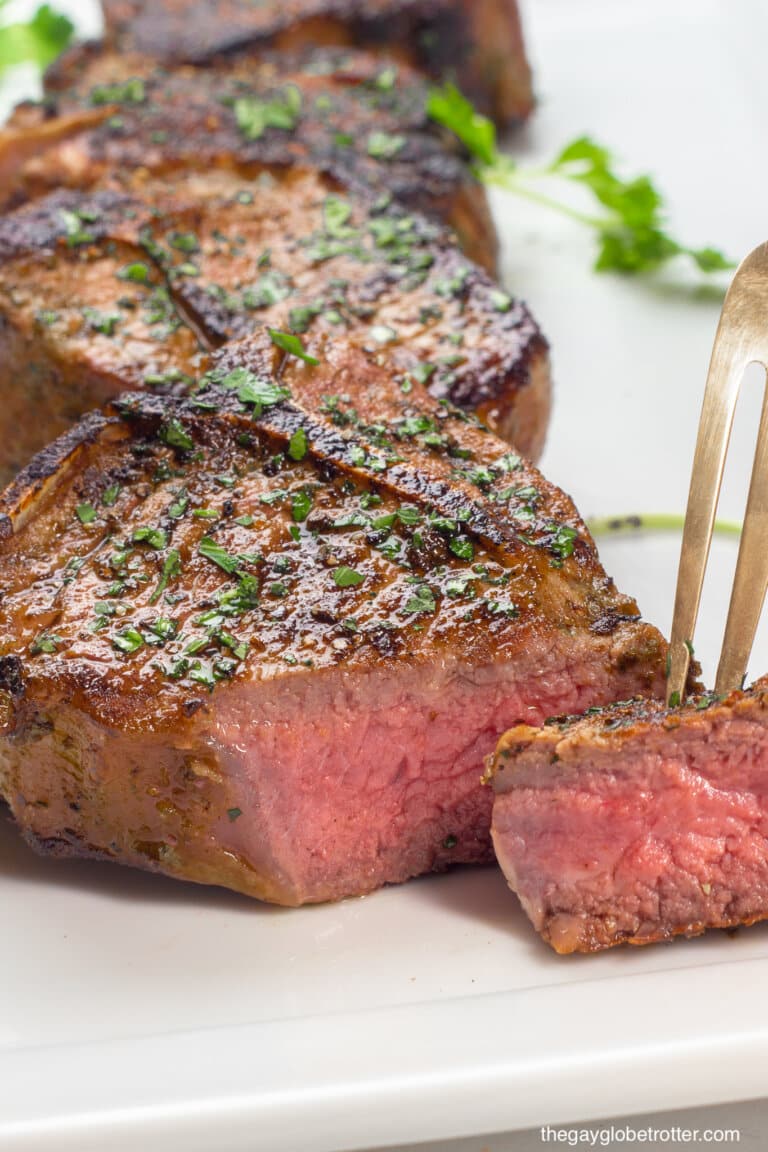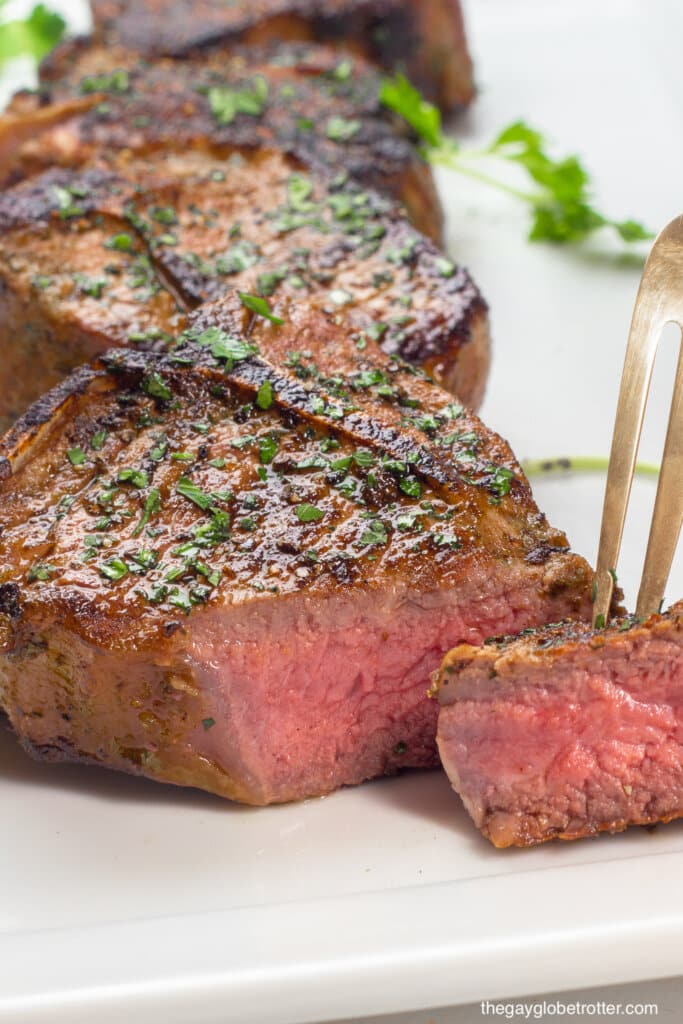 How Well Done Is The Meat? Try A Touch Test
Using a thermometer on each chop can be time consuming when working with high heat. The thumb trick (or touch test) is an easy way to reference how well done the meat is, and is super simple. I use it for everything from steak to pork chops!
The thumb trick works like this: touch a finger to your thumb and feel the pad. Use that as a reference to how the meat feels when you touch it. As you progress from your index finger to your pinky finger, you will feel the pad of your hand tighten.
Rare: make an "ok" sign by touching your index finger to your thumb. This is rare.
Medium rare: touch your middle finger to your thumb, and it will feel a little firmer.
Medium: touch your ring finger to your thumb.
Well done: touch your pinky finger to the tip of your thumb.
This method works great while grilling, but always remember to cross reference the doneness with a meat thermometer so you know the lamb loin chops are at a safe temperature.
Try These Delicious Side Dishes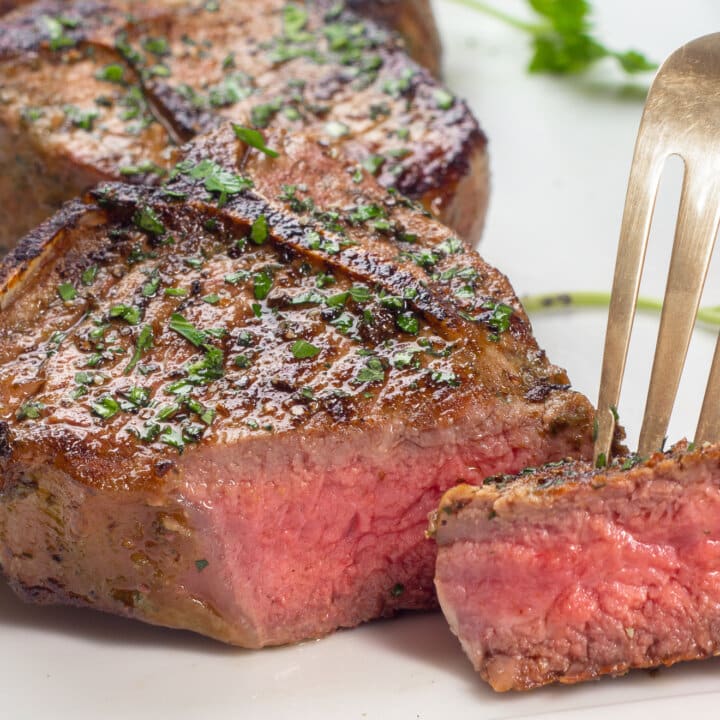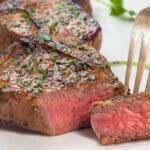 Rate this Recipe
Pan Seared Lamb Loin Chops with Mint Jalapeno Marinade
These perfectly seared lamb loin chops are marinated in a mint jalapeno marinade for deliciously tender lamb!
Print Recipe
Pin Recipe
Tried this recipe?
I'd love to hear what you think. Leave a comment and rating below!
Ingredients
6

lamb loin chops

bone in
For The Marinade:
1

jalapeno

deseeded

1/2

cup

mint

2

cloves

garlic

2

tablespoons

red wine vinegar

1/2

tablespoon

lime juice

fresh

1/4

cup

olive oil
Instructions
Combine all marinade ingredients in a food processor until combined.

Pat lamb loin chops dry with paper towel. Add to a plastic bag with marinade, and allow to sit at room temperature for 1 hour or in the fridge overnight.

Heat a cast iron or nonstick skillet over medium high heat.

Add lamb loin chops to the pan, and brush off extra marinade. Sear for 2 minutes on each side or until nicely charred and cooked to your liking. For medium rare, cook lamb to 135°F.

Allow lamb loin chops to rest for 5 minutes before serving.
Notes
Lamb Loin Temperatures: 125°F for rare | 135°F for medium rare | 145°F for medium | 155°F for medium well  | 165°F for well done
Calories:
356
kcal
|
Carbohydrates:
1
g
|
Protein:
19
g
|
Fat:
30
g
|
Saturated Fat:
13
g
|
Cholesterol:
84
mg
|
Sodium:
65
mg
|
Potassium:
263
mg
|
Fiber:
1
g
|
Sugar:
1
g
|
Vitamin A:
184
IU
|
Vitamin C:
5
mg
|
Calcium:
28
mg
|
Iron:
2
mg
Pin it for later: