Whole roasted beets are a simple way to get perfectly cooked, tender beets without prep work. They're great in salads, or as a side dish!
Roasting beets whole creates tender, earthy, and flavorful beets without the need for peeling them beforehand, boiling, or cutting them up.
We love oven roasted beets (and roasted root vegetables in general), but these whole roasted beets are great added to salads, served with goat cheese, or simply as a side!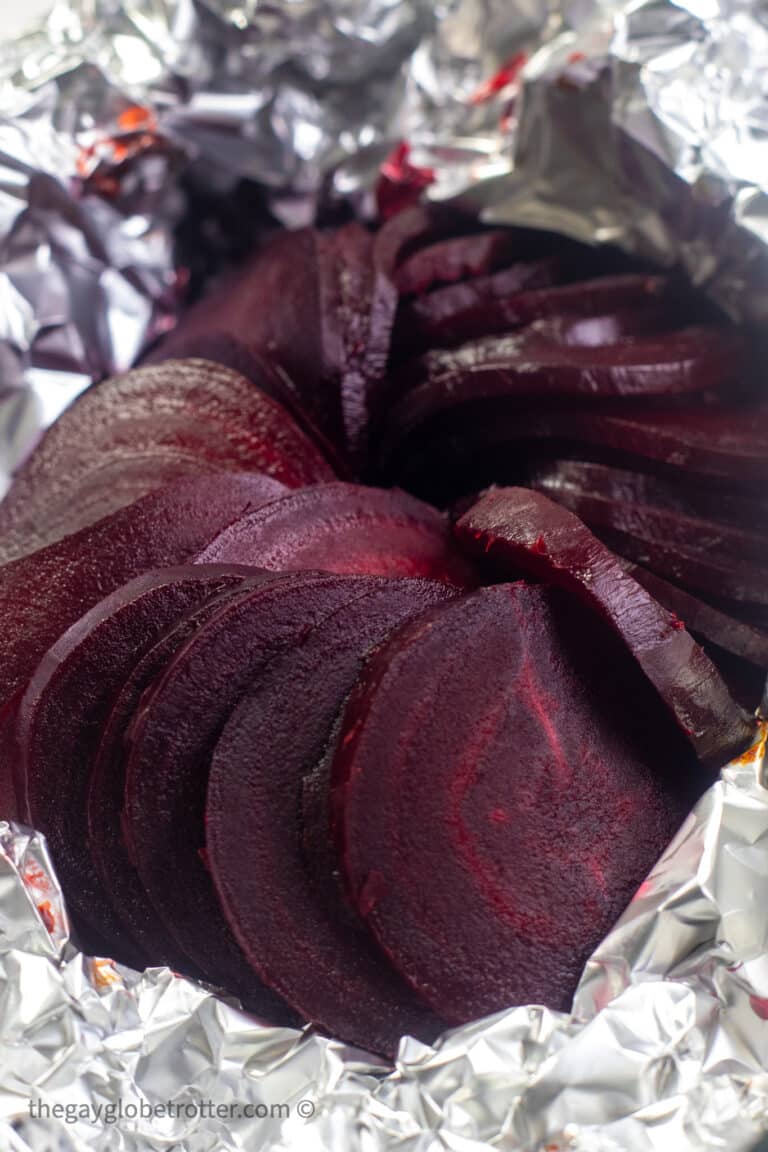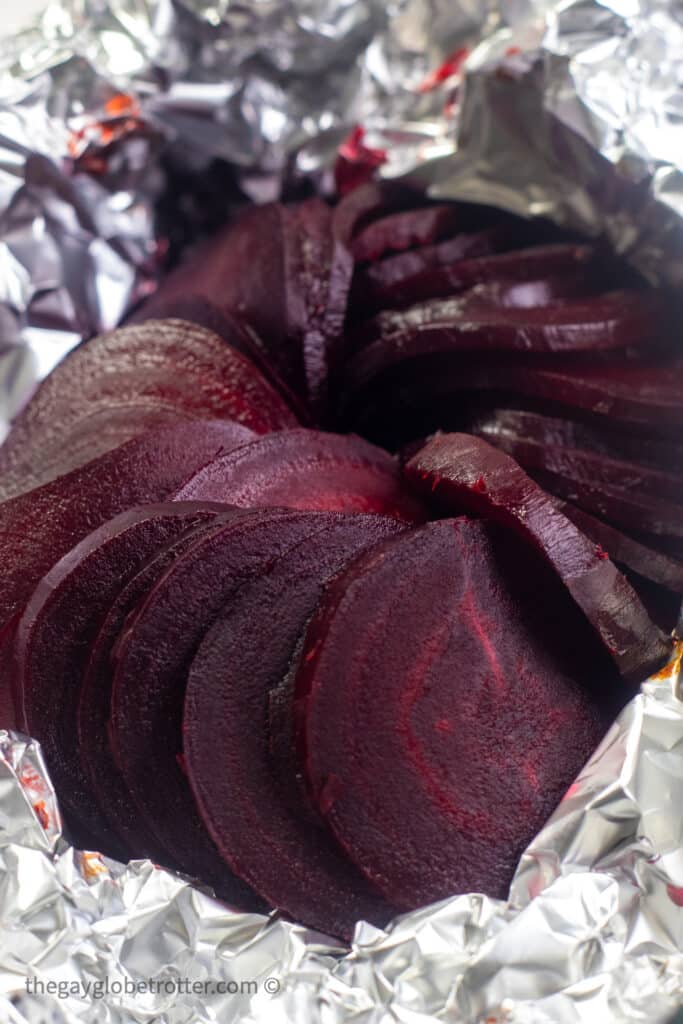 How To Roast Beets Whole
You can roast golden beets or red beets with this method. To make whole roasted beets:
Preheat oven to 400°F. Line a baking dish with aluminum foil.
Wash the beets well, removing any excess stems or leaves. If there are greens on the beets, save them for later! Beet greens can be treated like kale, and used in a ton of recipes.
Place unpeeled beets into the foil baking dish, and wrap foil tightly around the beets.
Roast for 45 minutes to an hour depending on the thickness of the beets. To test if they're done, poke them with a fork. They should be fork tender.
Once they're cooked, allow them to cool for about 10 minutes before peeling.
Slice and serve, or add to salads, pickle them, or freeze for later.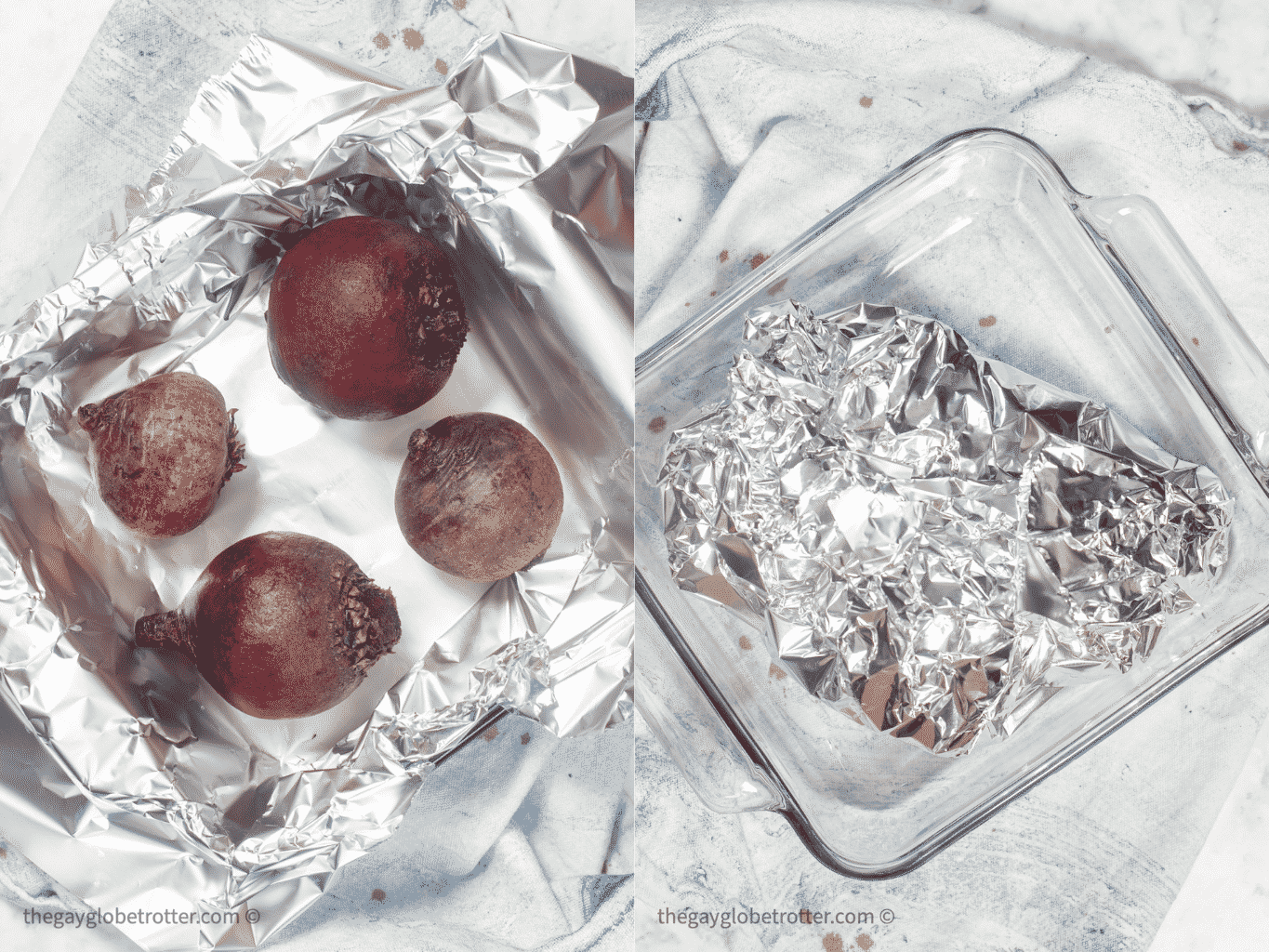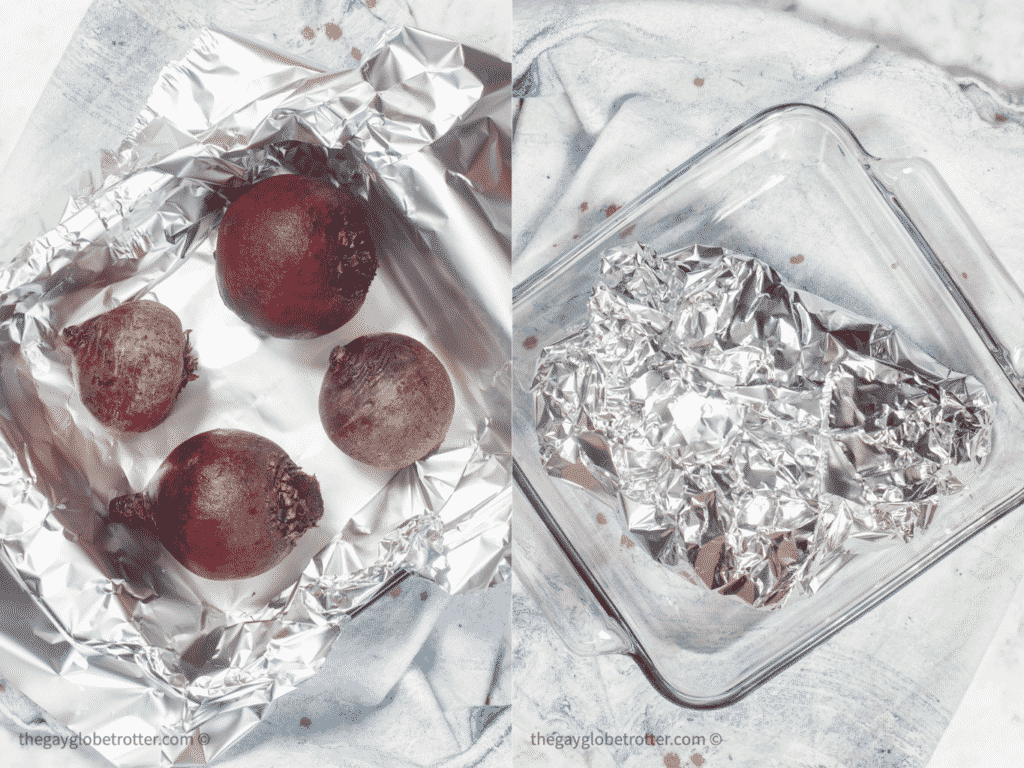 How To Freeze Roasted Beets
Roasted beets freeze well, and can be thawed and used in so many dishes.
To freeze beets, allow to cool before peeling.
Once cooled and peeled, place in a freezer bag into the freezer for up to 6 months.
To defrost (chilled): place the freezer bag into the fridge the morning before you plan to use them. From here, they're cooled and ready to be pickled, added to salad, or enjoyed as a chilled snack.
To cook from frozen: place beets into a baking dish at 400°F. Wrap tightly with foil, and roast for 25 minutes or until heated through.
Ways To Serve Whole Roasted Beets
Whole roasted beets are the perfect method for making beets for other recipes.
To serve as a side: serve whole roasted beets as is, or drizzled with balsamic, salt, and pepper. You can also slice them into discs or wedges before seasoning.
To prepare for salad: slice beets into thin discs or wedges. Add your favorite salad ingredients, and toss. We love adding goat cheese, arugula, balsamic, and pumpkin seeds.
To prepare for pickling: once cooled, thinly slice. If beets are thicker than jar, slice in half as well.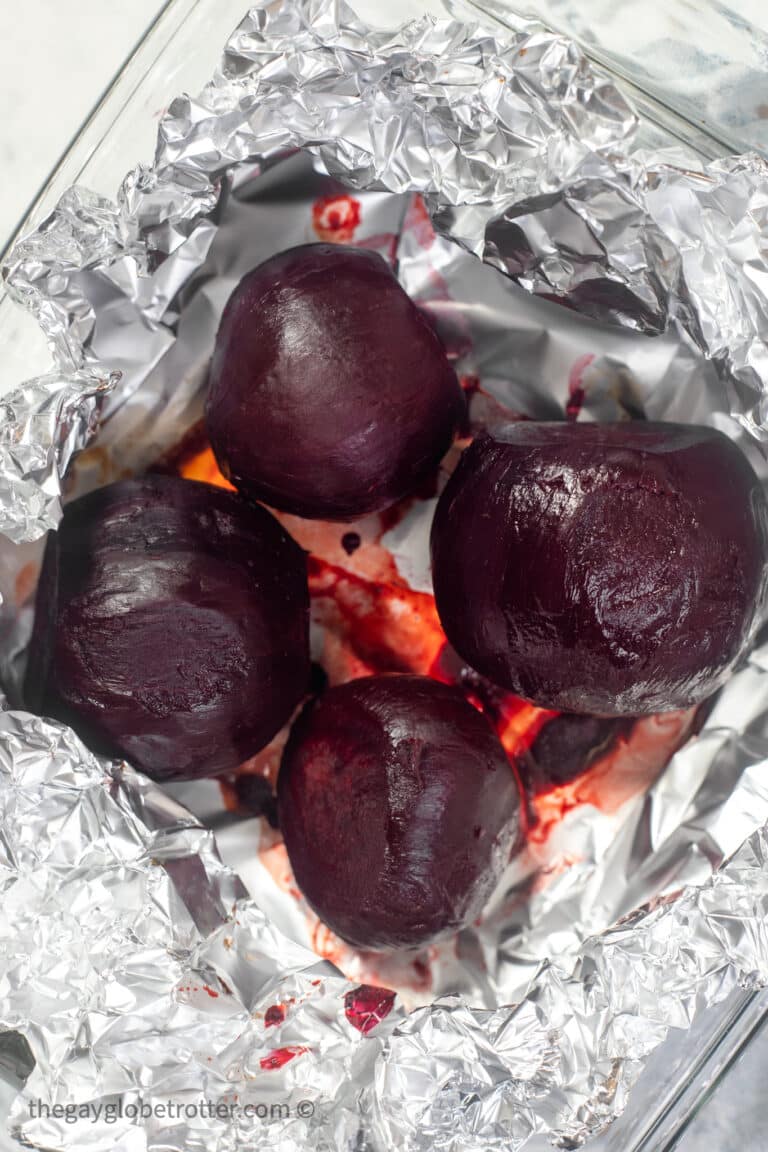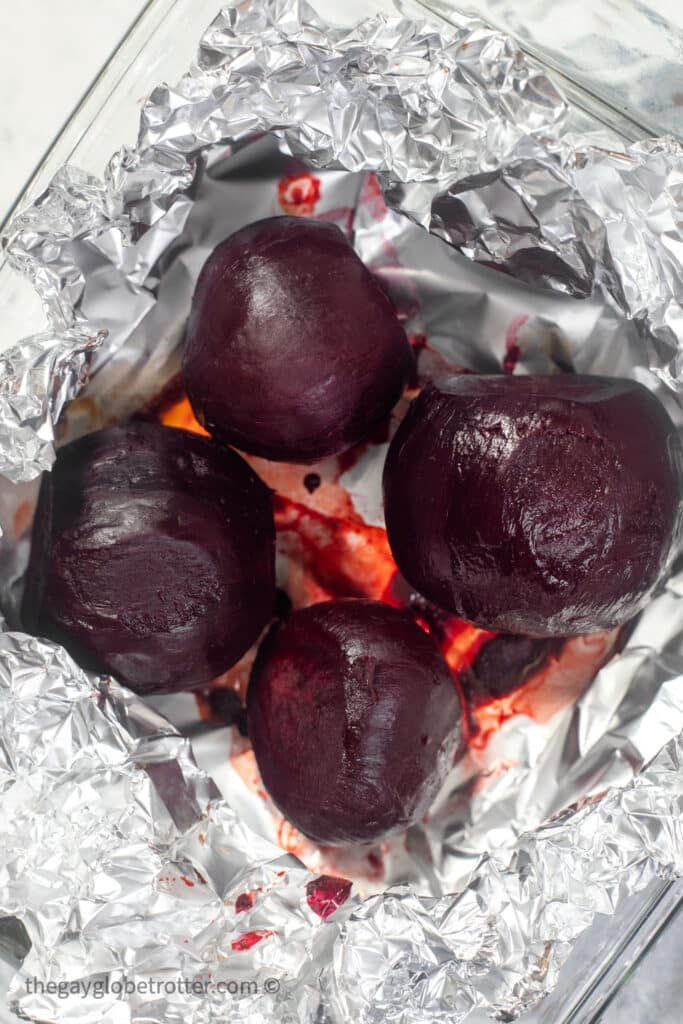 Whole Roasted Beets Tips and Tricks
Choose beets that are similar in size so they cook at the same time.
When wrapping beets with foil, place the shiny side down.
Wash beet peels well before placing them in foil. They grow in the ground, so will need a good wash.
Peel beets once they're cooked to ensure smooth, easy peeling.
Wear gloves while working with red beets to avoid staining hands.
Slice beets before serving. Alternatively, slice into wedges and season with salt and pepper.
More Delicious Side Dishes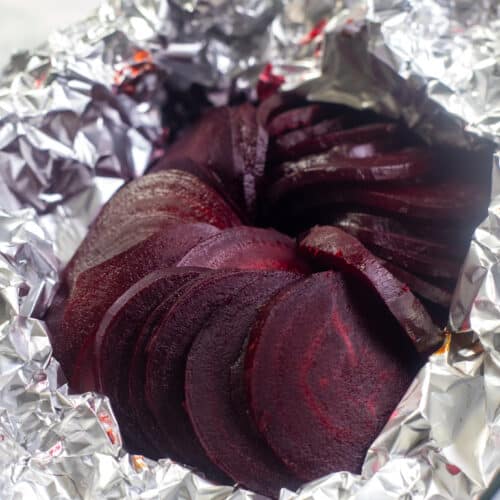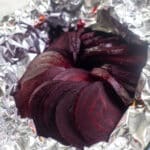 Rate this Recipe
Whole Roasted Beets
Whole roasted beets are the perfect addition to salads, or great on their own as a side!
Print Recipe
Pin Recipe
Tried this recipe?
I'd love to hear what you think. Leave a comment and rating below!
Instructions
Preheat oven to 400°F. Wash beets well under cold water.

Place unpeeled beets into a baking dish lined with foil. Wrap foil around beets.

Roast for 45 minutes to 1 hour or until fork tender.

Allow to cool for 10 minutes before peeling beets. Slice, and enjoy as is or in other recipes.
Notes
Skin will soften while roasted, so it's easiest to peel after roasting. 
Calories:
65
kcal
|
Carbohydrates:
14
g
|
Protein:
2
g
|
Fat:
1
g
|
Saturated Fat:
1
g
|
Sodium:
118
mg
|
Potassium:
491
mg
|
Fiber:
4
g
|
Sugar:
10
g
|
Vitamin A:
50
IU
|
Vitamin C:
7
mg
|
Calcium:
24
mg
|
Iron:
1
mg
Pin it for later: