Bacon deviled eggs are a rich, creamy, and easy make ahead appetizer that's perfect for any holiday, from Thanksgiving to Easter!
We love serving these bacon filled deviled eggs next to our famous avocado deviled eggs, and other delicious appetizers like baked brie, bacon wrapped brussels sprouts, and cream cheese stuffed mushrooms!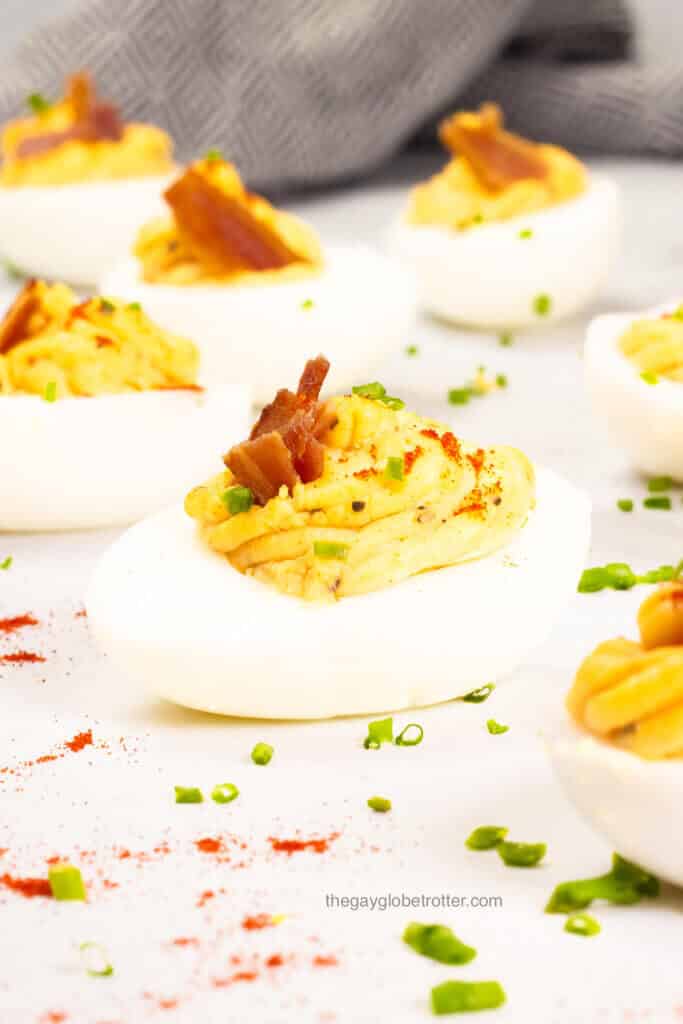 A couple tablespoons of bacon fat doesn't sound like much with the richness of egg yolks, but seriously, the bacon garnish can be omitted and these will still taste the same (minus the crunch). I never want to make deviled eggs differently again!
How To Boil Eggs For Deviled Eggs
To make the perfect eggs for deviled eggs:
Add the eggs to a pot.
Fill the pot with cold water, filling the pot an inch over the eggs.
Place the pot over maximum heat, and bring it to a boil
As soon as the pot reaches a rolling boil, cover and remove from heat.
Let sit for 12-14 minutes, or until cooked. It's worth sacrificing one egg to double check!
Immediately run cold water into the pot, or place eggs into an ice bath for 5-10 minutes. This will both help stop the cooking, and remove the membrane, making for easy peeling!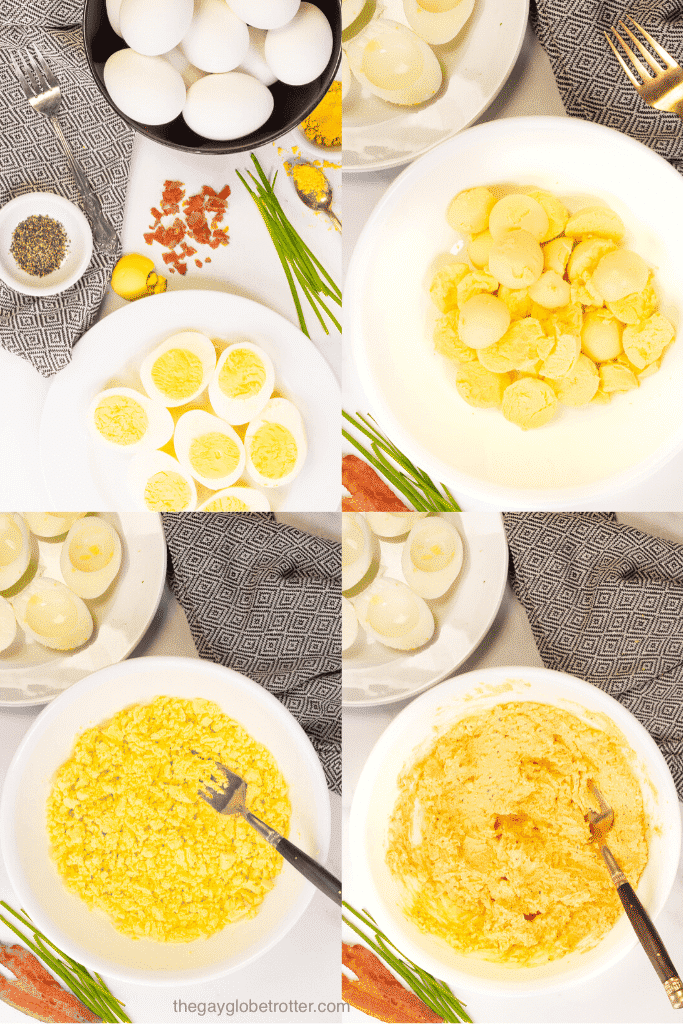 Making Deviled Eggs For Presentation
If you're making bacon deviled eggs for a crowd, follow these tips:
Go slowly with the peeling. If you peel quickly, you will ruin the white and the look of the eggs
Wipe the knife between each cut with a paper towel when slicing the eggs in half so you don't get yolks on the whites.
Use a piping bag to add the yolk mixture back into the egg whites to make them super pretty!
Chop small – chop the garnishes as small as you can, and be sparing with the spice garnishes like paprika. A sprinkle is all you need!
If you get yolks on the whites, a wet paper towel will remove them easily.
If you're traveling the deviled eggs, place each one in a muffin tin and cover with plastic wrap to keep them from getting ruined.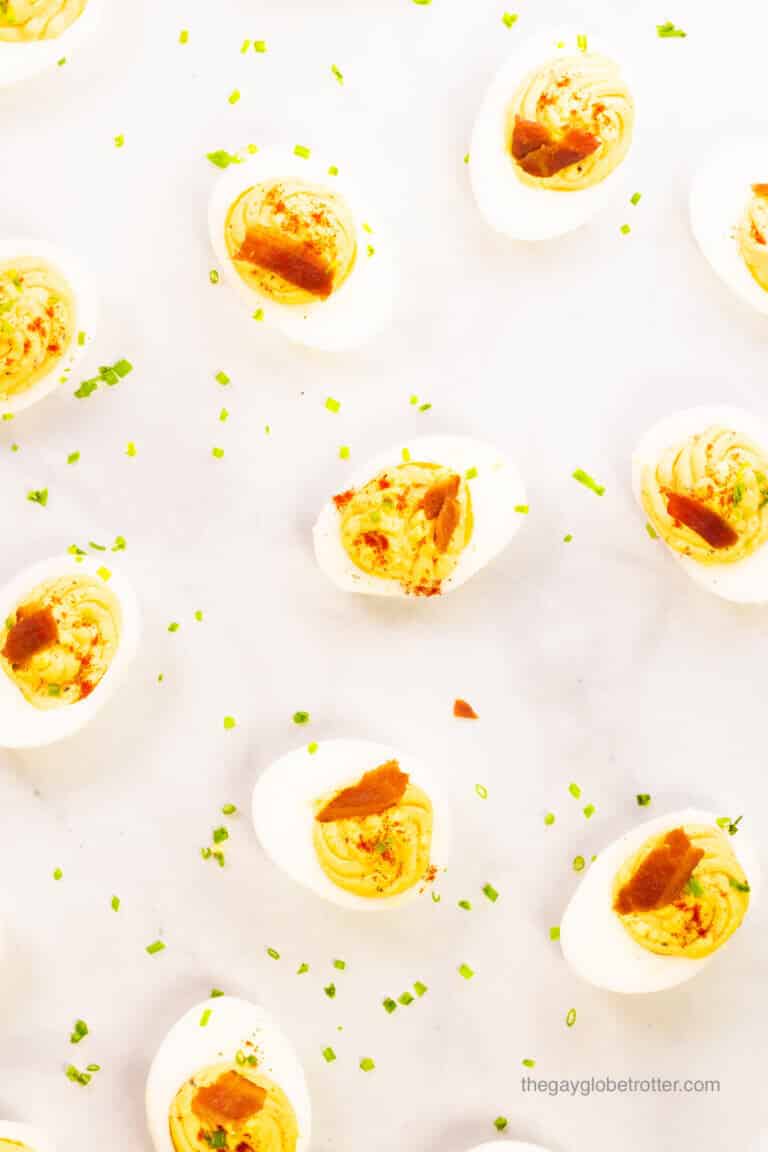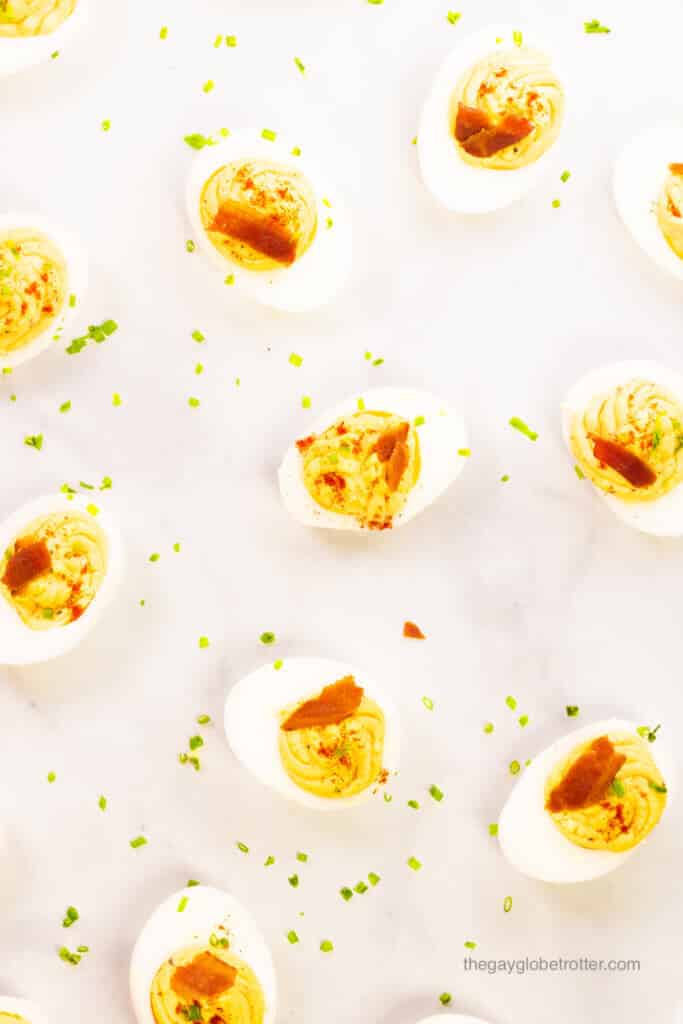 Tips For Making The Best Deviled Eggs
Make the hard boiled eggs ahead of time, and prepare the deviled eggs a couple days in advance. These are the perfect make ahead meal!
Instead of regular bacon, try adding

candied bacon

to these deviled eggs.
For bacon jalapeno deviled eggs, add some diced jalapenos as garnish. Remember to remove the seeds before adding them so they aren't too spicy!
For bacon cheddar deviled eggs, finely grate 1/2 cup of cheddar cheese and incorporate it into the yolk mixture before piping.
You don't need a piping bag for deviled eggs! Try using a plastic bag with the corner cut out, or even a spoon for a quick and easy deviled egg method.
Candied bacon deviled eggs are super good too, try double baking the bacon with some brown sugar for a few minutes before topping the deviled eggs.
For deviled eggs with bacon bits, omit the bacon fat and use bacon bits for garnish in place of chopped bacon.
More Delicious Appetizer Recipes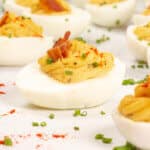 Rate this Recipe
Deviled Eggs With Bacon
Deviled eggs with bacon are a simple and delicious appetizer that's perfect for any gathering - from Thanksgiving to Easter!
Print Recipe
Pin Recipe
Tried this recipe?
I'd love to hear what you think. Leave a comment and rating below!
Ingredients
12

eggs

large

4

slices

bacon

1/3

cup

mayonnaise

1

teaspoon

mustard powder

1/2

teaspoon

paprika

chives, garnish
Instructions
For The Eggs:
Place eggs in a pot with cold water 1 inch above them. Bring to a rolling boil uncovered.

As soon as a rolling boil begins, cover the pot and turn the stove heat off. Leave eggs on hot element for 13-14 minutes or until hard boiled.

Remove from heat and immediately shock with cold water for 4-5 minutes to stop cooking and for easier peeling.
Assembly:
Chop bacon and cook until crispy, about 5 minutes. Drain bacon on a paper towel. Reserve 2 tablespoons of bacon grease from pan in a small bowl.

Slice eggs in half lengthwise with a sharp knife. Scoop out egg yolks and add to a mixing bowl. Use a fork to crumble the yolks finely.

Add mayonnaise, mustard powder, paprika, and bacon grease to the yolk mixture. Mix until completely combined.

Use a piping bag or spoon to add the yolk mixture back into the egg whites.

Top deviled eggs with bacon crumbles, chives, and a sprinkle of paprika.
Calories:
68
kcal
|
Carbohydrates:
1
g
|
Protein:
3
g
|
Fat:
6
g
|
Saturated Fat:
2
g
|
Cholesterol:
86
mg
|
Sodium:
75
mg
|
Potassium:
38
mg
|
Fiber:
1
g
|
Sugar:
1
g
|
Vitamin A:
139
IU
|
Calcium:
12
mg
|
Iron:
1
mg
Pin it it for later: