Avocado deviled eggs are the perfect twist on a classic deviled eggs recipe! This classic holiday side dish is healthy, keto friendly, colorful, and surprisingly easy – yet so creamy!  They're made with avocado in place of mayo, but taste as creamy as ever.
Along with turkey, stuffing, and mashed potatoes, deviled eggs are a staple during any turkey dinner – from Thanksgiving to Easter!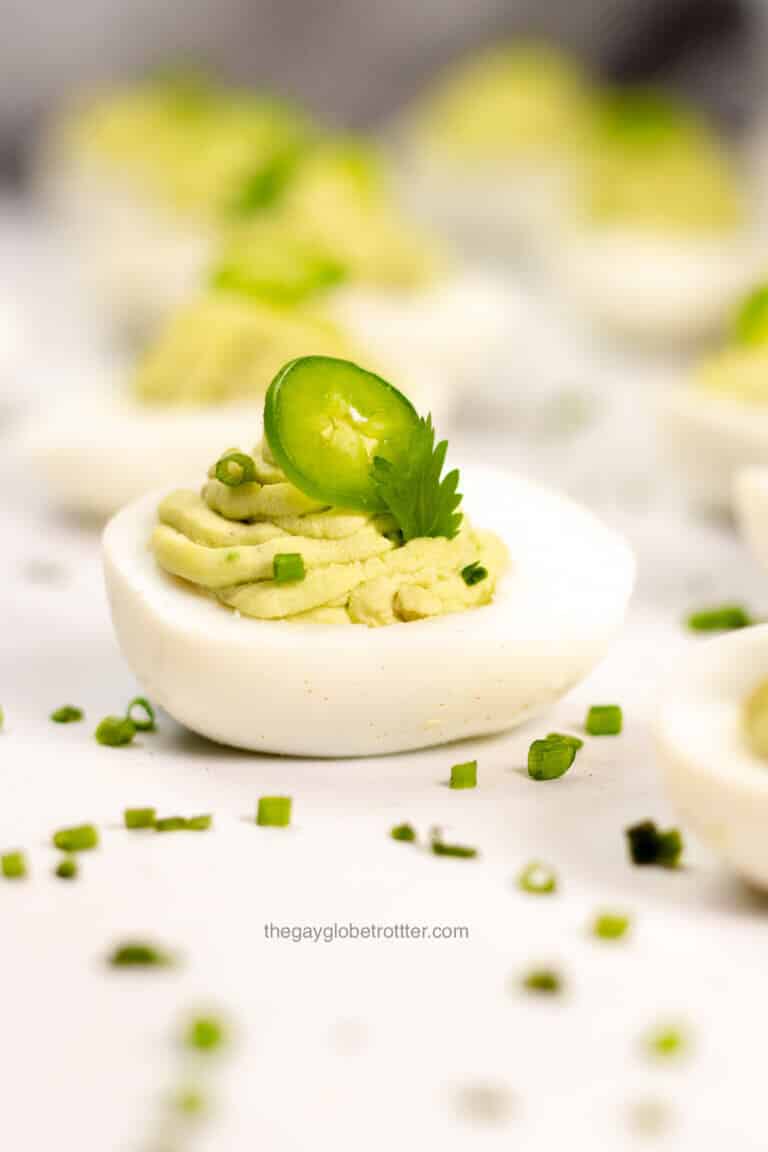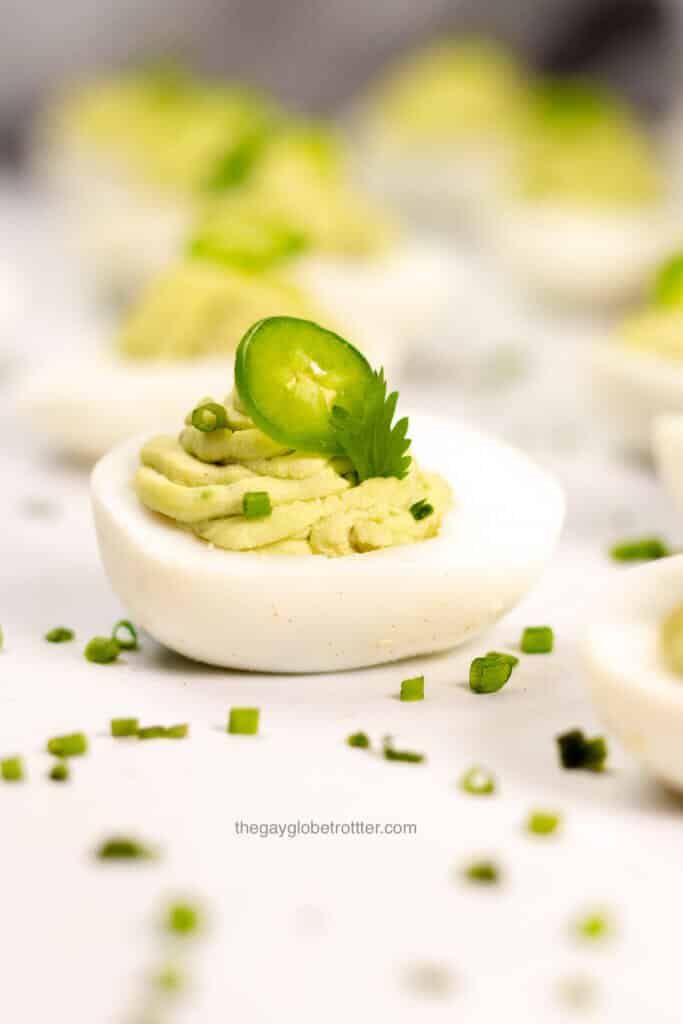 How To Boil Eggs For Deviled Eggs
The process is SO much easier than you'd think! To get perfectly cooked hard boiled eggs that won't turn green or grey, follow these steps:
Place eggs in a pot in a single layer. I was able to fit a dozen eggs in the bottom of a medium pot.
Fill the pot with COLD water that reaches 1 inch above the eggs.
Place pot on the element, uncovered, and set to high heat.
As soon as pot reaches a rolling boil, turn the element off and cover the eggs with a lid.
Let sit for 13-14 minutes to finish cooking on the cooling element. At this point, I usually sacrifice an egg to ensure they are cooked to my liking.
Remove the pot from the heat and move eggs to an ice bath, or run under cold water for about 5 minutes. This helps to remove the membrane from the egg, making them easier to peel.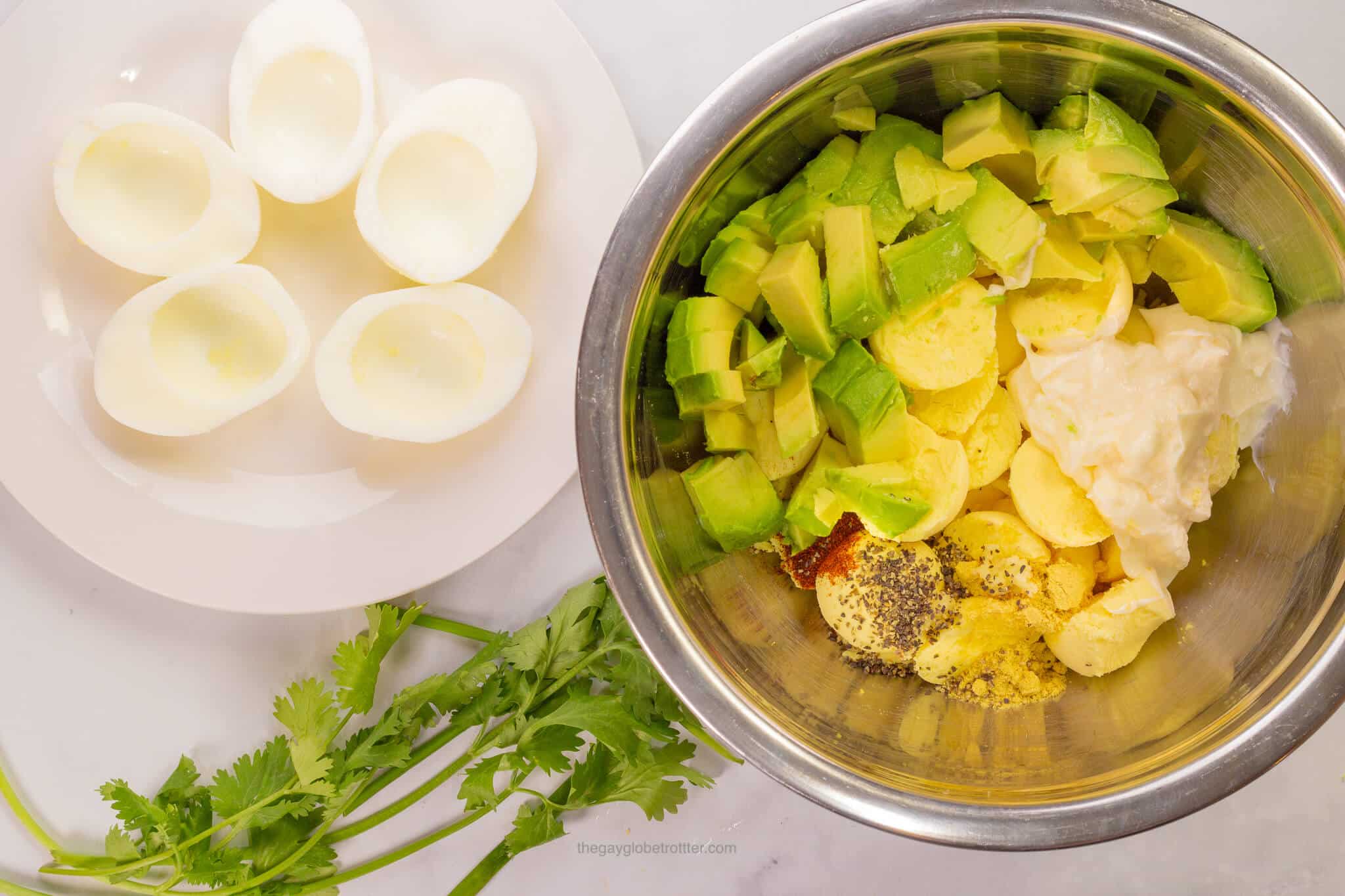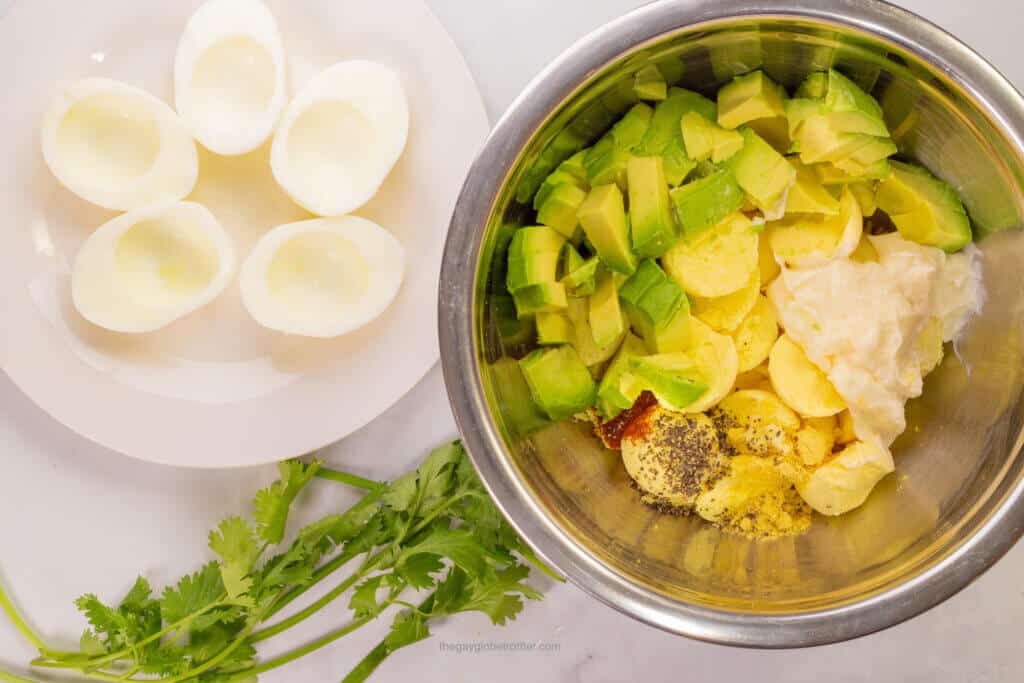 How To Peel Eggs
Tips for peeling eggs for deviled eggs:
Lightly tap the bottom of the cooled egg on the work surface. This is where the air bubble usually sits, so it will make it easier to peel.
If shell is hard to remove, try peeling it under water or running it under the tap while you work.
Make sure to give the eggs a quick rinse after peeling so no bits of shell remain on them.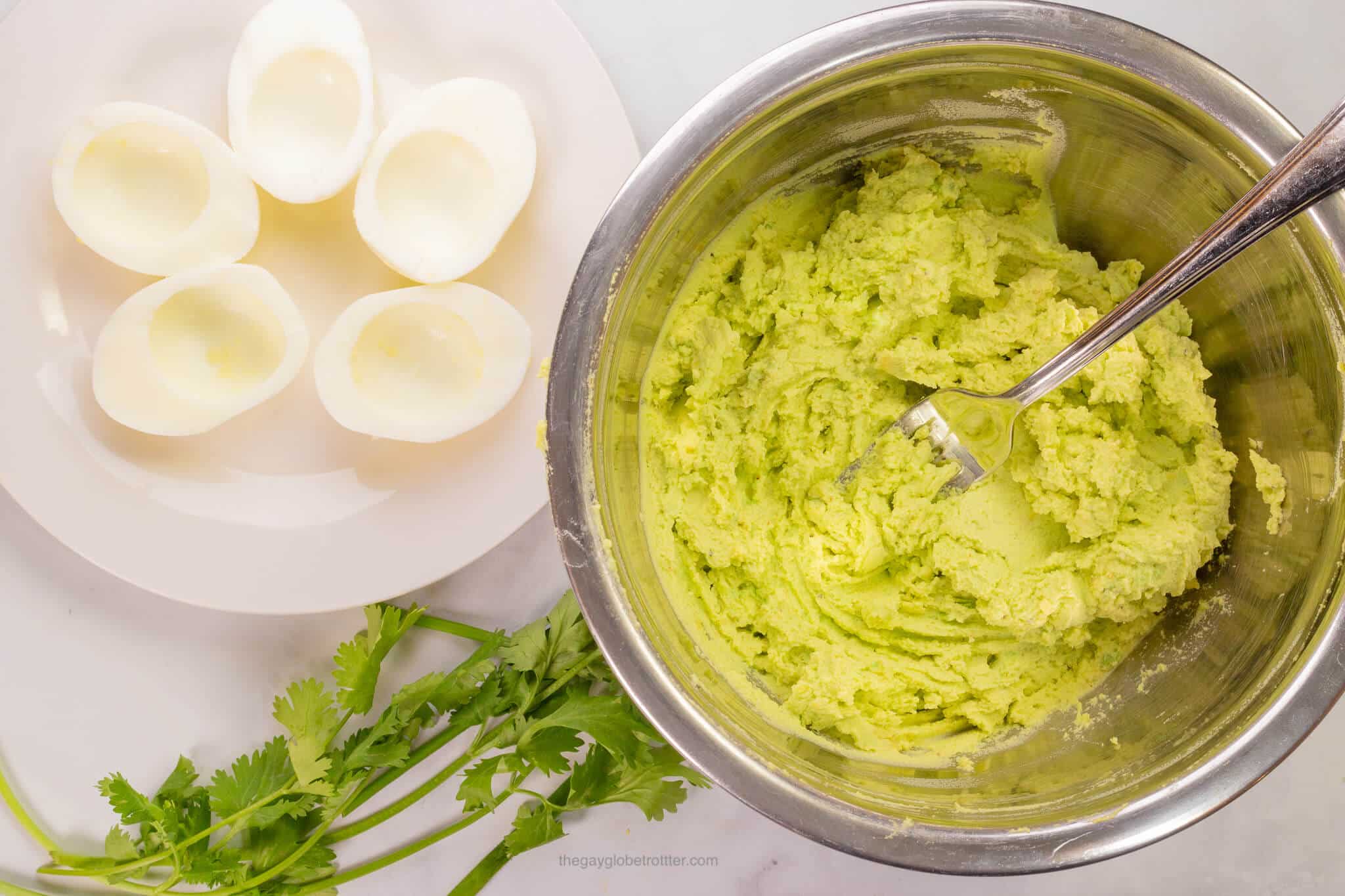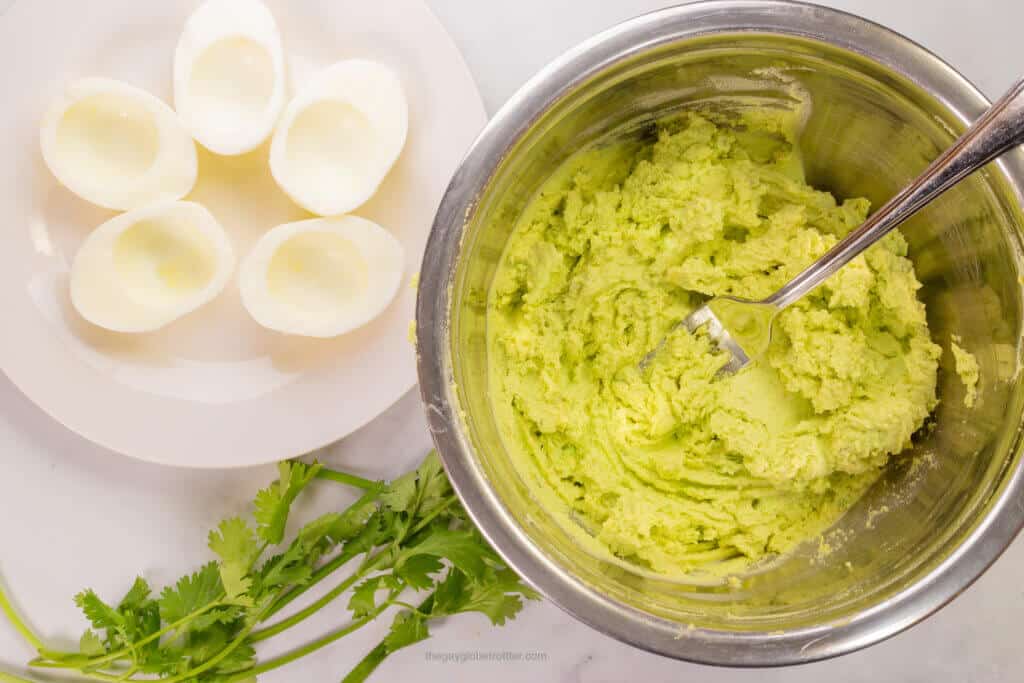 How To Make Deviled Eggs
Now, we are ready to make these avocado deviled eggs! To make them:
Using a sharp knife, slice each egg lengthwise into halves. Slicing slowly rather than quickly will keep more of the egg yolk in tact.
Carefully remove the yolks from the whites, and place the yolks into a mixing bowl.
Add avocado, lime juice, mayonnaise, mustard powder, crushed garlic, and cayenne pepper.
Using a hand mixer, masher or fork, incorporate the ingredients until smooth and no lumps remain.
Use a spoon or piping bag to pipe the yolks back into the yolk cavities of the eggs, adding a little extra to each one. If you don't have a piping bag, use a plastic bag with the corner cut. It works!
The avocado adds almost all the creaminess you need, and a beautiful green hue to the yolks. Garnish these avocado deviled eggs with some seedless jalapeno slices, cilantro, chives, or bacon!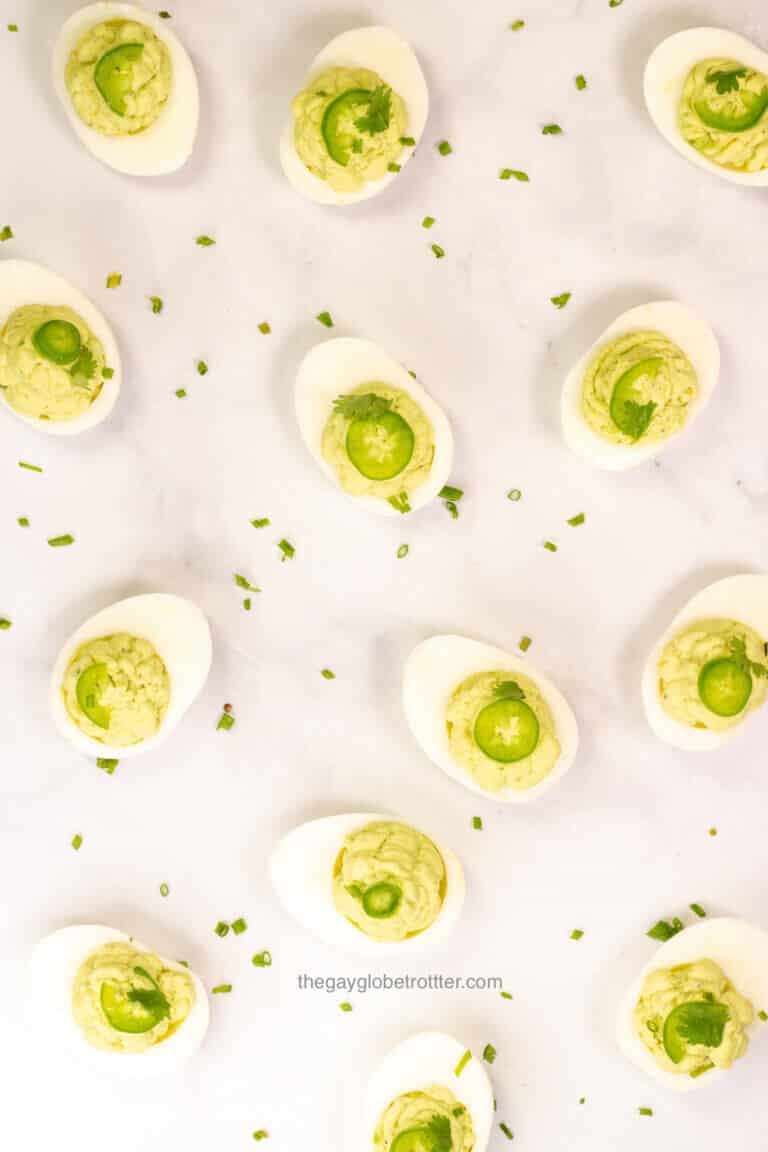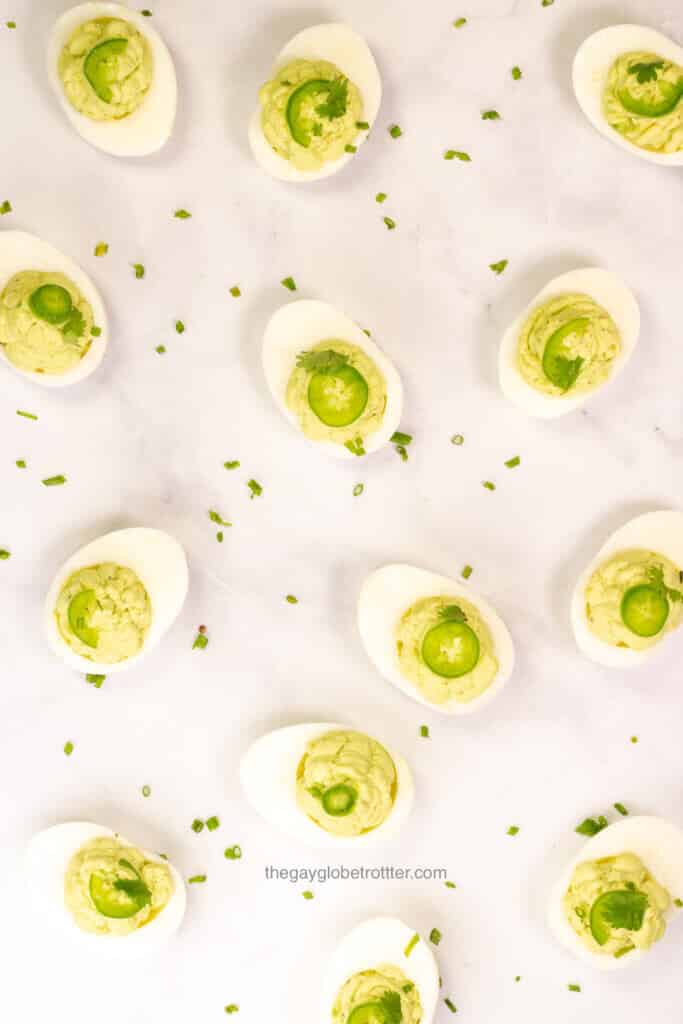 How To Transport Deviled Eggs
With turkey dinner, deviled eggs are the perfect dish to bring! No tray? Try these methods
The absolute easiest way to travel deviled eggs without smushing them is in a muffin tin – just add one egg per cup and cover with plastic wrap.
Egg cartons work too – just add each egg to a cup and looslely cover them.
If you don't have something with individual cups, don't worry! Set a damp (not wet) paper towel into a plastic container and place the eggs in carefully. The eggs will stick to the paper towel, making transport much easier.
Do Avocado Deviled Eggs Turn Brown?
They will turn a little bit after sitting. The lime juice in the recipe helps to deter much of the browning, but if you plan to make deviled eggs ahead of time, I would suggest making bacon deviled eggs.
These deviled eggs should be enjoyed the same day. If you're worried about browning, a quick spritz of lime juice or lemon juice on each deviled egg will help a little bit without changing the flavor too much.
These avocado deviled eggs will be good for about 24 hours before beginning to brown.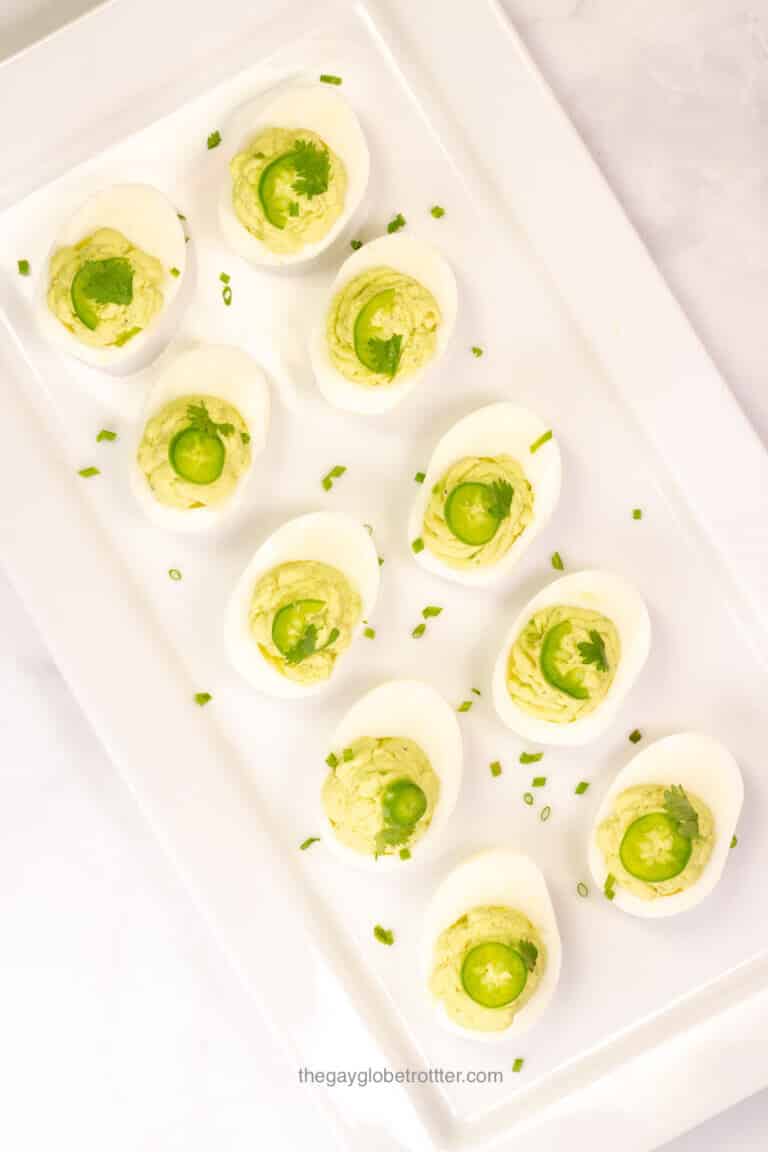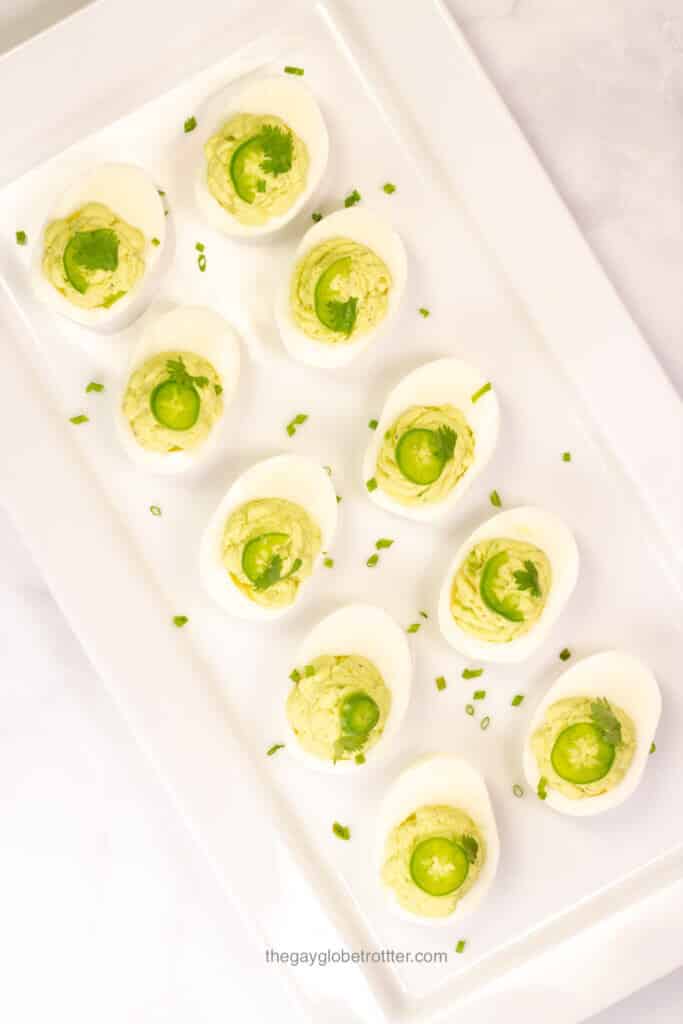 Can You Freeze Deviled Eggs?
Short answer – no. Raw eggs freeze well, but cooked eggs do not.
The eggs will produce a watery texture when defrosted. When you cook eggs, it destroys the naturally occurring coating that helps prevent bacteria growth.
U.S. Department of Agriculture suggests consuming egg dishes within a week.
More Mouth Watering Appetizers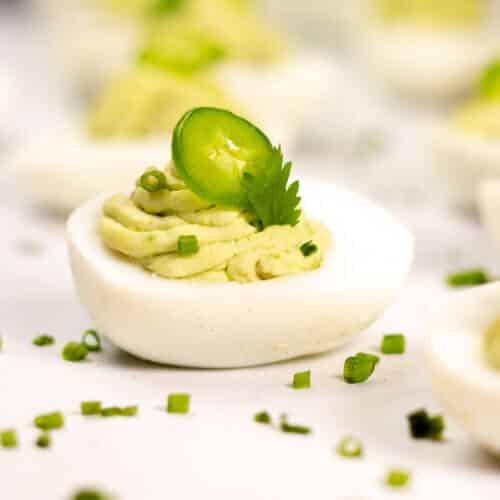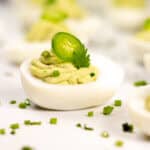 Rate this Recipe
Avocado Deviled Eggs
Servings:
24
deviled eggs
Avocado is a creamy, colorful addition to these deviled eggs!
Print Recipe
Pin Recipe
Tried this recipe?
I'd love to hear what you think. Leave a comment and rating below!
Ingredients
12

eggs

large

1

avocado

large, ripe, sliced

2

tablespoons

mayonnaise

1

teaspoon

mustard powder

1

tablespoon

lime juice

1

clove

garlic

crushed

1/4

teaspoon

cayenne pepper
Optional Garnishes
1

jalapeno pepper

sliced, seeds removed

cilantro

chopped

chives

crumbled bacon
Instructions
For The Eggs
Fill a pot of single layered eggs with cold water until water is an inch above eggs. Bring to a rolling boil uncovered.

As soon as a rolling boil begins, cover and turn the heat off. Leave eggs on hot element for 12-14 minutes or until hard boiled.

Remove from heat and immediately place in ice water until completely cooled before peeling.
Assembly:
Slice eggs in half with a sharp knife. Scoop yolks out and add them to a mixing bowl.

Add avocado, mayonnaise, mustard powder, lime juice, garlic, and cayenne pepper to the yolks. Mash until mixture is completely combined.

Use a spoon or piping bag to evenly distribute the yolk mixture between the egg whites. Garnish with cilantro, bacon, jalapeno slices, or chives.
Calories:
54
kcal
|
Carbohydrates:
1
g
|
Protein:
3
g
|
Fat:
4
g
|
Saturated Fat:
1
g
|
Cholesterol:
82
mg
|
Sodium:
39
mg
|
Potassium:
71
mg
|
Fiber:
1
g
|
Sugar:
1
g
|
Vitamin A:
146
IU
|
Vitamin C:
2
mg
|
Calcium:
13
mg
|
Iron:
1
mg
Tried this recipe? Let me know how you liked it below!
Don't forget to pin this for later!