This rosemary bacon peach brie en croute is the ultimate savory appetizer. A wheel of fresh brie is wrapped in puff pastry with bacon, rosemary, and peach jam then baked until the pastry is flaky and the baked brie is melted and gooey.
Serve rosemary bacon peach baked brie next to some delicious dippers, and other appetizer favorites like franks buffalo chicken dip, stuffed mushrooms, and bacon wrapped brussels sprouts!

When To Use Brie
Brie is a delicious soft cheese usually made from cow milk but can be found made from goat milk. Brie has a characteristic soft white rind with a creamy interior, and is aged for at least 60 days.
When you buy brie cheese at the store, it has hit the 60 day aging period, but will continue to age. When selecting brie, you want to choose a wheel that is as close to the date you plan to eat it as possible for optimal flavor.
Brie is completely fine to eat after the expiration date, just watch for any mold on the exterior that doesn't look like a part of the rind.
What About The Rind?
When you make baked brie en croute, the rind is not an issue! You'll hardly notice it once it's baked. If you prefer, you can remove the rind prior to wrapping but it definitely adds a lot of flavor to baked brie.

Let's Make It
To make rosemary bacon peach brie en croute:
Roll: Roll the puff pastry dough out on a floured surface to about 12″x12″. Add the brie wheel, then top with peach jam, rosemary, and bacon (or

candied bacon

).
Wrap: Beginning in one corner, wrap the dough by folding and pinching it around the brie tightly. Be careful not to leave any brie exposed, or it will leak while cooking. Brush with egg wash.
Bake: Bake the brie en croute for 20 minutes or until crust is fully cooked and golden, and cheese is melted.
Serve: Serve with your favorite dippers like crackers, crostini, and fresh fruit.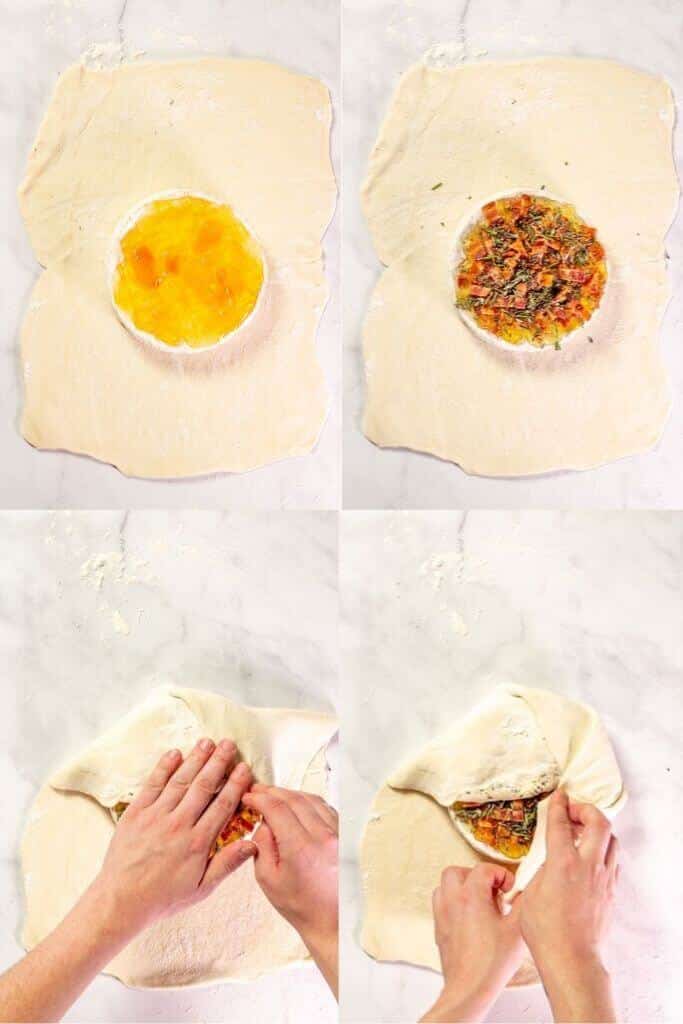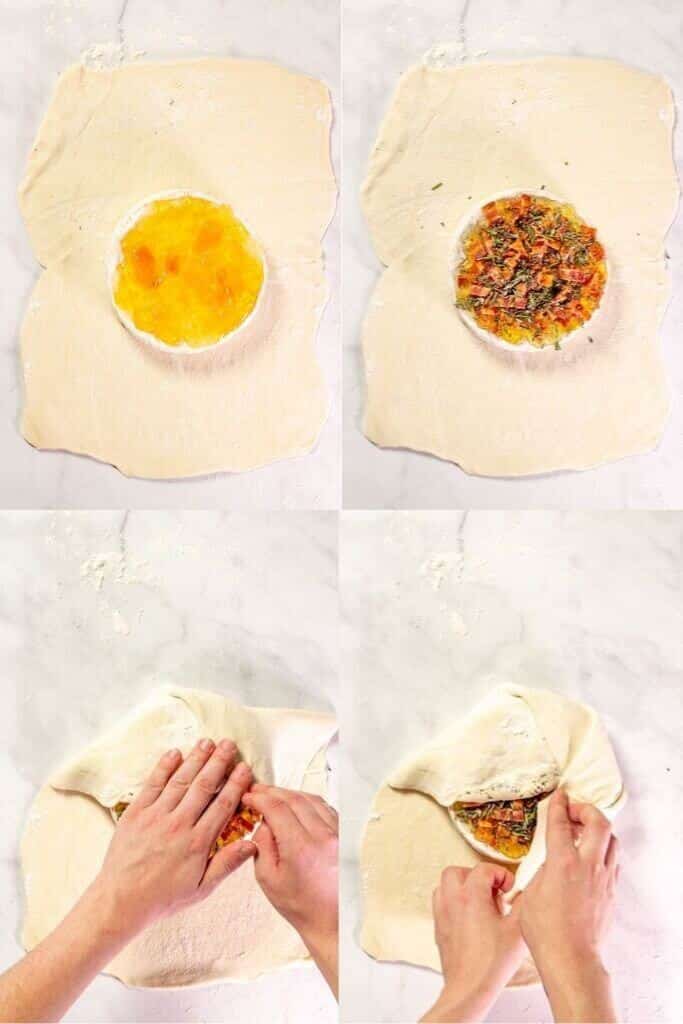 Tips For Baking with Puff Pastry
Puff pastry is created by folding butter into dough many times to create small lumps of cold butter throughout the dough. When baked, this creates buttery, flaky air pockets in the pastry.
It may seem daunting, but puff pastry is not too difficult to work with! Here are some tips for ensuring your puff pastry turns out perfectly every time:
Work fast – if the butter melts, the dough will become dense. Make sure the other ingredients are ready to go before you begin rolling out the dough.
Use flour – the more flour the better. Don't let the dough stick to your surface, rolling pin, or hands.
Keep it cold – Keep the dough refrigerated as much as possible, and work quickly, minimizing the contact with heat from your hands and room temperature.
What To Serve with Baked Brie
This elegant appetizer goes next to almost everything! Here are some of the best dippers for baked brie en croute:
Crackers
Chips
Fresh fruit like peaches, apples, grapes, pears
Triscuits
Fresh baguette slices

Reheating Baked Brie En Croute
Leftovers? No problem! This baked brie reheats well.
Once cut, the cheese oozes out of the pastry, so when reheating make sure you use a glass baking dish.
Bake the baked brie for an additional 10-15 minutes to heat it through, watching so the pastry doesn't overcook. If the pastry browns too much, tent the dish with tin foil while it bakes.
More Delicious Appetizers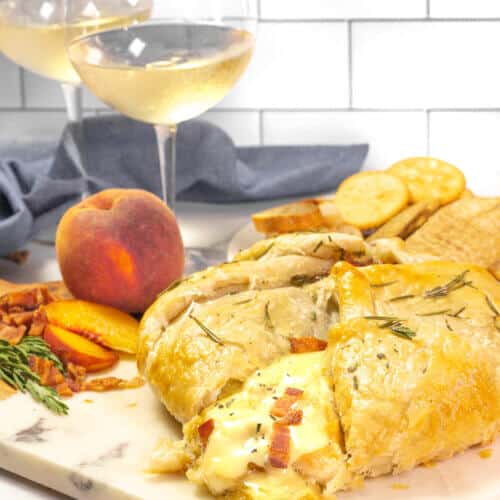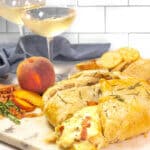 Rate this Recipe
Rosemary Bacon Peach Brie en Croute
This fancy baked brie appetizer is full of savory bacon, sweet peaches, and fresh rosemary.
Print Recipe
Pin Recipe
Tried this recipe?
I'd love to hear what you think. Leave a comment and rating below!
Ingredients
1

wheel

brie cheese

1

package

puff pastry

defrosted

2

tablespoons

flour

1

egg

for egg wash

1/3

cup

peach jam

5

strips

bacon

chopped

2

tablespoons

fresh rosemary

finely chopped
Instructions
Preheat oven to 400°F. Line a baking sheet with parchment paper, set aside.

On a floured work surface working quickly, roll out puff pastry to 1/4" thickness, about 12" x 18". Dust top of pastry with flour.

Place brie wheel in center of puff pastry. Spread peach jam over brie, then sprinkle bacon and rosemary on jam.

Beginning with one corner, wrap pastry around the brie, folding over and tucking previous layer over the next. If dough isn't sticking together, use egg wash to adhere dough together.

Continue wrapping until the last fold, adhering the last fold tightly on top of the wheel with egg wash. Brush the entire wheel with egg wash, and sprinkle with rosemary.

Bake for 20-25 minutes. If overcooked, brie will leak out while cooking. Undercooked, brie won't be melted entirely.

Allow brie to sit for 5 minutes before transferring to serving plate.
Notes
The rind is not noticeable once baked, but you may remove it if you prefer.
Remember to work quickly with puff pastry to keep it cold, and handle it minimally. 
Watch for leaks while the brie bakes. If it begins to brown too quickly before the cheese is melted, tent the brie en croute with tin foil.
Calories:
435
kcal
|
Carbohydrates:
33
g
|
Protein:
16
g
|
Fat:
43
g
|
Saturated Fat:
6
g
|
Cholesterol:
25
mg
|
Sodium:
211
mg
|
Potassium:
66
mg
|
Fiber:
1
g
|
Sugar:
6
g
|
Vitamin A:
41
IU
|
Vitamin C:
1
mg
|
Calcium:
13
mg
|
Iron:
2
mg
Tried this recipe? Let me know how you liked it below!
Don't forget to pin it for later!