Swedish cinnamon buns (kanelbullar) are a staple pastry made with sweet pastry, a cinnamon cardamom filling, then baked until golden and flaky.
njoy Swedish cinnamon rolls alongside a coffee or hot chocolate for an easy treat that you will want to enjoy all year long!
We love serving Swedish cinnamon rolls for brunch with blueberry overnight oats and creme brulee french toast!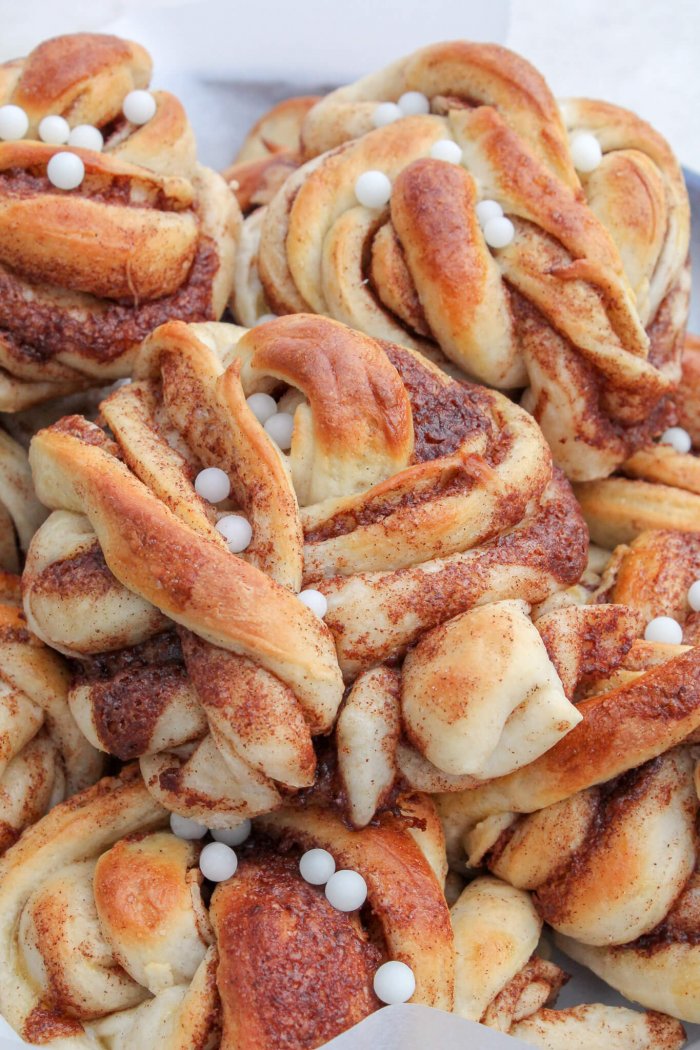 [quads id=2]
What Are Swedish Cinnamon Buns?
Swedish cinnamon buns are very different from the standard cinnamon rolls you're used to at home, the main difference being the addition of cardamom to the cinnamon bun dough and filling. Cardamom has a strong flavor, and is a little bit spicy, creating a cinnamon roll that isn't as classically sweet as its American counterpart.
Swedish cinnamon rolls also don't have icing. Instead, you will find pearl sugar, icing sugar, or even slivered almonds on top of a traditional kanelbullar. I had a bit of trouble finding pearl sugar at a standard grocery store. Ikea, most baking stores, and even some craft stores will carry them. Alternatively, crush up some sugar cubes with the bottom of a cup to achieve the same results.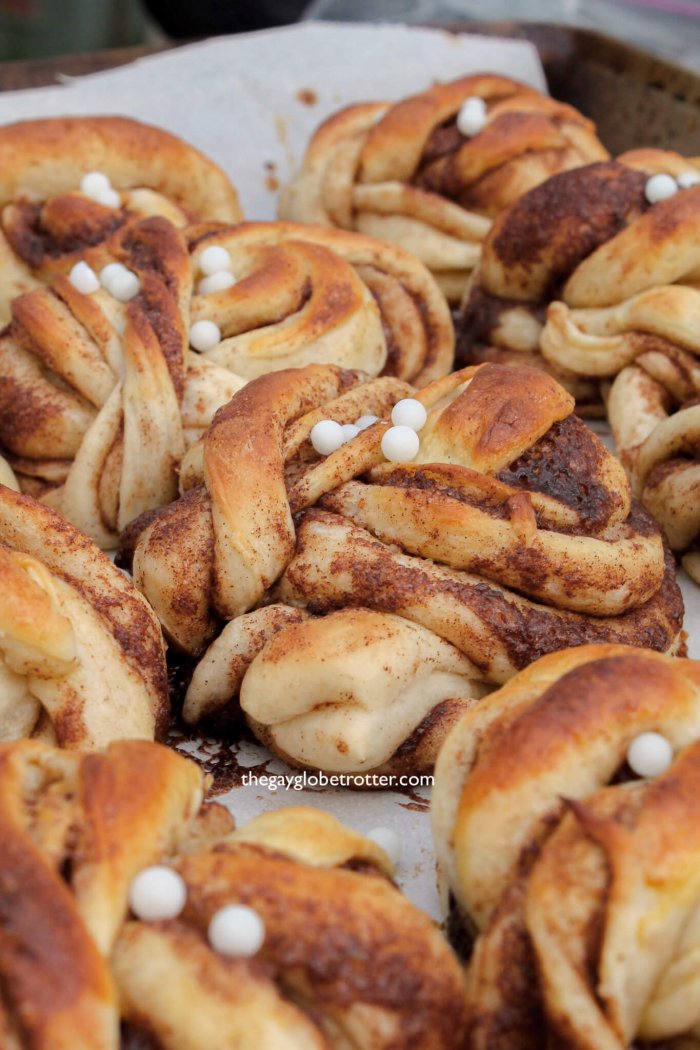 What Is Fika?
When I was in Stockholm, I learned about my new favorite time of day – fika. Fika is a Swedish tradition involving breaking from your day to socialize over a coffee and Swedish pastries. Swedish cinnamon buns were definitely the most popular fika choice. On average, a Swedish person will enjoy 500 of these delicious rolls annually – that's more than one a day!
Fika is considered a way of life in Sweden, and it is a respected time of day to escape life and be in the 'now' with those around you during a coffee and bite to eat. I got to enjoy fika at my favorite cafe in Stockholm – Chokoladkoppen. During my tour of gay Stockholm, I learned that this cafe was the first to ever fly the pride flag in Stockholm. I thought that was pretty cool!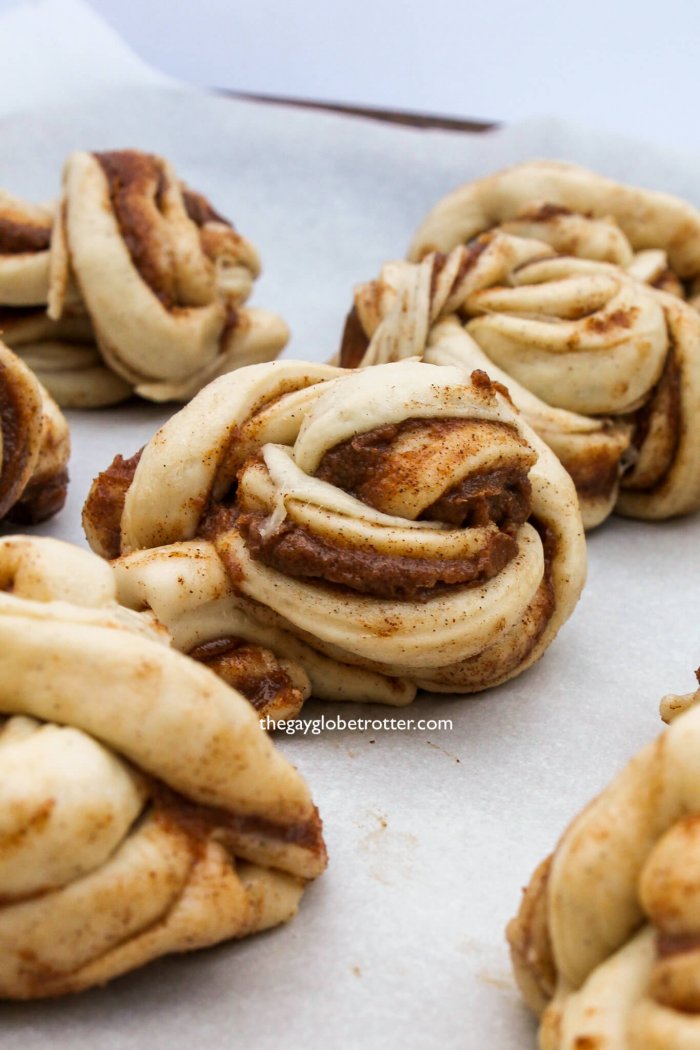 How To Make Cinnamon Buns
Swedish cinnamon buns aren't a standard coil shape, they're so much prettier and not all that difficult! Once you have everything together, roll the dough out on a floured surface into a rectangle, about 15"x24". Spread the filling evenly over the dough.
Next, fold the dough into thirds like a business letter, lengthwise. This creates layers of flaky cinnamon bun and delicious cinnamon cardamom filling! Working lengthwise, use a pizza cutter to cut the dough into about 14-16 strips. Each strip is going to become a cinnamon bun.
To create the staple Swedish cinnamon bun knot, hold each end of the strip and twist it a few times. Wrap one end around your index and middle finger. Then, wrap it around your thumb to create a loop. Pull the dough across the top of the cinnamon bun while sliding your index finger, thumb, and middle finger out of the dough. Secure the end through the loop underneath the cinnamon bun.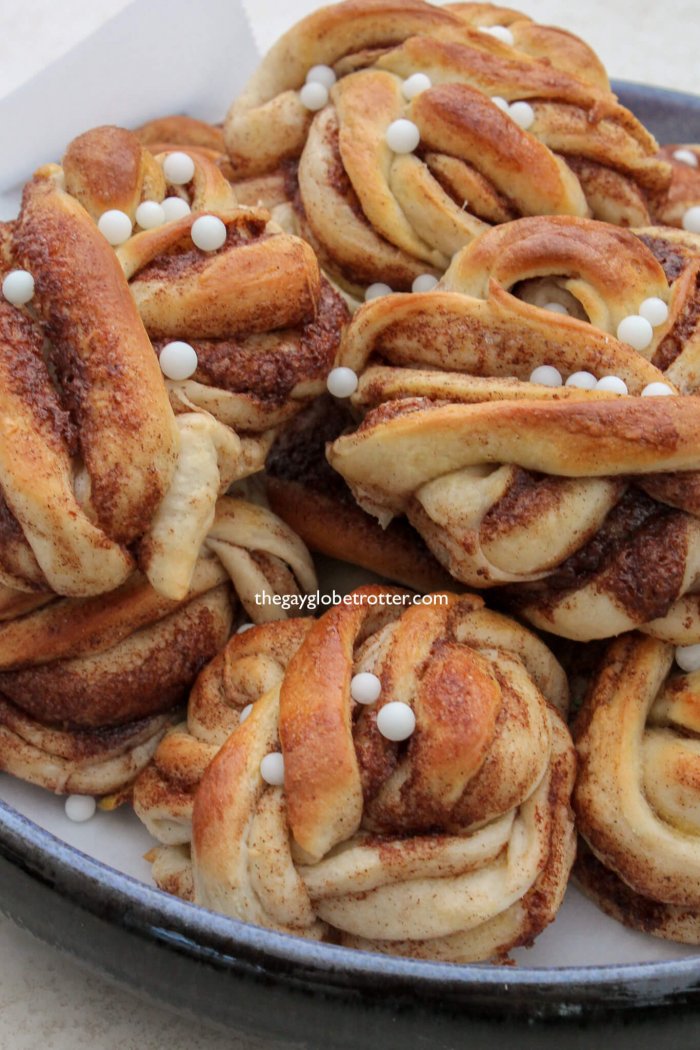 It took me a couple practice tries, but it is really a lot simpler than it sounds to make these. If you can tie a shoe, you can create Swedish cinnamon buns. Here's a video to help you with the visual side of making these gooey cinnamon buns.
Because the dough is knotted, Swedish cinnamon buns bake at a higher temperature for a lower amount of time. I like to top mine with egg wash to help the pearl sugar stick and to ensure they brown evenly.
Swedish cinnamon rolls will last about 5 days covered, but taste the best the day you make them. I like to make a batch and enjoy it over the course of about 3 days (you bet I can finish 16 of these beauties in 3 days!)
More Delicious Sweet Treats: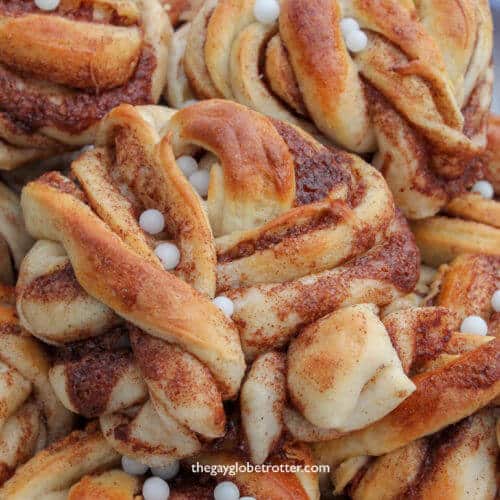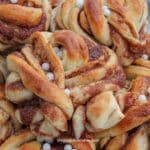 Rate this Recipe
Swedish Cinnamon Buns (Kanelbullar)
Servings:
16
cinnamon buns
Sweet cinnamon roll dough is folded with a cinnamon cardamom filling then baked until flaky and golden.
Print Recipe
Pin Recipe
Tried this recipe?
I'd love to hear what you think. Leave a comment and rating below!
Ingredients
Dough:
1/3

cup

butter

, softened

3

tablespoons

granulated sugar

1 1/2

teaspoons

cardamom

, ground

1

cup

milk

, warm

3

teaspoons

active dry yeast

3

cups

all purpose flour
Filling:
3/4

cup

butter

, softened

1

teaspoon

vanilla

1/2

cup

brown sugar

packed

2

teaspoons

cardamom

, ground

2

tablespoons

cinnamon

, ground

pearl sugar

, garnish

1

egg
Instructions
Dough:
In a stand mixer, beat butter, sugar, and cardamom until combined.

Activate the yeast: make sure the milk is warm but not hot (about 100°F). Stir in yeast, and allow to sit for 5 minutes or until yeast is foamy and activated. Mix into butter mixture.

Switch stand mixer to the dough hook. Add flour to the bowl, one cup at a time. Knead until an elastic dough forms, about 5 minutes. If you don't have a stand mixer, you can do this by hand.

Once the dough has formed, cover the bowl and allow to rise until it has roughly doubled in size, about 1 hour.

Preheat oven to 450°F and line a baking sheet with parchment paper. Set aside.

Meanwhile, combine all of the ingredients for the filling except the eggs and pearl sugar. Set aside.
Assembly:
Once the dough has doubled in size, punch it down and turn onto a floured work space.

Roll the dough into a rectangle, roughly 15"x24". Evenly spread the filling over the dough.

Fold the dough similar to a business letter lengthwise into thirds to create layers.

Using a pizza cutter, slice strips about 1/2" thick lengthwise. You should be able to produce 14-16 strips.

Knotting the cinnamon buns isn't as difficult as it looks, but this video should help you. You will need to repeat it for each cinnamon bun you make. If you can tie your shoes, you can knot these Swedish cinnamon buns.

Once the buns are knotted, place them on the prepared baking sheet 2" apart. Brush each cinnamon bun with egg wash.

Bake for 10-12 minutes or until golden and cooked through. Garnish with pearl sugar.
Tried this recipe? Let me know how you liked it below!
I would love it if you pinned this for later!