Here's how to make a charcuterie board, things to add, and styling tips for the most impressive meat and cheese board spread you can think of.
Whether you're whipping up a charcuterie while entertaining, or an antipasto charcuterie board for two, here's the perfect way to make sure it's both beautiful, and fun to devour!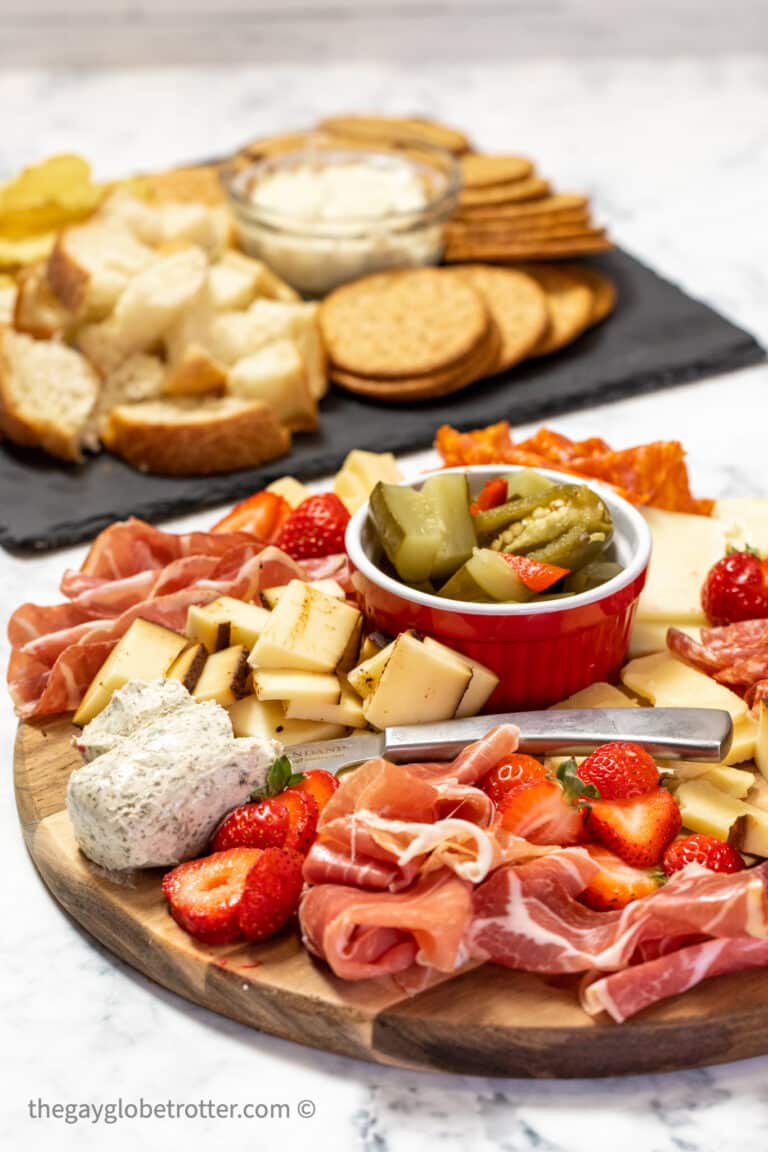 Charcuterie literally translates to cold cooked meats. It's often served alongside other small bites like an assortment of cheese, crostini, crackers, olives, and other bites.
When choosing the type of charcuterie board you'd like to make, think about who you're serving it to. Antipasto is a super popular option, filled with artichokes, gherkin pickles, and olives.
If you're serving to kids, usually going a simpler route like baguettes, berries, basic cheese, and meats will most likely be the best option.
The Best Charcuterie Board Meats
When selecting meat to add to the charcuterie, you want to get a nice assortment. If you're serving two, 3-4 types of meat will more than suffice. If serving 6 or more, go for 5-6 types.
Here are our favorite cuts to include. We add them to every charcuterie we create!
Genoa salami – this is a classic salami that goes with just about everything.
Soppressata – a dry salami from the Tuscany region of Italy.
Pepperoni – for those with less of an adventurous palette, this is a great jumping off point.
Mortadella – Italian sausage. This is always a hit.
Prosciutto – light, thin, and flavorful, this is great to have on a charcuterie board.
Pate – soft, rich, and adds some textural interest to the board.
You can often find several of these cuts in a package at the grocery store. We like to pick that up, and add some specific cuts depending on how much meat we plan to add.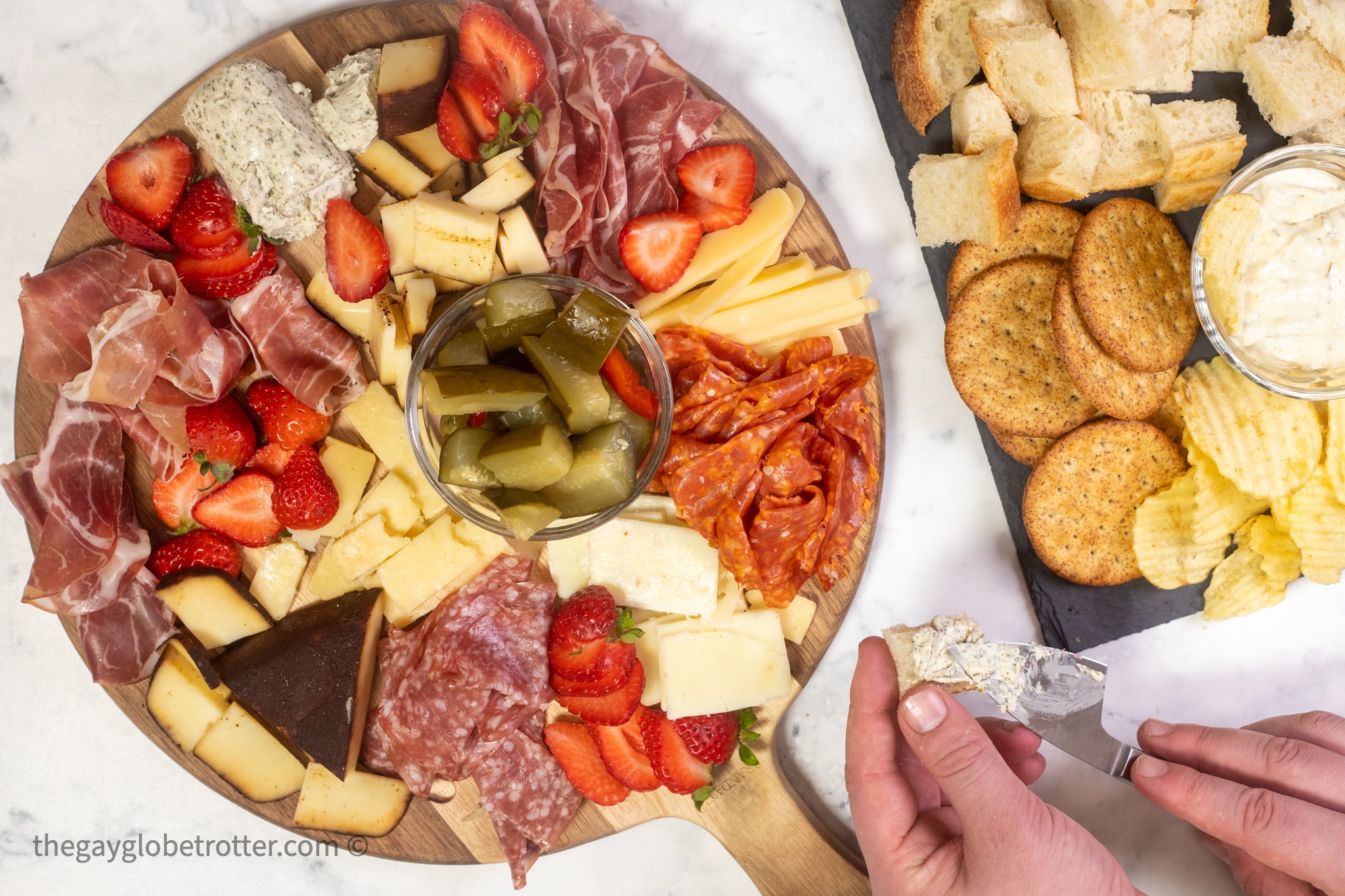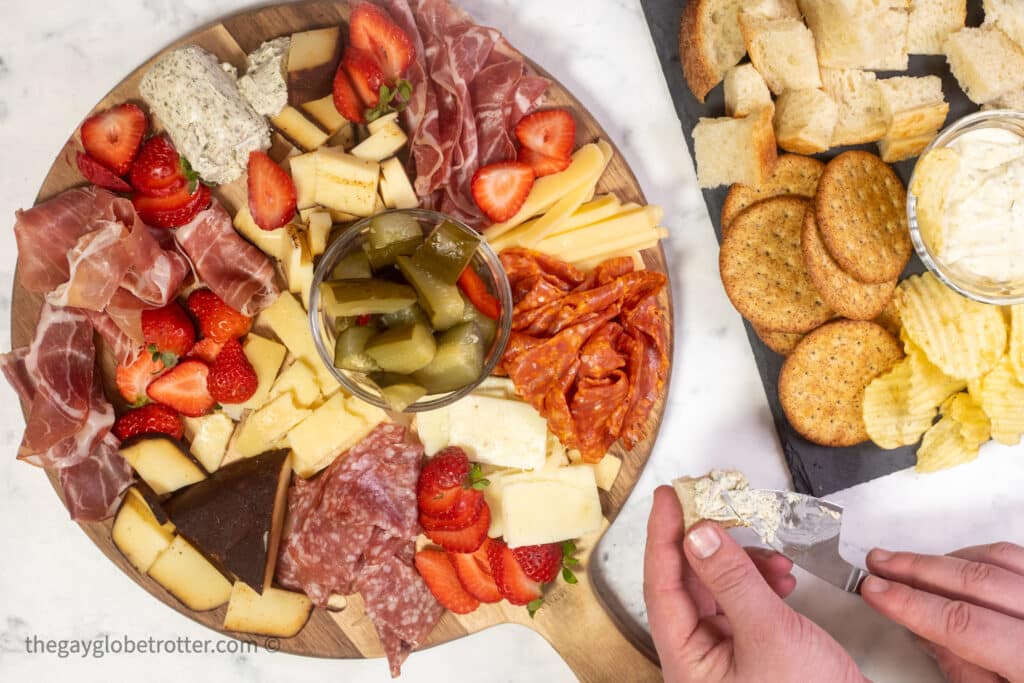 What Kind Of Cheeses Are On A Charcuterie Board
With cheese, it's so much fun to get creative! The varities are endless. We always choose our cheese to compliment the selection of meat we have.
It is a good idea to include some hard, medium, and soft cheese, as well as selecting a range of strong, to mild – so there's something for everyone's palette.
Here are some of the can't-miss cheeses to include on the charcuterie board:
Strong cheese – gruyere, blue cheese, parmesan (sliced), grana-padano
Mild cheese – white cheddar, aged cheddar, gouda, swiss, emmental,
Soft cheeses – brie, Boursin, goat cheese
Everything Else To Add To A Charcuterie Board
You can't just call it a day with meat and cheese, everything else you decide to add will really set your charcuterie board apart from others. Here are some of our favorite things to include:
Bread – include an assortment of crackers, crostini, tortilla chips, and bread cubes
Fruit – strawberries, raspberries, blueberries, blackberries, apples, pears, and plums look great as a final touch
Dried fruit – apricots, cranberries, sun dried tomatoes
Olives – green olives, kalamata, cerignola, greek
Pickles – add some gherkin pickles (the small, sweet ones). We also love adding pickle spears.
Nuts – add some cashews, peanuts, almonds, pecans, walnuts, or macadamia nuts
Spreads – honey, red pepper jelly, soft butter, tzatziki.
Herbs – try some fresh rosemary, mint, thyme, or parsley to add a pop of fresh color.
Veggies – peppers, cucumbers, cherry tomatoes, artichoke hearts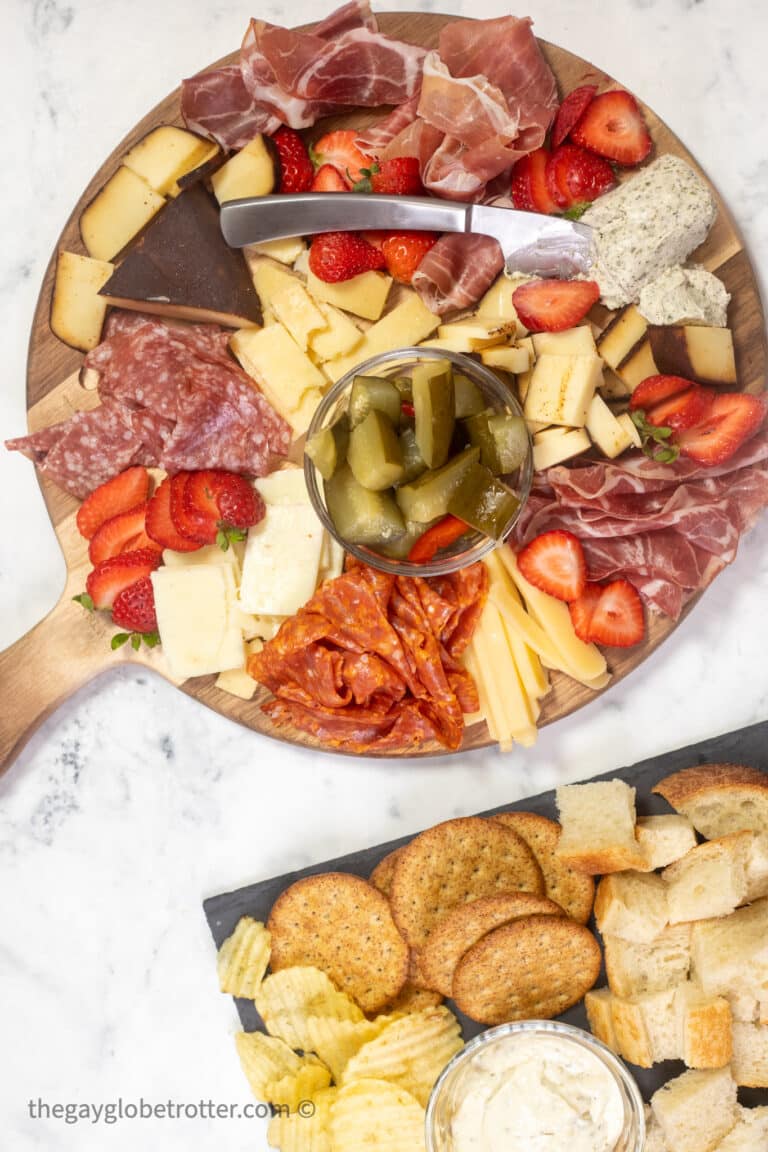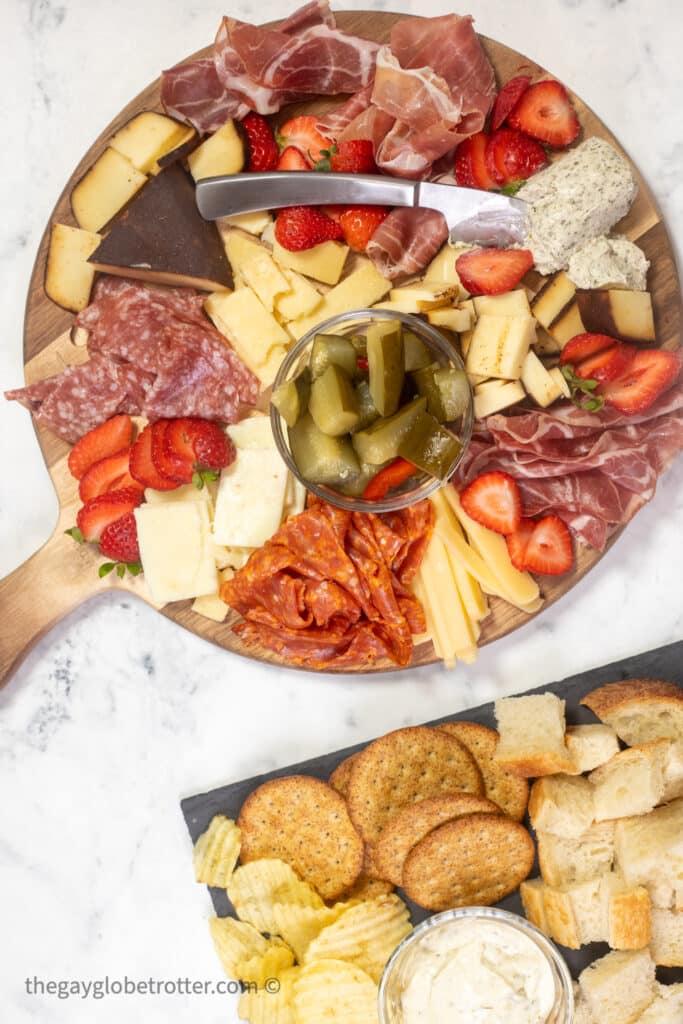 Charcuterie Board Styling Tips
Staring at an empty board and trying to style it can feel daunting, but with these tips you'll look like a pro in no time.
Start with one type of meat, and accent around it. We like to start with something like salami, and place little styled piles of 4-5 around the board. Then, move onto a bread or cheese, to go next to it.
If you have wet items like olives or pickles, place them in little ramekins. You can style around these, and it'll make less of a mess.
Once all of the meat and cheese, and bread is laid out, start accenting. Find little holes in the board, and fill them with berries, nuts, herbs, or other smaller items.
If you have a smaller board, do the bread, crackers, and chips on a separate board, and put all of the toppings on one board. This saves time, and keeps everything neat and tidy.
Don't forget to add small knives and spoons for the spreadable cheeses and jellies. This is often overlooked!
When styling each item, place it in a few spots around the board, rather than just putting it all in one corner. This creates balance in the board, which is attractive to the eye!
When adding berries and other small items, add them in odd numbers like 3 or 5. The mind finds odd numbers more visually appealing.
Making Charcuterie In Advance
Often, charcuterie needs to be made ahead of time. Here are some tips to make sure everything is fresh and delicious when it's time to serve it up:
Don't add the crackers, chips, or bread until right before serving. Keep them separate so they don't become soggy or stale.
Olives, pickles, or anything in ramekins should be kept separate until serving. We like to place the little bowls on the charcuterie board, style it, then add those ingredients right as we serve.
Wrap the board with saran wrap before storing in the fridge. You can make the charcuterie up to 5 hours in advance, as long as it's wrapped tightly.
More Popular Appetizer Recipes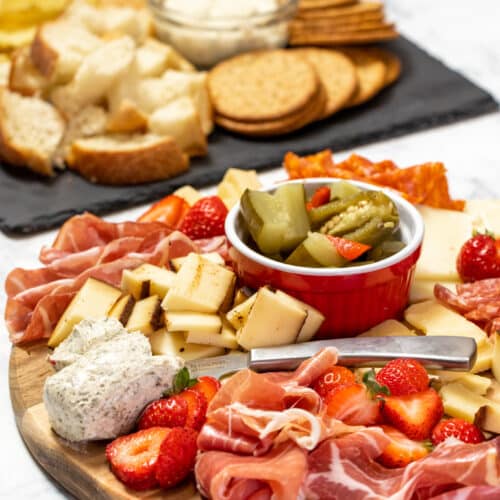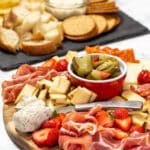 Rate this Recipe
How To Make A Charcuterie Board
Grab everything you need to make a show stopping homemade charcuterie board.
Print Recipe
Pin Recipe
Tried this recipe?
I'd love to hear what you think. Leave a comment and rating below!
Ingredients
Cheeses
10

oz

soft cheese

brie, Boursin, goat cheese, fresh mozzarella

10

oz

medium cheese

aged cheddar, white cheddar, swiss, emmental

8

oz

strong cheese

gruyere, blue cheese, cambert
Meats
Genoa salami

thinly sliced

Soppressata

thinly sliced

Pepperoni

thinly sliced

Mortadella

thinly sliced

Prosciutto

thinly sliced
Breads, Crackers
24

slices

crostini

24

crackers

a variety

1

cup

tortilla chips
Spreads, Jellies
⅓

cup

red pepper jelly

⅓

cup

tzatziki

⅓

cup

apricot jam
Fruits & Nuts *see note
1

cup

nuts

varied - almonds, macadamia nuts, pecans, walnuts

½

cup

berries

blueberries, strawberries, blackberries, raspberries

½

cup

other fruit

grapes, apples, pears, apricots
Other Ingredients *see note
gherkin pickles

olives

an assortment

marinated artichokes

drained well

fresh herbs

rosemary, thyme

vegetables

cucumber slices, cherry tomatoes, bell peppers
Instructions
Before creating the charcuterie board, arrange all of the ingredients on a working surface so you don't miss anything.

Begin by placing ramekins on the board in random locations. These will be for spreads, as well as ingredients like olives, or artichokes.

Working around the bowls, with one ingredient at a time, place about 5-8 of the ingredient in a few places around the board. Continue working, creating small areas with different ingredients, until the board is filled up with meats, cheeses, and bread ingredients.

Use the other ingredients, fruits, and nuts to fill in any gaps left on the board, as well as add color and visual interest.

Before serving, add knives for soft cheeses and spreads. Add the ingredients in the ramekins last.
Notes
*pick a selection of fruits and nuts to finish off the presentation on the charcuterie board.
*pick a selection of other ingredients to tie the board together and marry some of the flavors of the meats and cheeses.
Calories:
512
kcal
|
Carbohydrates:
44
g
|
Protein:
11
g
|
Fat:
34
g
|
Saturated Fat:
12
g
|
Trans Fat:
1
g
|
Cholesterol:
54
mg
|
Sodium:
436
mg
|
Potassium:
296
mg
|
Fiber:
4
g
|
Sugar:
10
g
|
Vitamin A:
735
IU
|
Vitamin C:
2
mg
|
Calcium:
136
mg
|
Iron:
2
mg
Pin it for later: