This is the best Italian meatball recipe you'll ever make. These easy Italian meatballs bake in just 20 minutes, creating a juicy savory meatball that is perfect over spaghetti, or as an appetizer with your favorite dips!
I love homemade Italian meatballs so much. On spaghetti, savory cranberry meatballs, on pizza, anywhere I am happy. This simple recipe is perfect for anything. I actually have it memorized for those times I am craving a midnight snack!
Meatballs are essential to any appey spread. I love serving these next to bacon wrapped brussel sprouts, pita bread and tzatziki, and a Korean fried chicken bites. Add a few popular dips like sweet and sour and barbecue, a couple cocktails, and you have yourself the perfect party menu!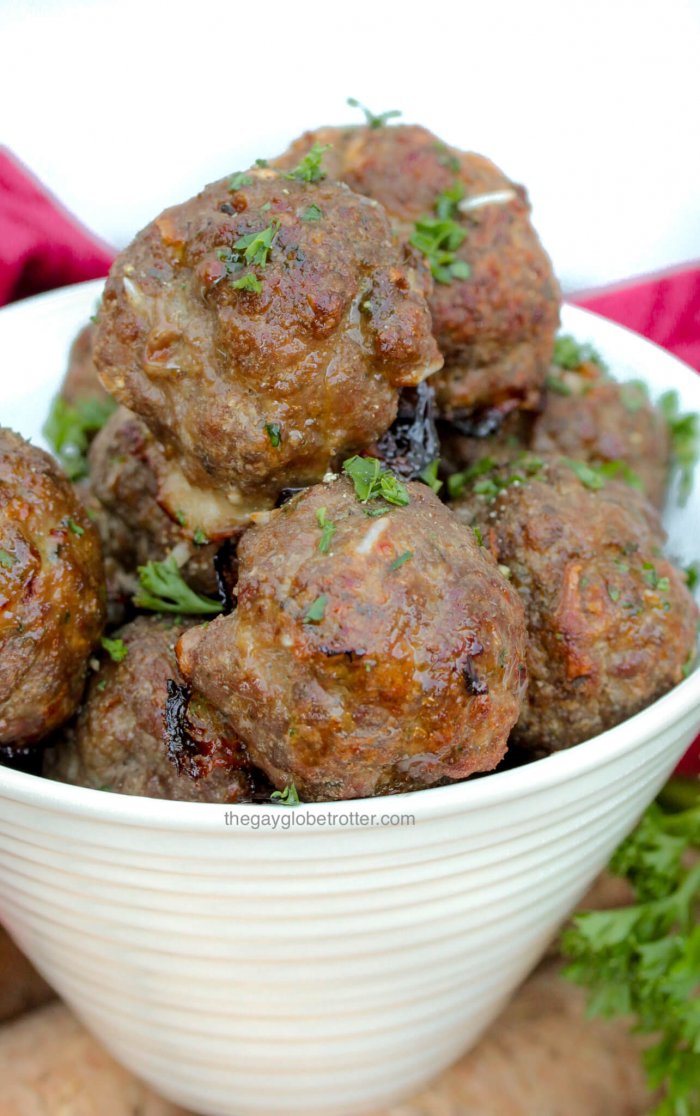 How To Make Italian Meatballs
Italian style meatballs aren't all that different than regular meatballs. They contain Italian seasoning, which is really just a blend of oregano, rosemary, and thyme. For color, I also add some fresh chopped parsley to these Italian meatballs. Get creative with it! If you like spicy Italian meatballs, add some red chili flakes. Garlic powder is also a great addition to this recipe!
The trick to making meatballs is getting the right consistency without over mixing the meat. Over mixing causes the meatballs to become dense and dry. To keep things light and juicy, mix the ingredients until just combined!
Use a cookie scoop to ensure the Italian meatballs are all the same size, ensuring they are all cooked at the same time. This also speeds the process up a ton, as they are almost formed for you!
How To Cook Italian Meatballs
I prefer baking these meatballs because I find it so much easier. Bake them until they reach an internal temperature of 160°F. I like to bake mine a little longer than in the recipe sometimes if I am hoping for an extra crispy exterior. If I am adding them to a sauce, then I don't usually bother.
If you prefer pan frying Italian meatballs, just fry them in a bit of olive oil for 5-7 minutes on each side. Remember to check the temperature before serving them!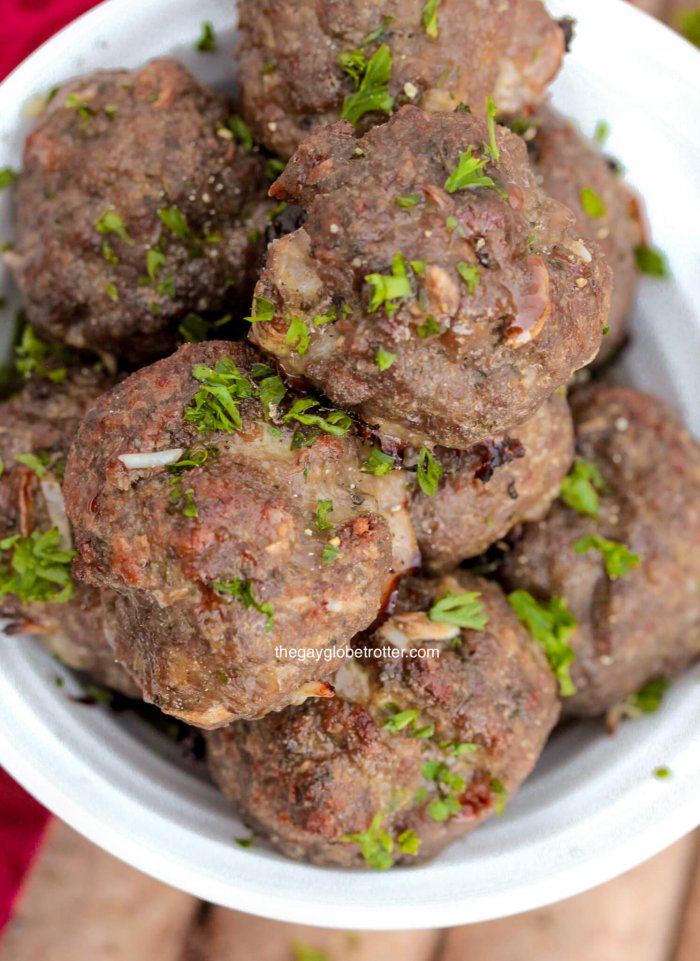 Can You Use Italian Meatballs For Sweet and Sour Meatballs
Of course! These are the most versatile meatballs you can make, and the only real difference is the addition of parmesan cheese and some seasoning.
Sweet and sour meatballs, barbecue meatballs, cheesy meatball dip, you name it. Get creative!
How To Make Italian Wedding Soup Meatballs
This recipe works perfectly for Italian wedding soup meatballs! Just make them about the size of a teaspoon (based on preference) and adjust the cooking time accordingly.
Don't forget to use a thermometer to ensure they are cooked correctly before you serve or use them!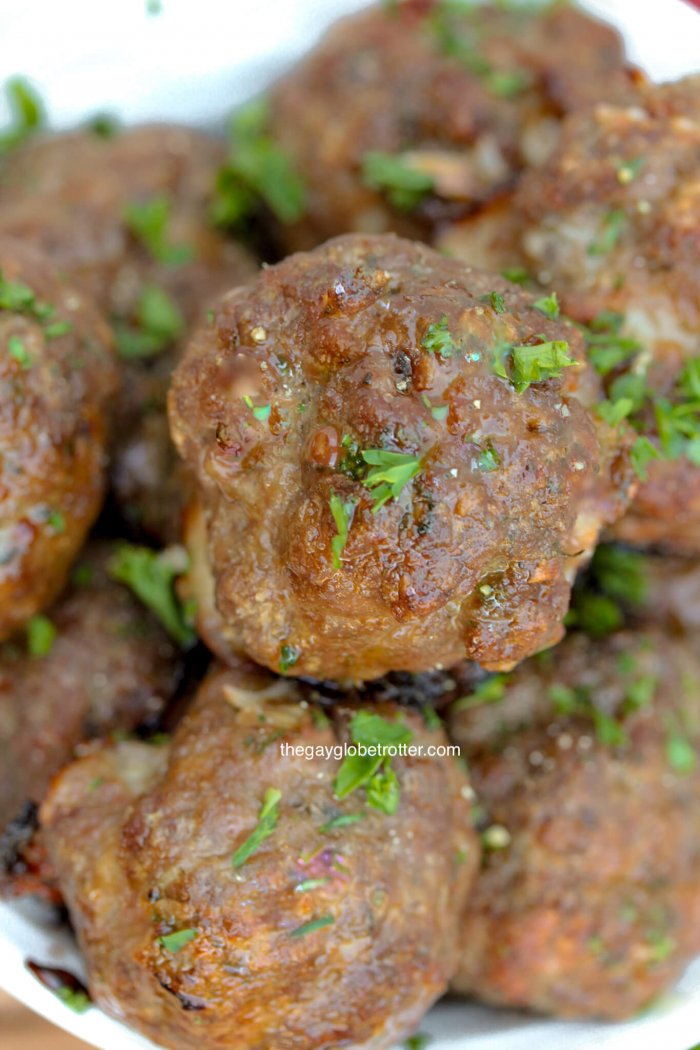 Can You Freeze Meatballs
Of course! These meatballs freeze amazingly. I love making them in batches so I can pop them in the oven when I am in the mood for a snack or need them for a meal.
Remember to flash freeze them on a baking sheet before putting them in a plastic bag so they don't freeze together!
More Recipes You'll Love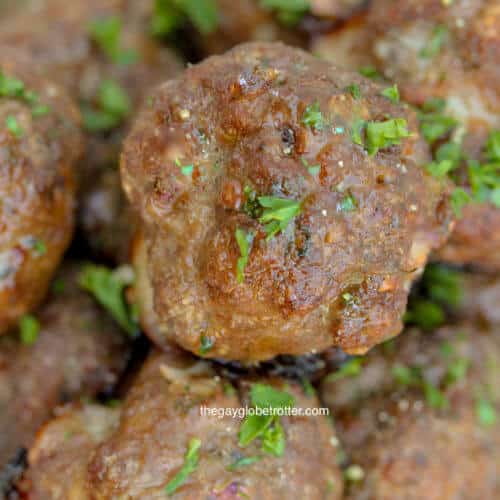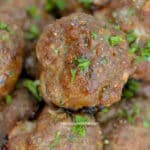 Rate this Recipe
The Best Italian Meatball Recipe
These are the easiest and juiciest Italian meatballs ever. They are perfect with spaghetti, or as an appetizer. The options are endless!
Print Recipe
Pin Recipe
Tried this recipe?
I'd love to hear what you think. Leave a comment and rating below!
Ingredients
1

pound

lean ground beef

1/3

cup

milk

2

eggs

1/4

cup

Italian seasoned breadcrumbs

1/2

teaspoon

garlic powder

1/2

package

french onion soup mix

1/4

cup

parmesan cheese

shredded

3

tablespoons

fresh chopped parsley
Instructions
Mix all ingredients in a mixing bowl until just combined, being careful not to over mix.

Use a cookie scoop or your hands to create approximately 24 meatballs, about 1 1/2 tablespoons each.

Place meatballs 1 inch apart on a baking sheet lined with parchment paper.

Bake for 18-20 minutes or until meatballs are cooked through.
Calories:
46
kcal
|
Carbohydrates:
2
g
|
Protein:
5
g
|
Fat:
2
g
|
Saturated Fat:
1
g
|
Cholesterol:
26
mg
|
Sodium:
148
mg
|
Potassium:
86
mg
|
Fiber:
1
g
|
Sugar:
1
g
|
Vitamin A:
36
IU
|
Vitamin C:
1
mg
|
Calcium:
24
mg
|
Iron:
1
mg
Tried this recipe? Let me know how you liked it below!
I Would Love it if you pinned this to your recipe board!