This cucumber vinegar salad is filled with fresh dill, cucumbers, and onion slices quick pickled in a delicious, vinegar based dressing.
We love serving cucumber and onion salad next to everything, from swedish meatballs to beef bourguignon. This classic European side salad goes with everything!

German cucumber salad, Swedish cucumber salad, whatever you call it, goes with everything! We serve this healthy cucumber salad at almost every potluck, it's so light and delicious. It's great next to heavy meals, but perfect as a light summer salad too. Plus, you can make it in advance!
How To Cut Cucumber For Salad
For this easy cucumber vinegar salad recipe, you want to ensure the cucumbers are sliced as finely as possible. The thicker they are, the harder it will be for the sugar and vinegar to permeate the cucumbers.
I like to use a mandolin to ensure my slices are consistent and thin. If you have a sharp knife, that will work too.

Do You Peel The Cucumbers?
For this easy salad, it isn't necessary. The peel adds a ton of color to the salad, and the vinegar helps to break down the toughness in the peels while they soak.
How To Make Cucumber Onion Vinegar Salad
To make this cucumber onion vinegar salad recipe:
Slice the cucumbers and onions as thin as possible, then add them to a bowl.
Add remaining ingredients, then cover loosely with plastic wrap.
Place a small mixing bowl into the salad, and add weight to it (I like to use a bag of sugar or flour). This will press the cucumber and onion slices, to ensure everything is air tight, and help to ensure all of the sugar, vinegar, and other flavors can get into the cucumbers quickly.
Allow to sit a minimum of 30 minutes in the fridge before serving.

Can I Freeze Cucumber Salad
Cucumbers normally need to be blanched to freeze by conventional methods. However, cucumbers saved in vinegar or brine will freeze and defrost well for cooking.
If you have leftover cucumber vinegar salad, you can freeze it for up to six months for future cooking. I would avoid serving this as a fresh salad once frozen, as the textures and flavors may change while freezing.
If you freeze cucumber salad with vinagrette, it would be delicious used in dips (fresh or blended), and even as a fresh but acidic addition to fresh salsa or bruschetta!
What To Serve With Cucumber Salad
This salad is uber popular as a summer side, but it's commonly served next to heavy meals in European culture.
While I was in Stockholm, we had this cucumber vinegar salad served next to swedish meatballs every time we had them!
Anything comforting will benefit from the colorful crunch of this cucumber salad, but it works so well next to light, fresh dishes like shrimp ceviche too.

Tips For Making Cucumber Vinegar Salad
Use a big mixing bowl. Pressing the salad with a couple pounds of weight is my secret to a perfect cucumber vinegar salad, but a lot of liquid comes out of the cucumbers while it sits. Make sure you use a pretty large bowl, or check on it every 15 minutes while it is weighted.
Serve with a slotted spoon. If you're at a potluck or event, make sure you serve this salad with a slotted spoon so plates don't get vinaigrette everywhere.
Slice the cucumbers thin: use a mandolin to slice the cucumbers as thin as you can. Make sure you use the guard so you don't hurt yourself.
Fresh dill is best, but if you only have dried, it works too. You will need 4 teaspoons of dill, as one teaspoon of dried herbs is the equivalent of one tablespoon of fresh.
You may need to adjust the amount of sugar to personal taste, so start small. I like to add a couple teaspoons, then sweeten it if it tastes too acidic.

More Delicious Salad Recipes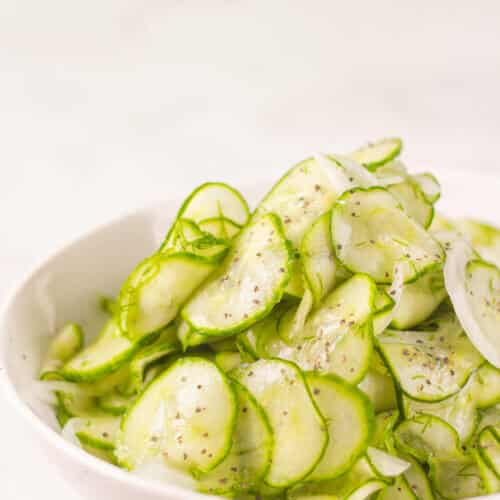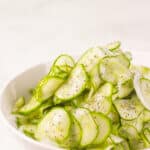 Rate this Recipe
Cucumber Vinegar Salad
This quick and easy salad is filled with fresh dill, and quick pickled to give you a fresh and delicious side dish for mains like swedish meatballs!
Print Recipe
Pin Recipe
Tried this recipe?
I'd love to hear what you think. Leave a comment and rating below!
Ingredients
2

english cucumbers

thinly sliced

1

small

white onion

thinly sliced

1/2

cup

white vinegar

4

tablespoons

fresh dill

chopped

2

tablespoons

granulated sugar

1/2

teaspoon each

salt and pepper
Instructions
Using a sharp knife or mandolin, slice cucumber into thin slices.

Slice onion in half, then thinly slice to create half rings.

Add onions and cucumbers to bowl with dill. Add vinegar, sugar, salt and pepper.

Cover with plastic wrap, then use another mixing bowl pressed into the covered salad to add pressure (I like to place something in the bowl to add weight). Refrigerate for at least 30 minutes (the longer the better) to overnight.

Serve with salt and pepper, and a slotted spoon.
Calories:
39
kcal
|
Carbohydrates:
9
g
|
Protein:
1
g
|
Fat:
1
g
|
Saturated Fat:
1
g
|
Sodium:
162
mg
|
Potassium:
164
mg
|
Fiber:
1
g
|
Sugar:
6
g
|
Vitamin A:
126
IU
|
Vitamin C:
4
mg
|
Calcium:
19
mg
|
Iron:
1
mg
Tried this recipe? Let me know how you liked it below!
Don't forget to pin this for later: