Air fryer turkey breast is the perfect way to enjoy deliciously juicy turkey all year long! Skin on boneless turkey breasts are air fried with seasonings so you can enjoy a tender, juicy turkey dinner whenever you'd like.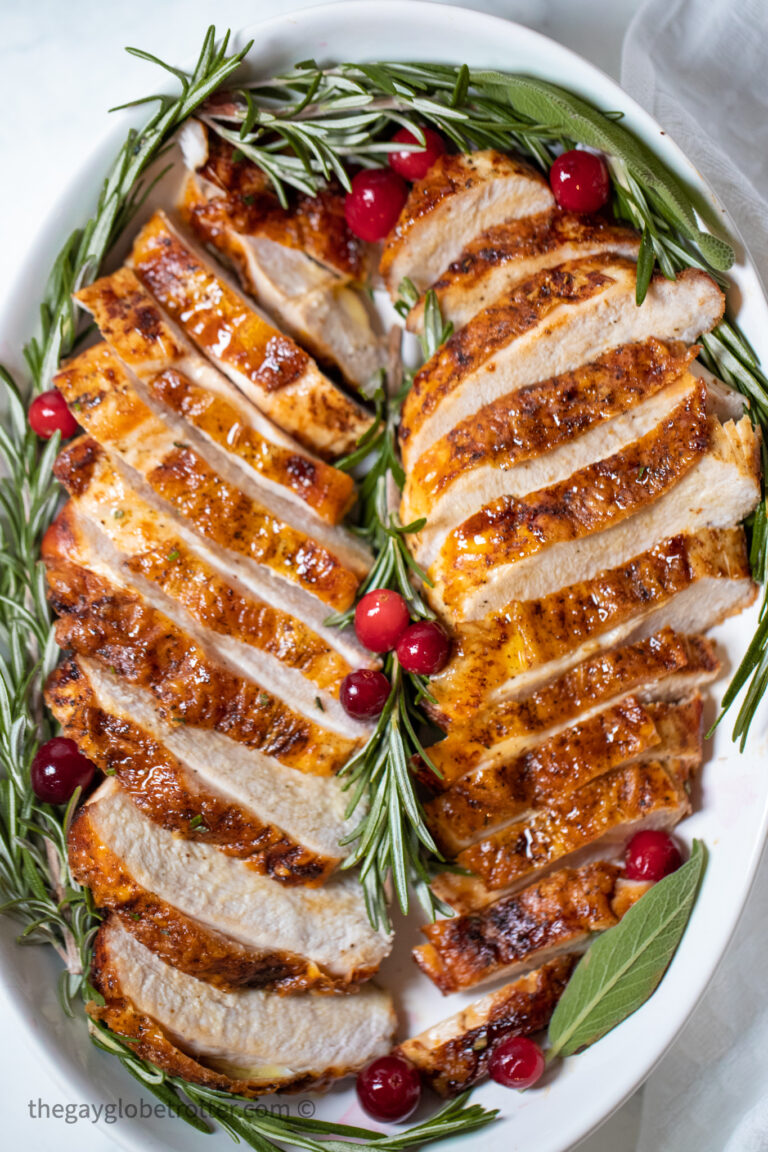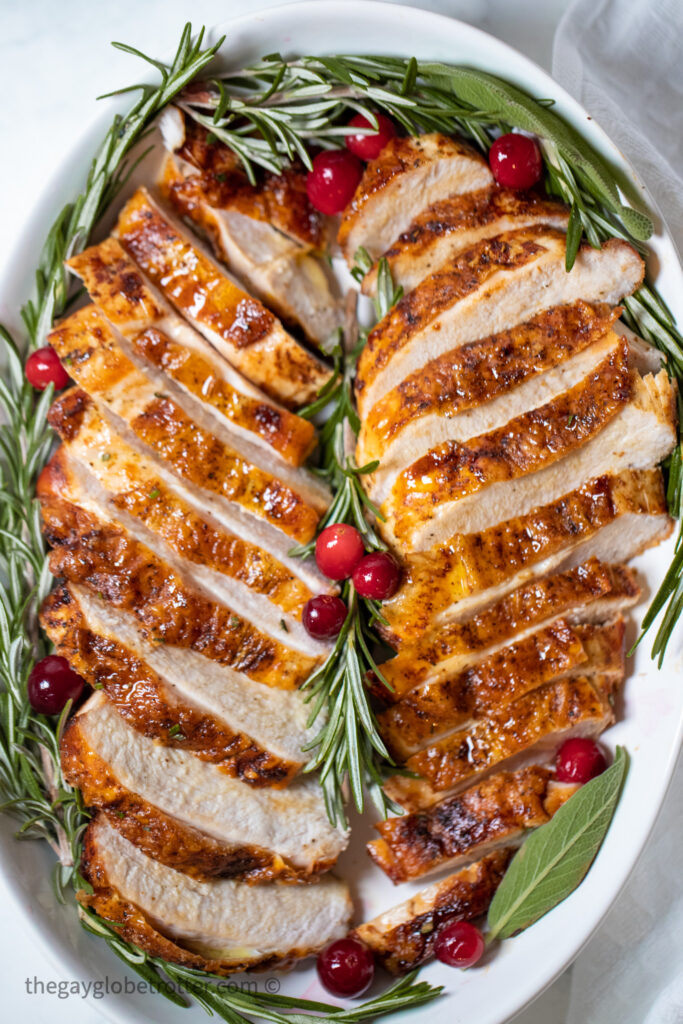 Why We Love It
Turkey dinner isn't just reserved for Thanksgiving, Christmas, or Easter. This recipe is perfect if you want a delicious turkey dinner without having to roast a whole turkey in the oven.
Turkey breast meat is lean, so it needs to be cooked quickly to avoid drying out. Cue – the air fryer!
The air fryer is perfect for cooking leaner cuts of meat (like chicken breast, tenderloin, etc.), as it gives a "sear" to the meat as it cooks, locking in the juices and keeping the meat as tender as ever.
Need turkey for another recipe like turkey noodle soup or turkey tetrazzini? This is the quickest way to whip some up!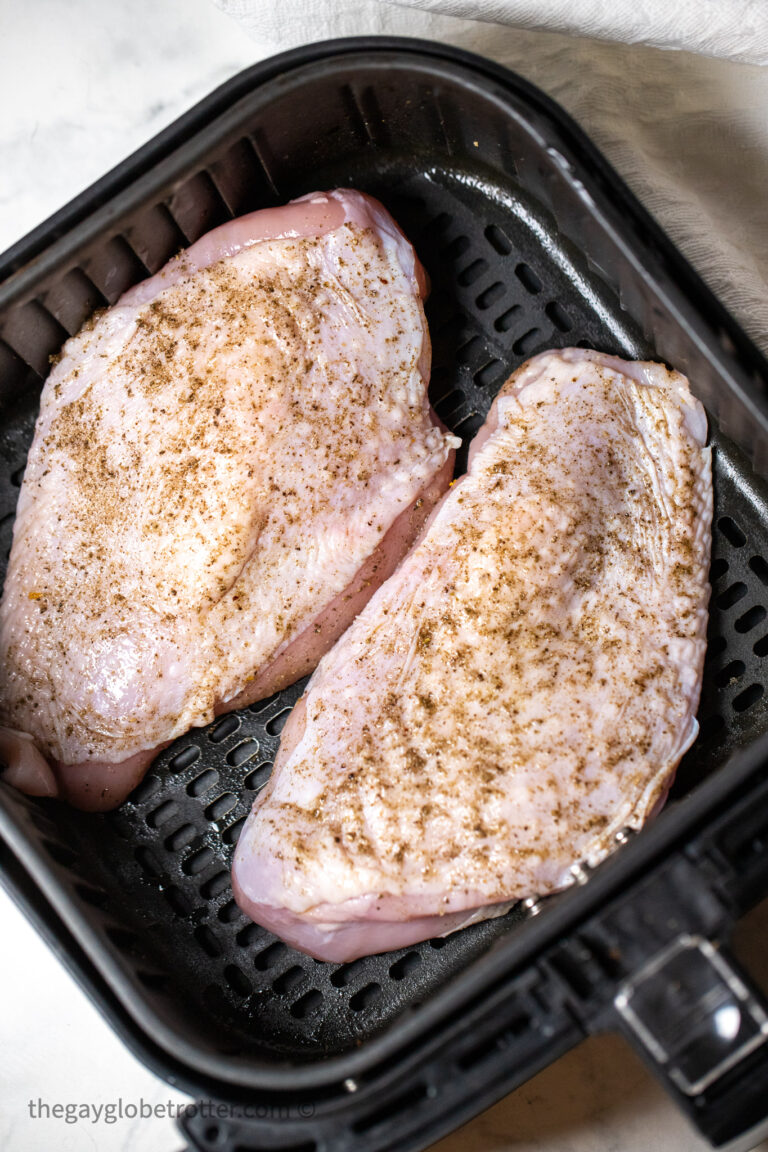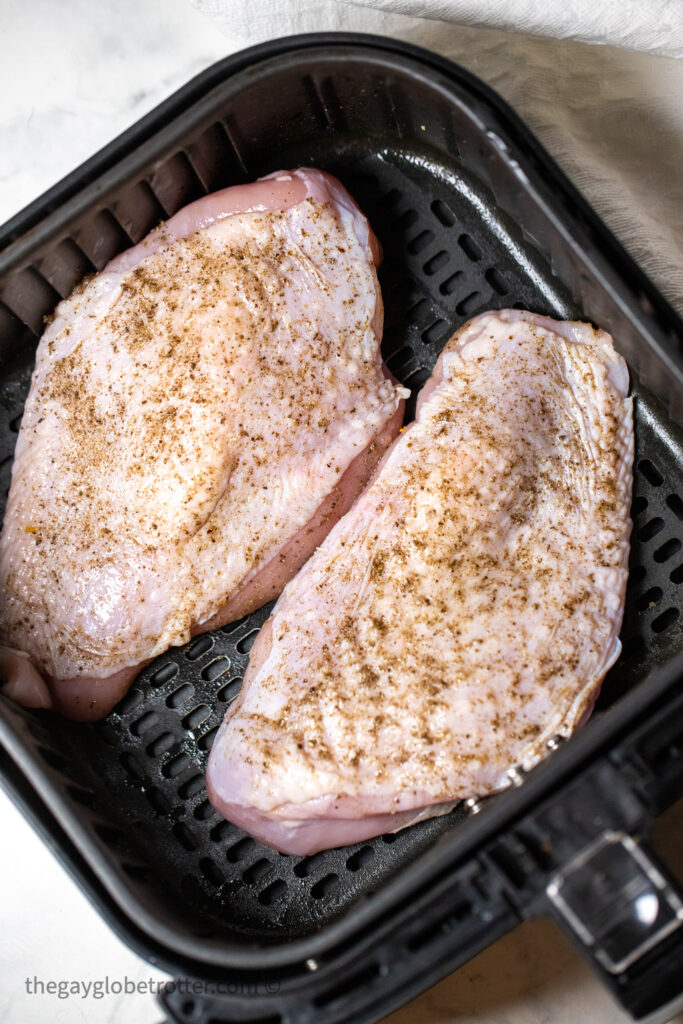 How To Make Air Fryer Turkey Breast
Preheat the air fryer to 360°F.
Pat turkey breast dry with paper towl. Rub on both sides with olive oil. Season both sides with salt, pepper, and poultry seasoning.
Cook turkey breast skin side down for 20 minutes. Flip, and air fry for an additional 20-25 minutes or until turkey reaches an internal temperature of 165°F.
Rest for 10 minutes before slicing and serving.
Turkey Gravy From Drippings
Don't forget the gravy!
Combine 2 tablespoons of butter and 1/3 cup of flour in a saucepan. Cook for 1 minute or until it smells slightly nutty and browns.
Slowly whisk in 2 cups of turkey broth. Bring to a boil, whisking constantly until thickened.
Add about a teaspoon of worcestershire sauce, and drippings from the air fryer.
Taste, and add salt and black pepper to taste.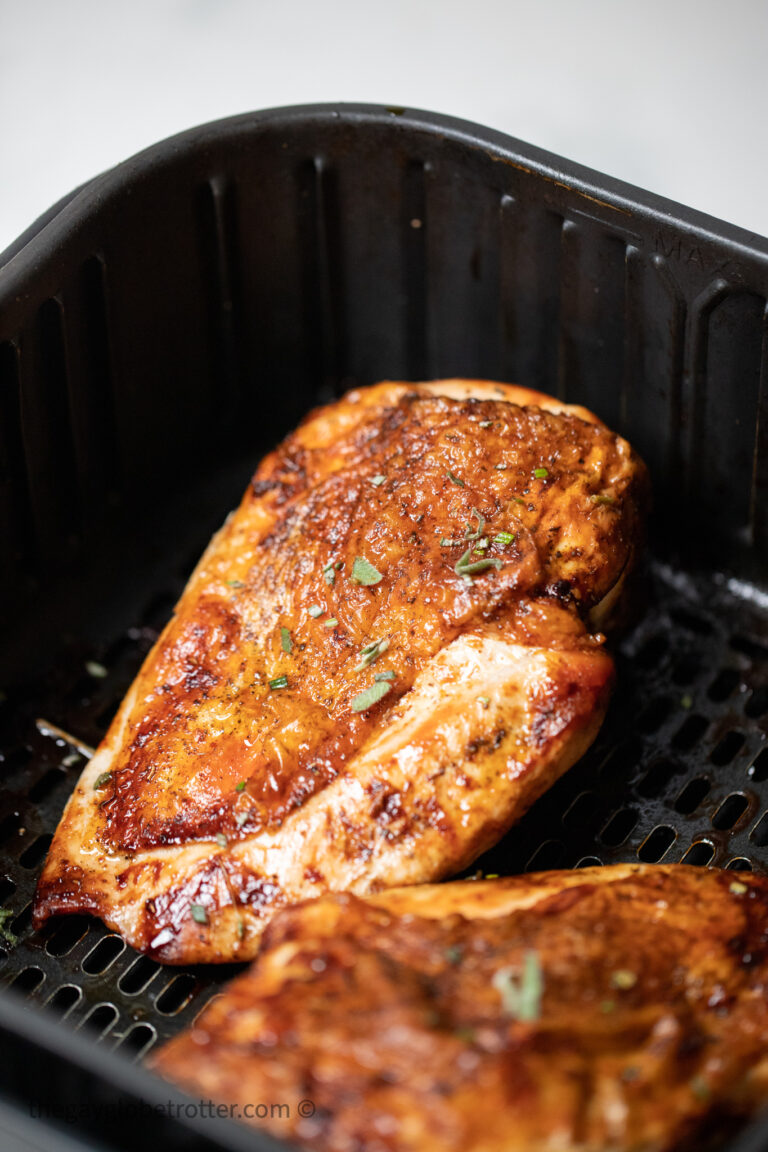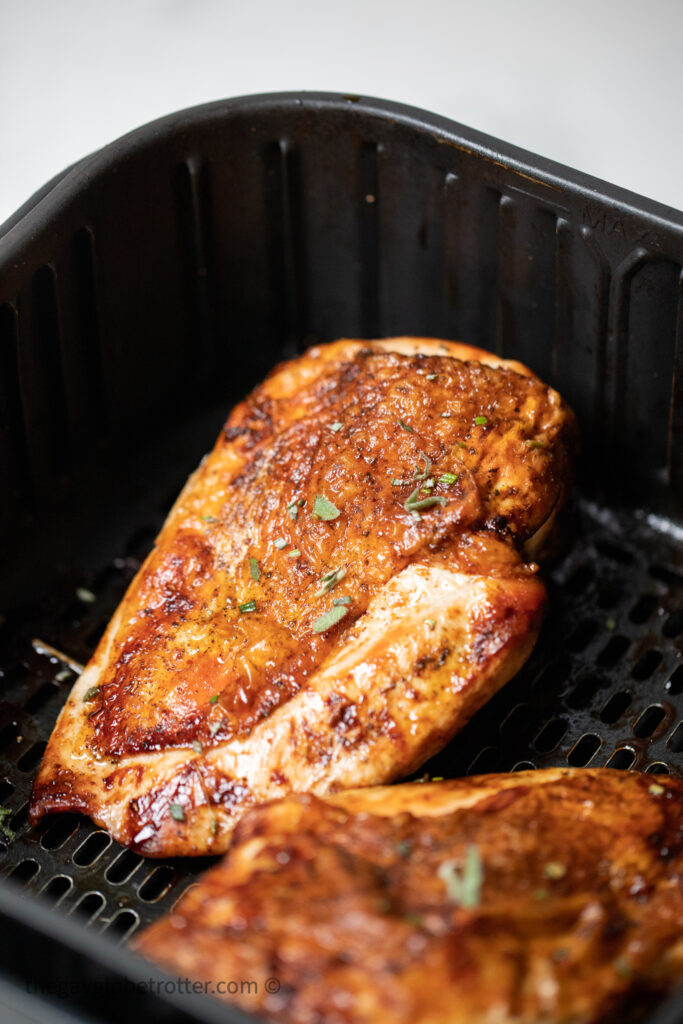 Tips For Perfect Turkey Breast In The Air Fryer
Start skin side down. The weight of the breast will help sear the skin on the bottom of the air fryer, and give you the perfect crispy skin. This also helps keep it in place, so it doesn't shrink.
Check the turkey breast early. The size and shape of the turkey breast as well as the size and shape of the air fryer will change the length of time you need to cook the breast. Start checking it about 30 minutes in.
Rest, rest, rest! Rest the turkey breast for around 10 minutes before cutting it to help the juices settle. This gives you the perfect chance to get the gravy made.
Don't forget the cranberry sauce. We always forget it in the fridge!
Turkey needs to be cooked to an internal temperature of 165°F. Use an instant read meat thermometer inserted into the largest part of the breast.
If the turkey breast is bone-in, they will take about an extra 10 minutes.
Easy Substitutions
Substitute fresh herbs for poultry seasoning if desired. Chop up 1 tablespoon of fresh rosemary, sage, and thyme. Add it into the olive oil before spreading it on the turkey breast.
We love using seasoning salt in place of the seasonings.
Two words, cajun turkey. Use cajun seasoning on the breast (about 1 tablespoon per breast) then add a little cajun into the gravy. The flavor is the best!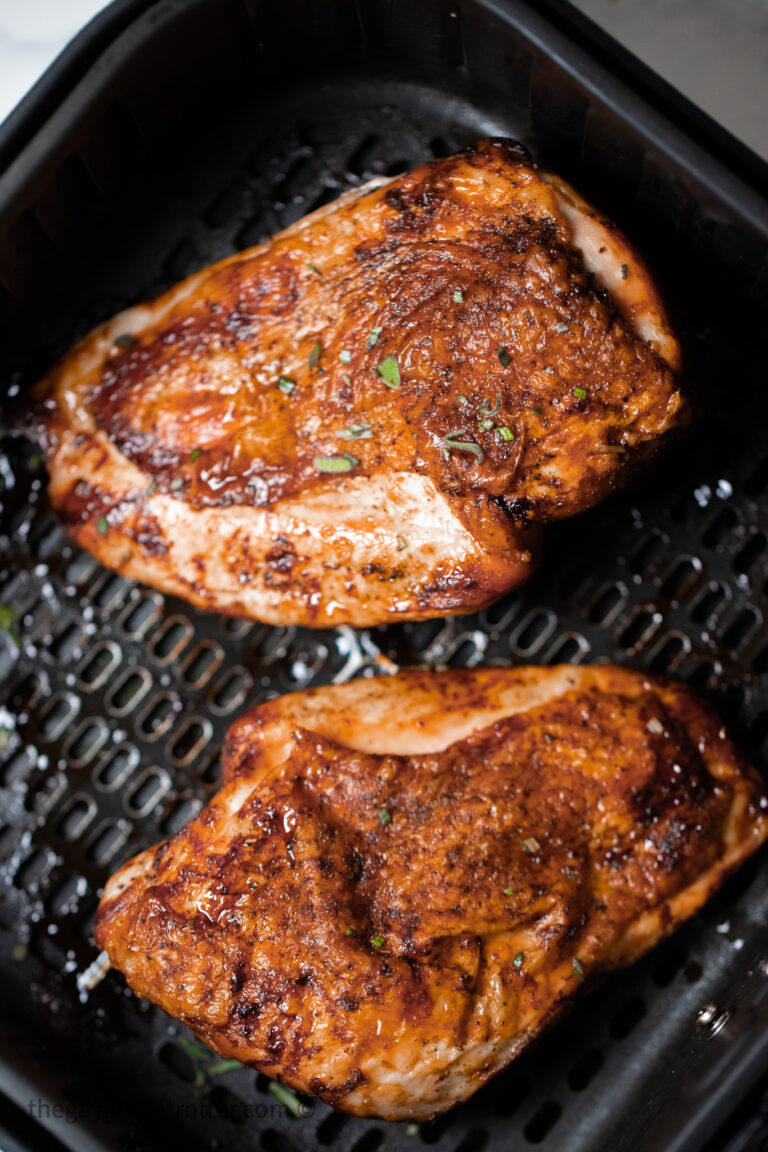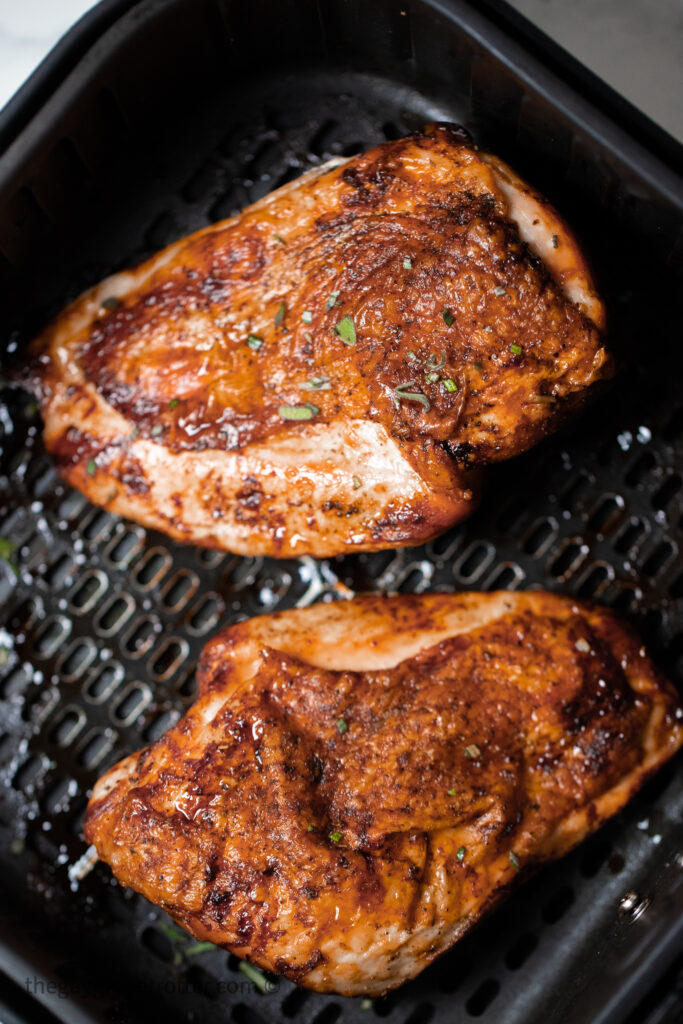 Storing Instructions
Store cooked turkey in the refrigerator for up to 4 days. Once cooled, place it in an air tight container.
Cooked turkey can be cooled and frozen for up to 8 months, stored in a freezer bag. Defrost in the fridge for 24 hours before using.
Easy Turkey Dinner Side Dishes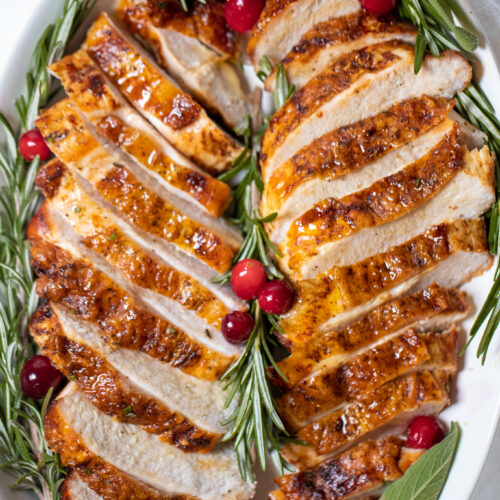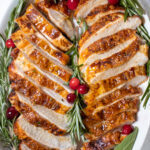 Rate this Recipe
Air Fryer Turkey Breast
This easy recipe is tender, juicy, and needs just 3 ingredients!
Print Recipe
Pin Recipe
Tried this recipe?
I'd love to hear what you think. Leave a comment and rating below!
Ingredients
2

turkey breast

boneless, skin on

2

tablespoons

olive oil

1

teaspoon

poultry seasoning

1

teaspoon

salt

to taste

½

teaspoon

pepper

to taste
Instructions
Preheat air fryer to 360°F.

Rub turkey breast with olive oil on both sides. Add poultry seasoning, salt and pepper.

Place turkey breast in preheated air fryer, skin side down. Air fry for 20 minutes.

Flip turkey and air fry for 25-30 minutes or until internal temperature reads 165°F.

Move from air fryer basket to a plate. Cover loosely with foil and rest for 10 minutes before slicing.
Notes
Don't rest turkey in the air fryer basket. It will continue to cook.
If you prefer fresh herbs, omit poultry seasoning and use sage, rosemary, and thyme.
Check turkey about 10 minutes into the second timer. The times may vary depending on the size of the turkey breasts and the size of the air fryer.
Calories:
305
kcal
|
Carbohydrates:
1
g
|
Protein:
56
g
|
Fat:
9
g
|
Saturated Fat:
1
g
|
Polyunsaturated Fat:
2
g
|
Monounsaturated Fat:
5
g
|
Trans Fat:
1
g
|
Cholesterol:
140
mg
|
Sodium:
923
mg
|
Potassium:
634
mg
|
Fiber:
1
g
|
Sugar:
1
g
|
Vitamin A:
62
IU
|
Vitamin C:
1
mg
|
Calcium:
41
mg
|
Iron:
2
mg
Pin It For Later: