This Italian pizza dough recipe is one of my favorite ways to create a light and crispy crust. It is absolutely perfect for homemade pizza night. Just add sauce, cheese, and your favorite pizza toppings!
Pizza is one of my favorite foods, and what I usually end up ordering when I can't bring myself to cook dinner at home. With this easy pizza dough recipe, I can enjoy a pizza straight from Italy just about any time I am in the mood for it!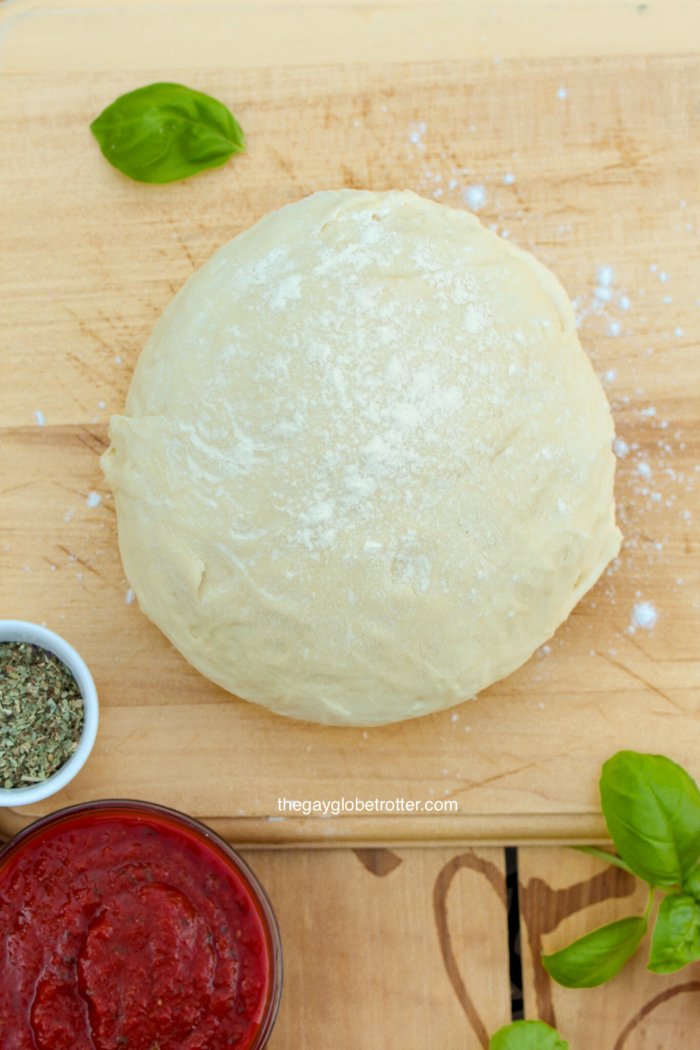 Italian Pizza Dough Recipe
Homemade pizza crust is freezable, so you can batch make it and freeze it in individual portions. Just allow it to defrost in the fridge or on the counter and roll it out when you're ready to create your pizzas!
The most important part of making this Italian pizza dough recipe is to allow it to rise correctly. If it doesn't rise, your dough will be dense and chewy after baking.
How To Make Homemade Dough
To make this Italian pizza dough:
Activate the yeast in water, oil, and sugar
Add flour and salt to the yeast mixture until a dough forms
Knead the Italian pizza dough until elastic
Cover in oil and allow to rise for an hour
Punch dough and knead for a minute or two
Divide into pizzas and roll or wrap and store
It's not difficult to make homemade pizza dough, and I love the flavor so much more than store bought. It's as authentic as it gets!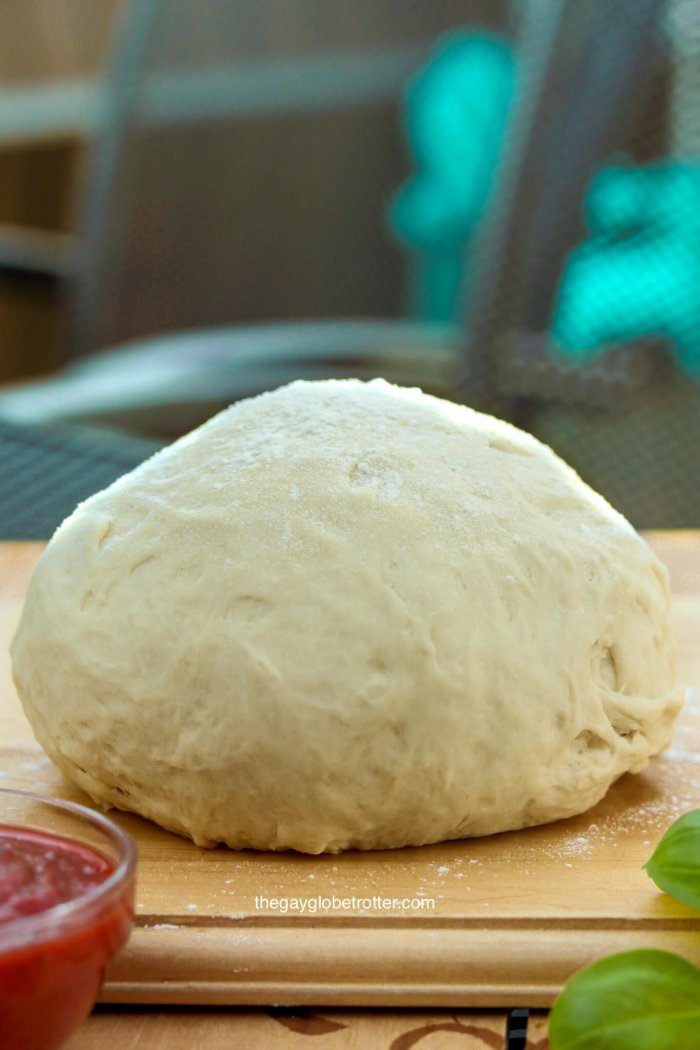 How To Knead Dough
Kneading pizza dough, while tedious, isn't a difficult job. When you knead pizza dough, it allows the gases from the yeast to be distributed throughout the dough and help to develop the gluten.
To knead pizza dough:
Lightly flour a dry work surface
Turn the pizza dough onto the work surface (which should resemble a ball)
Form the dough into a ball, then punch the dough (this is the process of pressing the heels of your hands into the dough and moving them forward slightly). The dough will be sticky, so lightly dust your hands with flour to prevent sticking. It gets easier as the dough comes together.
Turn the dough slightly, fold it in half, and punch it again. This whole process is known as 'working the dough'. There you go! You got it.
When the Italian pizza dough is done, no lumps should remain. It should have a smooth and elastic feel to it, and be slightly sticky to the touch. The dough should hold its shape when it is done.
How To Roll Pizza Dough
Here are some tips and tricks to roll out the pizza dough perfectly:
Go Thin: this pizza dough will be bread-like unless rolled out thinly. It will inflate and grow while cooking, so don't be afraid to roll it thin.
Go Slowly: because this is the perfect thin crust pizza dough, it will need to be about 1/8″ thick. Work slowly while rolling it out so you don't tear the pizza dough.
Go Floured: make sure the working surface, rolling pin, and your hands are all coated with flour. The dough rises with oil, and it will stick if you haven't added enough flour or corn meal.
Go Understanding: If you're rolling out dough vs tossing it, it won't be a perfect circle. Don't worry about having the perfect circular pizza. I promise it'll be amaing. While rolling it out, focus on an even thickness.
Go Flip It: Once the dough is almost rolled out, flip it over and check the thickness from the other side to make sure you know it's rolled out evenly. While you're at it, make sure your pizza stone will fit the pizza you've rolled out!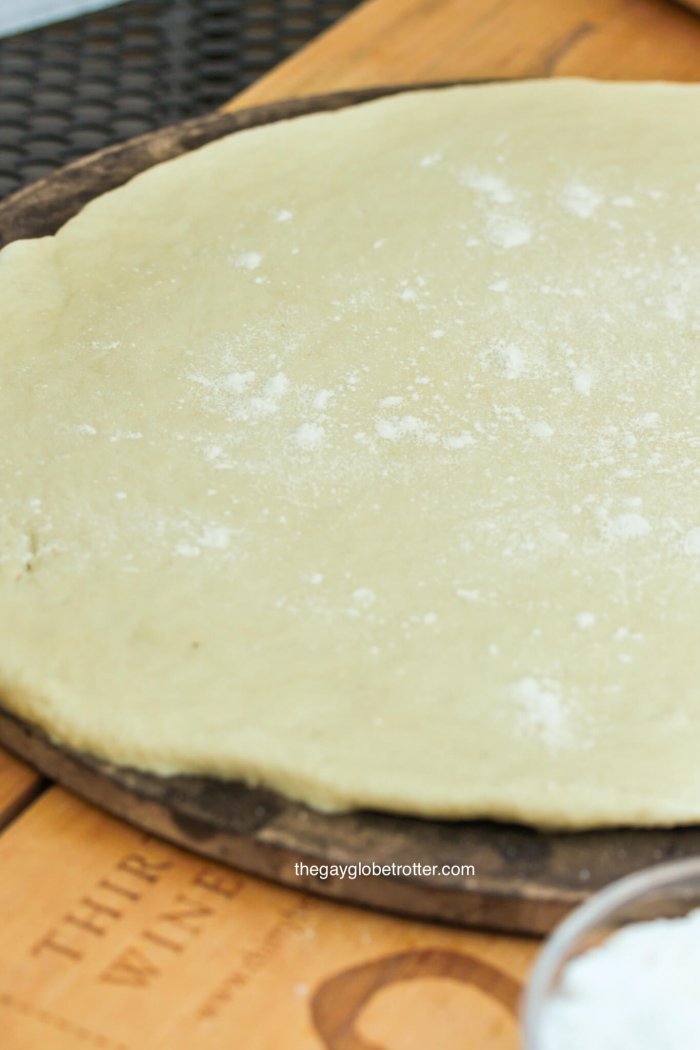 How To Make Thin Crust Pizza
In Italy, most of the time you'll be enjoying thin crust pizza. This homemade pizza dough can be used to make thin crust pizza!
If you're making thin crust pizza, it isn't imperative to allow your dough to rise for an hour. The quick pre baking of the crust will help the dough rise ever so slightly.
I have found, however, that allowing the dough to rise gives you a great crackly crust that is as close to what you'll find in Italy as ever, so I usually do it anyways.
When you roll out a thin crust pizza, you will need less dough. I like to divide this recipe into 3 thin crust pizzas rather than 2 regular ones.
For thin crust pizza, aim to roll the dough out to less than ¼" thickness. Throw it on a hot pizza stone and put it in the oven for 3-5 minutes. If bubbles begin to form, just pierce them with a fork.
Then, just flip the thin pizza crust over and add your toppings before returning it to the oven to finish baking.
Double baking may be an extra step for a ton of people, but adding that first bake ensures the bottom of the crust comes out perfectly crisp and the top has a chance to melt without burning. Trust me.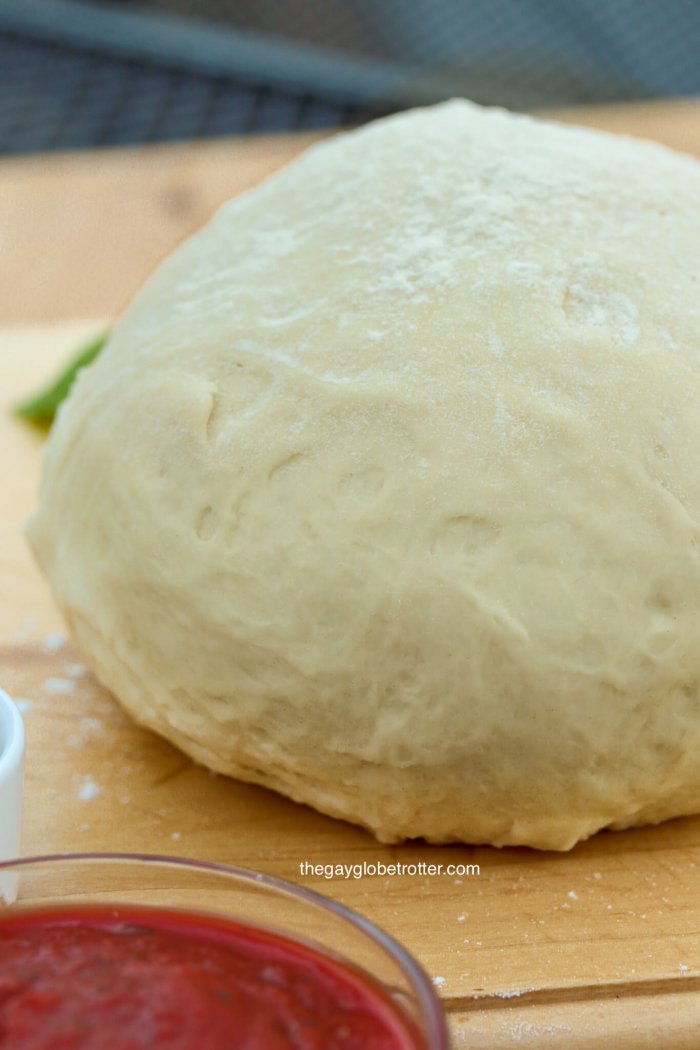 How To Make Italian Pizza
There are a ton of popular Italian pizza recipes, the most famous being the margherita pizza. Start with making a thin crust like above. Then all you need to add is pizza sauce and fresh mozzarella medallions before returning it to the oven.
I sometimes like to add basil before it cooks, but some people find this can cause the basil to wilt and not be as palatable. If you prefer, add it once the pizza comes out right before serving. Garnish the Italian pizza with fresh parmesan and for a kick, add some chili flakes (I put these on everything).
Pizza Topping Ideas
Meat
Pepperoni
Ham
Italian sausage
Chorizo sausage
Ground beef
Crumbled bacon
Grilled chicken
Grilled shrimp
Steak
Sauce
Pizza sauce
Marinara sauce
Alfredo sauce
Garlic Sauce
Olive oil and herbs
Pesto
Cheese
Fresh mozzarella
Feta
Grated mozzarella
Cheddar cheese
White cheddar
Brie
Fontina
Veggies
Red onions
Onions
Scallions
Roasted garlic
Artichokes
Spinach
Mushrooms
Peppers
Jalapenos
Basil
Rosemary
Pineapple
Arugula (after baking)
Olives
Tomatoes
Other
Truffle oil
Blue cheese dressing
Capers
Sun dried tomatoes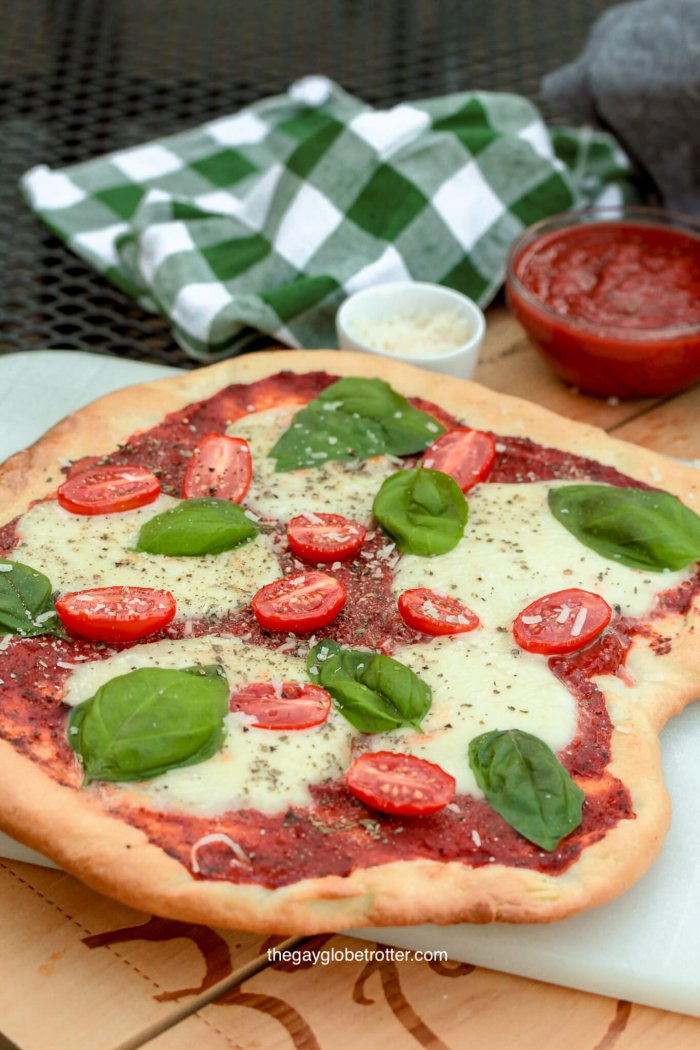 How To Freeze Pizza Dough
I make this pizza dough to freeze each month for weekly pizza nights. To freeze homemade pizza dough:
Make this Italian pizza dough up until the kneading process, including the second rise.
Split the dough into two individual balls for medium sized pizzas, or six balls for personal pizzas.
Wrap the dough tightly with plastic wrap and store in the freezer for up to 6 months.
To defrost pizza dough, just pop the dough into the fridge the day before pizza night, or defrost on the counter. Make sure to stick the dough in the fridge once completely defrosted, or it may not crisp up.
More Recipes You'll Love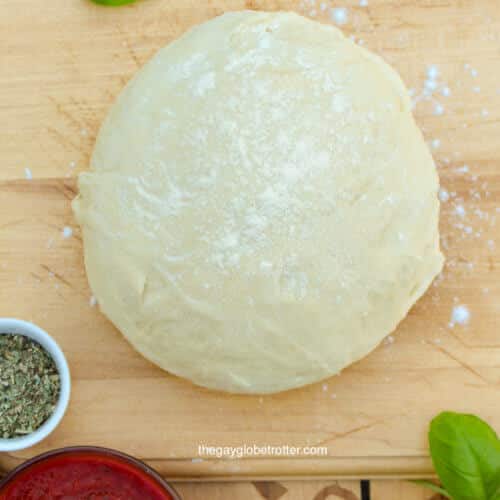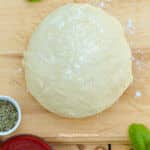 Rate this Recipe
Italian Pizza Dough Recipe
This Italian pizza dough recipe is one of my favorite ways to create a light and crispy crust. It is absolutely perfect for homemade pizza night. Just add sauce, cheese, and your favorite pizza toppings!
Print Recipe
Pin Recipe
Tried this recipe?
I'd love to hear what you think. Leave a comment and rating below!
Ingredients
1

cup

lukewarm water

1/4

cup

olive oil

1

teaspoon

sugar

2 1/4

teaspoons

active dry yeast

1 package

3

cups

all purpose flour

1/2

teaspoon

salt

kosher
Instructions
In a large bowl, add water, oil, and sugar. Sprinkle yeast on top and let sit for about 5 minutes or until foamy.

Meanwhile in a medium bowl, combine flour and salt. Add gradually to the yeast mixture. Add more flour or water as needed while you work the dough.

Continue to mix pizza dough until it feels elastic. Turn it onto a floured surface.

Knead the dough for a minute and a half or until smooth. Do not overmix or the dough will become tough.

Place the dough in a medium bowl, drizzle with olive oil, and flip a few times to coat it. Cover tightly with plastic wrap and allow to rise for 1 hour.

Punch dough down and knead on a lightly floured surface for 1-2 minutes or until smooth.

Divide into 2 (or 6) pieces and roll out into pizzas.
To Bake:
Heat a pizza stone in the oven at 425°F.

Roll pizza out to desired thickness, 1/4" for a standard pizza and slightly thinner for a thin crust pizza.

Brush pizza with olive oil and place on heated pizza stone, olive oil side down. Bake for 5-8 minutes or until underside is browned. If bubbles appear while baking, pierce with a fork.

Flip pizza onto a working surface. Add sauce and desired toppings to the browned side of the pizza crust and return to the oven for an additional 7-10 minutes or until cooked through and toppings are melted.
Notes
Divide dough into 6 pieces for individual pizzas, or 2 pieces for regular pizzas.
Dough may be made ahead and frozen for up to 3 months.
Tried this recipe? Let me know how you liked it below!
I would love it if you pinned this for later!