Whether you plan on touring the historical sites while do study abroad in Italy or spending your days lounging on the beach, this Italy packing list has everything you need and more.
You will be learning how to pack for your trip for Italy, as well as some tips for getting the most out of your destination, whether you going in April when it is cooler or during the summer. Let's get packing!
Italy is one of the most popular travel destinations for solo travelers, couples, and even business travelers from every corner of the globe.
And why shouldn't it? Italy has everything (more is covered in my Italy travel guide), from mountains to beaches to exquisite cuisine, and fascinating history and architecture. There is so much to discover that you will probably have to go back for more!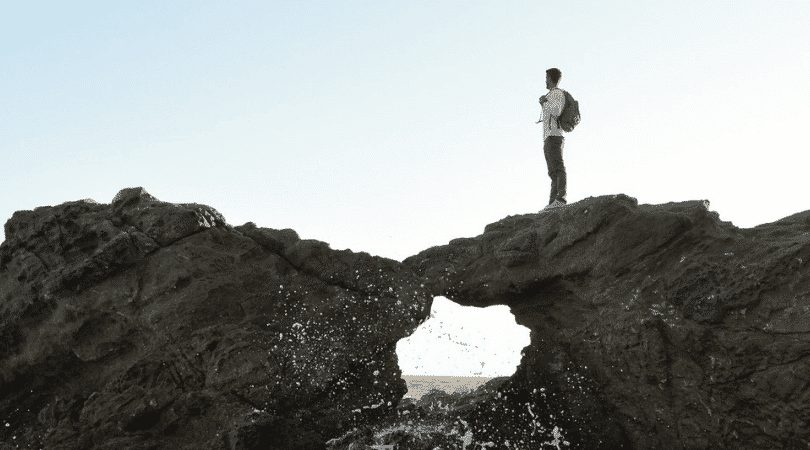 If it is your first time (or even your fifth time), you might be wondering how you should be packing for a trip to Italy. Most people will overstuff their suitcases or underestimate the climate changes from the north to the south. Whether you are going for 3 weeks or 3 months, your travel packing list remains the same.
That's why I devised this Italy packing list to help you bring the essentials so you can buon viaggio (have a nice trip)!
When To Visit Italy
Planning a trip to Italy boils down to what you want to do and where you want to go. Do you want to lounge on a beach or check out the vineyards? Learn about history or check out the latest fashion crazes? Seeking the thrum of the city or the seclusion of rural landscapes? Italy is a large country with several distinct regions, after all.
Italy's overall best months are between April to June and again between September and October, since both of these periods bring moderate temperatures throughout the country, sunny skies, fewer tourists, and lower prices. Flowers are everywhere, too. While this isn't considered peak season, visiting Italy in April is ideal. The average temperature is around 16-18°C (60-65°F) during the day. Expect it to get cooler in the evening.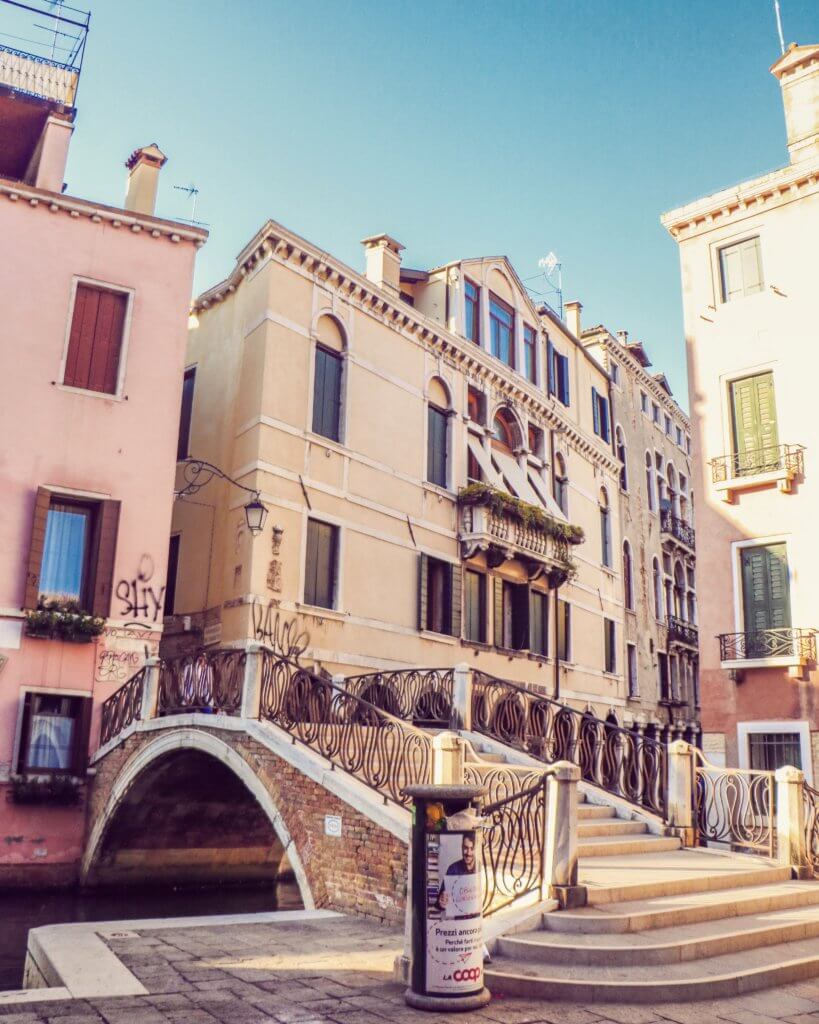 Italy's peak season is from mid-May through July and throughout September. Generally, summer is when visitation is high, but August is considered the low season, since most Italians go on vacation in August. During summer, all the way into August, the temperatures are extremely high, with the most extreme heat being in the south. You will find that the big cities, like Venice, Florence, and Rome, are overrun with other tourists.
In May, northern Italy averages around 18°C (64°F). By the end of May, it's running around 21°C (69.8 degrees Fahrenheit). Southern Italy averages around 23°C (73.4°F) in May, and the average precipitation is about 60 mm, which is rather low.
June marks the start of the real summer, and temperatures will spike to about 28-30°C (82-86°F), if not much higher. You can anticipate anywhere between 30-35°C (86-95°F) throughout the summer, everywhere in Italy.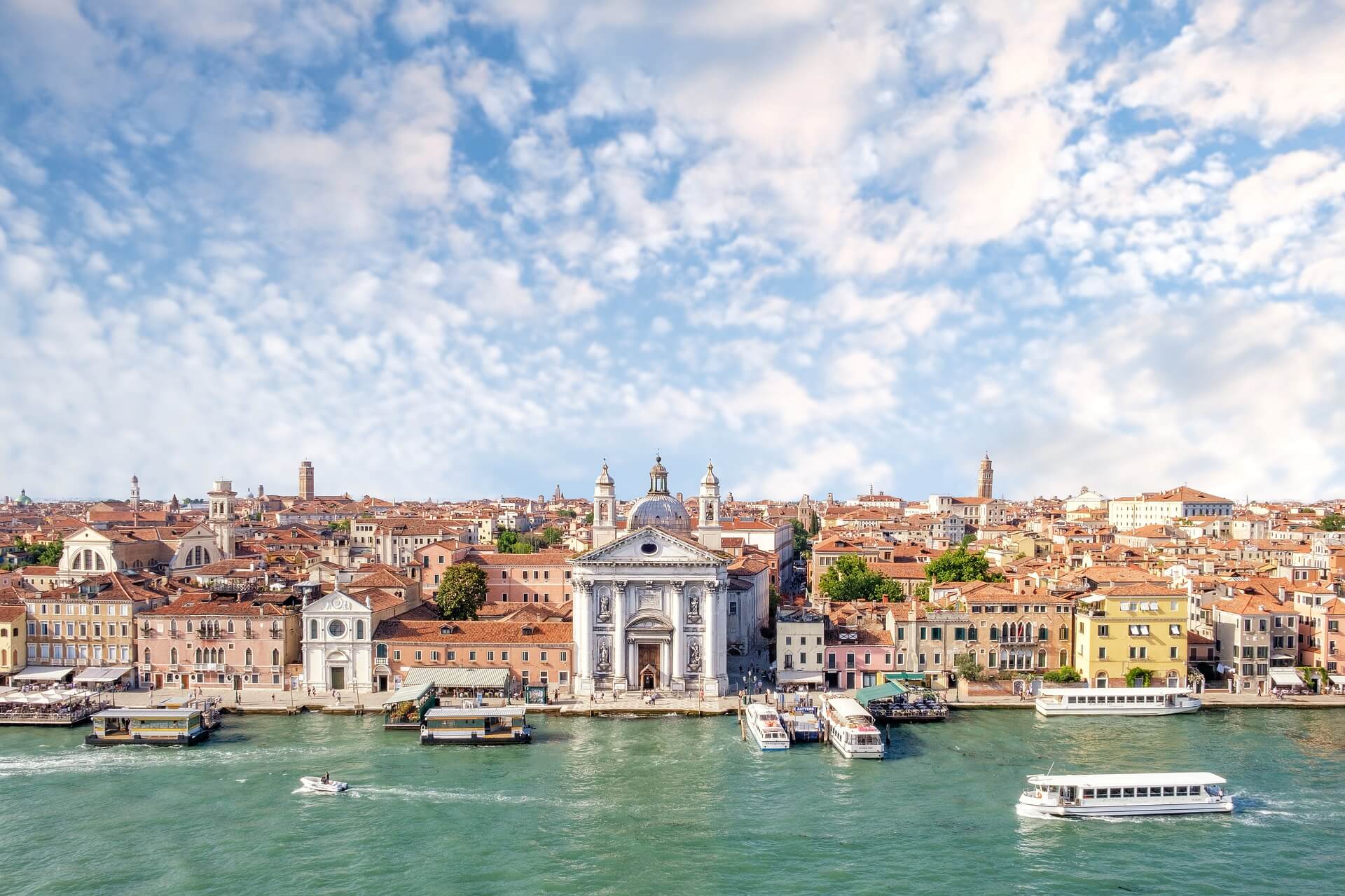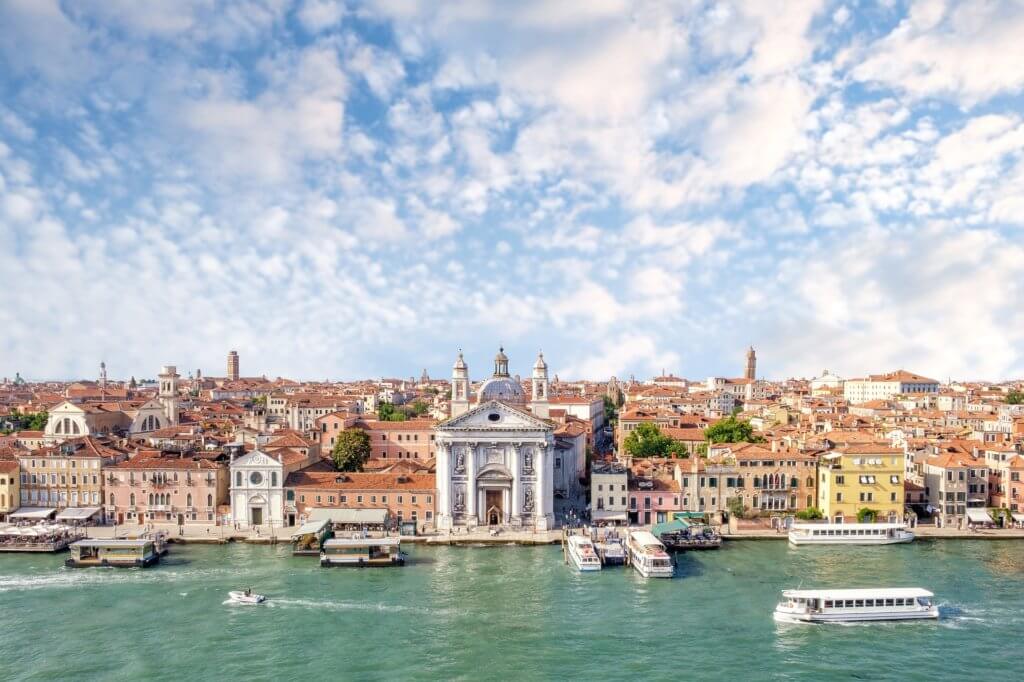 Italy Packing List – The 5 Essentials
If you have read my other packing lists for destinations like Thailand and Greece, you know I too have overpacked luggage and suffered for it. Lesson learned! That is why I cannot stress enough the importance of packing the essentials, since you can use the essentials wherever you go, no matter the season. Here are the 5 essentials on your Italy packing list:
One Fashionable Outfit
Italy is one of those places where fashion reigns. If you plan on going out to a restaurant with your partner, want to go clubbing, or even just walking around the cobblestone streets, you want to look comfortable but also fashionable. Bring at least one outfit that can be dressed up or down and that can be adapted to the fluctuating spring and summer temperatures. Denim is always in style in Italy, as are blouses for the ladies and button-downs for men. Don't forget a lightweight, waterproof jacket, just in case you run into a pop-up rainstorm.
One of the unexpected discoveries of Europe in general for many travelers is the steep cobblestone streets. While these streets are awesome to see and take pictures of, walking up and down them can be exhausting, especially if you're not wearing comfortable walking shoes.
Going on walking tours in Rome, hiking around the Amalfi Coast, shopping in Milan and Florence…you are going to need a lightweight day pack that can pack the necessary items, like your passport, water bottle, sunglasses, umbrella, and much more.
Check out my favorite day bag that I bring with me everywhere I go. It's perfectly sized and holds just about everything you'll need.
While you won't have a lot of problems drinking from the tap in Italy, there are some places where the water can taste a bit off. Since you should be focusing on sustainable travel practices and reducing plastic waste no matter where you are in the world, consider picking up a filtered reusable water bottle.
You can use it to filter the water you get from the sink at the hostel or hotel and carry it around during your walking tours and day trips in Italy.
Travel Insurance For Italy
Travel insurance is something you should never, ever forget to enroll in when you are seeing the world. You never know when your luggage is going to be lost, or when your wallet is going to be taken by a pickpocket, or you end up getting ill.
Unfortunate circumstances can happen anywhere in the world, and you won't be immune to those risks in Italy either.
I always recommend World Nomads travel insurance for complete coverage during your trip to Italy.

Men's Packing List For Italy
Both men and women dress well in Italy, and with the country having such incredible and breathtaking scenery, you definitely want to dress the part! Of course, the overall goal is to balance function with fashion. The following items should get you through 3 weeks in Italy in April and can be transitioned to summer and winter as well:
1 Dress shirt

– I own this one

1-2 Tank tops

1 pair of regular shorts

– If you're not going in April or summer, these shorts are switched to pants instead

1 pair of dress pants or jeans

5 pairs of underwear

4-5 pairs of socks

– If you plan on going to the beach more and walking less, you can drop this down to 2-3 pairs instead.

1 pair of sneakers

1 hat

– Avoid baseball caps, since that gives a bad image and could make you a target for pickpockets.

Sunglasses

– I'm horrible when it comes to remembering my sunglasses. Good thing most places sell sunglasses, so you don't have to without protection for your eyes.

Optional: 1 pair of sandals

– Since flip-flops in Italy are still considered "beachwear," bring a nicer pair of sandals instead, so you can wear them while out and about.

Optional: 1 pair of hiking boots

– Sneakers will do well in most of Italy, unless you plan on hiking through the rougher terrain. In that case, you are going to need something with more traction and stability.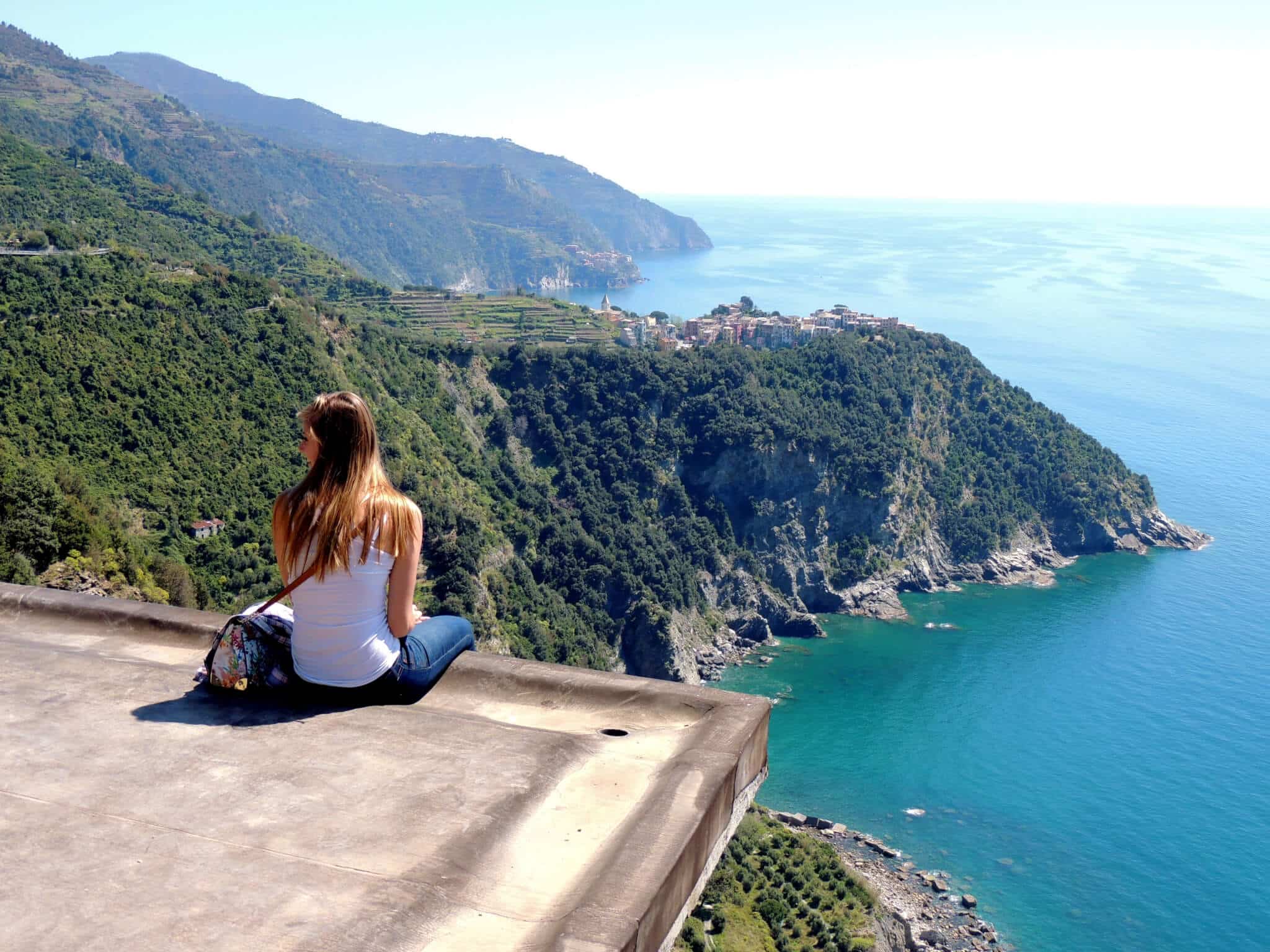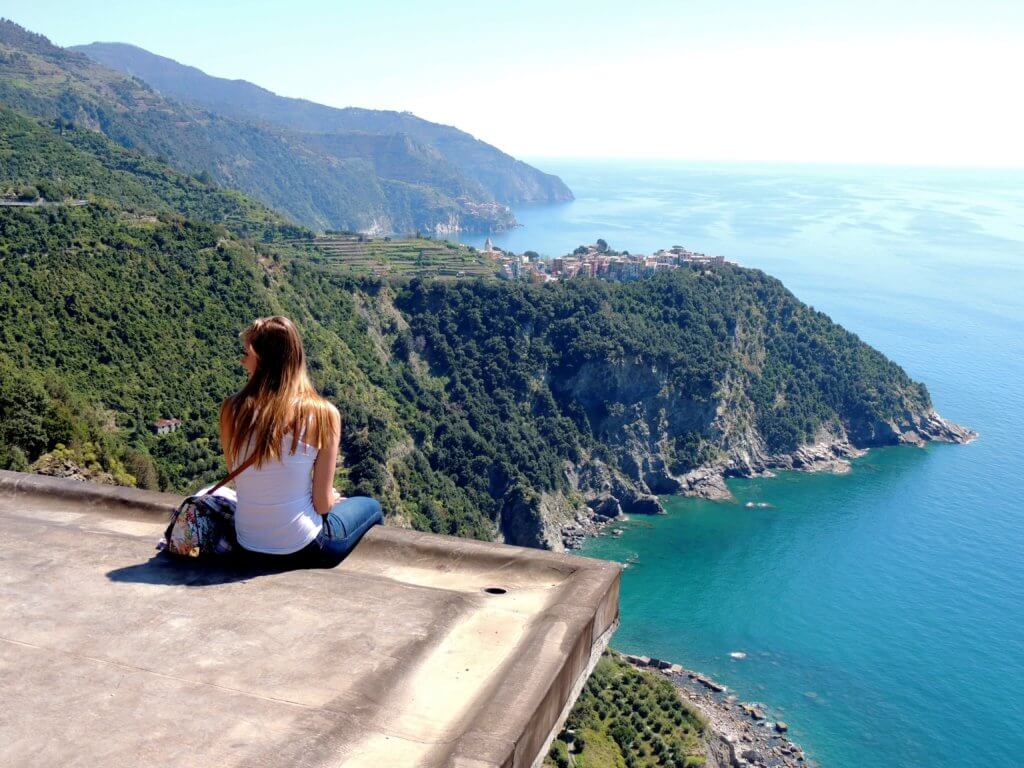 Women's Packing List For Italy
Much like the men's packing list, the aim here is to bring functional clothing that is also fashionable and doesn't scream "tourist." The following items can get you through 3 weeks in Italy in April and can be modified to fit summer and winter too:
2 Tank tops – These aren't as welcome in Italy as t-shirts and blouses, so use them sparingly
1 Jacket – If you're going in April, bring a light, waterproof one. If you head to Italy in the winter, make that jacket a coat, since it can be cold.
1 Blouse or long sleeve shirt
1 Bathing suit – Ideal for summertime
5 pairs of underwear
2-3 Pairs of shorts or skirts
2-3 Pairs of pants, leggings, or jeans (or a mix)
3 bras – Bring at least 1 sports bra if you plan on hiking or going for a morning run.
Slip-on shoes – Since high heels and stilettos are not recommended for the streets, bring some ballet flats that can be dressed up or down.
Running shoes or hiking boots – Again, if you plan on doing a lot of walking or hiking through rougher terrain, you will want to protect your feet and legs.
Sunglasses – Don't be like me and always forget your sunglasses.
Optional: 1 pair of sandals – Flip-flops are not accepted beyond the beaches in most places, so bring a nicer pair of sandals instead. That way you can wear them while out and about.
NOTE: Don't bring mini shorts or skirts, ladies. Italy might be all about fashion, but they are also mildly conservative, especially in more religious areas. If you plan on visiting churches and the Vatican, you should be properly clothed.
Wear shorts, shirts, and dresses that at least reach the middle of the knee. Your shoulders should also be kept under wraps!
Electronics You Need To Bring
Electronics are necessary for just about every destination these days, including Italy. Because you need to do something from the 'Gram, right?
That's why I included an electronics section in this Italy packing list.
Laptop and charger

– Essential for all you digital nomads out there!

Phone and charger

Tablet

Travel adapter

– Italy uses the standard European plug, so be sure to get the right travel adapter so you can keep your devices charged and ready to go. Don't be like me and have to buy a crappy one for triple the price at the airport!

Camera

– If you want to take great pictures, get yourself a DSLR camera. Smartphones just don't do the architecture and landscapes of Italy any justice.

Headphones

– You're going to need these for your tablet, phone, and laptop.

Mobile WiFi

– Save money by getting a mobile WiFi, like Skyroam. You can connect multiple electronic devices at once, too. It's a great money saver.

G

oPro and accessories

– The hiking, beaches, streets, and culture open up opportunities for excellent footage. Don't leave home without your action camera.

Portable battery charger (power pack)

– You are going to need an Anker battery pack or something similar so you can charge your belongings on the go rather than getting stuck at the hotel or hostel for hours on end.
Extra memory cards – Ideal for either your phone or camera to ensure you never run out of space for photos and video.
Toiletries
Who doesn't love going to the store and picking out those cute toiletries to bring on a trip?
Italy has supermarkets and convenience stores, but you might not always be able to find the essential toiletries that you want. Here are some unisex toiletries to pack:
Travel towel

– Ideal for hiking, swimming, and drying off after your shower.

Shampoo and conditioner

Soap or body wash

Moisturizer

– Between the wind, the sun, and the drier air in some regions, your skin is going to need some TLC.

Lip balm with SPF

– The sun and the wine and salt from the sea will dry out your lips in no time.

Toothbrush and toothpaste

Deodorant

Nail clippers

Tweezers

First aid kit

– You never know when you're going to slip on cobblestones or skin your knee while hiking. Bring some bandages, gauze, sterile wipes, and pain relievers, like Tylenol or an NSAID.

Sexual safety kit

– Yeah, I went there. Your health is important, and you never know. It's better to be prepared.

Sunscreen

– Again, burns and dried skin isn't fun. Protect yourself whether you are hiking the Amalfi coast, walking canals in Venice, or lounging on the beaches.
Men's
Razors

Shave cream or gel

Styling products for your hair and/or beard

Cologne

– this is my favorite cologne ever, and perfect for Italy

Aftershave
Women's
Razors

Shave cream/gel

Makeup

– You're going to want the works: Foundation, eyeliner, contour kits, primer, mascara, and eye shadow. Be sure to get the waterproof kind, especially if you plan on going swimming in the summer. Also, you're going to want some handy-dandy setting spray.

Hair products

Body mist and/or perfume

Feminine hygiene products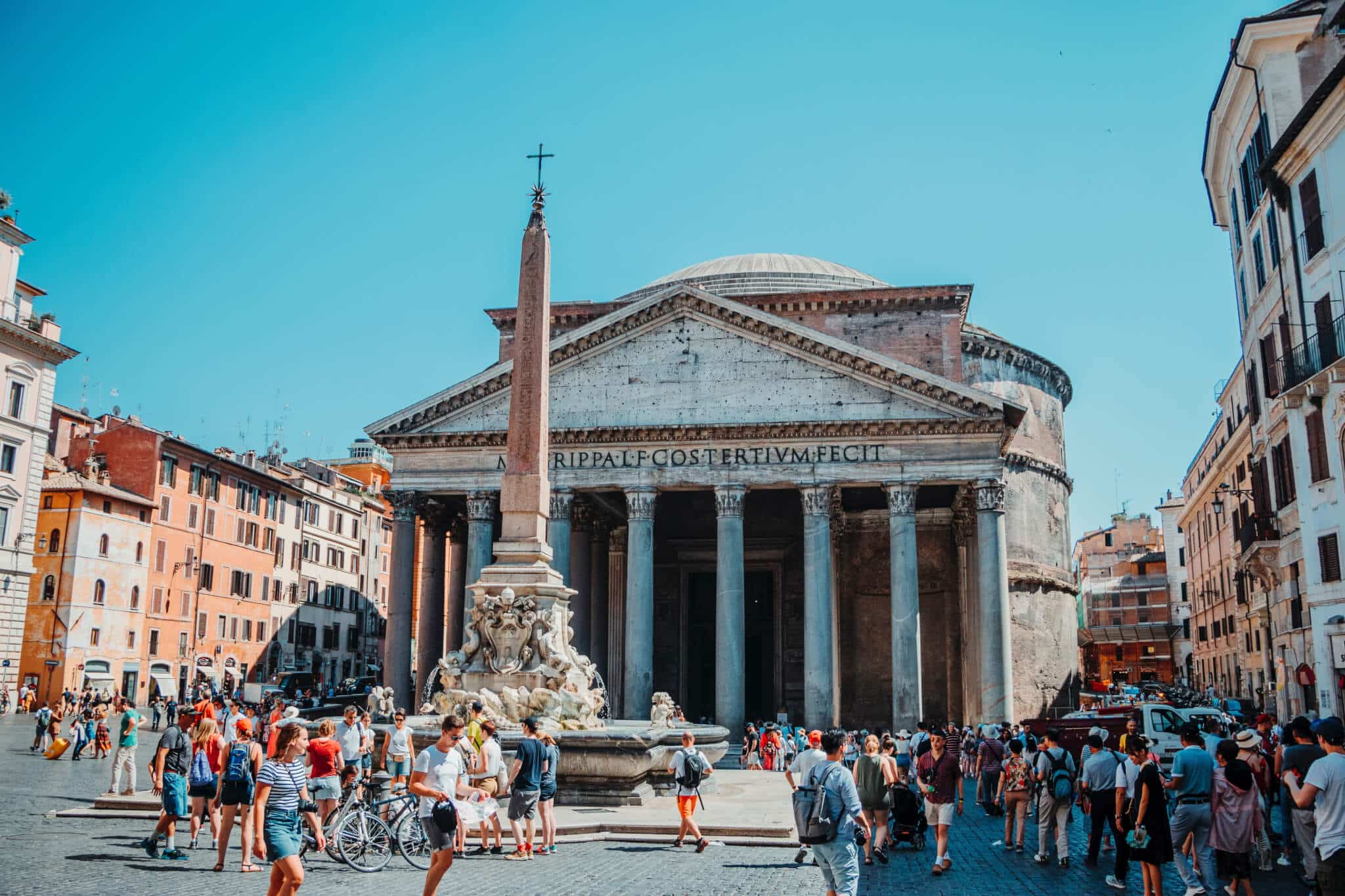 Other Italy Packing List Items
In this final section, I wanted to introduce just a few more items that you shouldn't forget when heading to Italy for your next vacation. These are some things that will make your trip all the better and hopefully make the memories all the more sweet.
House keys

– Nothing is worse that coming home after a long flight and being locked out.
Let your bank and credit card company know you're traveling

Print outs of your IDs and passport

– Be safe, not sorry.
Print outs of your itinerary and bookings

Luggage tags

– Don't lose your luggage and other belongings when traveling. It's inconvenient and discouraging.

Wanderlust

– This is always that last thing I tuck into my back pocket before heading out for my next adventure. Have an open mind and be ready to have the time of your life!
Happy travels!
I would love it if you could pin this Italy packing list to your travel board!