Instant Pot turkey stock is one of the quickest and easiest ways to create a flavorful homemade base for everything from soups to sauces and gravies.
We love making this homemade turkey stock in the Instant Pot for leftover turkey noodle soup after Thanksgiving dinner, but it is great to keep in the freezer for other dishes like chicken piccata!
The Instant Pot uses pressure cooking to speed up a slow simmered stock into the perfect base that will be ready in about an hour!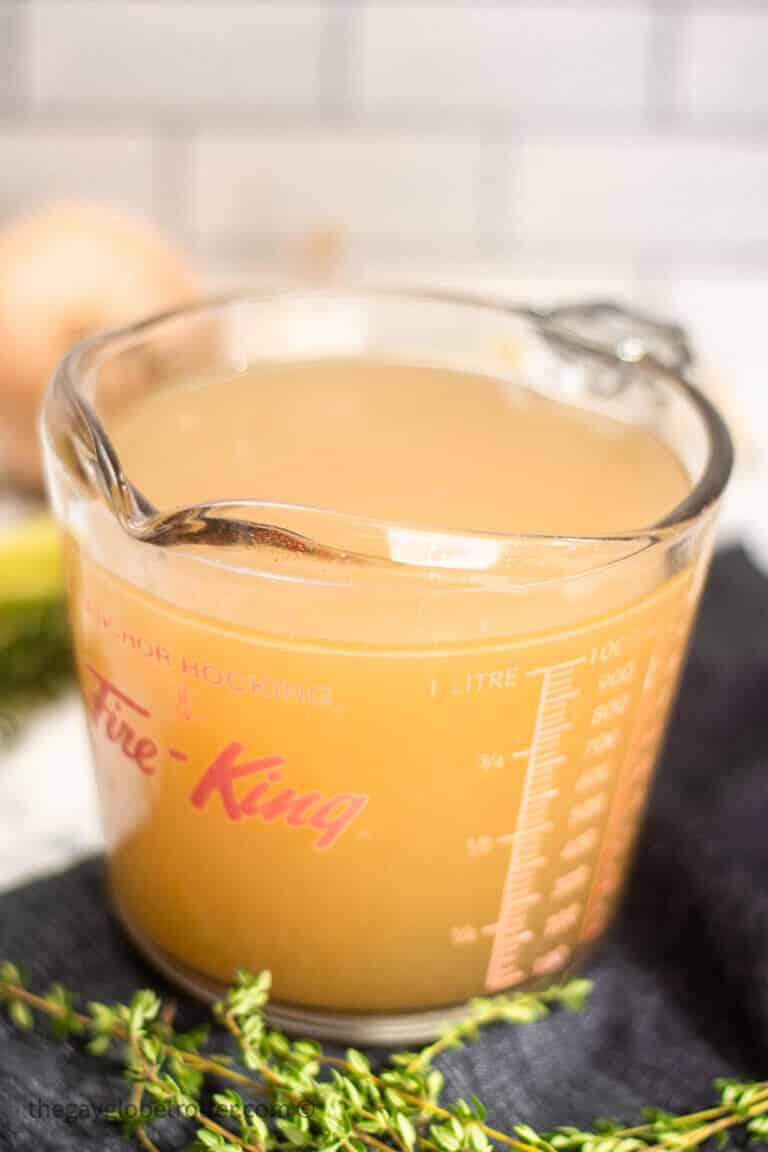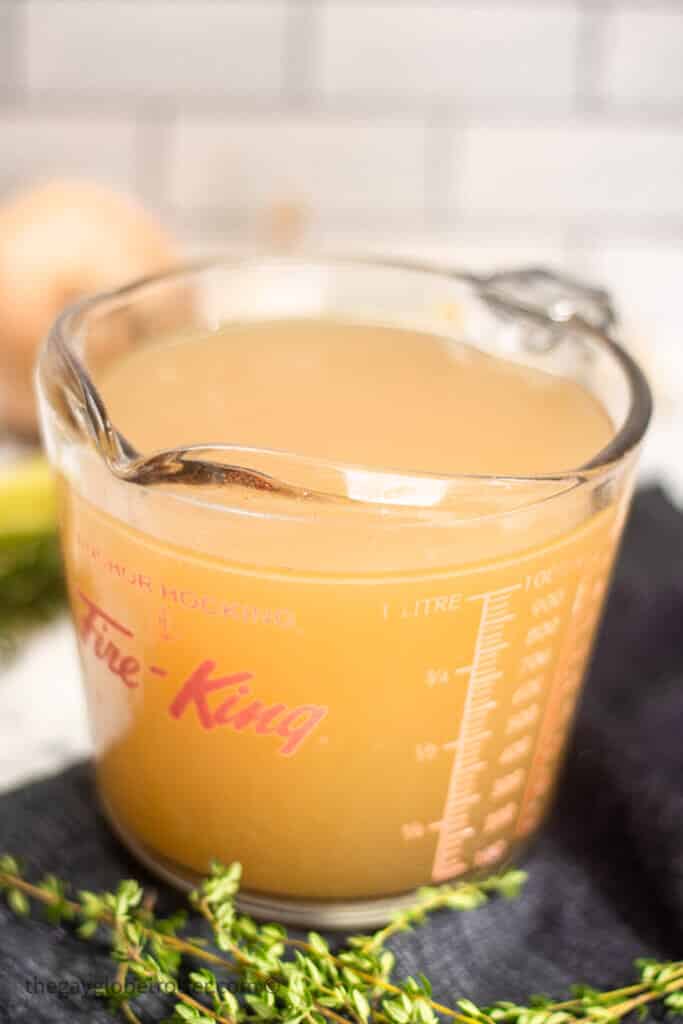 What's The Difference Between Stock and Broth?
You may hear people use the terms stock and broth interchangeably, but there is quite a difference between the two.
A stock is used as a base for dishes, like sauces and soups. A stock isn't as full of ingredients like salt and herbs, as it's intended to be built on.
Broth on the other hand is commonly made from stock, and what you'll find in soups, stews, and noodle dishes. It'll generally be more flavored than a stock.
How To Make Instant Pot Turkey Stock
To make Instant Pot Turkey Stock:
Begin by removing any excess meat from the bones. You're best to save the meat for other dishes, as once they bones are boiled down they won't have much flavor left!
Add the carcass to the Instant Pot, ensuring that it fits. If the turkey carcass is a little too large, you may need to remove a few pieces. We used a 12 pound turkey carcass, and it fit perfectly into a 6 quart Instant Pot.
Add the celery (if it has leaves, add them too!), thyme, peppercorns, poultry seasoning, and salt. Cover with water. You may need a little more or less water depending on the size of the Instant Pot and the turkey.
Set the Instant Pot to high for 60 minutes. Allow to natural release for 15 minutes before quick releasing.
Remove the bones and any larger pieces from the stock, before pouring through a sieve into another bowl.
Pro tip: Don't forget the other bowl, I know someone who made stock once and poured it all down the drain.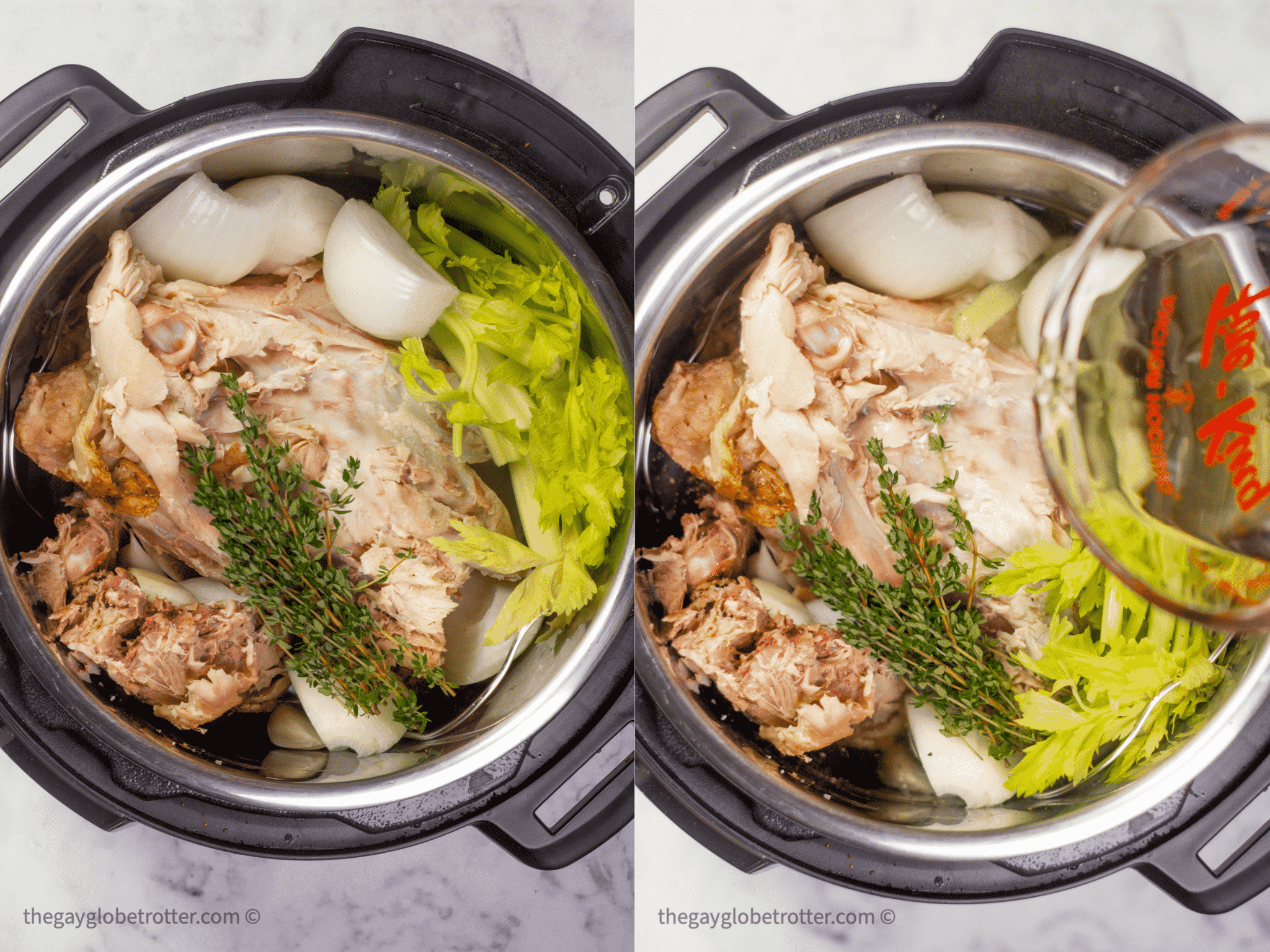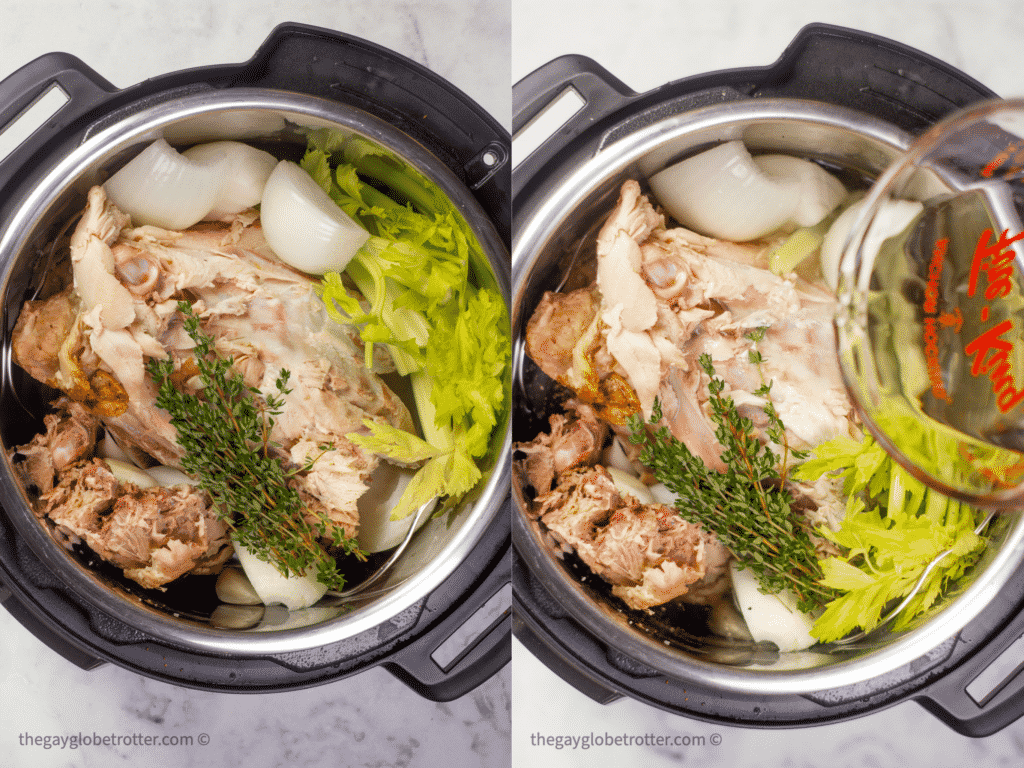 Tips For Making Instant Pot Turkey Stock
Get creative with the additions – we love adding leftover carrots, onion peels, sage, rosemary and garlic to the stock. Try washing the vegetable peels and keeping them in a freezer bag for future stocks!
Make sure the turkey isn't too big – or you may end up with too little stock or an Instant Pot that won't turn on.
If you plan to freeze it, try freezing some of the turkey stock in ice cube trays. It makes a great addition to everything from simmered veggies to mac and cheese!
Get as much meat off the bones as possible, all of the turkey flavor will end up in the stock so it won't taste too great.
If you'd like a super fine stock without impurities, lay some cheesecloth or coffee filters in the sieve before straining it out.
If you notice that the stock has too much fat, you can skim it with some stale bread or paper towels.
Once cooked, feel free to taste it and add more seasonings like salt and pepper as needed.

How To Store Turkey Stock
Turkey stock will last for 4-5 days in the fridge. Store it in an airtight container once completely cooled.
If you plan to freeze turkey stock for future use, it will last up to 6 months in the freezer. We find it easiest to freeze it in a freezer bag, labeled with the date, on it's side. That way if you just need a little bit, you can cut it off with a sharp knife.
Try Turkey Stock In These Recipes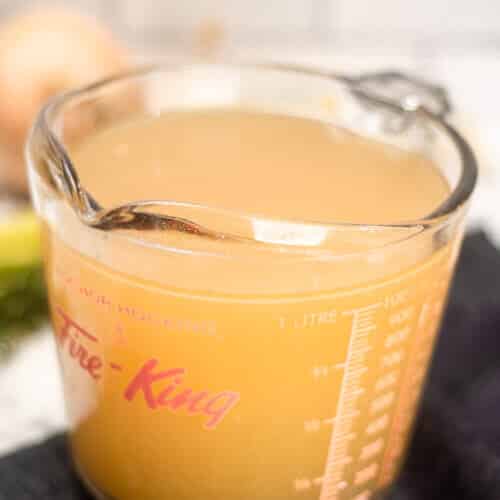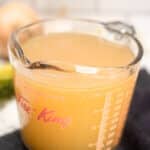 Rate this Recipe
Instant Pot Turkey Stock
An easy homemade turkey stock recipe that takes just an hour!
Print Recipe
Pin Recipe
Tried this recipe?
I'd love to hear what you think. Leave a comment and rating below!
Ingredients
1

turkey carcass

about 12 pounds, meat removed

4

quarts

water

see note

1

tablespoon

peppercorns

1

tablespoon

poultry seasoning

2

celery stalks

with leaves

6-8

springs

thyme

1

bay leaf

1

onion

quartered

4

cloves

garlic

whole

1

tablespoon

salt

to taste
Instructions
Remove as much meat from carcass as possible. Place turkey carcass in Instant Pot.

Add all remaining ingredients without overfilling the Instant Pot. Set to seal and cook on high power for 60 minutes. Natural release for 15 minutes before switching the Instant Pot to quick release.

Remove bones and large pieces with a slotted spoon and discard.

Pour remaining stock through a sieve or strainer to remove any remaining pieces. Season with salt as needed.
Notes
Amount of water added may need to be adjusted depending on the size of the Instant Pot and turkey carcass.
Store for 3-4 days in the fridge, or freeze for up to 6 months. 
Calories:
170
kcal
|
Carbohydrates:
17
g
|
Protein:
12
g
|
Fat:
6
g
|
Saturated Fat:
2
g
|
Cholesterol:
14
mg
|
Sodium:
300
mg
|
Potassium:
497
mg
|
Sugar:
7
g
|
Vitamin A:
14
IU
|
Vitamin C:
1
mg
|
Calcium:
14
mg
|
Iron:
1
mg
Pin it for later: