You absolutely need the very best travel backpack if you are planning to backpack around the world. Traveling out of a backpack is an incredible experience and will change you for the better.
But, you won't be able to enjoy yourself if you don't have the best travel backpack. After all, if you're choosing to backpack, it means you're willing to go off the beaten path—or head into places where there is no path whatsoever.
No backpacker wants to be rolling around a heavy suitcase on dirt roads or hiking paths, or up and down multiple flights of stairs.
Whether you're in Thailand or trekking through Europe, packing a lightweight travel backpack will both help you tackle obstacles and train you to get out of your comfort zone. It will be your partner, so you have to choose wisely!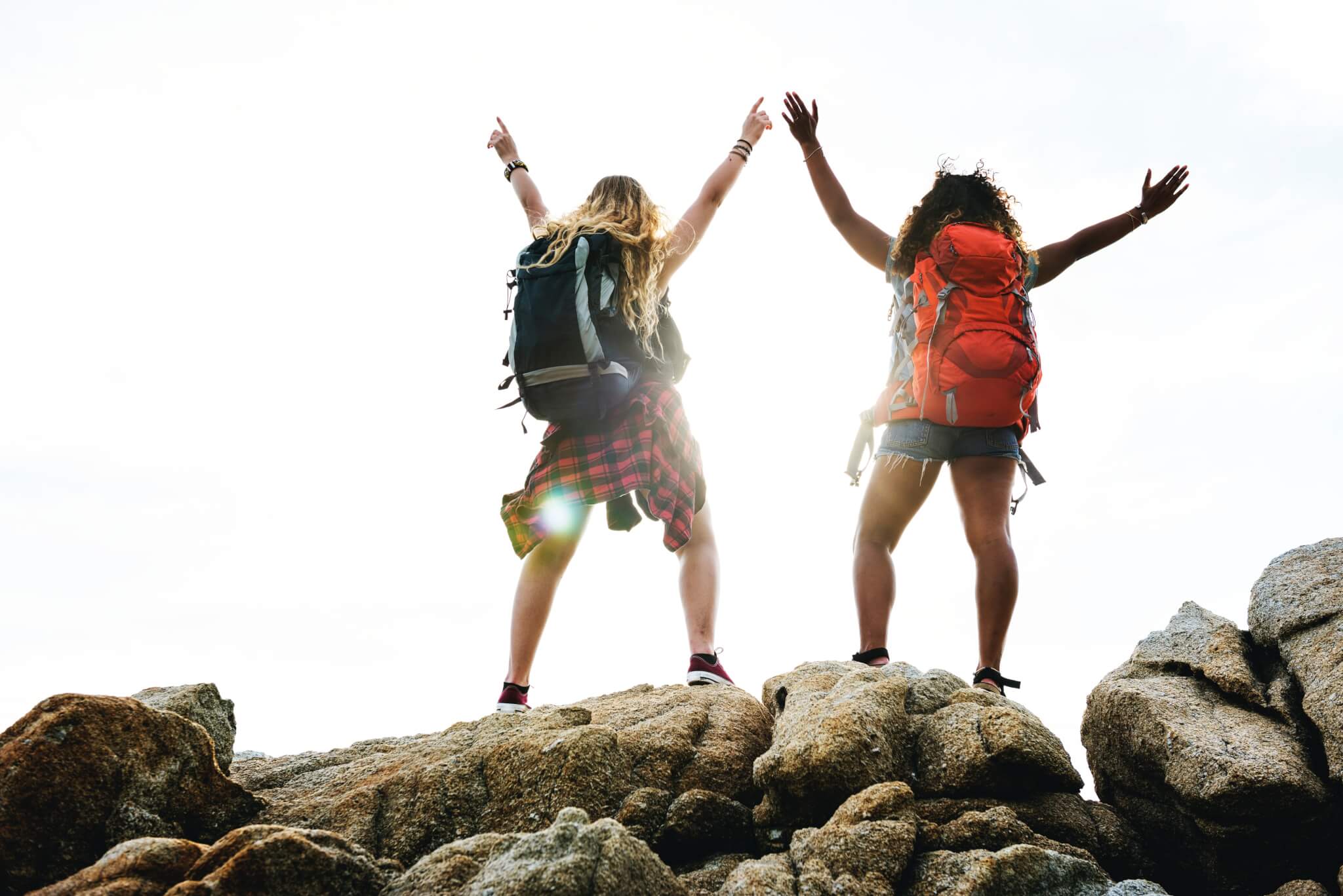 What Size Should I Bring?
Size is more or less everything when it comes to choosing the best travel backpack for your next adventure. Once you know what size you need, you can start looking at other features.
First, ask yourself the following question: Do I want to save on baggage fees? If yes, then you want to get a travel backpack that will fit into the airplane's overhead compartment or under the seat.
And remember, even if you're going on a year long trip, pack as if you're going on a 12-day trip. It will prevent you from over-stuffing your bag like I did when I visited Thailand for the first time (but more on that later).
Liters
Packing light means sticking to a backpack that ranges between 35 and 50 liters. You will most likely also have a day pack strapped to the front of your chest, and those vary between 10 and 25 liters. Therefore, your total space will be around 50 to 65 liters.
If this is your first time backpacking, you might be thinking: "There's no way I'm gonna fit all my stuff into a 40 liter backpack!"
Don't worry. There is more room in travel backpacks than you realize, especially when you make use of packing cubes and organizers. The main point you need to understand is that, no matter the size, if the backpack doesn't fit properly, you are never going to be comfortable. The backpack needs to be proportional to your body's height and stature.
General rule of thumb: 70% of the weight is on the hips. 35% is on the shoulders.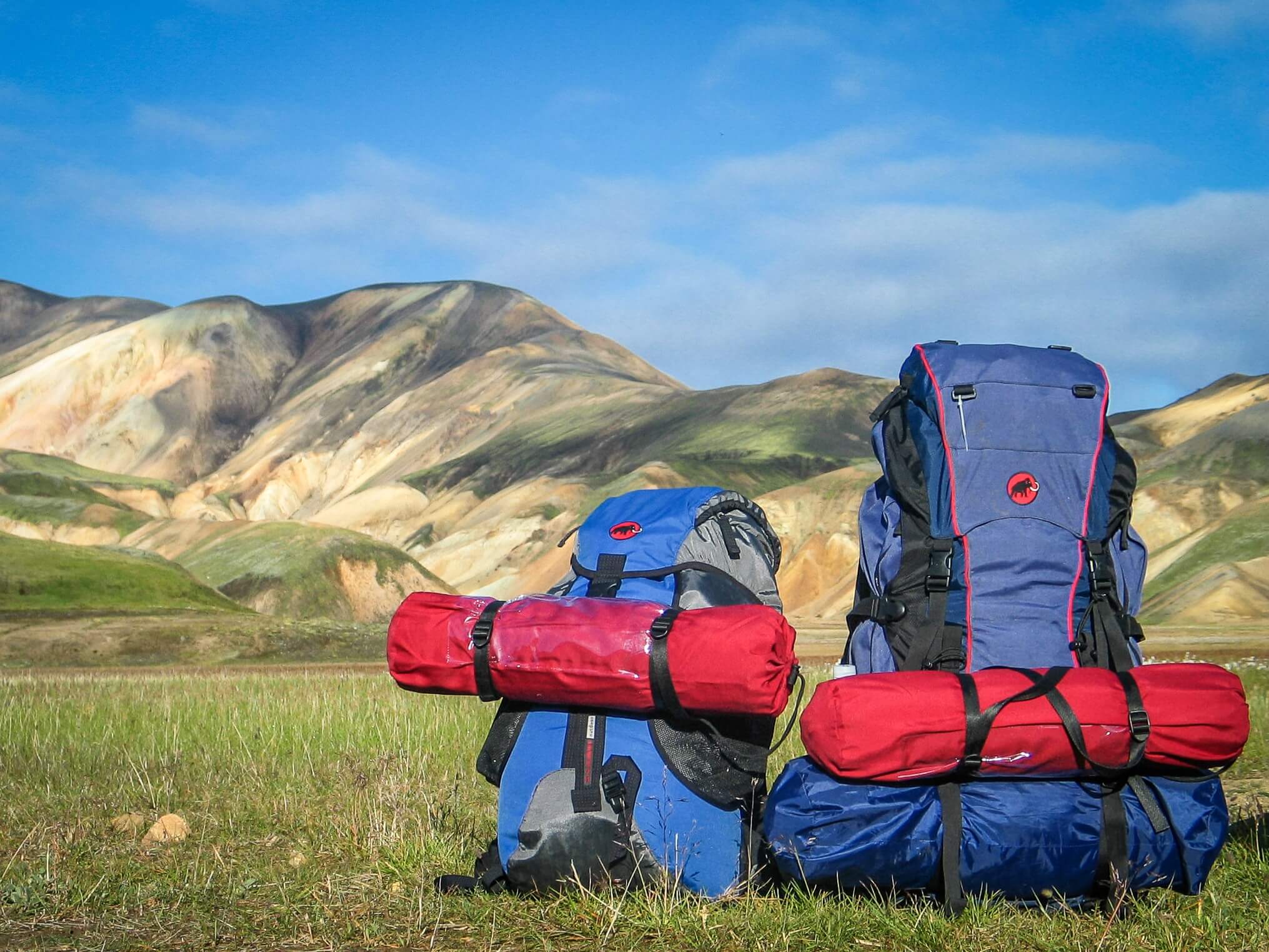 Other Things To Consider When Choosing Size
Apart from size, the best backpack for men and women is going to have characteristics that make it durable and safe. When you find backpack models that fit your budget and preferred size, think about the following:
Water-resistance: Backpacks don't need to be 100% waterproof unless you plan on going sailing or doing a multi-day hike, but you will want something that can withstand a light drizzle. Look for rip-stop nylon or leather. Avoid polyester and polypropylene.

Zippers: Every compartment should have two zippers so they can be locked together. The last thing you want is someone to steal your stuff at the hostel.

Compartments: The more compartments, the more organized you can be. It also helps you from having to dig around the backpack.

Straps and belts: You need padded straps and a comfortable hip belt. This is how the weight is distributed across the body.

Panel access: Top loading and side loading (clam shell) bags have their pros and cons.

Top loading backpacks are made for hikers, are long and cylindrical, and usually come with tons of pockets. But that's the weakness, too. The more you stuff on the outside, the less you can fit inside. Side loading bags are like regular school backpacks and allow for

much more organization; but you often lose out on true volume.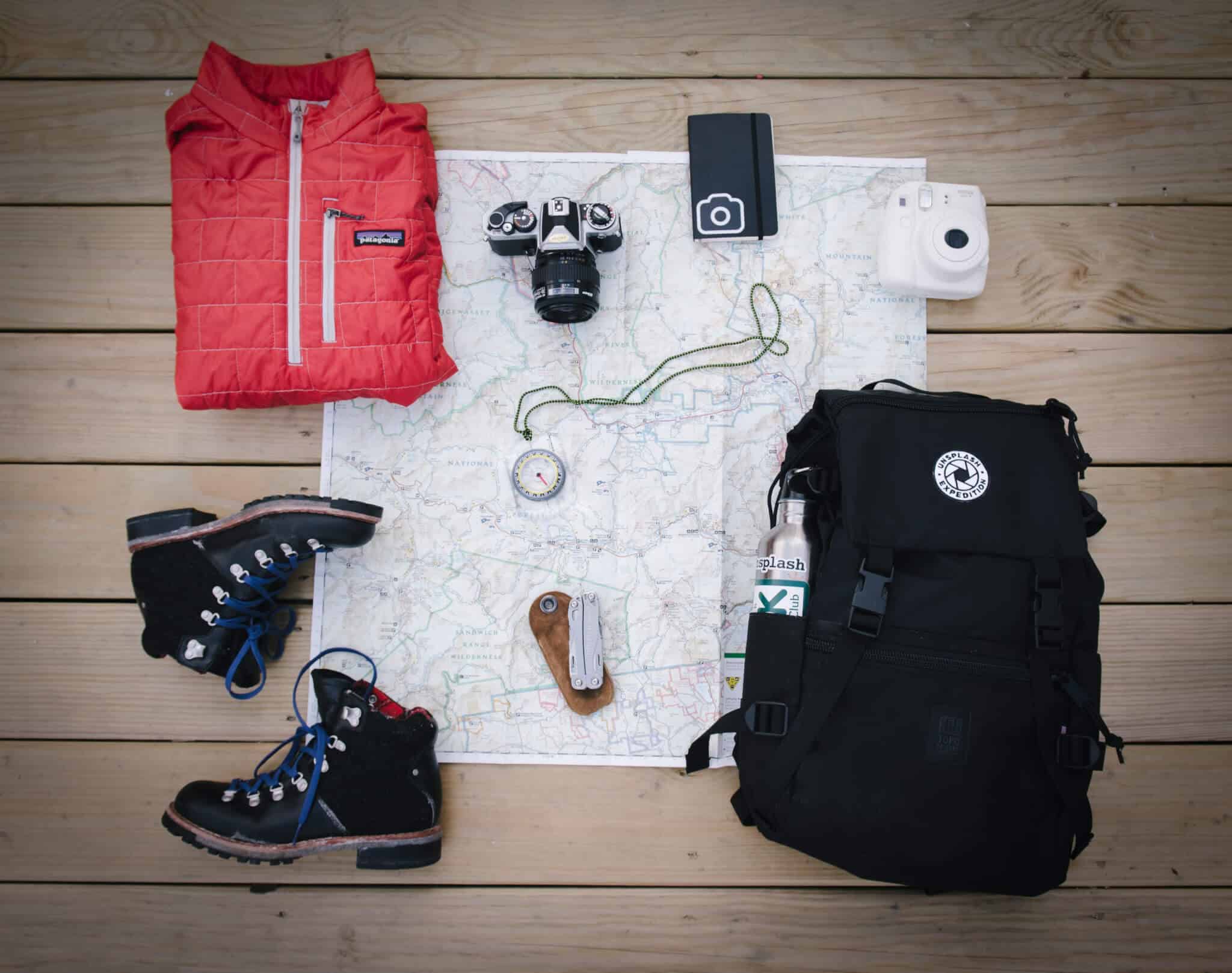 Making Sure It's Comfortable In The Store
If you have the option, trying some bags on in the store can be helpful. It's always a great idea to speak with someone! I actually went to the store to get some advice before finding the bag online at a cheaper price. If you don't have a store around you, online reviews will be your best friend.
Some bags are smaller than others. Some are divided between male and female while others are unisex. If you are small or petite, you will need to avoid unisex models. Junior models (teen sized bags) will work best for you.
Think about these things when you head to the sporting goods store.
Questions to ask yourself:
Do the straps fit well around my arms?




Where do the straps fall on my shoulders?




Does

the fabric rub against my arms, neck, or sides?




Is the belt aligned with my hips?




Is the bag bigger than my torso?




Is the back contoured or padded well?




Does it have multiple compartments for electronics, shoes, hiking gear, and more?



You want to find a bag that has loads of support on the shoulders and hips, since that is where you will be carrying the weight, and also reduces pressure on the low back.
The padding and/or contouring should be drafted to minimize pain. Sometimes, the back section even has ventilation to keep you from sweating like crazy.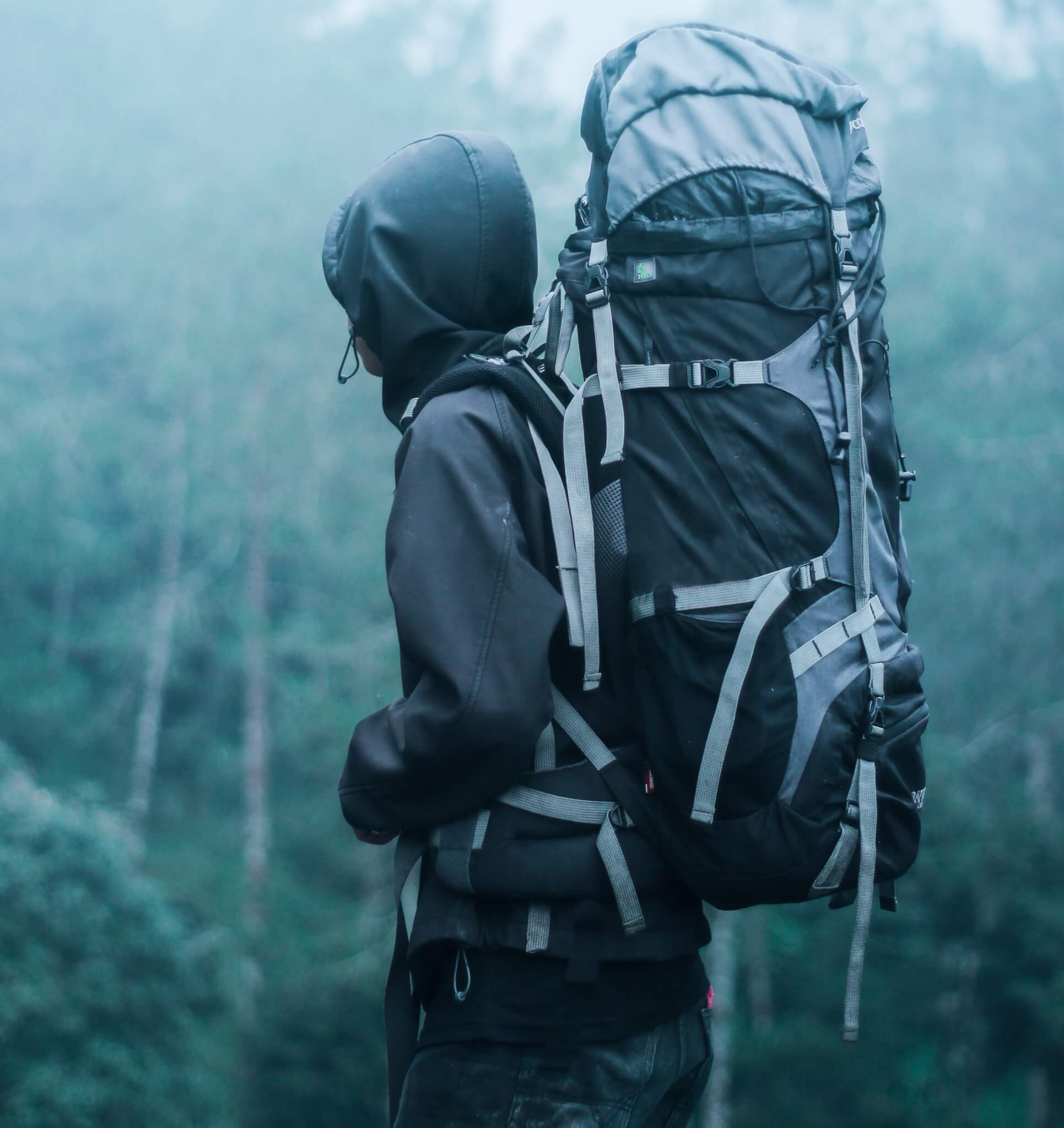 Carry On or Check It?
Depending on the size of your bag and how much you feel the need to pack, you might have to check your backpack instead of using it as a carry on. The bigger the backpack is, the less likely you will be able to have it as a carry on. Also, since you can no longer carry liquids no larger than 3 ounces on many airlines, you might be forced to check the bag if you want to bring shampoo, contact lens solution, and other things with you.
The carry on limit for backpacks is 115 centimeters (56 x 36 x 23 cm) or 45 inches (22 x 14 x 9 in), including the wheels, handles, and other components that add bulk. If the backpack is within these dimensions, you will be able to carry it aboard—unless it is too heavy.
Most airlines have a strict weight limits, ranging from 7-10kg for carry on bags. You will have to check it if your backpack weighs more than that. And if you're carrying hiking boots, electronics, and other goodies, trust me, it's going to be around 15-20 kg easy.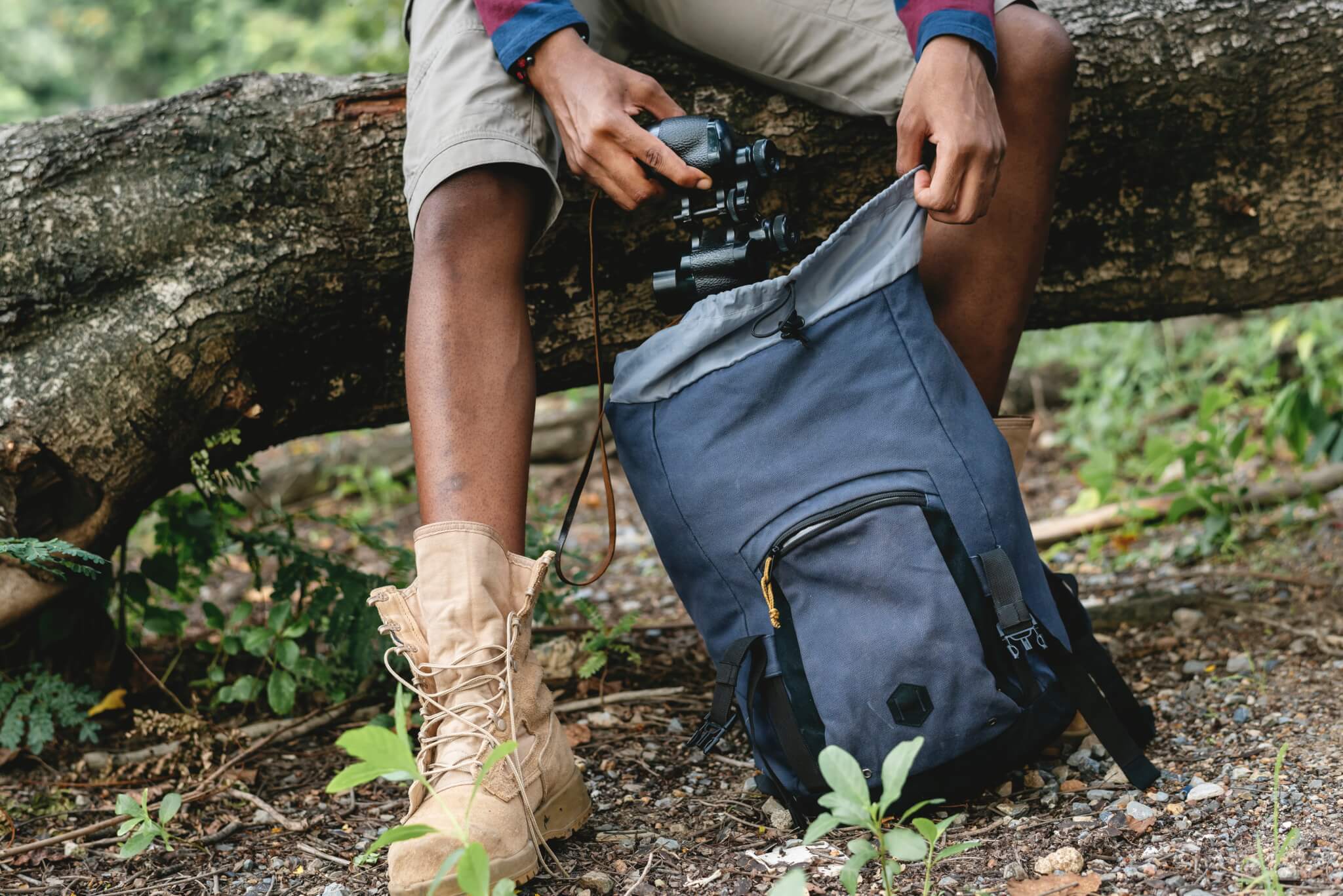 My Favorite Travel Backpacks
Now that you've seen what to look for in a backpack, let's have a look at my favorite picks! Don't forget to look at reviews online to learn more about the bags before buying.
The Best Travel Backpack For Men
Osprey Farpoint 40 [Men's]
A popular option for men, the Osprey Farpoint has comfortable straps and decent padding. The sternum strap helps displace weight, too. Not made for trekking but ideal as a lightweight option that converts into a duffel bag.
Size: 38-40L
Key features: 15-inch laptop sleeve, padded handles, 2 internal compression straps, and zippered panels.
Osprey Aether AG 60
The harness on the Osprey Aether provides a custom fit and mesh to keep you cool. A true trekking bag with top access, compression straps, and a loads of space.
Size: 57-63L
Key features: Sleeping bag straps, detachable daypack, hydration sleeve, and loads of pockets on the outside.
REI Flash 45 Pack
A lot of hikers love the REI Flash for its convenient hip belt bottle pocket and immensely breathable material. Though it has a smaller true volume, it is lightweight and keeps weight close to your body, preventing fatigue.
Size: 45-47L
Key features: Super compression, large pockets, 3D contoured hip belt to keep weight off the hips, and detachable top lid.
REI Traverse 70 Pack
Designed for explorers, the Traverse Pack has plenty of compartments to keep you organized and cool. The top lid can be turned into a daypack. The straps are comfortable, too.
Size: 66-74L
Key features: Adjustable hip belt, sternum and shoulder straps; water bottle pockets, large pockets with zippers, and a rain cover.
The Best Travel Backpack For Women
Osprey Fairview 40 Travel Pack [Women's]
The female version of the popular Farpoint model. The Fairview has the same amount of padding but is made for a narrower female frame. The straps are also slightly curved, making the bag easier to carry.
Size: 38-40L
Key features: 15-inch laptop sleeve, padded handles, 2 internal compression straps, and zippered panels.
Osprey Ariel AG 65 Pack
Another bag made specifically for ladies or those with smaller, narrower frames. The bag is designed to keep weight off the hips and low back. Designed for hiking for a longer period of time.
Size: 59-65L
Key features: Sleeping bag/pad straps, removable daypack, compression straps, customizable hip and sternum straps.
Women's REI Flash 45 Pack
The female version of the popular Flash Pack. This version is designed to fit a female body and has even better hip support. Ideal for those who experience low back pain. The water bottle pocket on the hip belt is an added bonus to the comfort.
Size: 45-47L
Key features: Compression technology, 3D contoured hip belt, large pockets and plenty of storage space.
Women's REI Traverse 65 Pack
Although the female version of the Traverse pack is 5 liters smaller than the male model, you won't miss it. This bag was given more lash points to help you hang gear off the bag without sacrificing comfort.
Size: 61-69L
Key features: Water bottle pockets, rain cover, hip belt pocket, large front pocket.
The Best Travel Backpacks For Anyone
NOMATIC 40L Travel Bag
Need a water-resistant bag that is designed for digital nomads? The NOMATIC has everything you need and more. It's also appropriately sized to be a carry on.
Size: 40L
Key features: Cord organizer, shoe compartment, detachable waist straps, and an RFID protected pocket.
Osprey Meridian Wheeled Convertible Luggage
Looking for a travel backpack with wheels for prowling the streets? Here you go! You can pull the backpack along sidewalks or strap it to your back for hikes. It's unisex and constructed more like a suitcase.
Size: 60L
Key features: Converts quickly from backpack to rolling suitcase, plenty of zippered pockets for organization, highly convenient, comes with daypack that has a laptop sleeve.
Pacsafe Ventureafe X40 Anti-Theft Adventure Travel Pack
Feeling safe and secure has never been easier. Pacsafe created this travel backpack with a unique exomesh guard that protects against "slash-and-run" incidents. If you're a digital nomad or travel photographer carrying around expensive gear, this is the best travel backpack for you.
Size: 46L
Key features: Built-in rain cover to protect your electronics, security, unique design, and hidden access to main compartment from the back.
Zipping It Up
(See what I did there?)
Looking at the points in this article, you might have found the best travel backpack for you, or maybe you still need to shop around. Admittedly, no bag is perfect. No bag is going to match everyone's preferences or body. That's why it's important for you to test out various bags to make sure they fit and will carry everything you need without bogging you down. There are thousands of quality backpack models out there!
Consider the size of the bag, how you prefer to travel—carry on or check in?–and what your essentials are. Do that, and you will have no problem selecting the best travel backpack for your next adventure.
Enjoy this article? I would love it if you pinned this to your travel board!